Despite setbacks caused by the COVID – 19 pandemic , the Information Technology and Business Process Management (ITBPM) sector of the Philippines is on its way to a fast recovery.
The IT and Business Process Association of the Philippines (IBPAP) announced that the ITBPM industry's 2021 showing has Future of offices hinged on sustainability – FILRT CEO surpassed both 2021 and 2022 targets with revenues of $29.49 billion for 2021, indicating a 10.6% year-on-year revenue growth.
Maricel Brion-Lirio, president and CEO of Filinvest REIT (FILRT), was optimistic about the IT-BPM sector's road to recovery during the Go-Tech Summit, which was hosted by the Cebu Chamber of Commerce and Industry.
"Our high occupancy rate is a clear demonstration of FILRT's strong support for the IT-BPM DTI-BOI, BCDA, and Filinvest Land urge Singapore to invest in Clark Filinvest Land President Tristan Las Marias addresses the audience during the New Clark City: The Sustainable Futurecity of the Philippines Roadshow held in Singapore industry. Indeed, the BPO sector remains to be the top demand driver for office space in the country, and for FILRT, in particular, the BPO sector comprises 91% of our tenant mix or equivalent to 240,998 sq.m. of space in our Grade A, sustainable office buildings portfolio," BrionLirio said.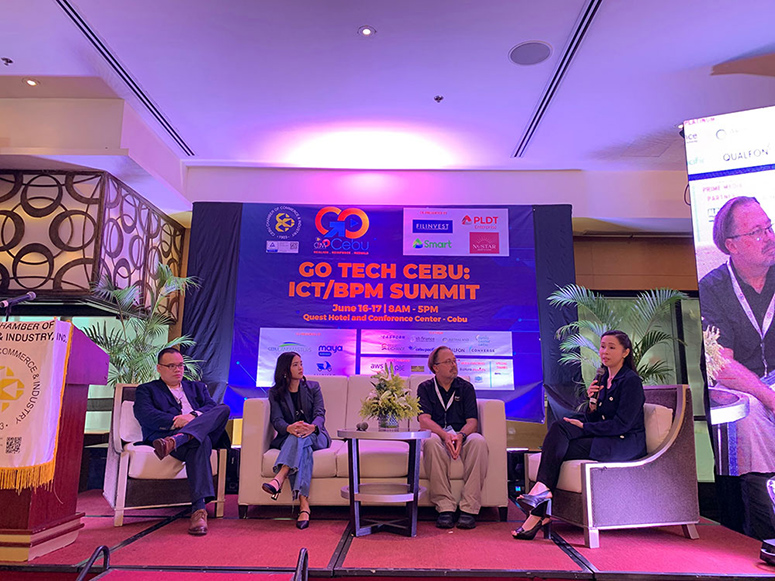 FILRT prides itself in having a portfolio with 17 Grade A office buildings, all of which have green and sustainability-themed features. Sixteen of these are centered in Northgate Cyberzone in Filinvest City, Alabang.
Filinvest City is a PEZA Special Economic Zone and IT park, and the first central business district (CBD) in the Philippines to receive LEED® v4 Gold for Neighborhood Development Plan certification for its township-wide green and sustainability features, as well as the first CBD to receive Berde certification.
Axis Tower One and Vector Three, on the other hand, are developments under FILRT that are LEED Gold-certified. Meanwhile, Filinvest Cyberzone Cebu, FILRT's 1.2-hectare office development, is a joint venture with the Cebu Provincial Government. Represented by Gov. Gwendolyn Garcia, Filinvest Cyberzone Cebu is under a 30-year build-transferoperate agreement.
Moreover, Northgate Cyberzone has office buildings that are cooled by the Philippines' largest district cooling system. It reduces carbon emissions and energy consumption. This is because of Filinvest's partnership with Engie, one of the world's leading sustainable technology solutions company.
In addition, FILRT properties have parking facilities for bicycles, which have had an upward trend in use since the COVID-19 pandemic. These facilities help in reducing the use of motorized vehicles and encourage greener modes of transport. Electric jeepneys are also available, offering low-carbon transport for the public commutes.
"Our energy management approach revolves around the two key focus areas of energy efficiency a nd u si ng renew able energ y whenever economically feasible. We are exploring how we can attain 100% renewables for our tenants. To date, six out of 17 properties get 100% renewable energy from a retail electricity supplier, and we are in discussions on how the supply can be increased to serve more buildings in the next two to three years. Needless to say, we aim to replicate these measures in all FILRT office developments moving forward as these sustainability features are sought after by multinational BPOs, and ROHQ companies," BrionLirio shares regarding FILRT's sustainability initiatives.
Based on research by Colliers, a Canada – based diversified professional services and investment ma na gement compa ny, more companies in the Philippines are gearing toward sustainable, healthy work environments that aim to give employees confidence in returning to the workplace, which has been an important factor in considering for a post-COVID society.
"We are proud to say that FILRT was the first sustainability-themed REIT listed on the bourse. We strongly believe that the future of the offices sector lies in sustainability. This is why the Filinvest group is committed to creating green and sustainable developments. FILRT's growth strategy is largely anchored on having a pipeline of green, high-value assets that attract tenants who share Filinvest's journey towards a future in real estate where environmental sustainability is embedded in the design of spaces and daily operations," Brion-Lirio said.
Learn more about investing in or leasing spaces with FILRT by visiting the Filinvest REIT official website and and follow on Facebook and LinkedIn.
#BrandedUp