The Philippines, through the Bureau of Investments (BOI), Bases Conversion and Development Authority (BCDA), and Filinvest Land, made its case with Singapore business leaders to invest in the country during the "New Clark City: The Sustainable Futurecity of the Philippines" roadshow organized with the support of the Singapore Business Federation and the Singapore Chamber of Commerce and Industry.
According to the Bangko Sentral ng Pilipinas, Singapore was the top pledger of approved foreign direct investment (FDIs) in 2021 with P80.17 billion or 41.7 percent of the total – eight times more than in 2020. This is expected to grow further for 2022 on the heels of the Philippines' economic recovery exhibited by the country's first quarter 2022 GDP of P4.6 Billion and 8.3 percent growth rate, which surpassed 2019's first quarter GDP of P4.4 Billion and 5.9 percent growth rate.
"The Philippines remains to be an ideal investment destination with its game-changing policy reforms and a business-friendly landscape," said Gov. Angelica Cayas of the Board of Investments.
Clark remains as one of the top investment destinations in the Philippines, raking in P3.68 billion of approved foreign investments in 2021, 43 percent higher than 2020. National Economic and Development Authority cited the Build, Build, Build infrastructure program, which heavily benefited Central Luzon, as a factor that helped attract investments into Clark. These investments include the 288-hectare master-planned township Filinvest New Clark City (FNCC) located in Capas, Tarlac within the 9,450-hectare development New Clark City.
"In Clark, everything works like a dream. New Clark City's unique propositions of optimal location, robust workforce, advanced infrastructure, and strong government support allow businesses to easily build capability in the Philippines," said BCDA Senior Vice President Engr. Joshua Bingcang.
"Filinvest is one with BCDA in shaping New Clark City into a sustainable futurecity that foreign and local investors will thrive in. We look forward to contributing to its progress with the development of Filinvest New Clark City starting with Filinvest Innovation Park," added Filinvest Land President Tristan Las Marias.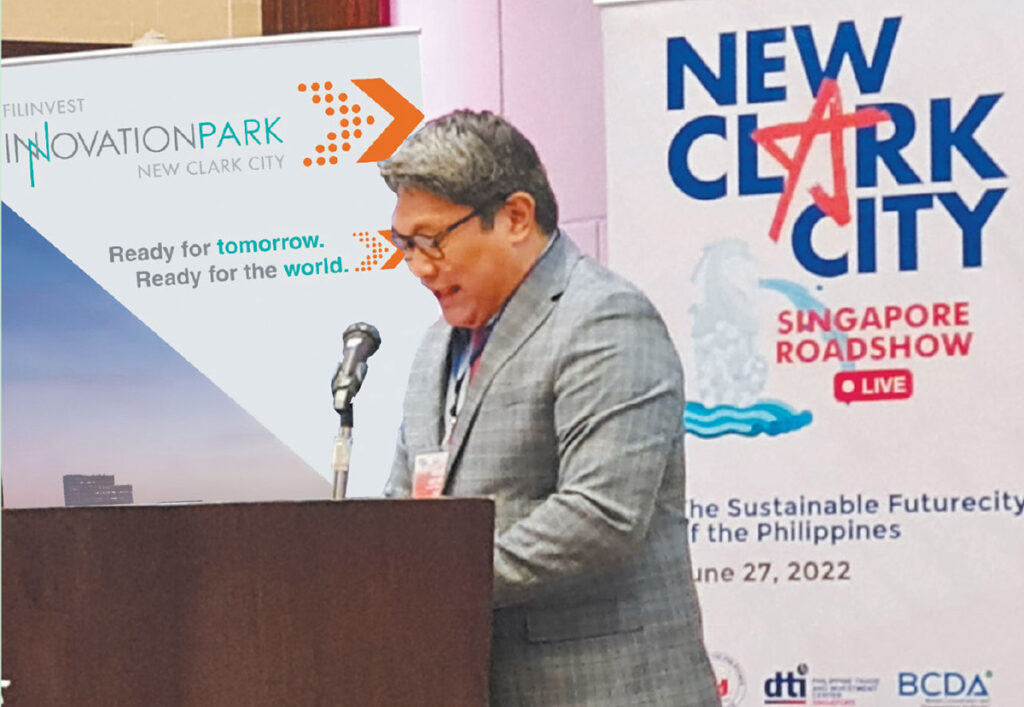 FNCC, a joint venture development between BCDA and Filinvest Land, is gearing up to be a smart metropolis designed to be green, sustainable, disaster-resilient, and future-ready. The township has a smart-planned ecosystem offering a mix of residential, commercial, educat ion, lifestyle, mixed-use, research and design, and industrial components for a live-workplay-learn lifestyle.
Filinvest Innovation Park rises as the first phase of FNCC and is one of Clark's biggest industrial hubs. It is envisioned to be the home of the fourth industrial revolution in the Philippines.
This 120-hectare development offers ready-built factories as well as built-to-suit industrial buildings for factories, warehouses, logistics hub, support offices, and other industrial hub requirements.
"Filinvest Innovation Park will house high-speed internet infrastructure, 24/7 digitally-empowered security force , e-vehicle mobilty, robust infrastructure connection, renewable energy connections, digitalized park services, and increased supply chain efficiencies," said Filinvest Land Senior Vice President and Head for Industrialand Logistics Francis Ceballos.
The development of FIP comes at an opportune time with the country's Purchasing Management Index (PMI) and Gross Merchandise Value (GMV) on the rise. The Philippines' PMI reached a 53-month high for April 2022 reaching 54.3 – the highest reading since November 2017. The country also posted a 93% year-on-year GMV growth from $9B GMV in 2020 to $17B in 2021. This makes the Philippines the fastest growing internet economy in South East Asia according to e-Conomy SEA 2021.
Learn more about Filinvest Innovation Parkat New Clark City by visiting its website www.filinvestinnovationparks.com.
#BrandedUp