Sunsets in the Philippines are always majestic and magical, a love letter from the universe to tell us that endings can be beautiful, too, and that endings can also mean new beginnings.
It's that time of the day when the sun kisses the world goodbye and casts its magic on nature. The round crimson ball slowly disappears into the horizon and beautiful colors make for an incredible backdrop — pink, scarlet, yellow, orange, a kaleidoscope of colors, for sure.
The result is a divine glow that fills the sky, and the clouds and the horizon sparkle with purple-red light. Neither your eyes nor your soul will have enough beauty while the sun sets.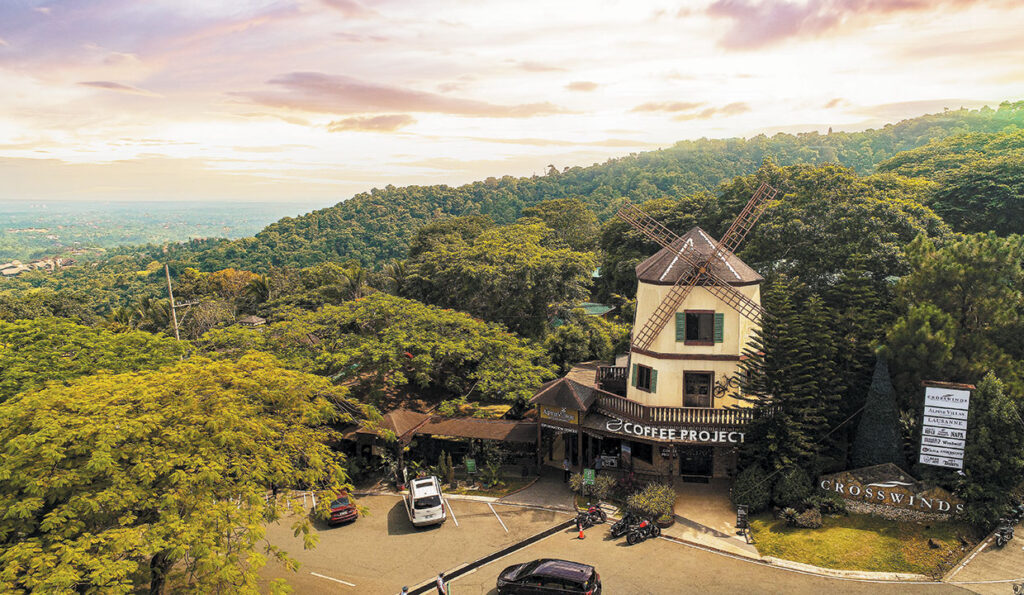 If you admire the beauty of sunsets, remember that there are many places where you can experience it or enjoy its calming, beautiful, and life-changing moments, be it high up on a mountain, on the lake, or the lush, sweeping natural hills just like at Crosswinds in Tagaytay.
An Exclusive Swiss-inspired Community
Inspired by the natural beauty of Switzerland that shines just as bright, with verdant forests and glistening mountain peaks, Crosswinds is Brittany Corp. 's 100-hectare exclusive enclave that features lot-only properties, luxury homes, and residential buildings.
The cool breeze, crisp mountain air, and earthy scent of pine trees are but a prelude to chasing the most beautiful sunset in this jewel of a luxury leisure development.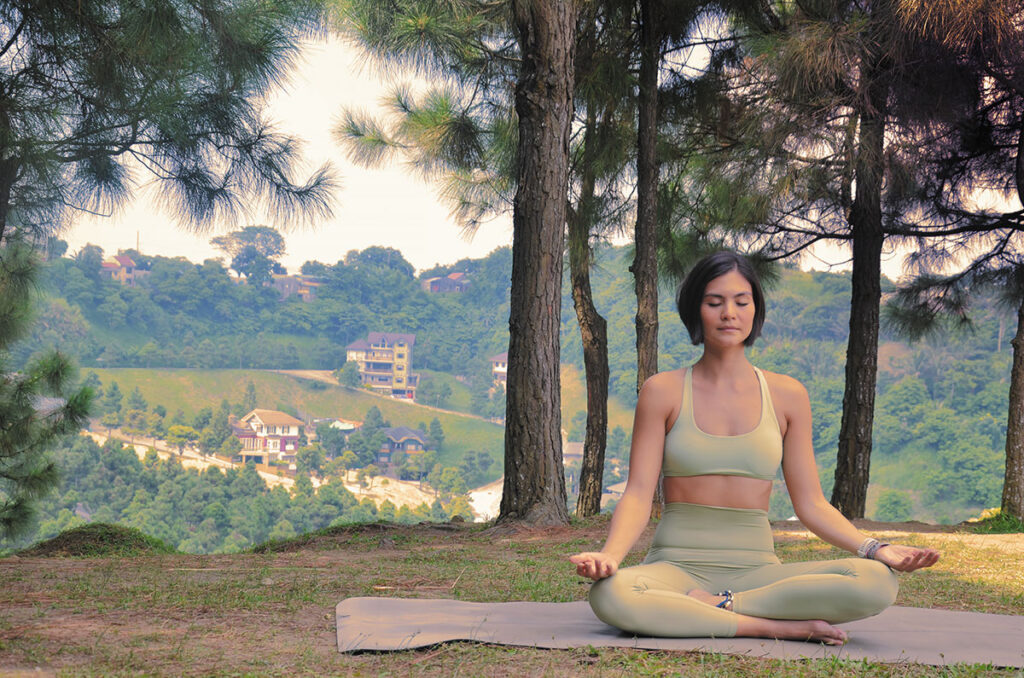 In Crosswinds, you can enjoy the magical sunset on the balcony of your Swiss chalet-style home with large windows that unite the interior outside and allow you to experience the mountain soul of typical Swiss-chalet architecture.
Here, one can savor the gasp-worthy views of the setting sun any day.
While sunsets are a literal end to a day, they have also become symbols of tranquility and the promise of renewal—a great reminder to rest and reset at the end of every day.
Making the Most of Crosswinds Sunset
In Crosswinds, there are many things to do as you unwind after a long day's work while enjoying the beautiful sunset.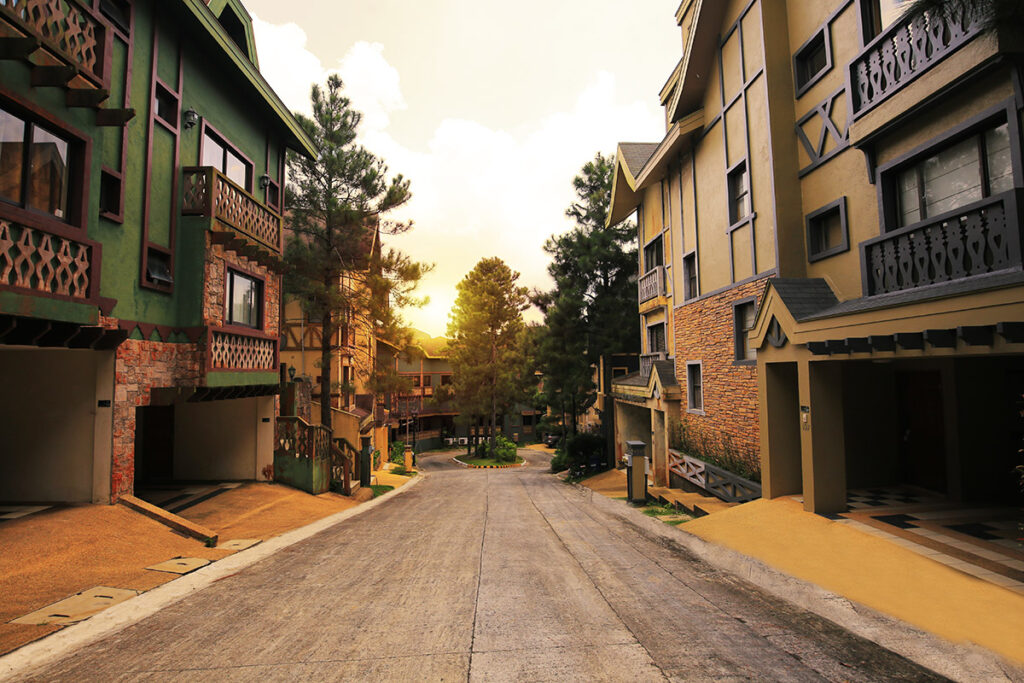 You can enjoy a romantic gastronomic evening at 620 meters above sea level with the different retail concepts such as the Instagram worthy food and coffee place Dear Joe, the Windmill Lausanne, Napa, and Ruined Project?
These places offer sumptuous meals and refreshing drinks. Diners can head outside to admire the spectacular sunset, and the experience is enhanced by the cold breeze and unique views made more beautiful by the stunning orange streaks of colors of the Tagaytay sky.
Weekend trips
If you're visiting for the weekend, you can spend the night in Crosswinds Resort Suites and start the next day with a hearty breakfast. From the hotel, you can see breathtaking mountain panorama and the sunset over the lush pine forest, a perfect place for seeing the evening out in a stylish ambiance.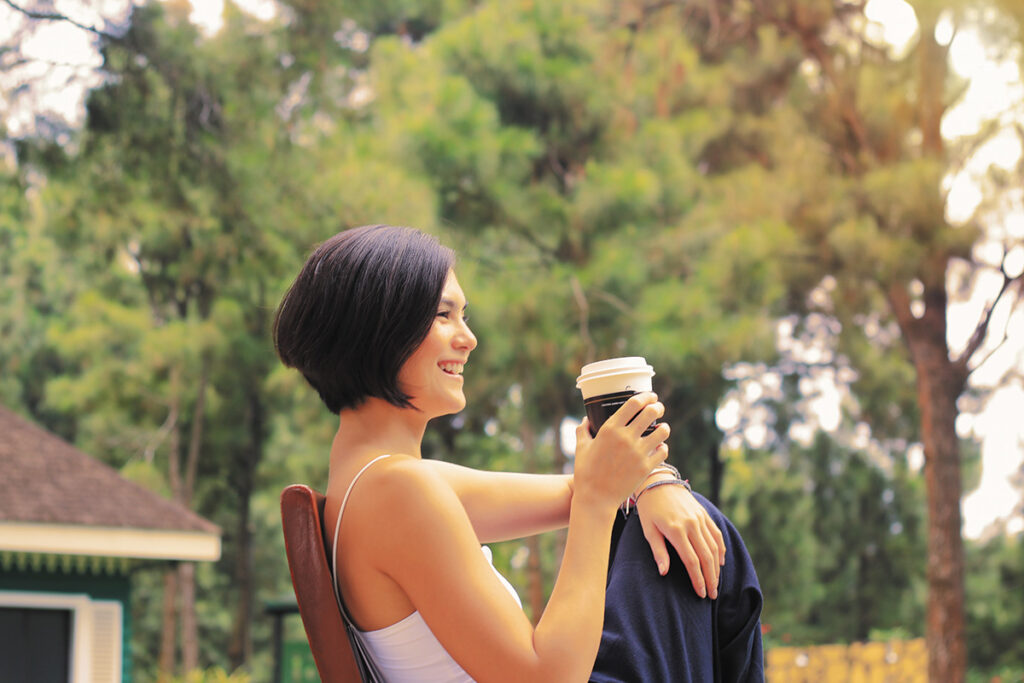 If you're staying in one of the Swiss chalet-style homes or Alpine Villas condominium units, you can treat yourself by relaxing in the balcony while watching the sun slowly slip over the horizon, a truly surreal experience to cap off your day.
Many people will agree that the sunset's warm colors hold power to stop just about anyone in his or her tracks. When your attention is entirely captivated by the awe-inspiring colors of the sky, you will genuinely get lost in the moment and slow down time. It is also meditative and will let you clear your mind from all the outside noise.
Witnessing the whole place basking in the golden hour allows you to see Crosswinds' exceptional landscape, enjoy unparalleled activities and explore its exclusive and tranquil community.
Making Crosswinds your home
If you want to make Crosswinds your home, there are many residential developments to choose from, depending on your needs.
Lausanne
There's Lausanne, a limited collection of prime residential lots that features true harmony with nature, as the entire development is built around a vast forest of over 35,000 pine trees sitting half a kilometer above sea level, giving it a distinct, rarefied air and ambiance.
This 24-hectare area boasts of enchantingly sweeping panoramas with views of the lush hills of Tagaytay, the calm Laguna de Bay, and the skyline of the Metro.
Lausanne's first tranche of luxury lots for sale are located at the highest elevation point in the area.
Crosswinds' Ready Homes
If you want to move in without the hassle, you can enjoy the impressive ready for occupancy residences.
Making full use of this bright and airy location, Crosswinds' ready homes have been thoughtfully designed with full-height, expansive windows to allow for maximum natural light to flood each home.
And – as the daylight fades – Crosswinds residents will be able to unwind and curl up beside a charming wood fire as the day draws to a close. This is relaxed, tranquil living at its finest.
The Grand Quartier
Those who want to experience Swiss living even deeper can choose to live in the Swiss chalet-inspired luxury condominiums set within the exclusive community.
The Grand Quartier was intentionally designed to look like the Swiss countryside, with naturally sun-soaked rooms and vintage yet charming exteriors that add a sense of simple luxury. The balconies invite the outdoors in and offer views that are simply spectacular.
The Grand Quartier is well-placed within a variety of amenities, commercial establishments and points of interest. The first two towers are fully operational as condotel, known as the Crosswinds Resort Suites while the third tower, composed of six storeys, offers the options to personally use one's unit or invest and earn by leasing it. After a long day, there is nothing better than relaxing in a warm, comfortable place.
Alpine Villas
Alpine Villas are three mid-rise towers namely Bernese, Blanc and Brienz that are situated 582 meters above sea level and command an excellent view of Crosswinds' exclusive community, lush green foliage of pine trees, open green spaces, and the commercial strip.
Alpine Villas offers well-designed, space-efficient vertical residences with a mix of Studio with balcony and One-bedroom with balcony and equipped with 24/7 safety protocols including a CCTV system in all common areas and Wi-Fi.
Indeed, there are many ways to live and enjoy Crosswinds, sunsets, sunrise, mountain breeze and all.
Brittany Corp., the company behind this exclusive, nature-inspired enclave, also offers a fine selection of home designs, high-end condominiums, and lot-only properties in excellent locations such as Portofino in Alabang, La Posada in Sucat, and Georgia Club in Sta. Rosa, Laguna. For more information on Brittany Corp.'s collection of luxury properties, visit www.brittany.com.ph. You may also follow them on Facebook, Instagram, and YouTube.
#BrandedUp