Buying a house is often a time-consuming task that comes with many considerations—from design and features, down to budget and location. And yet, prospective home buyers would conventionally put themselves through the journey of visiting properties in different locations, likely armed with a handful of flyers, a notebook or a phone to take down quick notes about the house, and a camera to take snapshots of the site. In between these trips are meetings with brokers and real estate agents and exchanging messages for inquiries.
Thanks to technology, anyone can now jumpstart their home search online and get details with just a few taps. This comes at a time when horizontal developments in open spaces and family-oriented amenities have become attractive options for starter families, upgraders, and retirees.
Growing homebuyer market in the digital space
To extend excellent customer experience to prospective home buyers online, Robinsons Homes, the horizontal real estate division of the Gokongwei-led Robinsons Land Corp., launched several digital innovations to make choosing your future home easy and accessible despite the setbacks and limitations brought about by the pandemic.
In 2021, digital tools have consistently become the second source of information for Robinsons Homes' homebuyers after the typical sales channel of agents and brokers. Creating a personal experience for their customers remains a priority through their digital initiatives, which are not meant to replace traditional sales channels, but rather serve as a means to help connect to home buyers and also empower their roster of property specialists to better engage with homebuyers.
"With majority of Filipinos becoming increasingly comfortable transacting online, we also saw the increase in direct inquiries from interested homebuyers through our website and social media channels. To create a frictionless experience, we developed digital means for them to discover and explore our subdivisions, amenities and house model at their fingertips without leaving their homes," said Patricia Mendoza, head of marketing for Robinsons Homes.
360-degree virtual subdivision tours
Select Robinsons Homes communities now have 360-degree virtual tours, which are ideal for those wary about heading out for a site visit or those currently residing abroad. You can virtually visit the following communities: Hanalei Heights in Laoag City, Ilocos Norte; Grand Tierra in Capas, Tarlac; Brighton Baliwag in Bulacan; Terrazo at Robinsons Vineyard in Dasmariñas, Cavite; and Bloomfields General Santos in South Cotabato. Soon to have are Brighton Puerto Princesa and Brighton Bacolod.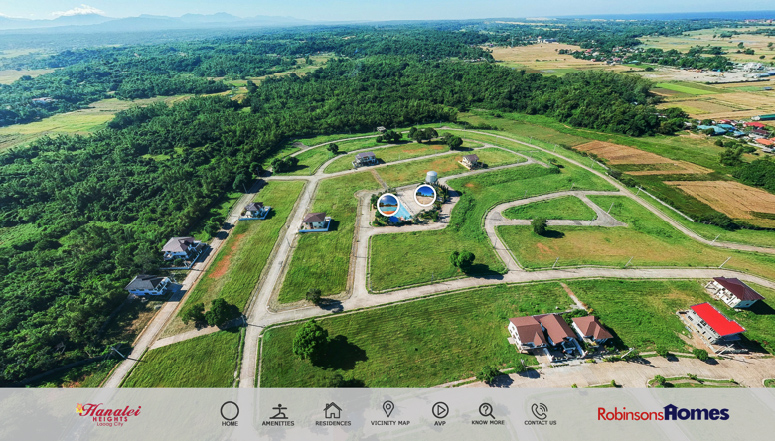 An aerial 360-degree view of the subdivision allows the buyer to appreciate the actual terrain of the land, road network, location of key amenities and vastness of open space. This can be viewed from any type of gadget whether it's a desktop, a laptop, a tablet or a smartphone.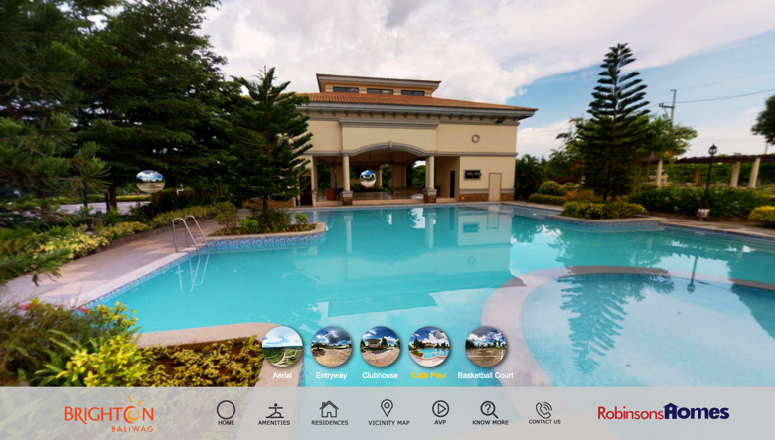 Click on the different hotspots and the buyer gets transported to the 360-degree view of the actual amenities such as the clubhouse, swimming pools, multi-purpose courts, parks and many more.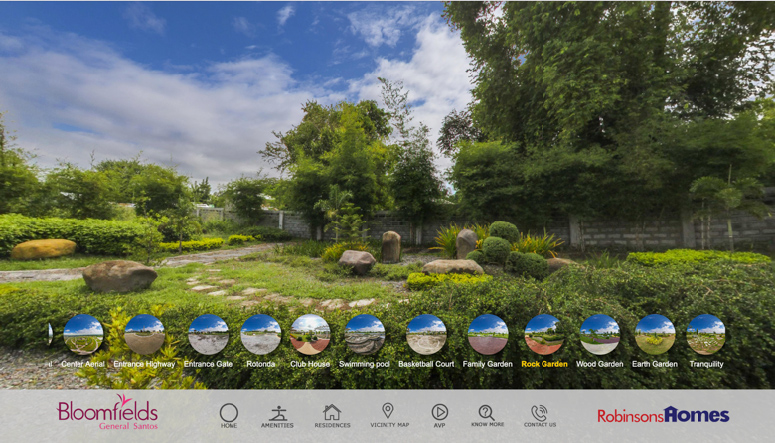 The web-based virtual platform also has the vicinity map of the development which informs the buyer of the nearby landmarks and places of convenience easily accessible from the subdivision.
360-degree virtual house model units
Interested homebuyers can also visit the house model unit virtually. The 360-degree virtual tour of one of Robinsons Home's house models, the Chicago—a two-storey, three-bedroom home—is similar to what you would expect of a fully furnished model unit. It features clear, realistic visuals through its floor-plan layout, 3D dollhouse, or photo thumbnails, and read about its specifications and inclusions.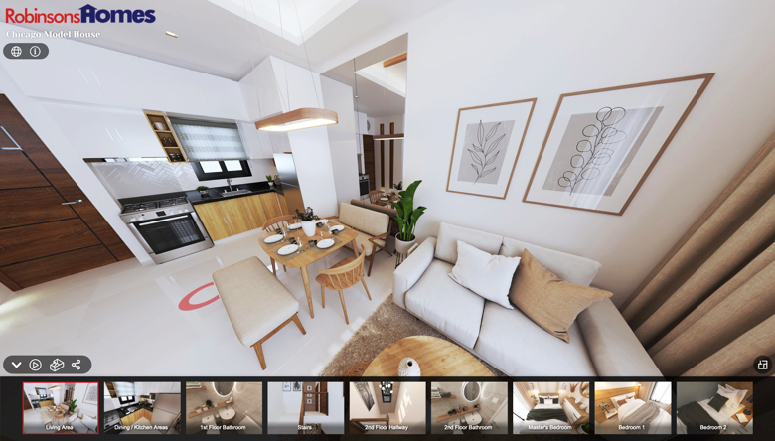 "Having a virtual house model unit makes it easier for our buyers to visualize themselves living in the unit and gives them a sense of space during an online viewing. It helps potential buyers emotionally connect to the unit. And the enhanced visibility has made the buying process more user-friendly," said Anderson Tan, head of sales for Robinsons Homes.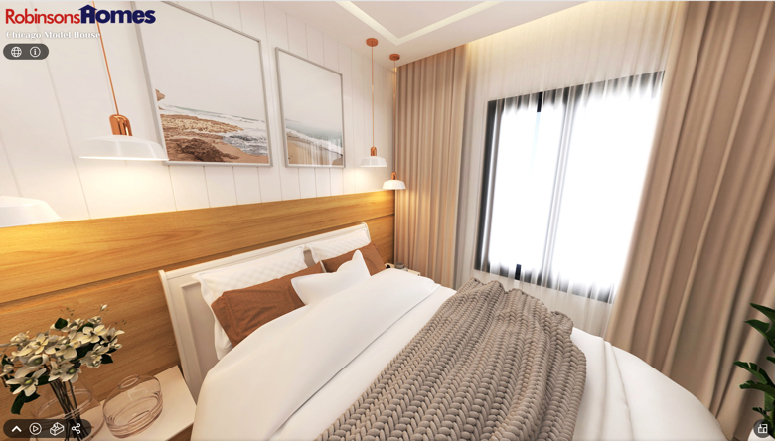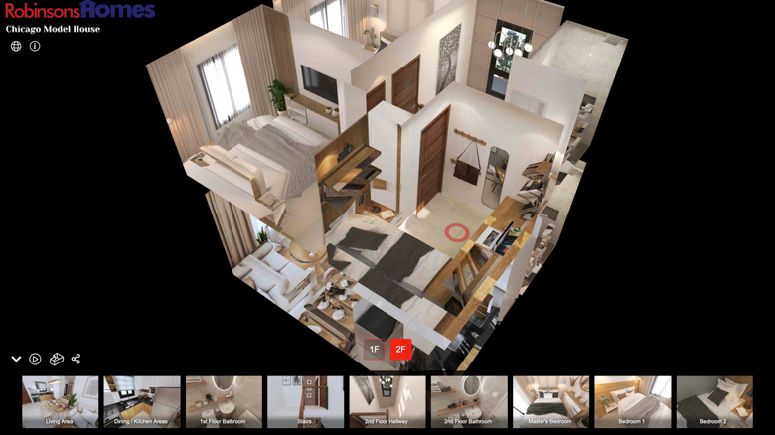 Easy online payments
Robinsons Homes also offers several payment methods. Should buyers need assistance in setting this up, Robinsons Homes Customer Care representatives will assist every step of the way to set-up their account.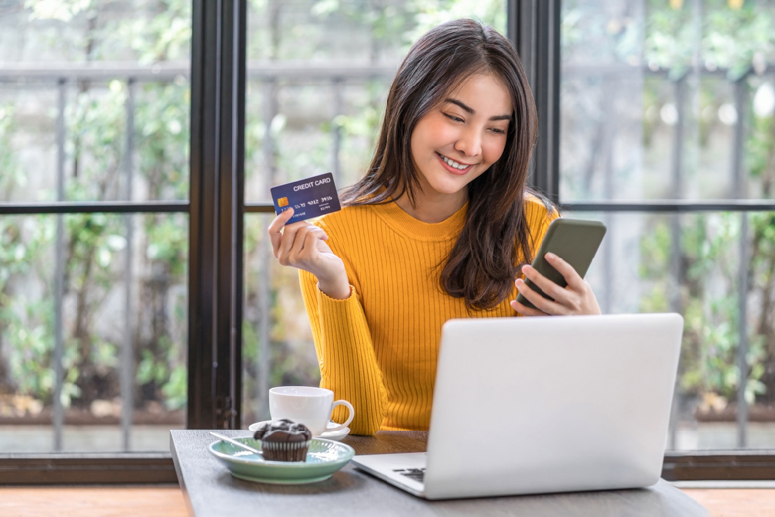 Robinsons Homes is a residential brand under Robinsons Land, known for its master-planned communities at affordable price points in key cities all over the Philippines. Their vision is to upgrade the quality of life of every Filipino family by providing an ideal home where they can start the good life.
For more information, visit www.robinsonshomes.com, e-mail their Customer Care at [email protected], call/text/Viber at +63 998-840-2606 or follow Robinsons Homes on Facebook or Instagram.
#BrandedUp