I think only a few families nowadays are still scared to stroll in malls, allow kids in face-to-face classes, hold birthday parties, even accept a few visitors at home—and we're one of those. So, in our attempt to finally go out of town after two years of isolation, we decided to bring the children to our most trusted place to unwind, relax and just be with nature—Sonya's Garden in Alfonso, Cavite.
Except for the stricter health and safety protocols, a more spacious parking area, a "personalized buffet" at the restaurant, and strong internet connection in the rooms, nothing much has changed. Our favorite bed-and-breakfast place still had the same, comforting countryside feel, from the moment you step into one of the charming cottages until it's time to go home or decide to stay a little bit longer.
It's the only place where we appreciate not having a television or air conditioning because who needs them when you can just gaze in awe in all the garden's beauty through the screened Capiz windows, and breathe in all the oxygen that the city can't offer.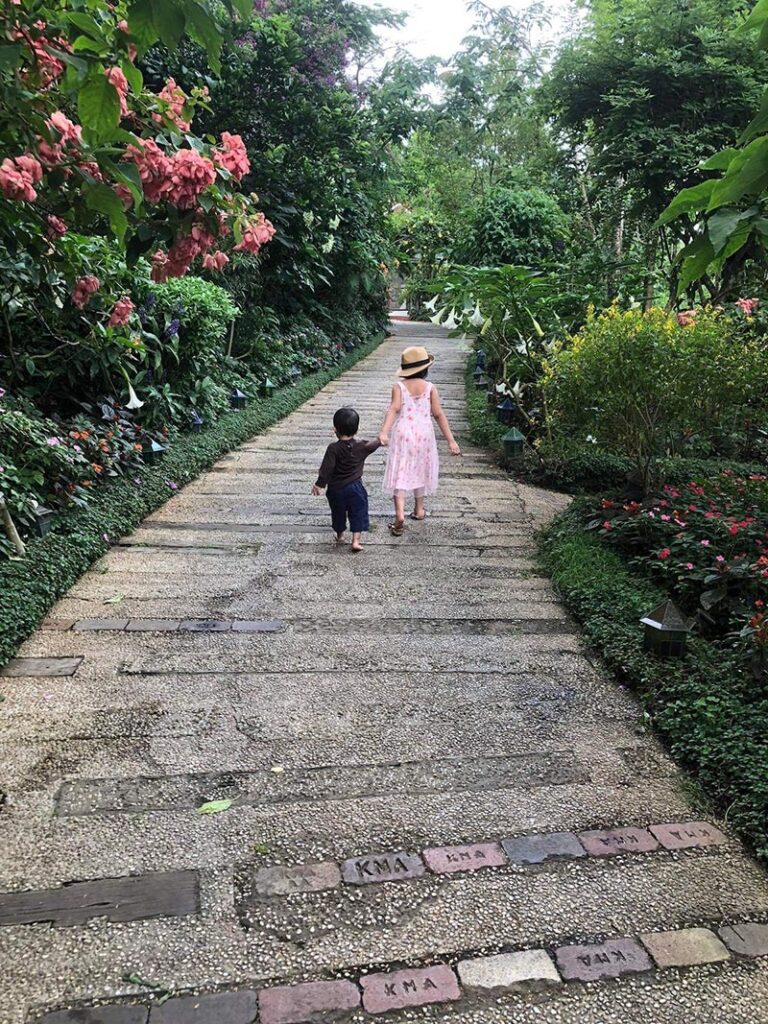 It's where we let our two-year-old toddler run barefoot, around the soothing fountains and sweet-smelling herbs and flowering plants. He gazed at the greenery stretching around him; it's his first time to see such enormous garden.
You wake up smelling a scent that fills the air after a rainstorm—whether it rained or not the night before—and just lounge near one of the windows, sipping a cup of tarragon tea while soaking in what the Japanese call komorebi, or the sunlight that shines through the trees.
It's where guests with digestion troubles can seek instant relief after just a day of partaking the farm-to-table food and alkaline water. Yes, it's the meal course that starts with the famous salad of seasonal veggies and fruits and edible petals like nasturtium and camantigue, pasta with choices of white and red sauces and generous toppings, the delectable pink salmon (sometimes roast chicken), and the best desserts on "that side of Tagaytay".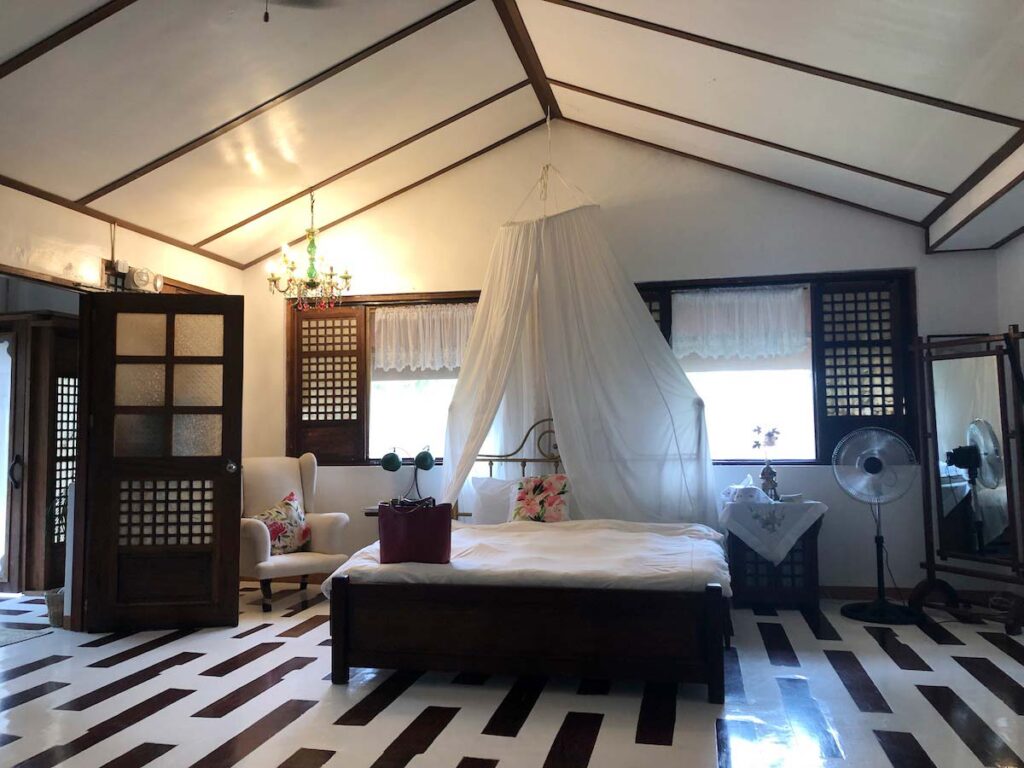 It's also where my daughter gets scared of a painted portrait beside one of the beds, but adores all the roomy, luxurious bathrooms with pebbled floors massaging her feet and the wafting aroma of the naturally made gugo shampoo and lavender soaps.
The last time we went to Sonya's natural spring, our six-year-old daughter was only two or three, and she cried as soon as we dipped our toes in the cold waters of the lap pool.
This time, we went to the other secret batis—which was also five kilometers away from the B&B. She frolicked in the chlorine-free water while admiring pink dragonflies, and wishing we brought her swimsuit. Not from afar, you can see some kuyas climbing a ladder and picking coconuts, which were then served with freshly cut bamboo straws.
This soaking pool is thigh-deep for grownups. It's shallower than the one we've visited before, but it amazingly remains crystal clear even when it rains.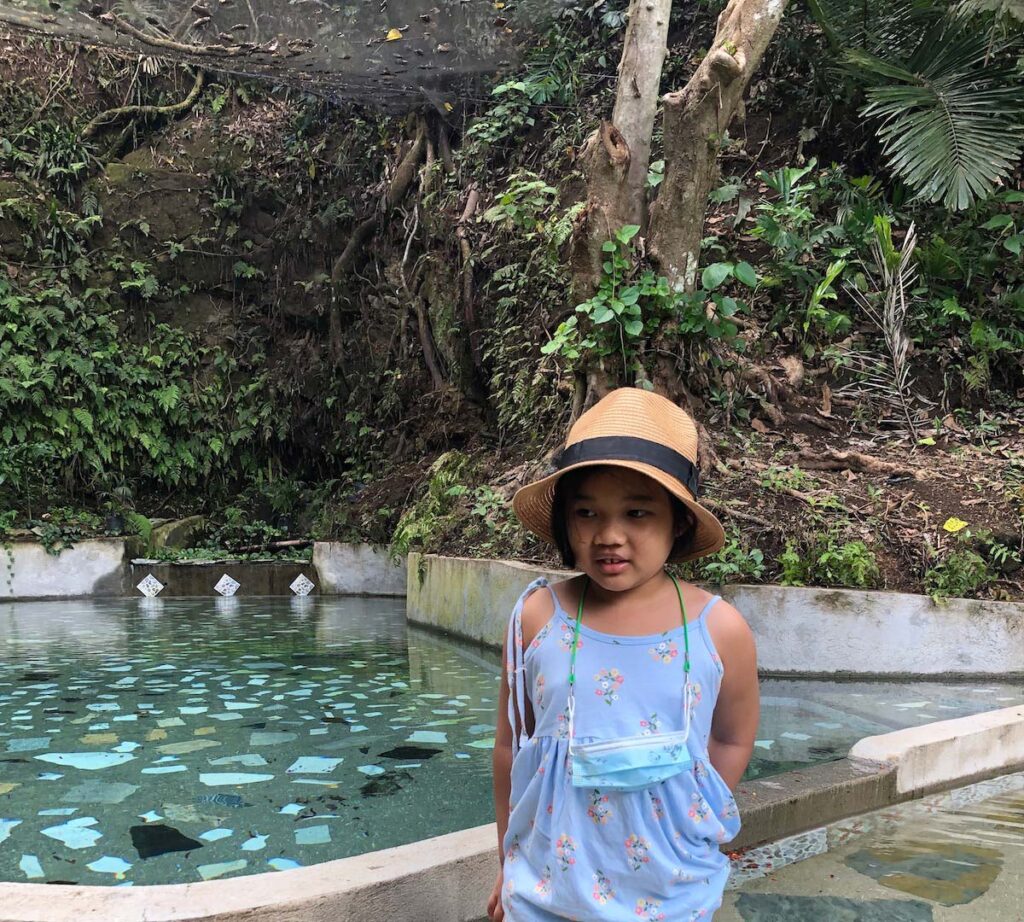 A little walk down the stream leads to an organic farm, which has become a safe sanctuary to some goats and horses rescued from Taal Island. Three months after Miss Sonya's team adopted a mare, it gave birth to a healthy foal—who's now fond of sneaking out of the stable to enjoy the tomato rows nearby.
Kuya Nemuel, our tour guide, let my kid pick tomatoes and okra and placed it in his salakot on our way to the tilapia pond. It was a manmade fishpond but whose water comes from another natural spring. And as if we're going to cook sinigang afterwards, we could see kangkong happilygrowing in abundance around the pond. We also got a huge papaya that ripened after a few days.
My daughter was so excited to go fishing for the first time in her life. She kept wishing to catch an adult tilapia with her rod, but the tiny fish were so quick to attack the worms. Of course, we had to throw them all back into the water.
It was almost lunchtime and there's a bawling baby back in our cottage, so we had to rush home and bid goodbye to the lovely farm for now. My daughter, although looking content and delighted, was eager to come back when the catfish breeding season is over, and try her luck at the other pond.
What we thought of simply visiting the secret batis and perhaps a greenhouse instantly ticked an item off our family's to-do list this school break. After two years of staying home, immersing your kid and yourself in an organic farm is exhilarating.
There's so many Act of Doing Nothing activities at Sonya's garden that the whole family can try. Before buying one of the potted herbs and ornamentals, why not learn the basics of gardening, compost-making, and plant propagation?
You can also relish a garden tour, which takes pride in the famous proposal garden and edible landscape garden. Even the gardens leading to the restaurant had interesting flora, a Mickey Mouse plant, leaves that smell like garlic, flowers with a scent of butter.
If that's not enough, you can even have a piece of their agricultural and residential lots for as low as P1,500 per square meter. I think the one with carabao mango trees is priced at P2,500 per sqm. For land sizing and complete details, please contact Sonya's Garden.