There's no single definition of luxury. When one hears the word, one may think of being in a state of great comfort and extravagant leaving. Elegance and the finer things in life also come to mind.
Oscar de La Renta, the Dominican designer, once said, "luxury to me is not about buying expensive things; it's about living in a way where you appreciate things," while French fashion designer Coco Chanel famously quipped, "Some people think luxury is the opposite of poverty. It is not. It is the opposite of vulgarity."
For Manolo Blahnik, the Spanish fashion designer, the greatest luxury is being free.
In economic parlance, "luxury good is a good for which demand increases more than what is proportional as income rises, so that expenditures on the good become a greater proportion of overall spending. Luxury goods are in contrast to necessity goods, where demand increases proportionally less than income."
Indeed, there are many ways to define luxury. Overall, the definition may be relative, as beauty is in the eye of the beholder and beauty as we know varies from person to person.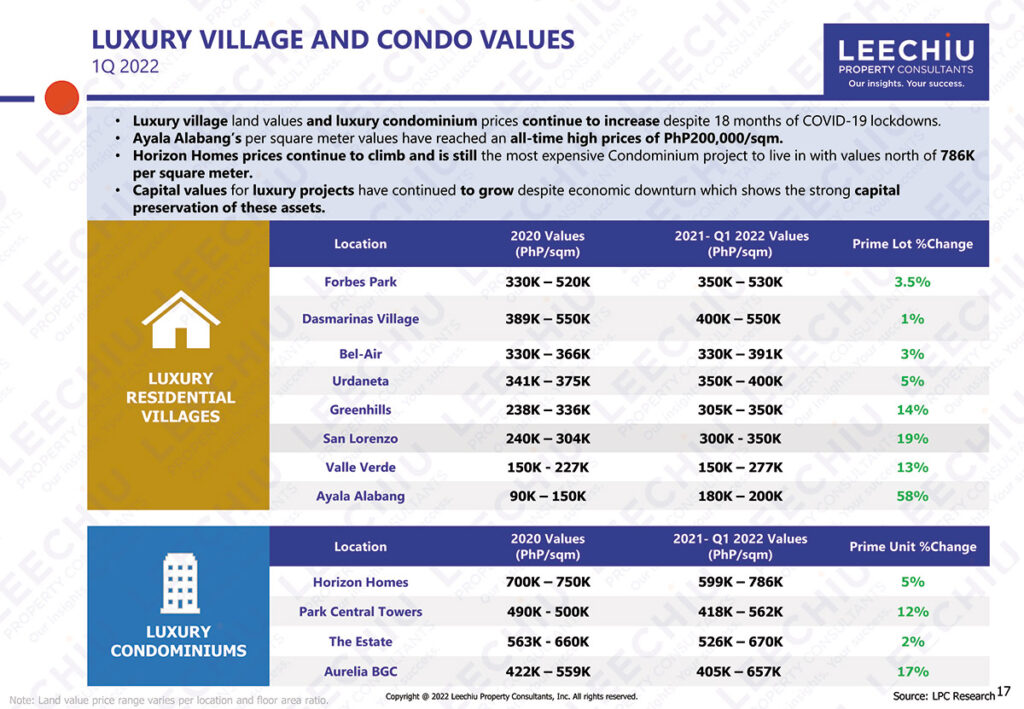 Thus, luxury may also vary depending on the user or the audience.
Luxury living
The same holds true in luxury living. There are many factors that define luxury homes.
In the Philippines, population 110 million, a significant portion of people are able to enjoy luxury and can afford luxury homes.
Here's a look at what defines luxury homes.
Location
Location is an important factor. Luxury homes are in desirable neighbourhoods, and exclusive communities.
The location of a luxury home is paramount when determining price and market demand, according to Canada-based Jane Hoffman Realty.
Views
Along with location, views from one's home are also important.
Waterfront properties, beach, and lake view homes are always in high demand.
Outdoor Spaces
Two years into the global health pandemic got people more interested in outdoor space. For many Filipino families, entertaining is a key element. Thus, having outdoor spaces to gather with friends and family adds luxury appeal to a home. Homes with an outdoor kitchen, outdoor living, and dining spaces and even a pool are all key elements of luxury outdoor living.
Beach or seaside homes are also in high demand since the pandemic struck, according to property expert Leechiu Property Consultants (LPC).
Home Qualities
Aside from location, a perfected floor plan, comfortable size, and quality finishings help constitute the luxury characteristics of a home, according to Jane Hoffman Realty.
The Kitchen
Luxury buyers also want huge and stunning kitchen designs where they can unleash their culinary creations and enjoy making gastronomic delights for their families.
Indeed, luxury, according to Jane Goodman, is a whole greater than the sum of its parts: desirable location and vital details.
It is to put it simply where one can enjoy life to the fullest.
Sound investment
Aside from providing a comfortable, secure and elegant living spaces, luxury homes are also good investments.
Financial experts agree that real estate can be a strong inflation hedge because even as prices fluctuate, capital values have always appreciated in the long-term.
Investors can also benefit over the short-term as rents are bound to rise with inflation rates, which means that one may expect a steady income stream from their property investments, according to Villar-owned Brittanny Corp. in an article.
It also quoted financial planner Henry Ong as saying that real estate "protects an investment from losing its value due to decline in purchasing power."
Citing the residential real estate price index from 2016 to 2021, Ong pointed out that "property prices have been rising by an average of 4.2 percent every year, faster than the 3.5-percent average rise per year of the consumer price index."
A Forbes article published online this month, meanwhile, also cited real estate as among the "best safe investments of 2022" as you are likely to "get consistent income, keeping you out of stock market ups and downs.
Leechiu Property Consultants, for its part, reported in its first quarter briefing that luxury village land values and luxury condominium prices continue to increase despite 18 months of COVID-19 lockdowns.
It noted that Ayala Alabang's per square meter values have reached an all-time high prices of P200,000 per square meters. The same goes in other high-end and exclusive villages.
"Capital values for luxury projects have continued to grow despite the economic downturn which shows the strong capital preservation of these assets," Leechiu Property also said.