Metro Manila office market showed signs of improvement in the first quarter of 2022 as it registered its first positive net take-up after seven consecutive quarters of negative net absorption, Colliers Philippines said.

"The Philippine office market appears to be turning a corner with the stabilization of occupancy as we recorded a positive net take-up of 26,400 sqm after seven consecutive quarters of negative net absorption," said Dom Fredrick Andaya, Colliers Philippines senior director for Office Services-Tenant Representation.

The first quarter net take-up is an improvement from the -130,100 sqm registered in the fourth quarter of 2021.
"The return-to-office and expansion plans of companies buoyed by improving pandemic situations and economic stimulus measures should accelerate take-up for the remainder of 2022," he added.
Colliers projects net take-up to reach 350,000 sqm this year after acumulative negative net-take up of -454,400 sqm for 2020 and 2021.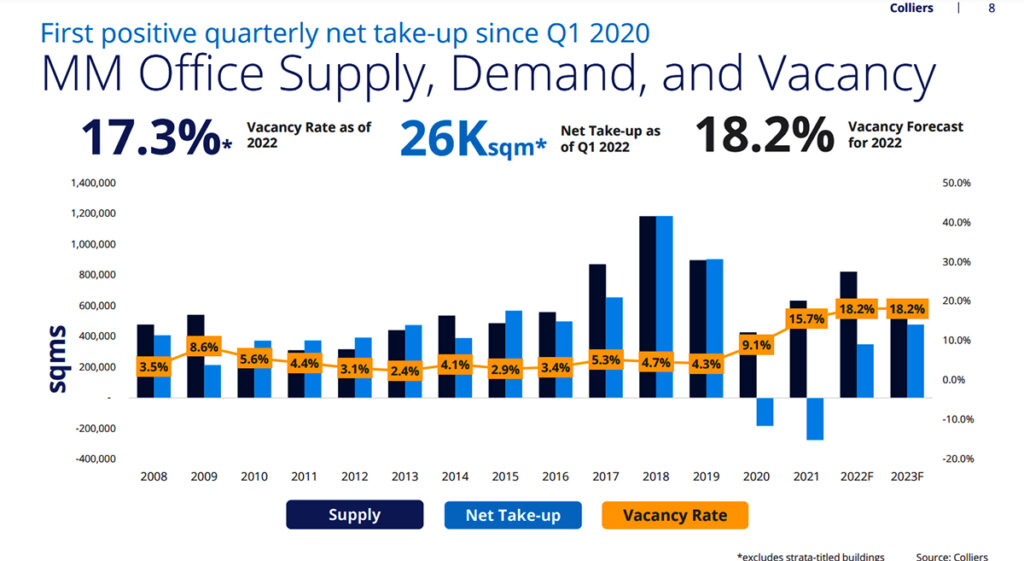 It added that the office space absorption is likely to be supported by firms' return-to-office mandates.

Data from Colliers showed that about 146,100 sqm of office deals were recorded in the first quarter, higher than the 134,100 sqm in the previous quarter.
"Traditional and outsourcing firms dominated office space take-up during the period," Colliers said.

Some of the notable transactions during the quarter, as cited by Colliers include Facebook, Lazada, Arcadis, Orix and ePerformax.
"These firms took up office space in Fort Bonifacio, Makati CBD and the Bay Area," it added.

The property service firm said that traditional and outsourcing firms are likely to lead office absorption this year.