Robinsons Land, one of the country's leading real estate developers, virtually unveiled its first premier luxury horizontal enclave Forbes Estates Lipa, a master-planned community that affords its residents the elusive "luxury of space, time, and a life well-lived."
After the successful launches of The Residences at The Westin Manila Sonata Place in Ortigas Center, Pasig; the Aurelia Residences in Bonifacio Global City; and the Velaris Residences in Bridgetowne Destination Estate; Robinsons Land is building the next in its portfolio of world-class luxury real estate developments in the first-class city of Lipa, Batangas, with Forbes Estates Lipa.
Dubbed as "In Pursuit of A Life Well-lived," the unveiling was held via Zoom hosted by CNN senior anchor and correspondent, Pinky Webb.
The event gave the audience a glimpse of the property through a virtual-reality estate tour, the vision and inspiration of the builders and designers, and the stories of prominent Lipa residents who have built sustainable and productive lifestyles in Lipa.
Virtual reality estate tour
The walk through was conducted by AJ de Leon, Head of Business Development for Forbes Estates Lipa, Robinsons Land.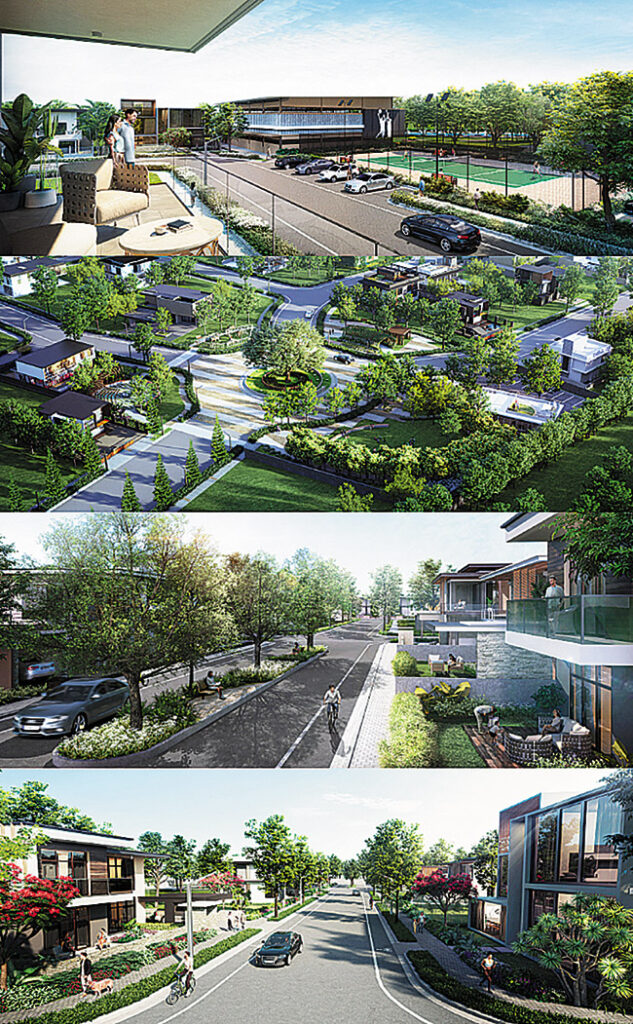 "This shows our buyers and our property owners that the value we imbued in the land is not just for residential. It has a strong commercial potential in terms of value appreciation as well," De Leon said.
Upon entering the estate, the sprawling Estate Park complex will enthrall residents and guests. The spacious and lush green complex covers approximately 3,700 sqms composed of four different parks namely, the Picnic Grove, Tranquility Garden, Pet Park and the Wellness Park.
The virtual tour also showcased the huge one-hectare parcel of land devoted for the main open space called the Forbes Club, which is a well-designed haven for relaxation, community and sport. It offers a host of sporting and leisure facilities including a Garden Lounge, Fitness Center, Grand Ballroom, Pool Deck, Children's Play Park, Tennis Court and Multi-Sport Covered Court.
De Leon also shared the four types of residential offerings at the enclave. The most prime is the Club Lots composed of 10 corner lots that surround the Forbes Club, giving its residents access to the amenities at the club. Situated along the development's 20-meter wide main avenue, the allure of its exclusivity and location make it the most prized lots.
The Park Loop is composed of eight lots adjacent to the Estate Park, which gives residents a feel of having "an extension of their garden." The next are the inner or corner lots called Estate Lots, which have an average lot size of 500 sqms. The Estate Lots have wide roads that have dedicated bike lanes and jogging paths that residents can enjoy. "With a 500 sqm space, you can build your dream home," De Leon said.
The Courtyard Lots afford residents their own semi-private park. With only six residential lots to a courtyard, residents will enjoy the perfect mix of community and privacy.
The builders and designers of the new Suburban Solace
Guests joined the discussion with the technical and creative collaborators of Forbes Estates Lipa as they shared the estate's vision and intent from the lens of property development, architecture, interior design, and sustainable master-planning.
The panelists shared how they collaborated to integrate indoors and outdoors seamlessly within the estate; how they developed a property that appreciates space and greenery and promotes the well-being of its residents, especially in the wake of the pandemic; and how it was built to address the need for expansive space, peaceful environment and lush greenery.
"Forbes Estates Lipa aims to be the home that caters to all your needs, giving you the luxury to live at your own pace and allowing you to enjoy things that really mater," said Mico Racelis, business unit general manager, Robinsons Land.
The estate was designed to improve the physical and mental well-being of its residents.
Interior designer Chat Fores took the wellness approach for the whole community as an inspiration. Spaces were designed for family members to take advantage of and for friends to meet and greet.
The designers also made sure to respect nature by designing spaces without compromising nature.
Environmental design and landscape architecture firm Crearis, led by its founder and managing director Mike Espiritu, explained their plans of planting native species of trees and shrubs, and an orchard and fruit-bearing trees to make the landscape more productive.
Apart from being in charge of the beauty and function of the green open spaces, they also designed the estate to manage storm water and allow the water to percolate through.
"In terms of health and well-being of people, we know that architecture has an influence on people's feelings, so we focused on providing natural lighting, double height spaces and the planning was arranged in a way that it hugs the trees and the landscape. The features of the clubhouse allow the visitors to feel very welcome," said Arch. Nacho Mauricio, design director and managing partner of ARKIASIA.
A place for inspired living
Prominent Lipa residents and entrepreneurs, who have built and established sustainable and deeply-fulfilling lifestyles, commercial ventures and creative endeavors outside of the city, also attended the event.
News and current affairs host and STAR columnist Cito Beltran, whose family has been a resident of Lipa since the 1970s, said property prices were cheaper then at P50,000 per hectare or P5 per square meter, but although prices have gone up, living in Lipa compared to the urban jungle of Manila, has a lot of perks. Instead of spending P32 million to P35 million for a multi-level unit, Beltran said it is better to acquire "a beautiful spread in Forbes Estates Lipa."
"Don't wait until you retire to retire. Many people wait for 65 to retire and they can't afford it anymore. They've gotten too old physically and it's too expensive," he said.
For entrepreneur and wellness advocate Pinky Tobiano, Lipa became instrumental to her and her family's health and well-being. When she could not fly out to Singapore for her treatment during the pandemic, Tobiano found that The Farm at San Benito was recognized by Mount Elizabeth Hospital in Singapore.
"If you can invest in a lot in Forbes Estates Lipa as early as now while it's pre-selling, I think it's the perfect gift you can give yourself. The air is very fresh and population is not dense and look at this view, amazing so how can you not fall in love with Lipa," Tobiano enthused.
Media consultant Charie Villa acquired her two-hectare Lipa property in 2018 and decided to stay for good in Lipa in 2019. She says life is simple but rewarding especially as her property has a lot of fruit bearing trees.
Villa said the Batangas port makes it an ideal springboard to explore other islands around the country. "Batangas is a hub. You can go to the Batangas port and go to Mindoro or Palawan or anywhere you want to go with the ro-ro there and get to the islands. It's very beautiful to live in Batangas," she said.
To watch the recorded session of the event, visit https://bit.ly/Forbes_Launch.
For information, visit www.forbesestates.ph or www.facebook.com/OfficialForbesEstatesLipa