The Philippines is on its way to becoming a major player for both refrigerated storage and cold-chain logistics. In the Asia–Pacific region alone, this industry reached $110 billion in 20201, giving the country a huge upside if it continues its path of building outside of the major cities and serving the demand in the countryside. With the impact that the pandemic has left us, we saw the potential of growing this industry locally and both investors and developers have started to respond to this gap in the market.
Potential increase in demand for cold storage facilities
Demand for cold-storage facilities within and outside of the country's capital remains underserved due to limited options. The growth of online deliveries of perishable food items will likely lead to a potential increase in demand for cold-chain storage2.
In other markets such as China, cold-chain facilities also have low penetration in the market. By the end of the first half of 2019, total cold-storage stock in Chengdu was only one-sixth of traditional high standard warehouses3. Demand for these facilities will likely increase given the rising consumption of fresh food from online retailers. Developers planning to construct facilities should offer value-added services to gain a competitive advantage. These include inventory management and order purchasing services.
Tap the demand for cold-storage facilities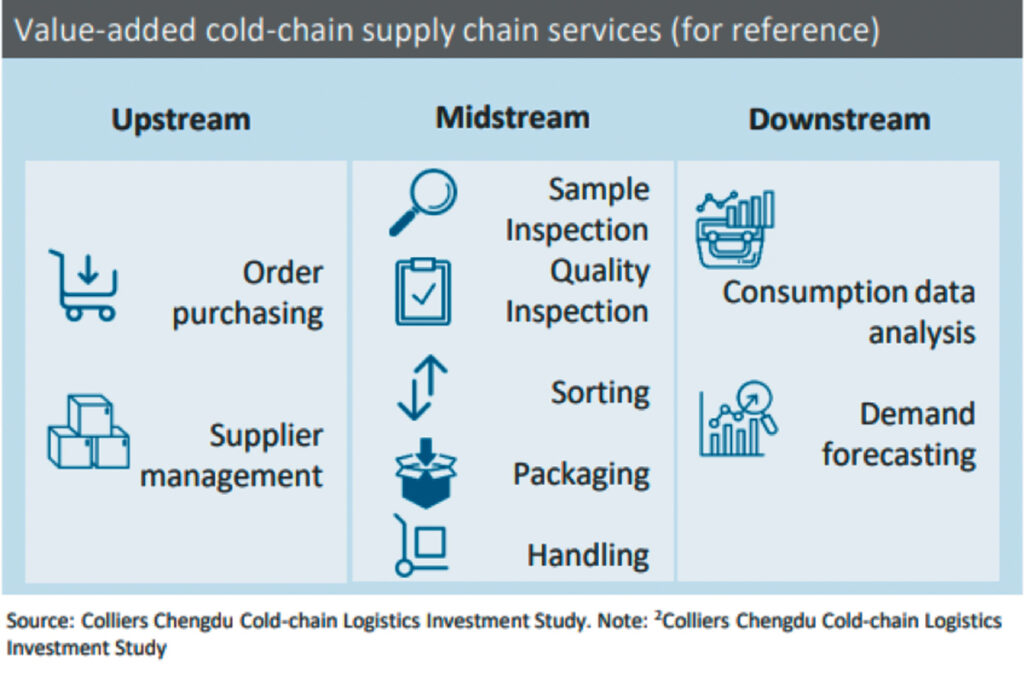 The growing preference for online shopping has been propelling the demand for warehouses and cold-storage facilities specifically for perishable food items and other essential products. With the ongoing COVID-19 inoculation program, demand for specialized cold-storage facilities for vaccines and other pharmaceuticals is also likely to rise. To meet the growing demand, we encourage developers to consider expanding their assets to include cold-chain facilities or to refurbish existing supply to include specialized cold storage features such as pre-installed chillers, increased floor load capacity, and higher ceiling heights. The Board of Investments (BOI) projects the revenue of the country's cold chain industry to reach P20 billion ($417 million) by 2023 as a result of this thriving demand.
Invest in cold-chain assets
The demand for cold-storage facilities in Metro Manila, Pampanga, and the Cavite–Laguna–Batangas (CALABA) corridor remains underserved. We project demand for these facilities to increase as restaurants and supermarkets (including black or dark grocery concepts) serve the demand for delivery of perishable, ready-to-cook or ready-to-eat food items. This will likely be complemented by a rising demand for pharmaceuticals, including the need for more booster shots against COVID-19.
In our view, developers should look for areas in the peripheries of business districts that are viable locations for these facilities. New Clark City and Taguig are among the feasible locations as these are likely to be developed by the government as agro-industrial zones.
The BOI, together with industry groups, launched a Cold Chain Industry Road Map that aims to increase cold storage capacity by 10 percent to 15 percentannually or 50,000 pallets each year. The current capacity of the sector is at 500,000 pallets. The agency also plans to create a National Cold Chain Committee to monitor programs.
More technological innovations to modernize facilities
Data from the Philippine Statistics Authority (PSA) show that the manufacturing, transportation, and storage sector contributed 28 percent to total approved investments in the nine months of 2021, down from 82 percent in the same period of 2020. Demand for warehousing will likely rise over the next 12 to 36 months, driven by the growth of e-commerce and deliveries. We recommend that developers modernize their facilities by further adopting technological innovations to offer better services and differentiate themselves from competitors. These include automation, advanced robotics, conveyor systems, and data storage in the cloud.
E-commerce sector demands more space
In the first half of 2021, industrial vacancy in the CALABA corridor recorded a slight recovery sliding to 5.2 percent from 5.7 percent in the first half of 2021. We attribute this to the increased demand from e-commerce and manufacturing firms for warehousing and logistics.
We see the rising demand for cold-storage facilities improving warehouse occupancy rates in the next 12 to 36 months. With the government's vaccine procurement, cold-storage facilities are likely to expand in areas outside Metro Manila in order to ensure the quality of the vaccines delivered across the country.
Colliers sees vacancy slightly rising to 5.5 percent in 2022 partly due to new supply.
The Department of Trade and Industry (DTI) projects the number of domestic online businesses to reach roughly one million in 2022. DTI also projects the e-commerce sector to contribute about 5.5 percent to the economy by 2022 from 3.4 percent in 2020. To support these sectors, Colliers sees sustained demand for cold storage facilities beyond 2022.
According to the Cold Chain Association of the Philippines (CCAP), among the factors that will likely drive demand for cold chain assets are consumer preference shifting to frozen food products, population growth, economic recovery, and the rising trend of e-commerce platforms.
Cold storage is one segment of the property market that will likely thrive beyond 2022. Developers should be quick in seizing opportunities from this sector.