Carousell Philippines looks forward to 2022 with an optimistic and bullish view.
The fast-growing online buy-and-sell platform which closed 2021 with a $100 million investment from Korean private equity STIC Investments and the acquisition of Ox Street, one of the leading end-to-end marketplaces for authenticated sneakers and streetwear in Southeast Asia, is all set to create innovations to strengthen Carousell Philippines this year.
"The pandemic has provided customers with access to a significant variety of products from the convenience and safety of their homes. We see this shift as an opportunity and inspiration not only to make Carousell even better but most importantly, to serve Filipino customers better," said Carousell Philippines' new general manager Djon Nacario, who discussed the upcoming plans, innovations, business prospects, and directions of Carousell for the year in a recent media event.
The pandemic scenario
During the pandemic, Carousell served as a helpline for a number of Filipinos when users set up community pantries funded by items sold on the Carousell app to aid those left most vulnerable by the crisis.
During the recent Typhoon Odette, sellers have also initiated a donation drive by selling secondhand items and donating the proceeds to families and communities that were heavily affected by the typhoon. Listing views and monthly active users have also increased in 2021 as more users turn to Carousell to buy medical supplies and secondhand clothing while some users have also started selling on Carousell to supplement their income.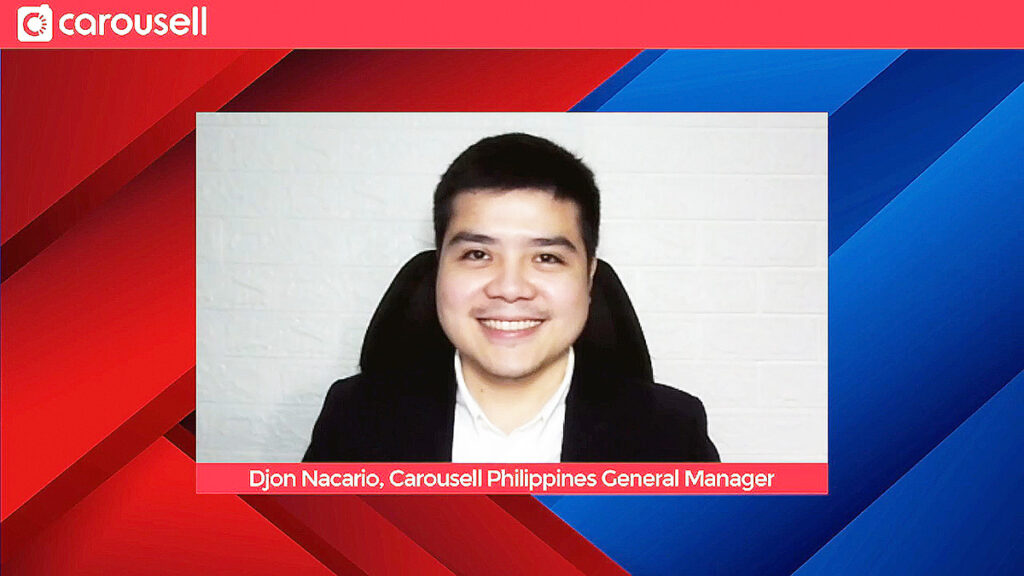 "We are very heartened at some of the grassroot initiatives that our users have started on the Carousell platform which shows the true spirit of Filipino resilience and bayanihan, especially in times of crisis. Carousell supports these humble initiatives by our users to extend help to the most vulnerable and to ensure that people can continue on with their lives amid the pandemic," Djon said.
Property 24 to merge with Carousell
A highlight development for 2022 is the merging of Property24 with Carousell.
The merger will provide an effective online platform for leading real estate developers, agencies, and brokers to help them showcase their property listings to a wider audience of qualified prospective buyers including Carousell's 4.62 million monthly visitors.
In line with this, Carousell is also working on initiatives to improve the user's experience on its platform to ensure that customers are able to find every kind of home for every kind of family.
Recognition of excellence in the property industry
For the first time ever, Carousell also recognized real estate developers and their finest developments in the recently-launched Carousell Property Awards.
Trust and assurance in Carousell autos
With over 6,000 cars listed on the platform as of February 2022, Djon also expounded on Carousell's recent tie-up with Premium Warranty Services Philippines Inc. (PWSPI), the premier provider of used vehicle inspection and warranty services in the country, to launch the Carousell Autos Inspected and Warranty program.
Recognition for Pinoy entrepreneurs
Finally, since many Carousell users are micro-, small- and medium-size entrepreneurs, the company is also set to launch the Caroupreneur Awards that will recognize the outstanding achievements of Filipino entrepreneurs over the past year.
To celebrate Carousell's decade of sustainability, Caroupreneur Awards will also have sustainability-themed categories such as Heroes of Green, and other categories including Best in Carousell – Autos (Used Cars), Autos Workshop and Services, Property, Home Services, and many more. Winners will be announced later in the year.
About Carousell
Carousell is a classifieds marketplace that makes selling as easy as taking a photo and buying as simple as chatting. Launched in August 2012, Carousell began in Singapore and is now the world's largest and fastest-growing marketplaces in Southeast Asia, Taiwan, and Hong Kong.