For the discerning few, opulence and utmost comfort are important elements of sophisticated home design. Where else could you get the ideal inspiration to elevate day-to-day living, but from international five-star hotels? These well-regarded luxury hotels always have well thought out and delightful interior designs that are both elegant and welcoming, and at the same time, practical and functional.
At Grand Hyatt Manila Residences (GHMR), the first Grand Hyatt branded residence in Southeast Asia, Federal Land brings this idyllic concept home. Known for being a premier developer that introduces some of the most distinctly designed and iconic properties in the market, Federal Land employs their unique talent and passion for creating world-class architecture and superlative interior spaces into creating one of the most desirable addresses in the country backed by the global expertise of the Grand Hyatt group. Launched in 2012, the Grand Hyatt Manila Residences seamlessly incorporates the impeccable style and concierge services the global hotel brand is famous for and brings this unique pampered living experience into a rare collection of exclusive homes in Bonifacio Global City.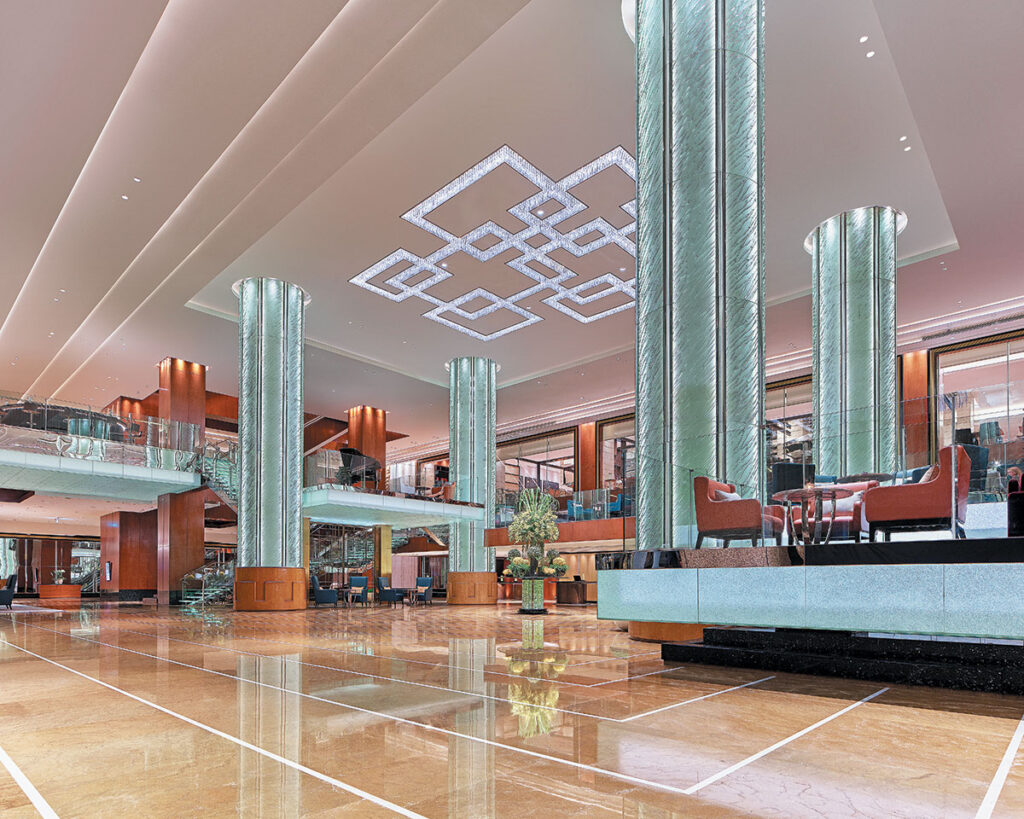 With the launch of the Grand Hyatt Manila Residences South Tower, the newest high-end residential tower within this signature enclave, Federal Land finds itself continuing the legacy of its well-received and highly demanded luxury residential concept and now promises a new generation of distinguished homeowners the same distinctly curated lifestyle every day. And as the company celebrates a milestone year this 2022, Federal Land takes this commitment a step further by partnering with some of the most brilliant and well-regarded design firms in the country who share their zeal for excellence in design and offering a few select clients the opportunity to augment their reservation of a luxury home with specially designed turnkey interiors as a hassle-free part of their purchase.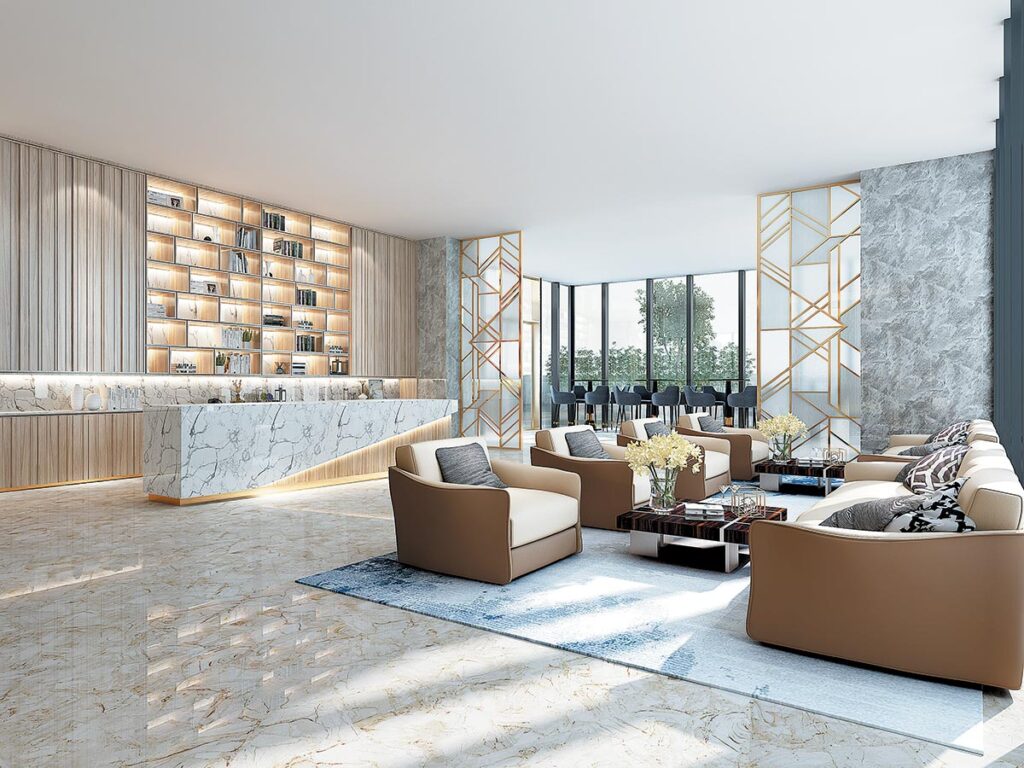 Limited edition Turnkey Suites
Continuously redefining luxury living in the Philippines, Federal Land's unique turnkey offering for select residential suites of Grand Hyatt Manila Residences South Tower shifts the game on how developers deliver upscale living concepts to customers and works well with Federal Land's reputation as the benchmark for innovative design in Philippine real estate.
In industry parlance, a turnkey property is a fully renovated home or apartment building that a homebuyer or investor can purchase and immediately move into.
Move in ready, Grand Hyatt Manila Residences South Tower's turnkey offerings come in sophisticated design options and bespoke furniture pieces, elevating the living experience to a new level of luxury and utmost convenience.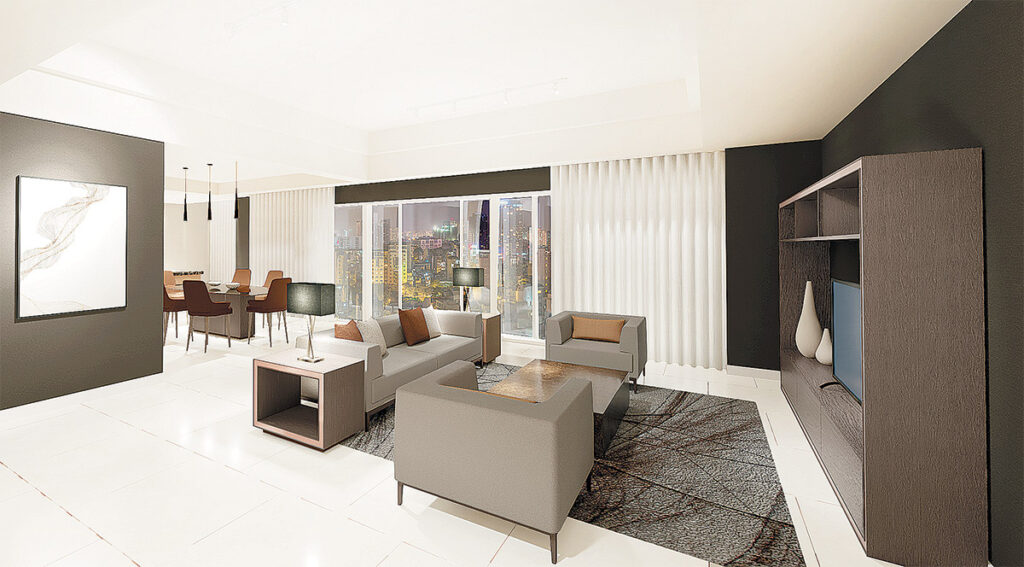 How so?
The turnkey units come in two- and three-bedroom sizes for a limited time, all masterfully designed by three renowned designers, Asuncion-Berenguer Inc., known for creating powerful and memorable architectural and interior design solutions; D3ID, which turns dream spaces into livable works of art; and Empire Designs best known for "understated luxury."
Each interior designer brings its unique touch to the units but with the end goal of providing luxurious yet functional spaces.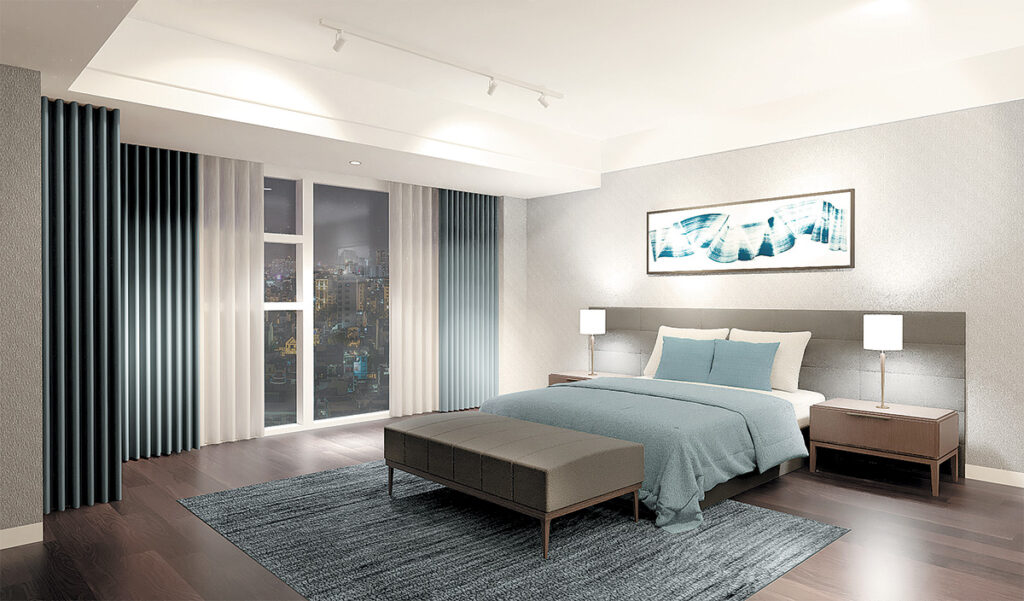 Thus, South Tower residents can expect not just ready-to-occupy units but ready-to-enjoy spaces, complete with opulent furniture and appliances necessary for everyday life and so much more.
Walk into furnished homes with television sets and consoles; lounge chairs; ottoman; elegant dining tables and chairs; buffet counters; vanity desks and what-have-you.
These spaces are perfect for families and individuals who simply want a hassle-free moving-in experience; expatriates who don›t want to worry about which furniture suit their units best; executives who value their time; go-getters who want to get the best out of their homes and just about every dreamer and driven homebuyer who just wants to have a relaxed and comfortable living experience.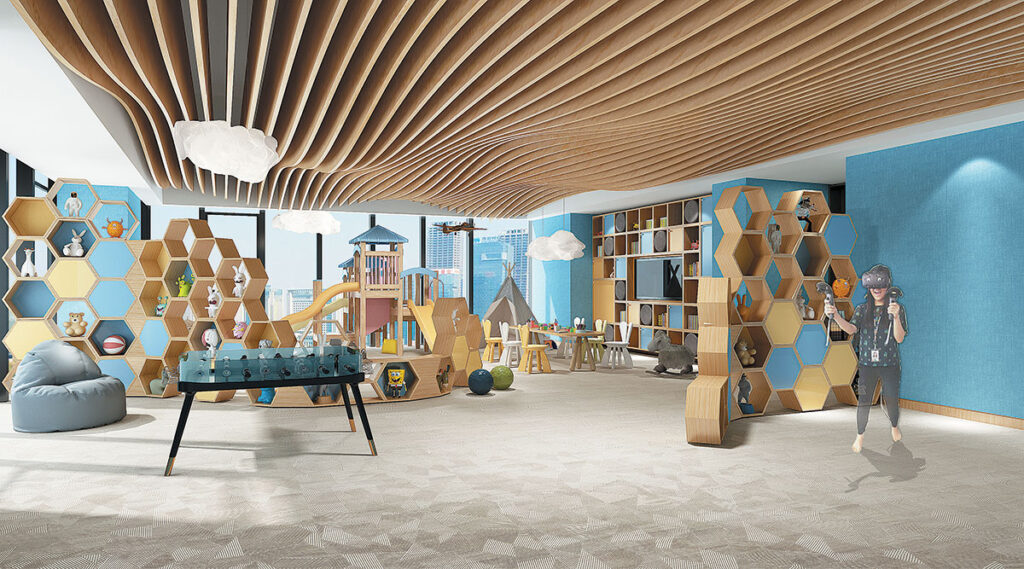 Three-bedroom unit designed by Asuncion-Berenguer Inc.
Inside the 207- and 291- square meter three-bedroom designed by Asuncion-Berenguer Inc. (ABI), the general color scheme is warm, with floors in natural wood tones that carry through into the furniture pieces.
Walls are pale neutral, which enhances the lightness and brightness of the spaces. Furniture pieces provide accents with their burnt sienna and darker tones. The end result is a balance between being cozy, bold & spacious.
There's also a serene scheme that employs grays and white-washed tones, accentuated by jewel shades in cool and muted hues. The design provides an experience that is both restful and energizing.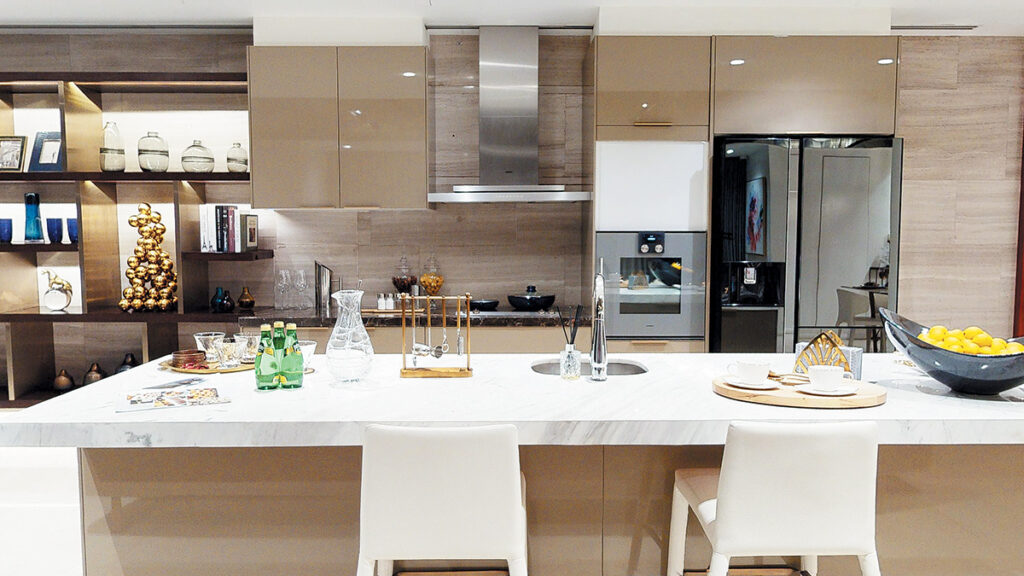 Isabel Asuncion-Berenguer, Design Principal for ABI, shares how they came up with the two design themes for the residences. "We considered two general aesthetic and experiential preferences: one which delivers a cool and bright aesthetic and another that delivers more warmth and coziness. The former feels more open, has a more daytime feel, and is connected to the natural rhythms of day and night. The latter is more closed-off and cocooned, warmer, and cozier. The kind of place you'd like to cloister in during a rainy day," Berenguer said.
Spacing is generous, a mark of true luxury, evoking a sense of simple yet refined sophistication.
"Most condo units are small, but GHMR is spacious and we didn't want to take that away by cluttering every square meter with furnishing. We wanted lots of airiness and room to move. The full-height windows and the amount of natural light they bring in is a premium most condo developments don't offer," said Berenguer.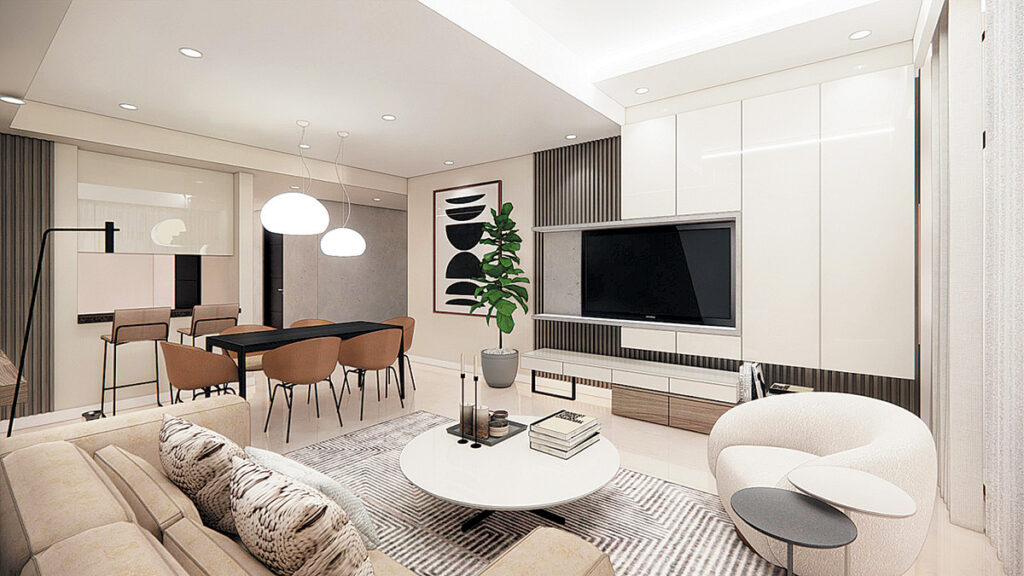 Berenguer also shared that clean aesthetics not only amplifies the space, but also allows the homeowners to augment the furnishings and enable them to personalize their space.
Furnishing pieces are simple and carefully proportioned to come together as a pleasant assembly of elements. The living room for example is ready with a three-seater sofa; an ottoman; coffee and side tables; a television console; a table lamp; an area rug; an LED television set; a table lamp; and a chair one can comfortably lounge on.
Experience elevated dining everyday with an elegant dining table set, a buffet cabinet to help one entertain guests, and a pendant lamp. Not too far is the kitchen area with refrigerator and microwave oven.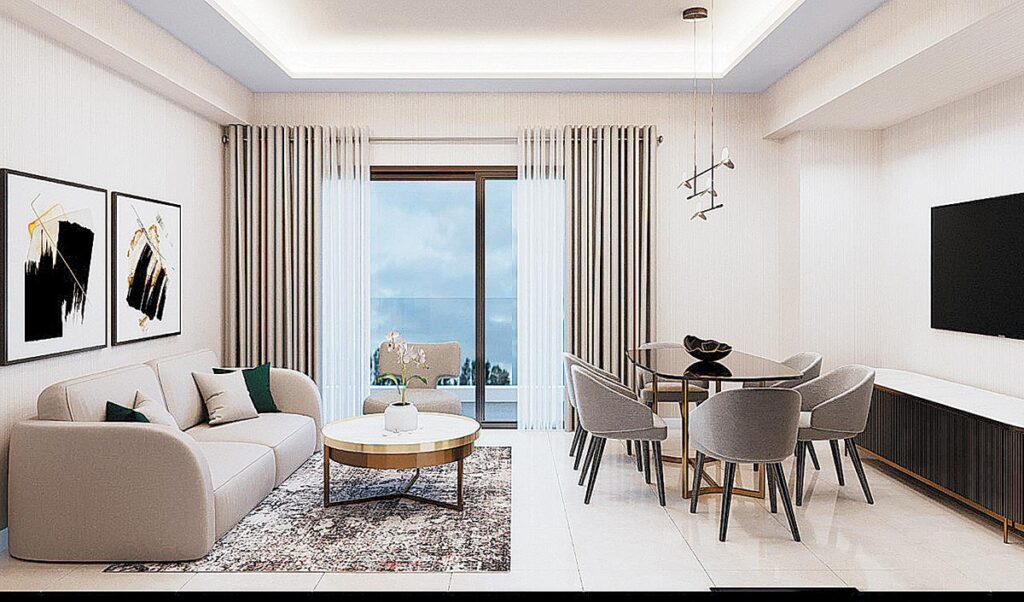 The bedrooms promise to give residents that feeling of truly coming home to an abode or oasis for a good night's rest. There's a queen-sized bed with mattress, a night table, with lamp, a vanity table with chair and minimal artwork and accessories in one of the bedrooms; a twin-sized bed for the second bedroom and just about the same accessories.
The master bedroom is fit for the king and queen with a king-sized bed with mattress, a television console and an LED television set, a night table, foot bench, vanity desk and chair, an area rug, and some artwork and accessories.
Homeowners can look forward to properly laid out plans that maximize spaces both physically and by visual perception.
Berenguer also added that in terms of aesthetics, they work with a lot of restraint, hence, lines are light, clean, and crisp. "We like to work with muted colors as we find them visually pleasing, and we carefully pull together our palette to compliment the colors and textures of natural materials like stone and wood which we enjoy working with."
"We are also very particular about lighting and the way natural light filters through certain material and how the rhythm of the day creates different experiences indoors. We love to play with artificial lighting and design it to enhance the aesthetics," Berenguer concluded.
D3ID'S two-bedroom unit
There are two options for the D3ID-designed two-bedroom homes, the 130.5-sqm and the 134.5-sqm units, both a reflection of simplicity and comfort.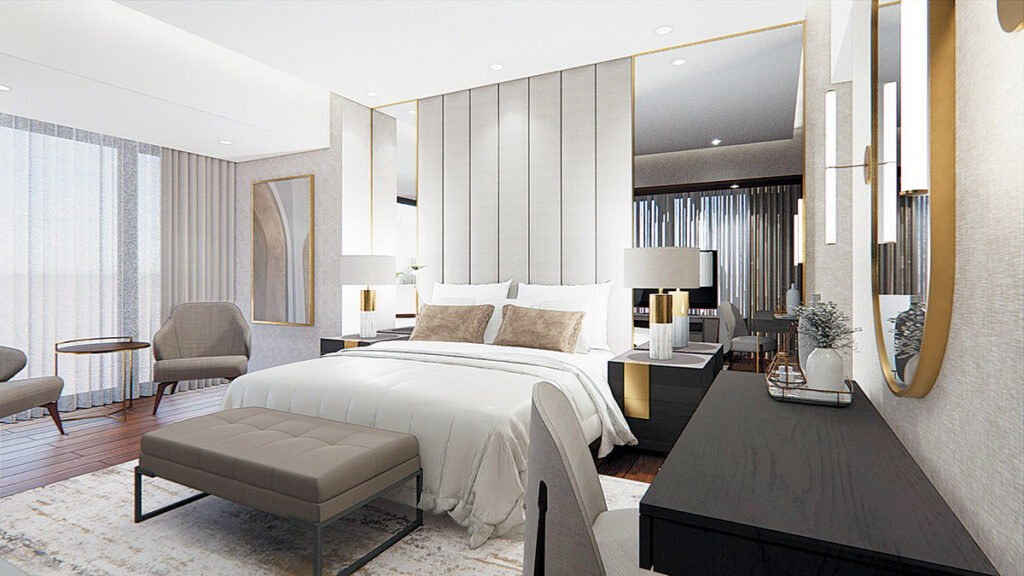 Warm minimalism comes to mind. This style focuses on the use of neutral color palettes such as browns, beiges and creams; natural textures such as wood & weaves; and sleek and clean furniture pieces and decors. All these merged into one warm and cozy space that will make you feel at home.
The equipment and accessories are similar with a few exclusions and inclusions, here and there, compared to the three-bedroom units.
Two-bedroom by Empire designs
Smaller but no less elegant is the 120.5-sqm, which reflects a more fluid style, is focused on clean lines, smooth surfaces and one with an orderly appearance of the space.
There's a light and airy feel through its use of materials and color palettes. One can see wood textures, natural stone materials, neutral colors, and furniture pieces with unique shapes and sizes.
Five star living
With Grand Hyatt Manila Residences, form meets functionality and style and substance fuse perfectly.
As a result, the whole development is masterfully constructed according to global standards of efficiency, safety, and engineering technology.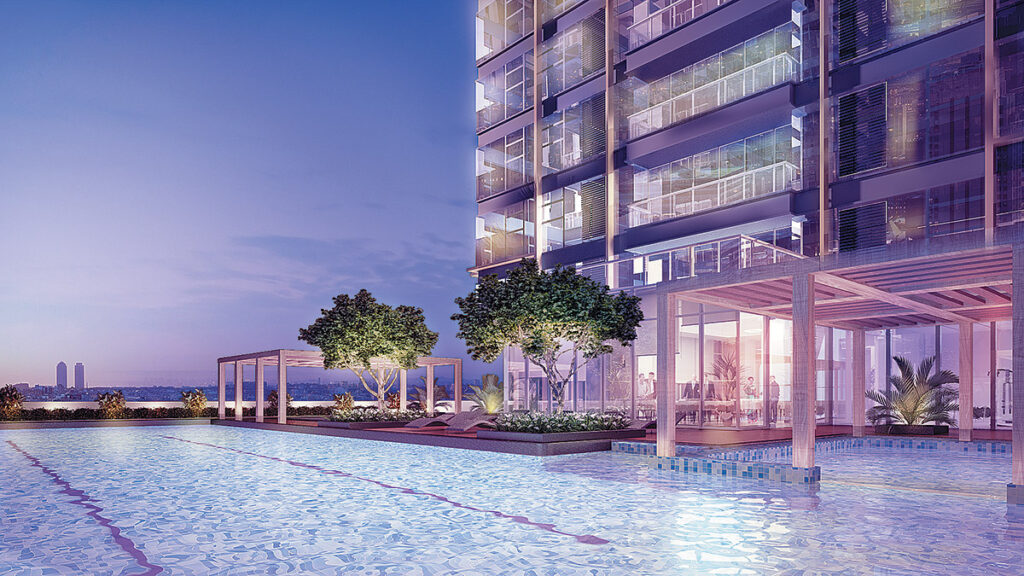 Outside, the structure glimmers with a striking glass façade strong enough to withstand high wind pressure. Comfort is also provided to residents as the innovative glass minimizes ultraviolet and infrared light to keep interiors bright and cool.
Each Grand Hyatt Manila Residences South Tower unit is meticulously planned to reflect a hotel-like ambiance — from high-ceiling, expansive windows, and private balconies that give a panoramic view of the city, to posh European-branded kitchen appliances, as well as ceiling-concealed air conditioning system and stylish baths with concealed floor drains that make for a beautifully seamless interior aesthetic.
The establishment also puts a premium on space to give plenty of room for individuals and families to thrive and enrich their lifestyles. In all, there are 188 residential units of two-bedroom and three-bedroom configurations, with the latter having select units that include a den and a private outdoor garden.
Topping it all off is the exclusive access of residents to the five-star hotel, the Grand Hyatt Manila, and an array of culinary delights that are just an elevator ride away. Families can experience the renowned hospitality, service, and amenities attributed to the iconic brand at the comforts of their own home.
Come home to grand experiences every day as Grand Hyatt Manila Residences South Tower opens its doors.
For inquiries visit Grand Hyatt Manila Residences website or email [email protected]  
Contact (02) 88551-1212 to schedule a private viewing at the showroom of Grand Hyatt Manila Residences South Tower, located at the Ground Floor of Grand Hyatt Manila, 8TH Avenue corner 35TH Street, Grand Central Park North BGC, Bonifacio Global City.