Values represent the heart of a company. These values serve as ingrained principles that guide every company's actions and functions. Understanding that company core values should never be compromised, Wilcon Depot adheres to enforcing its new and improved corporate values that demonstrate the company's commitment to fulfilling a certain way of doing its business in the future.
Channeling these values throughout the organization, Wilcon Depot conducted its annual Sales Kickoff Conference for all Wilcon retail leaders from all over the Philippines.
With the theme: I AM WILCON, the conference aimed to communicate the leadership skills we need to acquire and the core values we need to embody as we gear toward digital transformation.
As the keynote speaker for the annual conference, I talked about the need to be rooted in the values as it provides clarity and direction for the company. It serves as a steering wheel and indicator of how your leaders and employees should choose to live, behave, and interact with your customers, colleagues, and partners.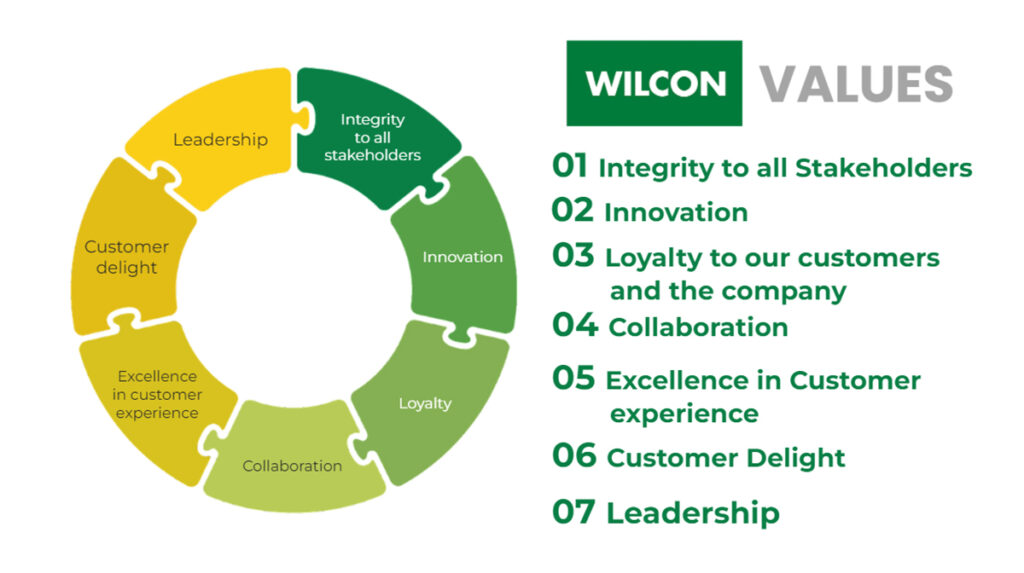 Values help define our work personality and help us stand out from our competitors. Here are the seven Wilcon core values that every Wilcon leader and employee should keep in mind.
INTEGRITY is important to us. As we know, having integrity means we live in accordance with our deepest values, we are honest with everyone, and we always keep our word. Demonstrating sound moral and ethical principles will enable you to always do the right thing even when no one is watching. Integrity is the foundation on which we build relationships and trust, and it is one of the fundamental values that we have as part of the Wilcon organization.
Our next value is INNOVATION. This allows us to serve our customers effectively and provide excellent customer experience. Putting innovation at the heart of our business enabled us to launch our improved e-commerce site, the Wilcon Online Shop, and Customer Relationship Management (CRM) platform. Wilcon recognizes that successful companies are those that innovate, and if we do not improve and develop, we will have no great future ahead.
Third, LOYALTY TO OUR CUSTOMERS AND THE COMPANY. Our loyalty to customers would mean giving what we've promised them and for our company, our loyalty means having a mindset of staying and growing together with the company.
As we prepare for more business breakthroughs and transformations for the upcoming 45th year celebration of the company in the retail construction industry, we believe that it is the perfect timing to update some of our core values and add one more value that resonates with our culture, purpose, and meaning.
From our fourth core value teamwork, we are now embracing COLLABORATION. We want to instill that we won't thrive if we don't recognize one another's strengths. Wilcon wants collaboration as it fosters working together with equality to come up with ideas or make decisions together to complete a goal. It encourages each individual to contribute and embrace one's project as his or her own—regardless of the position.
The next core value, excellence in customer service will now be EXCELLENCE IN CUSTOMER EXPERIENCE. Service excellence is a combination of empathy and foresight that anticipates the customer's needs and makes the desired outcome available. Wilcon believes that no matter how good our product is if the experience is not there, we will not succeed.
In adapting to the changing times, we will no longer bring customer satisfaction, but rather CUSTOMER DELIGHT. We are moving into giving delight to our valued customers by exceeding their expectations and building authentic relationships.
Completing the list of Wilcon core values is LEADERSHIP. During the crisis, our leadership skills are challenged. That's why this year, we want to embody the most critical leadership behaviors and characteristics that would lead us to be more resilient, more prepared, and more innovative than ever.
These core values—Integrity to all Stakeholders, Innovation, Loyalty to our Customers and the Company, Collaboration, Excellence in Customer Experience, Customer Delight, and Leadership—will surely make Wilcon ready for business transformation and future successes.
This 2022, we are gearing up to serve our customers better and become better versions of ourselves as leaders.
For all companies and business leaders, remember that your values create value. When you and your employees are rooted in your company values, it will make you stand out at all costs. Because no matter what your company does or who your customers are, true value comes down to one thing: REMEMBERING WHAT YOU STAND FOR.