Did you miss handing out some presents because of the Christmas rush? Worry not! It's been a hectic start to the holidays, but there's still time to catch up with the gift-giving before New Year rolls in. With Home Credit's exciting holiday promos, you have until the end of the year to give your loved ones–and yourself–the best well-deserved holiday presents.
Home Credit, the country's leading buy now, pay later company and digital service provider, is still giving away hundreds of prizes and exciting surprises with its Paskong PaskHOME: Ka-Partner sa Saya. Simply use your favorite Home Credit products and services and seize the opportunity to win one of the wonderful rewards lined up just for you.
Gift of a new appliance or gadget with Pamasko Loan-Away Giveaway. Are you thinking of giving a special someone that new tablet or countertop mixer? Every Php 15,000 worth of Home Credit installment gives you a raffle entry for a chance to have it waived. You can be one of 80 lucky winners who get to make a loved one happy for the awesome price of free!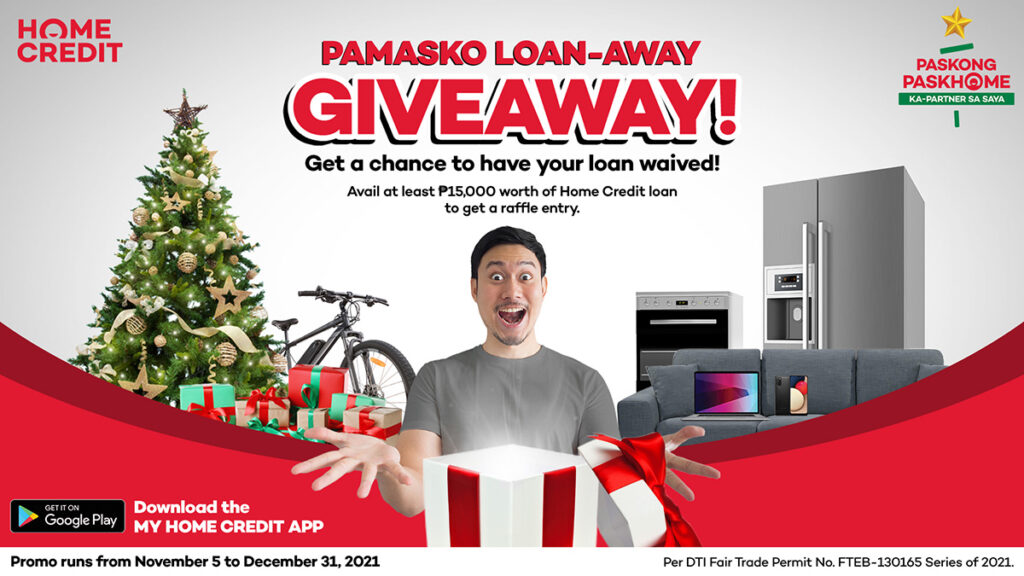 Make a holiday investment with Dagdag CashSayahan Holiday Raffle. Whether you want to put money in a small business or splurge on creating special memories, Home Credit is here for you. If eligible, you can take out a cash loan with Home Credit and who knows, you might just bring home a negosyo package or have your loan payments waived.
With the Dagdag CashSayahan Holiday Raffle, Home Credit gives lucky raffle winners waived one-month loan installments and business packages worth Php 25,000, Php 30,000, and a Grand Negosyo Package worth P100,000.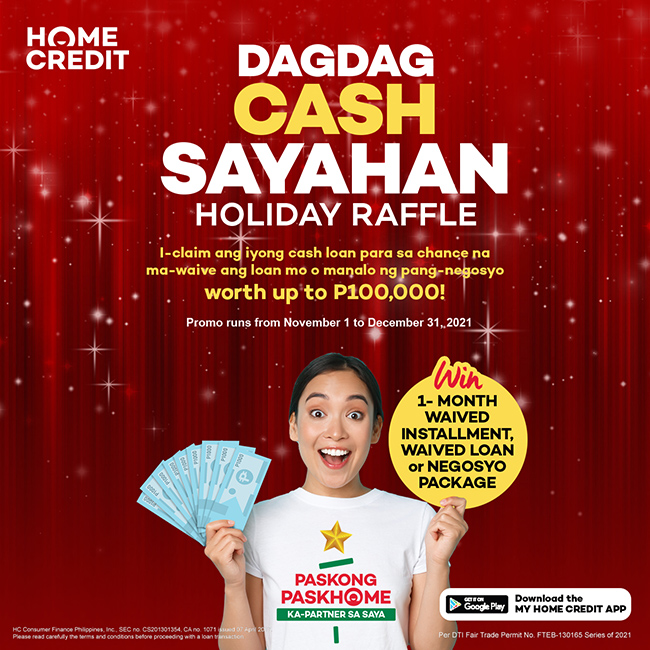 Have a Merry Qwarta XMas with Home Credit's buy now, pay later product. You can still be somebody's Santa and shop for the gadget or appliance you want. On top of your Home Credit loan, you can avail yourself of instant Qwarta approval of up to Php 10,000 spending limit!
What's more, when you use their QR payment, e-load or e-bills payment services, you can be one of the weekly winners of rebates ranging from Php 300, Php 500, up to Php 2,000. Each transaction is worth one raffle entry, so continue shopping merrily!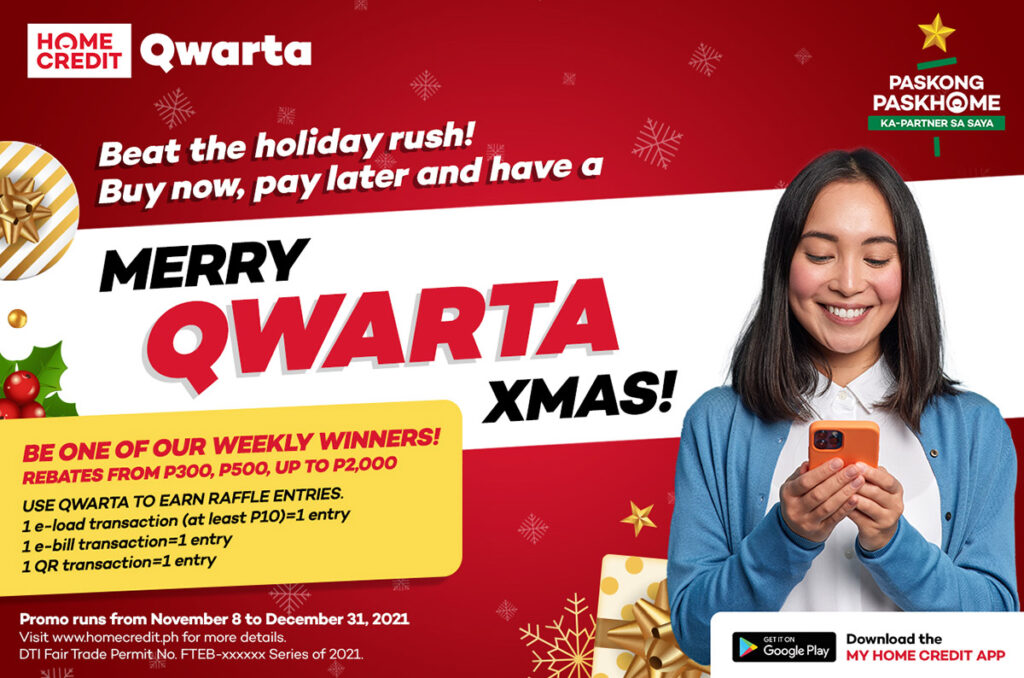 Win back your spending with SikSix sa Rebates Raffle Promo. As soon as the Christmas season rolled in, Home Credit has been giving their Home Credit Card users the chance to win back their holiday spending.
In a raffle counting down to New Year, one hundred winners have already won rebates worth Php 1,000 to Php 5,000, but three lucky winners can still win rebates worth Php 50,000 in the grand draw until December 31. Keep using your Home Credit Card for your daily spending needs for the chance to win your spending back!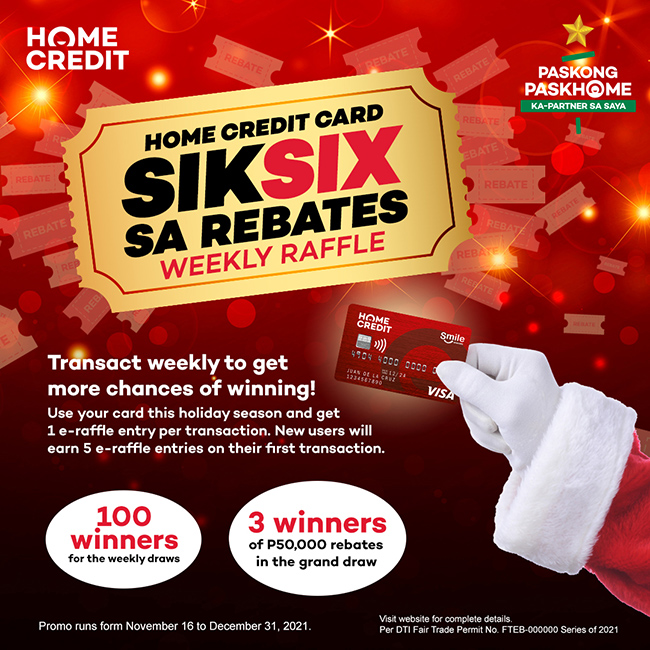 It's still the season of giving and the season of joy for Home Credit's eight million happy customers. Enjoy Home Credit's services and win big as you win back all the love you've been giving away.
To complete the experience, download the My Home Credit App from the Google Play Store. Use the app to safely and conveniently shop and do your transactions with just your mobile device. For the complete mechanics, visit www.homecredit.ph and follow Home Credit at their Facebook page.
#BrandedUp
---