Improving vaccination rates in the country coupled with rising consumer and business confidence will drive the recovery of the Philippine property market next year, experts said.
"The Philippine property market is raring to roar back in 2022. In our view, office, residential, retail, and industrial sectors will benefit from a macroeconomic rebound,"Colliers Philippines associate director and head of research Joey Roi Bondoc said.
"Landlords should prepare to capture pent up demand while tenants and investors should maximize opportunities as the market is on its way to recovery," the property services firm said in its latest outlook.
The great return to office
"Office developers should continue lining up projects while tenants should prepare for a return to office and look at the viability of opening offices in core locations," Colliers said.
It emphasized that any rebound in office leasing will be supported by a successful Covid inoculation program.
Citing data from the Department of Health (DOH), Colliers said about 41.5 million Filipinos have been fully vaccinated as of December 13, or 54 percent of the country's eligible population of 77.1 million.
In addition, the government projects about 50 million to be fully vaccinated by the end of 2021.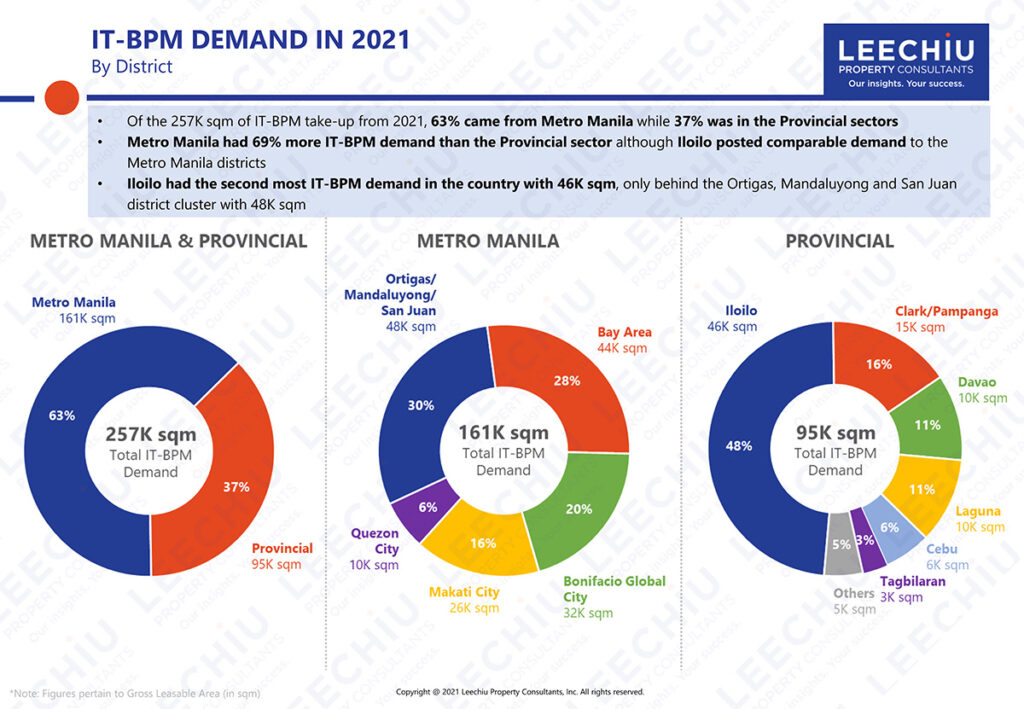 "Colliers believes that the increase in inoculation rates will enable employees to return to the office,"it said.
It emphasized that despite the implementation of work-from-home (WFH) arrangements, some firms, including outsourcing companies, continue to look for office space across the country.
"We see these leasing queries materializing over the next 12 months which would anchor a recovery in office space take-up within and outside Metro Manila," Colliers said.
Data from Colliers showed that office transactions improved in the nine months of the year at 302,600 square meters (sqm) compared to the 295,800 sqm a year ago.
Despite the improvement, Colliers said Metro Manila office vacancy is projected to reach 15.6 percent by the end of the year as some occupiers continue to vacate spaces.
"Colliers sees a potential rebound in office space absorption in 2022 with the improvement in business sentiment in the next 12 months complemented by greater vaccination rates," Colliers said.
Similarly, Leechiu Property Consultants (LPC) expressed bright prospects for the office market next year despite the threat of the Omicron COVID-19 variant.
"Although a new COVID-19 variant has recently been reported, office demand is set to steadily improve in 2022 as indicated by signs of recovery from 2021," LPC said.
LPC data showed that office space demand in 2021 is 39 percent higher than the previous year at 540,000 sqm from 389,000 sqm.
It emphasized that the Information Technology- Business Process Management (IT-BPM) sector remained the single largest demand driver, accounting for 48 percent of the transactions for the year.
The industry will likely remain the largest demand driver for the office sector next year, as it will account for the bulk of the live requirements for next year, according to LPC.
The property consultancy said there are 224,000 sqm of live requirements that will likely conclude within the next six months.
"The IT-BPM sector continues to lead the demand for office space at 132 sqm, more than half of the total live requirements for the fourth quarter of 2021," LPC said.
Infrastructure to create opportunities for residential market
Colliers urged residential developers to launch new projects in anticipation of pent-up demand.
It emphasized that infrastructure projects will likely encourage developers to build master-planned communities.
"The government's decentralization program and major public infrastructure projects should push property developers to launch more master-planned communities outside of Metro Manila," Colliers Philippines said.
Apart from opportunities in the north, LPC reported land value for Batangas seaside villages has seen a spike amidst the pandemic mainly due to the interest for second homes near Metro Manila.
"Growth drivers include high speed internet fiber connectivity and work from home arrangements," LPC said.
"Prices are expected to appreciate with the completion of infrastructure projects such as CALAX which will cut travel time from these provincial addresses to the Metro," it added.