Alveo Land launches its latest virtual event experience
ALVEO Land opens its virtual doors to showcase its dynamic portfolio of properties for living and working well in the Philippines.
A one-of-a-kind virtual realty event, Alveo Amplify will transport viewers to its different projects across the Philippines.
There will also be Interactive booth displays with the main lobby showcasing a large virtual hall that allows attendees to navigate through different parts of the program. The auditorium houses various webinar sessions to easily watch at your time. Viewers are also given a chance to share their insights during live Q&A sessions with select speakers.
What makes this event truly remarkable are the interactive event booths located in the virtual exhibit halls. 
Viewers can also enjoy curated, on-demand webinars on a wide range of interests, tailored project presentations and tours, and a self-paced exploration of Alveo's latest real estate portfolio.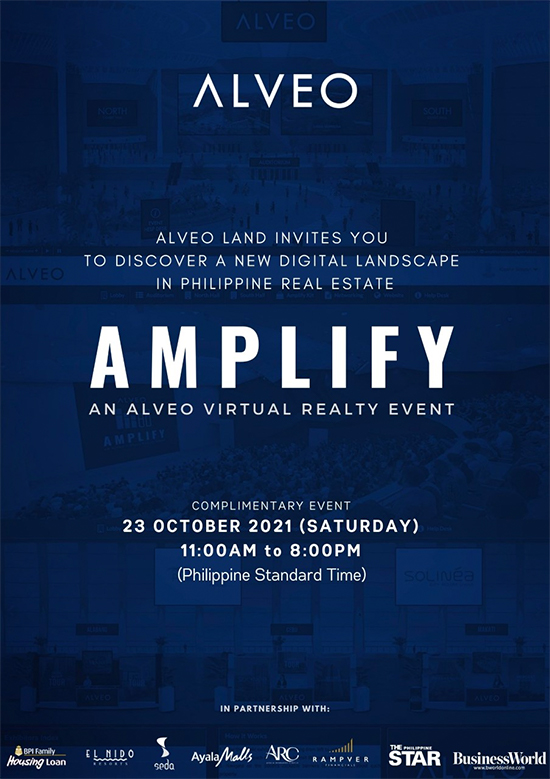 In all, attendees get to learn more about Alveo's latest real estate developments and exclusive event offerings in just a few easy clicks.
Project videos, showroom tours, and even live chat sessions for inquiries on any project will be for everyone's enjoyment –from the comfort of their homes.
It's like an exclusive Google Earth tour but with a focus on Alveo's interesting developments all over the country.
This October 23 2021, Alveo Land once again opens another opportunity to be part of this experience. Registration is now open via the official Alveo Facebook page