In the Philippines, more than one million houses are built without foundations, which is a major concern as the country is vulnerable to major earthquakes and typhoons. In fact, the Habitat for Humanity Challenge's testing site in Barangay Bignay in Valenzuela underwent these natural disasters in the few months since they were put up last July.
Launched in October 2020, the challenge—led by Habitat's Terwilliger Center for Innovation in Shelter and Habitat for Humanity (HFH) Philippines together with SeaFreight Labs and InnoCentive—called for cost-effective ways to retrofit houses. The innovative solution should help Filipinos have a housing structure that can withstand a 6.5 Richter scale earthquake and a 200-kph typhoon.
It prompted more than 80 submissions and four finalists from the InnoCentive platform, and winning the grand prize of $25,000 was the University of the Philippines Diliman's Construction Engineering and Management Group represented by Dean Ashton Plamenco, Dr. Diocel Harold Aquino, Dr. Fernando Germar, and Ammiel Barros.
The solution
The team's winning solution, Column Footing Grade Beam Monolith, features isolated reinforced concrete footings, which are placed on the four corners, while all sides of the structure are connected by a plinth beam. The method claims to withstand the required gravity and special loads from earthquakes and strong wind and can be applied for future incremental builds from the existing structure.
"Low-income families across the world are underserved by formal housing markets, they tend to build their homes incrementally, often with limited access to sound construction advice and quality, eco-friendly materials. Because of this, [HFH] is always looking for innovative ways to facilitate affordable upgrades of existing structures," Scott Merrill, International Program Senior Director of Habitat's Terwilliger Center for Innovation in Shelter, said.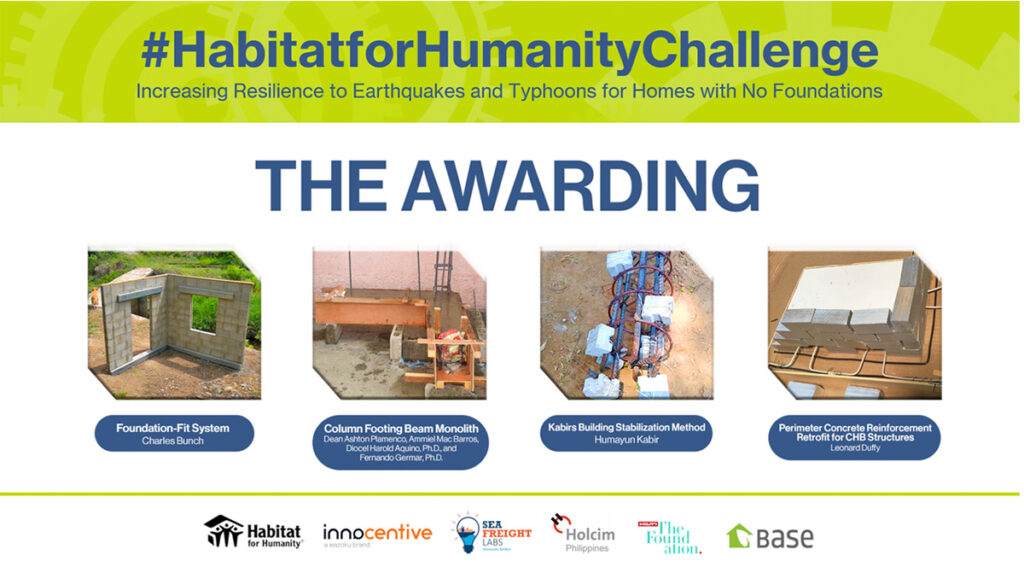 Joining the virtual awarding were HFH International Vice President for Asia-Pacific Luis Noda, InnoCentive Chief Innovation Officer Jon Fredrickson, Hilti Foundation Board Chairman Marco Meyrat, Holcim Philippines Chief Sustainability Officer Zoe Sibala, BASE Bahay Foundation General Manager Pablo Jorillo Jr., Habitat for Humanity Philippines CEO Lili Fuentes, and Terwilliger Center Philippine Country Lead Jessan Catre.
The winning solution was evaluated by a panel from SeaFreight Labs, BASE Bahay Foundation, HFH International, and HFH Philippines.
The field test involved a "lateral load test" which simulated the lateral forces of an earthquake and typhoon winds to check how each solution will respond. The solutions were judged on its resilience against typhoons and earthquakes, availability of materials needed, ease of installation among masons and homeowners, and affordability among low-income households.
It earned top scores in the major technical categories of the evaluation, which measures structural resistance to simulated forces typical for typhoons and earthquakes, and exceeded the minimum standards found in the Philippine Structural Code in terms of resiliency. The solution also received top scores in the community acceptability survey conducted with households, artisans, hardware store owners, and the local government.
The winning team
The Construction Engineering and Management Group is one of the six academic research groups of the Institute of Civil Engineering at UPD. It focuses on research on sustainable housing, disaster-resilient construction, durable infrastructure, and construction method and management. The Institute of Civil Engineering, of which the winning group is a part of, was established to address the need for a center of excellence in civil engineering and its specialized fields. It is the first and only Institute of Civil Engineering in the Philippines.
Plamenco is an instructor at UPD and has authored several research studies on construction engineering, concrete technologies, and construction project management. Germar heads the Construction Engineering and Management Group of the Institute of Civil Engineering. His research materials also include earthquake engineering and seismic design and retrofit of structures.
Aquino is a Young Scientist Fellow and recipient of the New Zealand government's Engineering Research and Development for Technology scholarship, while Barros is a faculty member of the university's Institute of Civil Engineering.
Moving forward
HFH plans to continue working with the winning team to scale up the solution and make the technology easily accessible to low-income Philippine communities. They plan to include ways to teach the technology to communities so they could adopt it while repairing their homes.
"We have the collective responsibility to reduce disaster risks and protect vulnerable communities in the Philippines and all over the world. Together, we can contribute to a safer, more sustainable world for everyone," Noda declared.