Life in the big city can be a never-ending rat race and being in the middle of the action gives you a competitive edge. Luckily, soon to rise along Taft Avenue is Centralis Towers, where you can be at the center of everything while living the life you've always wanted and chasing your dreams.
True to its name, Centralis Towers is centrally located so you can be smack in the middle of everything that's essential for day-to-day living and so much more. It snugly sits on Taft Ave., famously the central gateway to three major cities: Pasay, Makati, and Manila. It's Avida Land's second residential development in Pasay City, the first being Avida Towers Prime Taft, which is just beside Centralis.
Taft Ave., with its pulse-racing rush, could be just your perfect location as it is accessible via major arterial roads (Buendia, Roxas Boulevard, and SLEX) so it's quite easy to navigate your way around.
For parents with college-age kids, Taft Ave. is part of the University Belt, with its zestful and youthful vibe, where Manila's major colleges and universities are located. Taft Ave. is also near the bustling Central Business District, surrounded by historical landmarks and iconic communities with colorful histories. Around it is an eclectic mix of establishments that are accessible via jeepney, bus or shuttle service.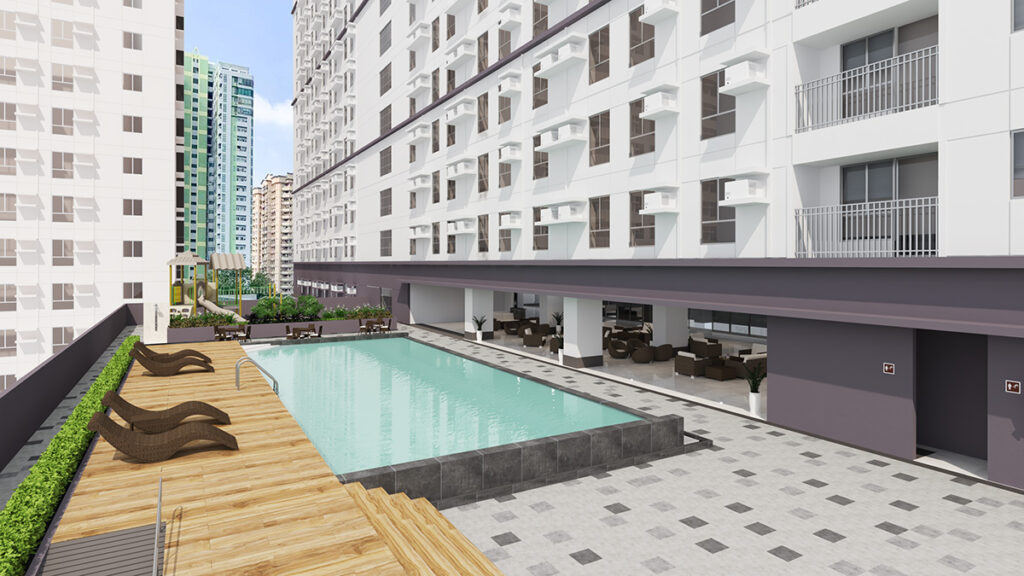 Your happening address in the city
Centralis Towers may well be a much-sought-after address that offers a live-work-play lifestyle (but more on this a bit later). Imagine condo living with a dynamic lifestyle — make that "can-do" living!
Indeed, there's a lot you can do if you live in this happening part of the metro. Taft Ave., particularly around De La Salle University, DLS-College of St. Benilde, St. Scholastica's College, and Arellano University School of Law, is dotted with eating/drinking places that are some of the Lasallians' favorite tambayan spots — from a hole-in-the wall burger joint to a tapsilogan to a shawarma or samgyupsal resto.
A jogging distance or a bike ride away is the Cultural Center of the Philippines complex, where you'll most likely see early morning joggers and bikers breaking a sweat with their daily fitness regimen. From the CCP, you can stroll down the waterfront promenade of Roxas Boulevard, once known as Dewey Boulevard where the ambulant sorbetero pushed his brightly colored ice cream cart and vendors sold food from their makeshift stalls, the aroma of their freshly roasted chestnuts and grilled corn blending with the whiff of salty sea breeze. As darkness creeps over the horizon, watch the greatest show on earth (and it's free, too) unfold: the blazing, breathtaking sunset on Manilla Bay, acclaimed as one of the best in the world! Just be sure you don't go alone because the sight is simply too romantically beautiful not to share.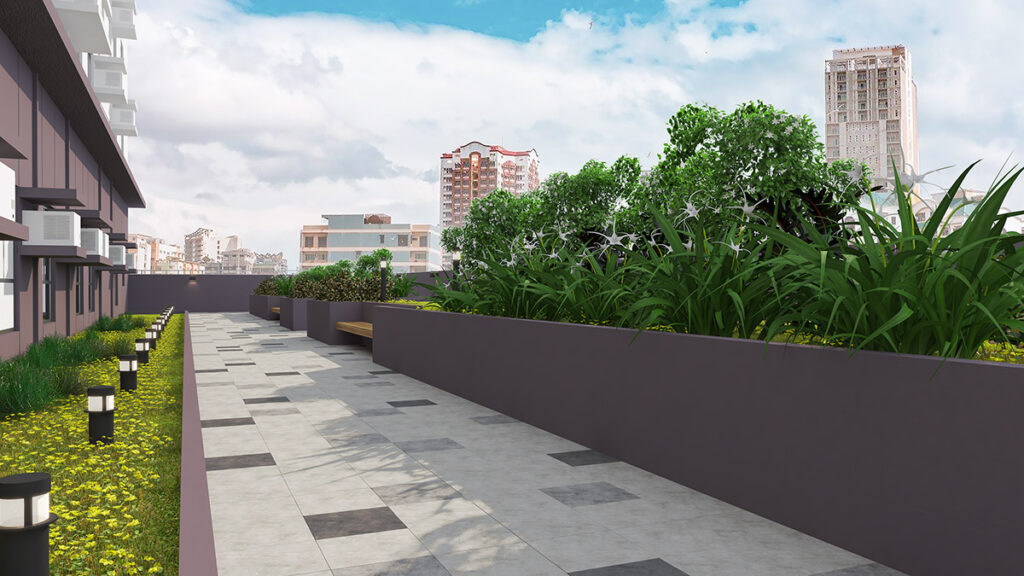 In a pandemic-free world, you'll never run out of things to do, see, and enjoy around here. If you're an early riser, catch the sunrise and watch some elderly people doing their Tai Chi routine at Rizal Park. Manila's one and only oceanarium, Manila Ocean Park, is just behind the historic Quirino Grandstand. Get a massage, go for a spa special, go shopping at a nearby mall, go resto-hopping, visit a church, tour a museum — the list goes on and on.
A sense of exclusivity
Let's leisurely walk through Centralis Towers and unravel its various offerings. Centralis Towers is a one-tower condominium development with 27 residential floors. Being just a one-tower condo, residents enjoy a sense of exclusivity as they don't have too many neighbors to share the amenities with. The spaces are thoughtfully designed to cater to the residents' needs. Whatever their lifestyle is, residents have a home to call their own at Centralis Towers. They can enjoy all the comforts of home and the conveniences of living so they can simply focus on what matters most and do not have to worry about anything else.
You can choose from a Studio, Jr. 1 Bedroom, 1 BR, and 2 BR.
The Studio is a right-sized, efficient unit suited to the career-driven singles seeking to make their first investment in real estate, students who want to live close to their schools or for newly married couples who are saving up for a bigger home in the future.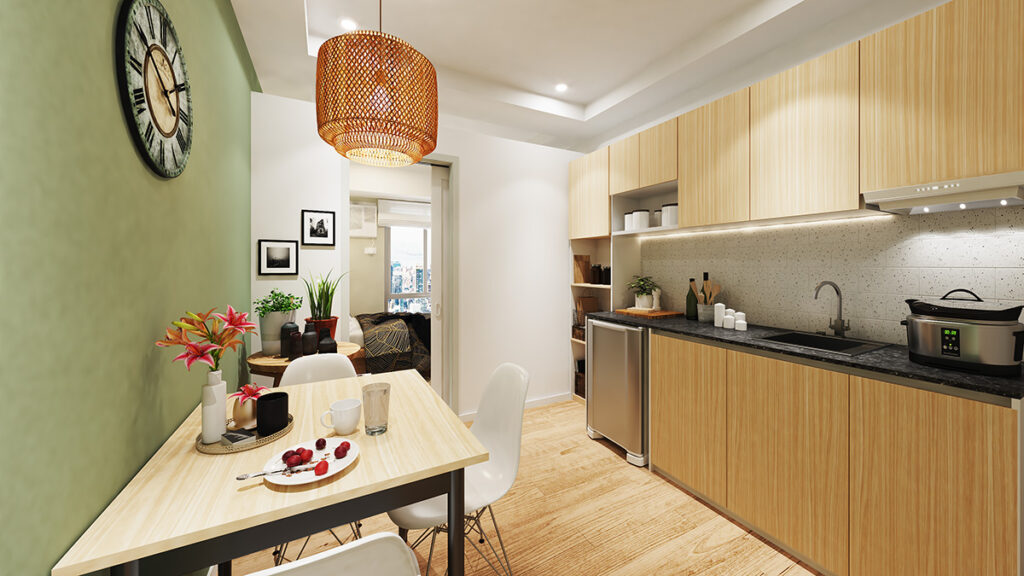 Yes, you can have friends over in your Jr. 1 Bedroom, where you have a separate space for your bedroom. This is best for young professionals, college students, and single people who want to save on rent.
The 1 BR is a single-family home designed for young, starting families, while the 2 BR is big enough to accommodate a growing family. The 1 BR and 2 BR both come with an additional balcony for more breathing space, for sunny mornings and breezy nights.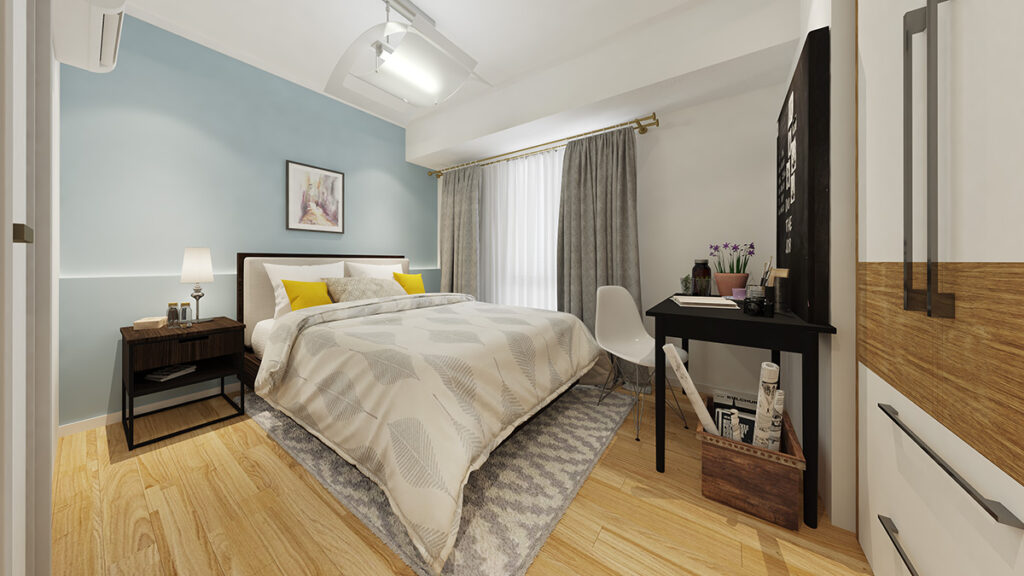 Sensible amenities
Centralis Towers boasts sensible amenities that make living in the frenetic city easier and much more pleasant. At Centralis Towers, home is where you can live every moment, love and laugh every day. Where you can work hard and play harder. Have a splash in the pool. Enjoy a tryst with nature at the wellness nook. Hang out and make friends at the indoor lounge or co-working space. Have the luxury of time to indulge in your passions.
Centralis Towers certainly did not forget the children who have a play area all to themselves.
The development also features four elevators, CCTV in selected common areas, fire protection/fire alarm system, two fire exits per floor, a lobby mailbox room, and RFID for lobby/vehicle entry.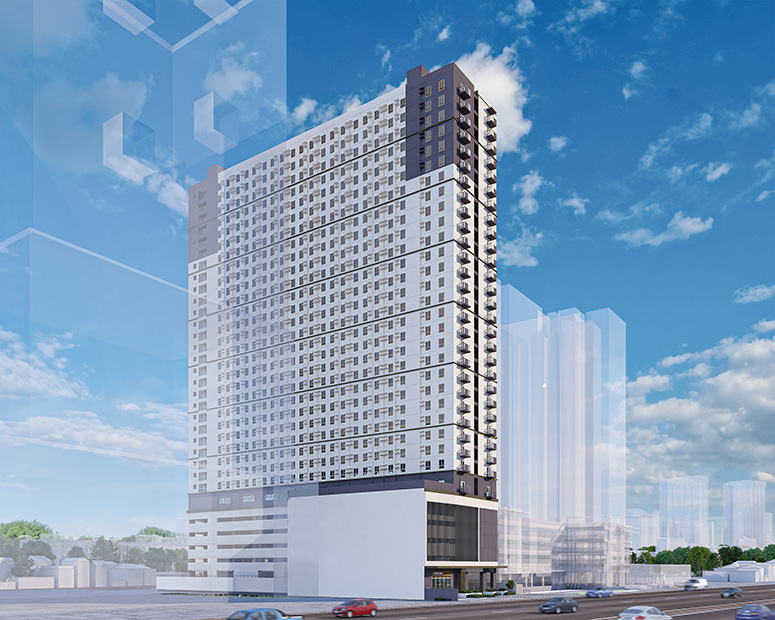 Committed to protecting not only its residents but also the environment, Centralis Towers has put in place such sustainability features as water-efficient toilet fixtures, sensor-controlled hallways, podium parking lights, LED lights, and low solar heat gain glass windows.
All told, what awaits you here is a holistic living experience in a safe and secure community. Yes, come home to Centralis Towers and find your center.
* * *
Avida is a residential brand of Ayala Land, the Philippines' leading developer of sustainable estates offering a diverse mix of quality residential and commercial developments that support local economic growth.
#BrandedUp