With the country's current situation in the midst of a pandemic that continues to disrupt our economy, many entrepreneurs, retailers, and business leaders are facing complex challenges and threats, and ensuring that their businesses continue to stay afloat. To help address the crisis we are facing, the Philippine Retailers Association (PRA) brought some encouragement and timely help to local retailers nationwide to help them future-proof their businesses.
The 27th National Retail Conference and Store Asia Expo (NRCE), the biggest and most important retail industry event in the Philippines, made its comeback this year on the virtual platform. Last August 12 and 13, the 27th NRCE provided retailers with actionable strategies, data-backed content, and exclusive ideas through immersive, insightful, and inspiring learning sessions from trailblazing leaders and industry experts from around the globe.
The virtual event gave local retailers and industry players relevant insights to be able to adapt to the new normal and move forward towards the path of recovery. With the theme Retail Reboot, the virtual conference and expo helped retailers to reboot and emerge stronger from the challenges of the pandemic. It also connected the retail industry with its allied industries to uncover new ways and behaviors as we rewrite the rules to achieve an innovative retail transformation.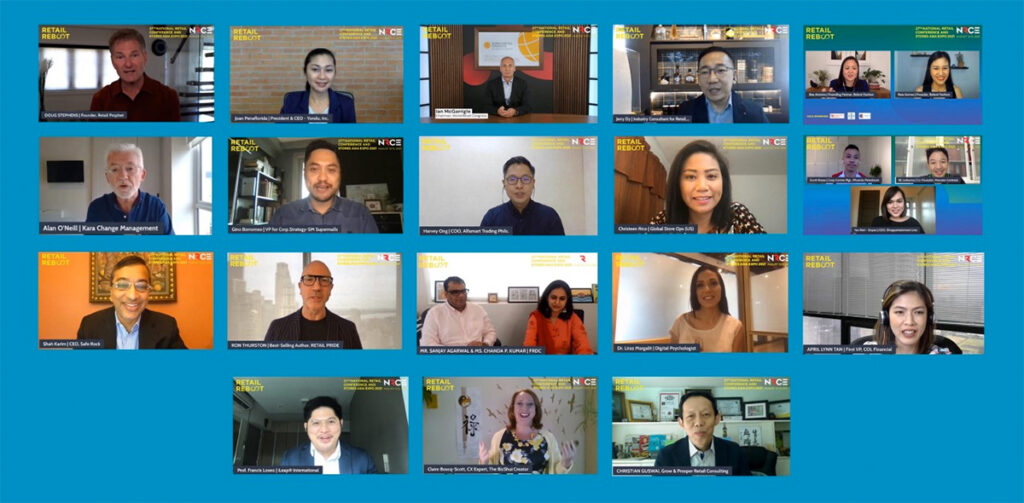 The PRA has hand-picked the most progressive leaders in the industry who led the virtual conference sessions with their reputation and expertise in specific topics, making the event empowering, informative, and enlightening. The two-day virtual event was designed to uncover relevant and timely insights, polish retailers' skills, elevate competencies, refuel passion for the business, and collaborate and connect with the best in the industry.
A crowd of over 700 engaged retailers came together to learn from renowned speakers and industry experts. I will be sharing with you some of my key takeaways from the conference.
Customer experience is the new battleground
Retailers have witnessed the unfolding changes and impact on people's day-to-day activities, including shopping. That's why retailers enhanced and innovated their strategies to serve customers and continually meet their expectations. I have learned that customer experience is the new battleground. Retailers need to understand that it's a round-the-clock effort to provide convenience and deliver a delightful shopping experience to all our customers. This is necessary to thrive and win in the post-pandemic era.
Omnichannel is the future
Many retailers have been accelerating their response using an omnichannel strategy to deliver their products and services to customers. Embracing the omnichannel strategy leads to a frictionless shopping experience. We have to integrate different shopping methods like in-store shopping, curbside pickup, contactless purchase and payment, and eCommerce. Running omnichannel solutions means having a more reliable strategy and better customer experience. It is about being able to map out the customer's journey and build customer interaction.
Technology transforms everything
Technology has always been a great asset in the evolution of commerce. Retail businesses learned to adapt, maximized digital solutions, and developed a strong dependence on technology. Modern technology has helped us prepare for the shift and created unprecedented business opportunities that helped to elevate our performance, connectivity, and market impact. Without it, we cannot take advantage of the shift; that's why as retailers, it is vital to consider investing in and leveraging new technology such as Artificial Intelligence (AI).
Empathy is key
It is a must for retailers to focus on safety and embrace empathy towards customers. It is imperative to put our employees and customers at the heart of our business. Those retailers who are putting profit over people will eventually lose the trust and loyalty of their customers. Empathy is key; it is an essential part of enhancing customer relationships. We have to take purposeful actions to establish stronger connections with our customers that will last beyond the pandemic.
As the President of PRA, I'm glad that the association was able to advocate and provide opportunities for learning to retailers nationwide. It was our goal to bring ideas, inspiration, and encouragement to the retail community through collaborative sessions and stories. It was a pleasure to serve the association and work with the various organizations and businesses that made the event possible.
The Retail Reboot virtual conference was a success. I hope that the two-day event has sparked deep discussions, connected the retailers to each other and, most especially, urged them to grow their businesses further by pushing beyond their limitations.