Ramon Makilan thought the 13-day closure of Taal Vista Hotel in Tagaytay in January 2020 was the longest shutdown the property would have to implement for the rest of the year.
Little did he know that two months later, the hotel situated along Emilio Aguinaldo Highway, with a throne's view of the Taal Volcano, would need to give up its leisure services to accommodate returning overseas Filipino workers (OFWs).
"In the aftermath of the Taal eruption, Taal Vista Hotel's structure was not as severely affected compared to those in low land communities, due to Tagaytay ridge's elevation," Makilan, manager of the hotel, said in an interview with Property Report PH.
"Nonetheless, the hotel was temporarily closed for 13 days, as a safety precaution and to divert efforts to community response and support the affected colleagues. The fear of another eruption lingered for a month; it discouraged local tourism in Tagaytay, especially the corporate clientele," he added.
When COVID-19 spread across the Philippines, Makilan made the call to pay the hotel's 250 full time employees their complete salaries and benefits for two months even without physical duty. However, he also had to retrench contractual workers, including gardeners, room attendants and stewards, to slash costs and sustain the business.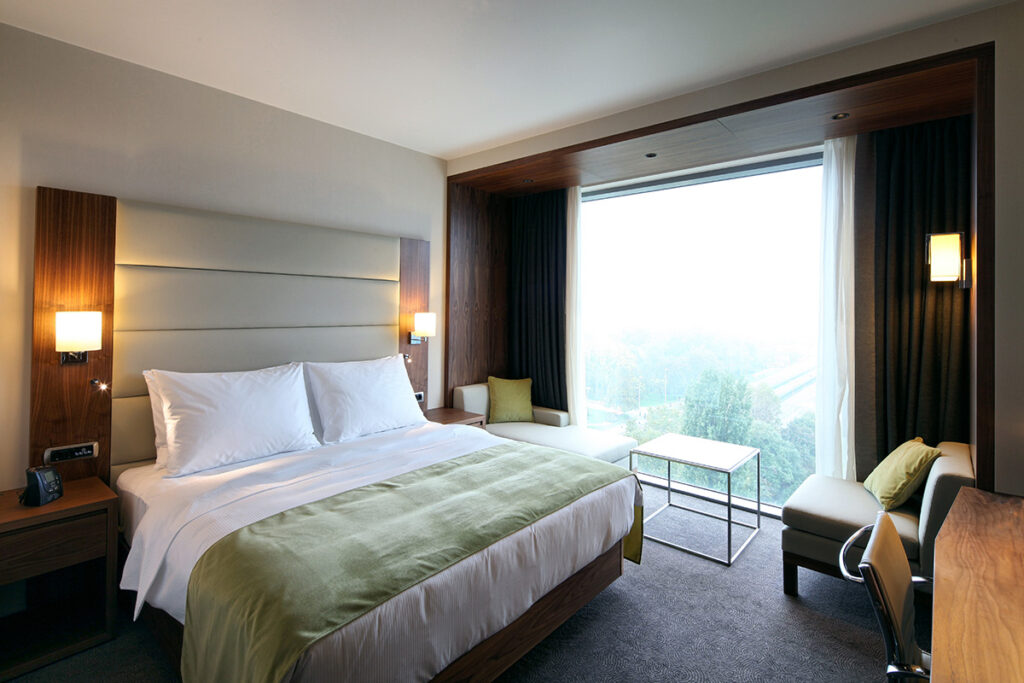 Later on, Makilan and his team would repurpose one of the most popular hotels in Tagaytay into a quarantine facility, from June to August last year, to accommodate returning OFWs who need to look out for COVID-19 symptoms for 14 days.
However, as revenue losses piled up and recovery was nowhere in sight, Taal Vista concluded 2020 with sales 77 percent below the target it set for the year.
Such was the case for nearly every player in the accommodation sector, which suffers from the on and off imposition of quarantine restrictions against leisure activities.
SM Hotels and Conventions Corp., which manages Taal Vista as well, endured a 69 percent decline in revenue last year, as it had to padlock many of its properties to comply with quarantine guidelines.
SMHCC executive vice president Peggy Angeles told Property Report PH the difference in quarantine regulations nationwide made it difficult for the firm's properties to craft a recovery path.
"Due to limited operational capacities dictated by the quarantine status, as well as restrictions on who are only allowed to stay in our various facilities, the revenue potential of our properties could not be maximized," Angeles said.
Repurposing facilities
Hotel management and booking platform RedDoorz repurposed its budget hotels to provide temporary residence for frontline personnel, especially health workers and government employees who needed to be stationed near their workplaces.
RedDoorz country manager Miguel Capistrano III said the pandemic slashed occupancy rates in the firm's hotels by at least 50 percent. Last year, occupancy in RedDoorz properties crashed to below 20 percent—even below 10 percent for some—from 70 percent prior to the health crisis.
Like SMHCC's accommodation establishments, RedDoorz had to shut the doors of its hotels for at least three months, from March to May 2020, waiting for the government to issue guidelines on operations. Upon reopening in June last year, properties signed with the Southeast Asian firm turned their facilities into quarantine centers to accommodate frontline workers.
"We provided free rooms for frontline workers, mainly our health care workers and government employees, as we knew business would not even do well, but we wanted to help nonetheless," Capistrano said in an interview with Property Report PH.
At present, RedDoorz hotels operate either for leisure or for quarantine, depending on what the property owner thinks best suits the location.
Capistrano said RedDoorz offers quarantine stays starting at P1,100 a night, inclusive of full board meals from breakfast to dinner, and leisure bookings remain the same rate with a floor price of P699 per night.
"As much as possible, we wanted to maintain the same rates and prioritize the provision of safer stays for whichever purpose, whether quarantine or leisure or essential stays," he said.
Long way to go
The local hotel industry has a long way to go before it can reach its pre-pandemic level of performance, JLL Philippines head of research and consulting Janlo de los Reyes said.
Occupancy rate in Metro Manila dropped to 20.9 percent in the first quarter, from 22 percent in the prior quarter and 35 percent during the same period last year.
Delos Reyes told Property Report PH that occupancy rate across the metro is seen to stay below 40 percent this year, as travelers may just begin booking again when the country achieves herd immunity. He added the pace by which the vaccination program is being carried out will influence Filipinos' confidence in traveling again.
"Although there is optimism with the vaccine rollout and some of the policies being developed to remove the travel restrictions, we suspect that demand will remain relatively weak for the short and medium terms, both for local and international travel," de los Reyes said.
However, de los Reyes said the hotel industry is exhibiting some signs that it is ready to welcome guests once they are prepared to travel for leisure.
Based on records from JLL Philippines, about 8,900 rooms will be completed in the Philippines from 2021 to 2024, proof that hotel developers trust that travel in the country will pick up in the next three years.
"Bulk of that is estimated to be completed this year. Given the current conditions, we anticipate a lot of these hotel rooms will be sleeping in subsequent years in 2022 and even others in 2023 and beyond," de los Reyes said.
For Taal Vista's Makilan, the hotel's recovery will depend on the spread of the virus and how the government will address new waves in Metro Manila. He said 95 percent of Taal Vista's guests come from the nation's capital, as well as in nearby areas.
SMHCC's Angeles anticipates the local industry to revert to its pre-pandemic numbers by the fourth quarter of 2023 or first quarter of 2024.
Angeles said like in any industry, the accommodation sector's recovery relies on how quick and effective the government vaccinates the people to protect them from the virus.