The Philippines is often visited by typhoons and storms. In 2013, Super Typhoon Yolanda devastated Eastern Visayas, leaving a trail of human deaths and destruction of properties.
After every typhoon, Filipinos rise up again and pick up the pieces. Some call this a sign of resiliency. It is recovering quickly with toughness. Year after year after year, Filipinos do this resilient act as though it comes naturally for us.
During my student days, we were taught to work with nature, adapt solutions that relate to the environment and eventually come out with a design that combines the work environment of man and his surroundings.
That concept stuck and I have been applying it in my work.
In 2015, the United Nations adopted the 17 Sustainable Development Goals (SDG) based on the Paris Agreement. It was intended to improve the living conditions of man by 2030.
In the process, it became a blueprint to promote design and achieve a better and more sustainable future for man. Goal no.11 was to improve Sustainable Cities and Communities.
There are even several advocacy groups in the Philippines that promote and educate people's knowledge on thermal efficiency, green architecture, clean air, energy efficient technologies, structural stability, water conservation, cooling capacities, environmental fundamentals and other resilient design factors.
Today, resilient design is not only creating structures that can withstand the forces of nature. Resilient design is also embracing nature and working with it such as the stability of a building which can be likened to the bamboo tree — swaying with the gustiness of the winds.
Several buildings have been constructed to follow the terrain. It involves the recovery and restoration of man's natural and man-made resources to complement those brought about by the forces of destruction.
In Zamboanga, there is a school building designed by the office of the City Architect headed by Arch. Rowdel Falcasantos.
It was totally different from standard government school buildings.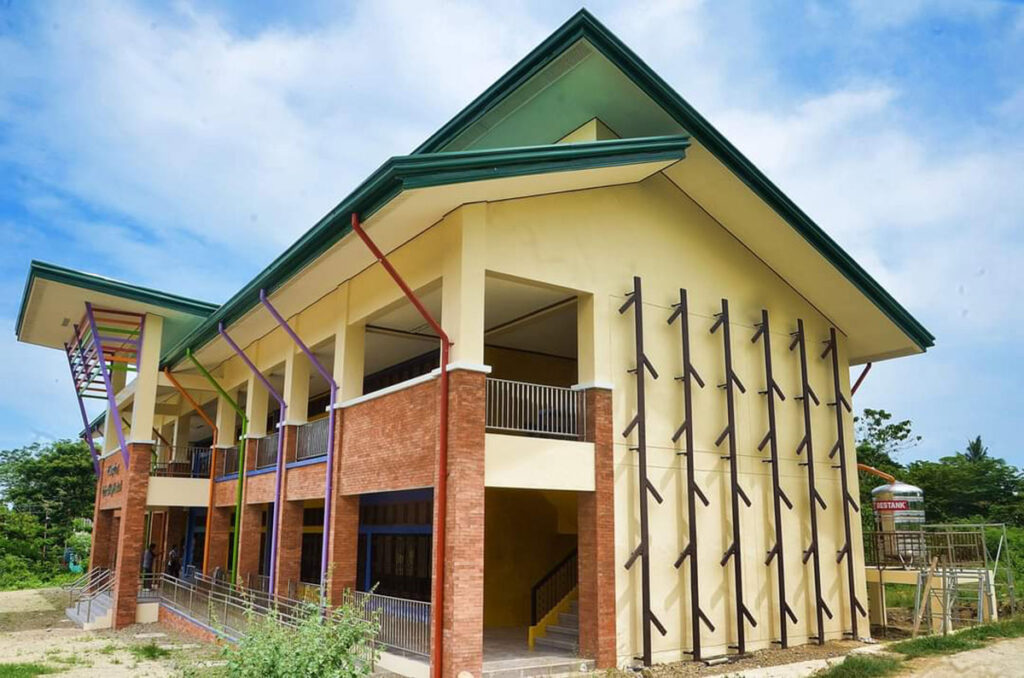 The building floor level was raised up quite high, taking into consideration flooding in the area.
The ground floor had a high ceiling with huge windows to incorporate flow of air and the second floor had a clearstory for passive cooling.
Orientation was clear that the sun's rays would have no heating effect but still bright enough to illuminate the classrooms.
There were comfort rooms for PWDs and even the right ramps.
The roofing design was pitched well enough so as to circulate hot air well and at the same time provide enough overhangs to ward off heavy rains or even prevent the sun's rays from entering the classrooms.
Even energy efficiency was considered in the use of lighting and eventually the use of solar panels.
In Compostela Valley in the province of Davao de Oro, I came across a resilient design by Arch. Miguel Guerrero of Asian Architects.
It involved not only the physical design of a structure to ward off or deflect possible heavy rainfall or gusty winds but it also involved the complex sustainability of maintaining the area, from water efficiency to waste decomposition to agricultural growth and eventually to social and economic livelihood, even before or after a typhoon devastation.
In one of Bicol region's new housing communities in Guinobatan, Albay, architects of the United Architects of the Philippines ( UAP), in collaboration with the Office of the Vice President, created low cost communities.
Designing for resiliency has often been the process of designing and constructing structures, developing communities and the environment for the purpose of mitigating extreme weather conditions and unexpected natural calamities.
An example of this is a structure near the river practically built on stilts in case the river overflows.
The total concept of resiliency done by architects and other technical allied professionals is to make sure that the buildings they design and construct will withstand natural calamities.
It is also about designs that help restore the balance of nature. It is a socio-ecological approach on sustainability, restoration and wellness.