It is easy to fall in love with a place. Perhaps we're drawn to a room's warm and calming color palette, or maybe find delight in how the light changes throughout the day. You could also just as easily be struck by a room without knowing exactly why — when the space simply just works.
Indeed, that feeling of love at first sight comes easy, but the real test of genuine love and appreciation for a space is time itself. A place must therefore go beyond first impressions.
This is how a well thought-out design makes all the difference.
As Steve Jobs said, "design is not just what it looks like and feels like. Design is how it works."
A good living space, therefore, is one that goes far beyond aesthetics. It must be functional, one that meets the most basic needs of its residents, but also makes room for their evolving tastes and interests. Today, a home is not just a place to dwell in — it's a sanctuary that enriches the mind, body, and spirit. It must also be designed to stand the test of time, a space that nurtures not just its dwellers today, but generations of tomorrow as well.
Ayala Land Premier, the luxury residential brand of property giant Ayala Land Inc., knows this well. Its DNA exudes that passion for creating spaces with purpose, intuition, and foresight. Its decades-long portfolio boasts carefully designed spaces in communities that grow with time, offering properties that evolve with us, and are passed down through generations.
"Expansive configurations cascade in adaptable designs complemented by shared environments and amenities. Elegance. Simplicity. Addresses to endure for generations. For keeps." This is what Ayala Land Premier is all about.
A panorama of experiences
Ayala Land Premier's Parklinks North Tower, to rise in the 35-hectare Parklinks estate that straddles Quezon City and Pasig, is yet another addition to this growing portfolio of elegantly designed, functional, safe, and expansive residences that are for keeps.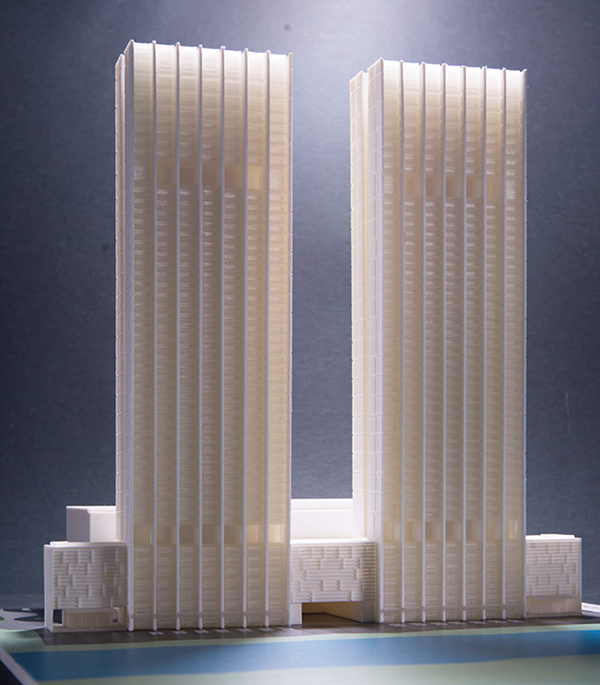 For this pioneer residential address in the new estate, the brand tapped HB Design, a highly acclaimed design firm founded by Hans Brouwer in Hong Kong in 1995. Brouwer's formative career was spent with the internationally renowned architect Sir Norman Foster, latterly as a project director. Over a period of eight years, he was involved with and responsible for a number of world-class buildings including Century Tower in Tokyo, Japan, and the Commerzbank Headquarters in Frankfurt, Germany.
For 20 years, HB Design has been creating beautiful and innovative developments all over Asia including Hong Kong, Malaysia, Vietnam, India, Singapore, and Thailand. Each property is imbibed with a unique sense of place and that distinct Asian sensibility. The firm has a diverse, award-winning portfolio that spans high-rise residential, commercial, and mixed-use projects, exceeding two million square feet in total built area.
"Our goal is simple: It is not just to give the client what he wants but to show him what he never imagined he could have," says Brouwer.
Intuitive design
For Parklinks North Tower, as in all their projects, HB Design and Pimentel Rodriguez Simbulan & Partners (PRSP), the project's architect-of-record, employed an intelligent planning approach, conducted in close collaboration with Ayala Land Premier.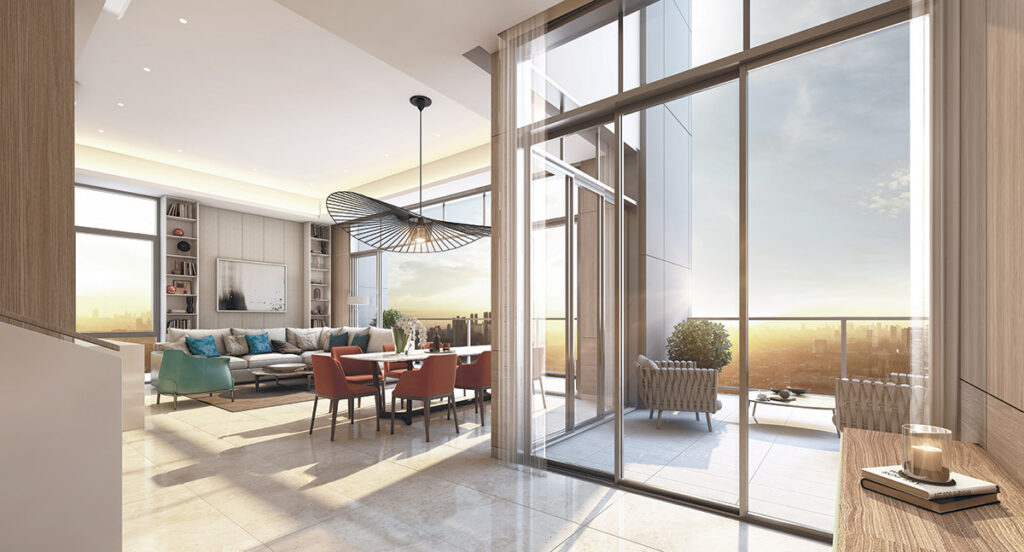 "It's all about re-inventing the wheel," Brouwer says in a recent interview with Property Report PH.
For Brouwer, this means building on a formula that already works, and significantly improving it to suit the evolving needs of the users of today and the future.
He cites for instance, the function of the wheel, which has remained the same in principle throughout ages, but has greatly improved in efficiency and quality — from the basic cartwheel, to the redefining use of rubber wheels, and to today's high-performance design of Formula One tires.
The same may be said about the evolution of residential spaces. A home serves a single purpose and layouts are derived from general day-to-day activities. What HB Design does is to find ways to improve the living experience by using a site-specific approach and incorporating innovative features. From the design phase to the actual product, HB Design's process revolves entirely around the end user, the residents, ensuring that the physical spaces they move into simply work.
It may be long and tedious, and thousands of hours are spent on planning, but the end result is always an improved and more innovative product. What is given strong emphasis in HB Design's process is building with the customer's lifestyles and needs in mind — from the building form and exterior details, to the unit configurations, and down to the finishes and fixtures of each residence.
"We use a diverse set of tools to visualize a project throughout its various stages. We take a look at the views. We study how different building designs respond to the wind, heat and rain," Brouwer says.
From the very basic level, the process starts with the lay of the land, which informs the overall orientation and massing of the tower. Given utmost consideration are seemingly simple elements such as where the sun rises and sets, in which direction the wind blows, and what other developments surround the site. HB Design studies how these characteristics can be harnessed and highlighted to deliver the best possible experience for the development's inhabitants.
As Brouwer says, "At the end of the day, we want to be able to offer units you really want to live in, and the building itself is one that you can be proud of."
A landmark address
Given the special location of the tower, bounded by Parklinks Mall on one side and the River Esplanade on the other, HB Design envisioned a dynamic podium on which the tower will sit.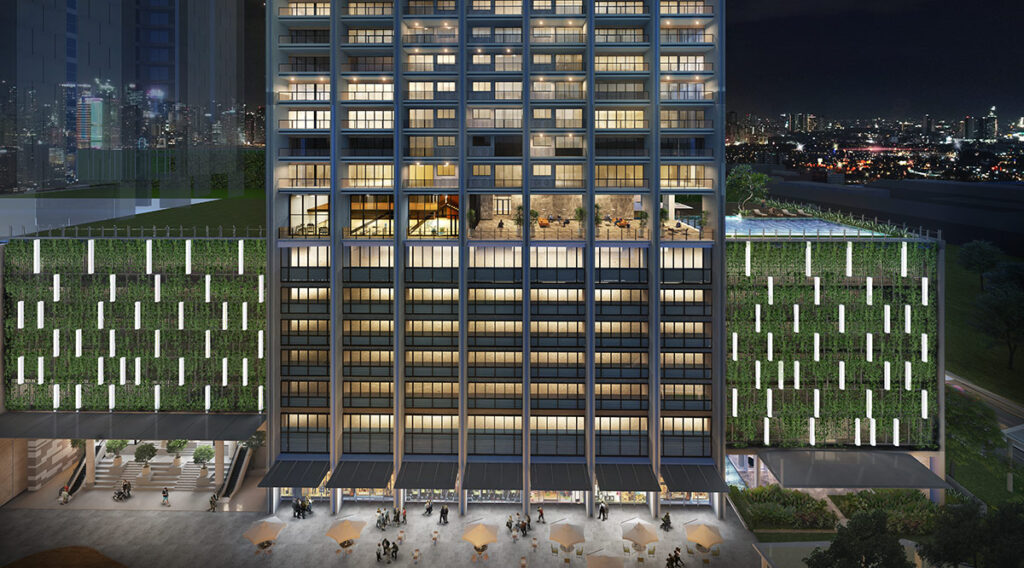 Approaching the residential tower, residents are greeted by a large motor court and a luxurious double-volume lobby. Designed with glass cladding on all its sides, the space opens up to lush views of greenery and blurs the line between indoor and outdoor — a defining experience that is prevalent in various areas throughout the tower. The podium is also designed to seamlessly integrate with Parklinks Mall through a private access, providing utmost connectivity to the residents' everyday needs. The entire east side of the podium will be dedicated to a sprawling civic space called the River Esplanade. This unique area redefines what an urban setting is like – with restaurants, cafes, and mini parks overlooking the river.
This relationship with the outdoors and nature guides the design for the residential amenities as well, with all 3,500 square meters of the tower's 10th floor dedicated to a myriad of social, fitness, and recreational areas. A vast space shared among a select group of only 280 residences.
"Nowadays, not everyone is able to have a large pool, lawn, and other facilities like a gym in their houses because of the lack of space and how expensive it could get to maintain them. In a condominium, you are able to have all these and then some, with amenities shared with the rest of the community," says Brouwer.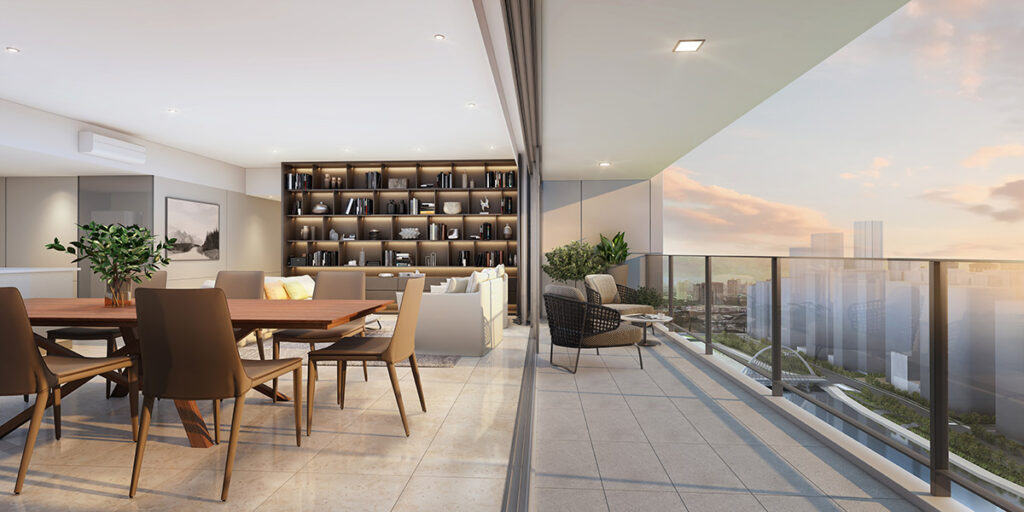 A complex of pools including a dedicated kiddie pool and an infinity pool, configured along the eastern perimeter of the podium, provides breathtaking views of the Parklinks skyline and the iconic bridge over the Marikina River. A bi-level gym also offers the full range of wellness and fitness facilities including a studio on the second floor. With the eastern side clad in floor-to-ceiling glass, the space makes for the best morning workouts. An expansive social hall covering over 200 square meters also provides ample space for gatherings. It opens up to a large lawn, allowing for maximum flexibility of use.
At the 45th level, the voluminous Horizon Terrace offers a more quiet, intimate space for residents to escape in. The high-ceiling terrace punctuates the eastern façade of the tower, overlooking the rest of the estate and the Antipolo mountain range.
A backdrop for lasting memories
With a great location and with no structures surrounding the development, HB Design took advantage of being able to offer views for all units within the building. HB Design oriented the structure on an east-west axis, opening units on the east to views of the river, the rest of Parklinks estate, and the Antipolo mountain range beyond. Units on the west side, on the other hand, overlook the sprawling tree-lined villages of Green Meadows and Corinthian Gardens, with the Ortigas skyline in the distance. Residences on this side will also have stunning sunset views.
Every design decision is purposeful, down to the smallest details. PRSP keeps in mind the lifestyle of future residents and their discerning nature when working on a design.
"Once inside the unit, you are welcomed by the open-plan layout of the living, dining, and kitchen spaces; with astounding views from your floor-to-ceiling glass windows. Airy, well-lit, and spacious — whether in the common areas or in your own unit, these are the standards in Ayala Land Premier projects," PRSP says.
The open concept means more flexibility for the end user, and since all units have a straightforward and streamlined layout, furniture could be configured in a number of ways. This, coupled with large unit formats ranging from 70-square-meter one-bedroom units to palatial 306-square-meter Sky Villas enable residents to truly make the most out of their living spaces.
Adjustments were also made on standard layouts to improve the interior spaces. Structural columns for instance which typically provide support at the corners of a unit, have been pushed out of the façade, toward the balcony to free up space inside.
"These architectural changes could easily go unnoticed, but actually benefit the living experience greatly." says Brouwer.
To further maximize the impressive views, every unit is provided generous balcony spaces of up to 40 square meters. In fact, every room will have its own dedicated balcony. As the world adapts to the new normal where al fresco spaces are given prime importance, Parklinks North Tower delivers.
Floor-to-ceiling, wall-to-wall windows provide a seamless transition from the balcony to the interior space, and allow light to fill the rooms. Large glass sliding doors allow almost the entire side of the living room to open up to the balcony, providing a more intuitive connection between the two spaces. This makes the balcony more integrated and useful for a wide range of activities. This is relevant especially today, when we spend most of our time at home and find multiple uses for the spaces we live in.
True to the saying "the kitchen is the heart of the home," this area often used for the family to gather definitely takes center stage. Rather than being tucked away into a separate room, all kitchens are open and integrated with the living and dining areas, anchored by a large island counter. Designed by luxury German brand SieMatic, the kitchens are sleek, modern, and delightfully functional. Included are SMEG cookers with a hob, oven, and hood.
With longevity and growing families in mind, rooms are configured to maximize the space and allow for the easy introduction of loose furniture. This way, residents can easily change the functions of their spaces.
Efficient and sustainable features are also part of the design. Window systems are built with low-emissivity glass, which blocks out the harmful UV rays and diminishes heat coming from the outside, minimizing the need to use air-conditioning units. The bathroom's Hansgrohe and Duravit fixtures and fittings have sustainable features that reduce water usage.
A home for keeps
As ALP president Mike Jugo says, "True luxury is really all about providing space — spaces that are flexible enough to grow with the family or to adapt to future residents. There's that luxury of space and flexibility."
Science, architecture, engineering, art, and perhaps most importantly, a user-driven perspective all come together perfectly in designing Parklinks North Tower. The result is nothing short of a timeless masterpiece, a place to call home for generations to come.