Tycoon Manuel B. Villar, Jr. is undoubtedly one of the fathers of the Philippine property industry.
But he stands out because his is an empire he himself built from scratch or to put in more specifically, out of a single red truck for gravel and sand. Indeed, he didn't have a head start because he was not a second generation builder.
Villar, 71, is proud of his rags-to-riches story. Born in Tondo, the impoverished and densely populated district of Manila, he often tagged along with his mother to sell fish and shrimps in the wet market of Divisoria. He studied in a public school in Tondo while helping his mother peddle seafood.
He persevered and earned a bachelor's degree in Business Administration in 1970. A Certified Public Accountant, he learned a lot about business and financing and was good with numbers. But he soon realized that selling seafood as his mother did wasn't so lucrative because of the short shelf life of food in general.
Gravel and sand
Instead, he decided to borrow money to purchase a red truck to sell gravel and sand which he purchased from suppliers. It was a one-man team. He drove the truck himself and sold his goods to builders.
Under the scorching noonday sun, he spent days roaming around gated subdivisions to look for construction sites where he offered his sacks of gravel and sand.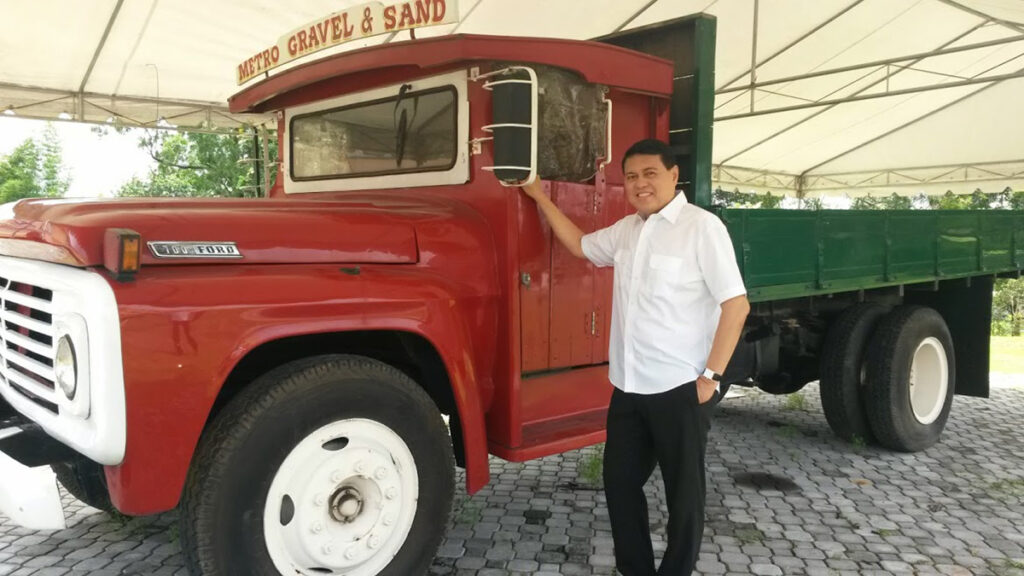 In between doing the rounds, he hung around the construction sites and observed how the contractors built homes from scratch.
This, essentially, was where he learned the tricks of the trade.
"That's how I actually started. It was just by accident. I was just delivering gravel and sand when I saw opportunities in the housing market," he tells Property Report in an interview.
Armed with grit, courage and the need to survive, Villar decided to go beyond just selling gravel and sand but to actually venture into the home building business.
From his profit from his gravel and sand hustle, he borrowed more to raise capital to build his first two homes. He partnered with lot owners and offered to develop their land because he did not have the financial muscle to acquire land.
But Villar went a step further. He said the key in penetrating the housing market was not just to offer another housing product but to enable buyers to buy with very low downpayment.
"That was the key — to have a very affordable down payment. So I came up with a package with very low downpayment," he says.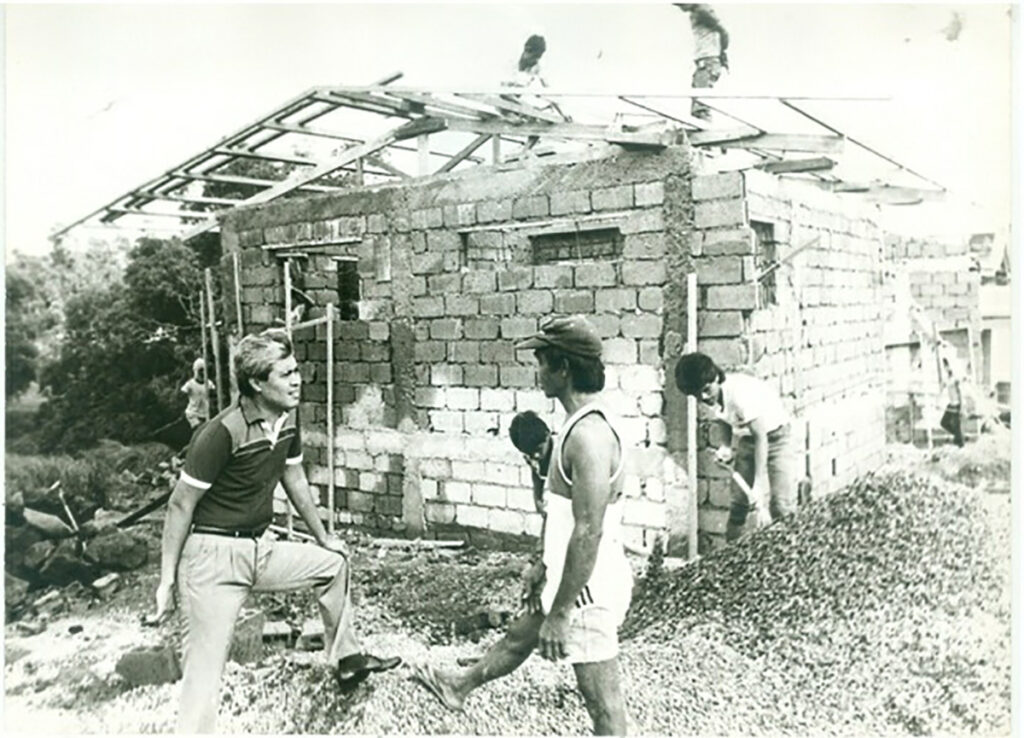 While others required a downpayment of at least P50,000, he lowered it to rock bottom — just P10,000 payable in two tranches — P5,000 for spot payment and the balance to be paid over a period of three years. Now, who could resist that?
The rest, as they say, is history.
Villar built two homes at first, one beside the other, and successfully sold it to a teacher and the other to a seaman.
"I'll never forget them," he says, proudly.
From his rounds in the construction sites, he made friends with construction workers and the foremen or those who supervise activities in the site.
He hired a good foreman and plunged into the construction bandwagon. He himself learned how to do hard labor.
"Nag papala ako. (I would do the shoveling myself)," he says.
Then he slowly acquired equipment including a cement mixer and a machine for making hollow blocks.
"I realized it's not that difficult. You just keep on pushing toward your goal," he says.
It's no coincidence his tagline is "Sipag at Tiyaga."
The homes, completed in 1977 and which still stand 44 years later in BF Resort in Las Piñas where Villar himself lives, are a testament to Villar's humble beginnings which served as the seeds to what would later on be a sprawling multi-billion dollar empire.
The homes gave birth to Camella Homes — Villar chose the name Camella, a genus of flowering plants in the family Theaceae, because he felt it appealed to the woman of the Filipino household. Initially, he named his company Mahogany but it seems too masculine. He realized that the women are the ones who have the last say when it comes to making big decisions such as buying a home. Thus, the name Camella.
At the young age of 25, Villar found himself selling one home after another.
"It sold like hotcakes," he says, still in disbelief of the success of his build and sell venture.
Today, Villar's Vista Land & Lifescapes Inc. is the country's biggest homebuilder, a sprawling listed property giant with developments for every market — from the starting families to the uber-rich and discerning Filipinos.
What else does Manny Villar want or dream of for the Philippines?
The one-time presidential aspirant, the only one who served both as Senate President and Speaker of the House of Representatives, and the only one who bravely moved to impeach a sitting president, is perhaps done with politics.
But he isn't done molding dreams for his countrymen.
"I want to build one million homes for Filipinos. I am now around 600,000 to 700,000 but one million is a good number," he says.
Beyond enabling Filipinos to have a roof above their heads, Villar also wants Filipinos to experience the aspirational lifestyle.
"Now, I have gone beyond housing. What I want to see now is for everyone to enjoy their surroundings and live in beautiful communities and environments. This is why I wanted to elevate the lifestyle of Filipinos, beyond having a roof on their heads," Villar says.
It's the reason he now has a portfolio of elegantly developed lifestyle malls, Instagram-worthy coffee shops such as The Coffee Project and Dear Joe and leisure destinations such as Crosswinds in Tagaytay.
What more can the country's richest man ask for or dream for? Perhaps it does not end.
As his son, Public Works Secretary Mark Villar says, "my father is a dreamer."
The elder Villar is father to three accomplished individuals, Vista Land president Manuel Paolo Villar, Secretary Mark and Las Piñas Rep. Camille Villar.
Perhaps, at 71, the elder Villar couldn't ask for more. He has become one of the founding fathers of the Philippine property industry and at home, he is the well-revered father of the Villar family of individuals who are making their mark in both business and politics.
Visit www.mannyvillar.com.ph to know more about Manny Villar.