When work stress hits, can guilty pleasures be far behind? Sometimes we write off our costly designer coffee as a "harmless" reward for our hard work or load up our online shopping cart for a fleeting moment of joy. But is this—and other indulgences—the way to a stable future? 
While we could all use an occasional pick-me-upper, the past year's crises have underscored the role of wise spending in achieving financial security. There is now a notable increase in the number of Filipinos—young adults particularly—who have ceased to be excessive spenders and are cleverly eyeing more meaningful purchases and investments.
Successful property platform Ohmyhome is well aware of this and aims to aid these individuals in pursuing their goal through its webinar series called OhTalks, which will air its third episode on February 27, at 3 p.m., via Facebook live. The webinar will dwell on such timely subjects as financial literacy, real estate, entrepreneurship, and technology, which will further empower individuals, as company co-founders Race and Rhonda Wong believe, "to take charge of their financial futures."
OhTalks has so far discussed, in its first episode, the different paths one can take to making their first million, while its second episode was all about passive income opportunities for beginners seeking clever ways to invest their hard-earned money.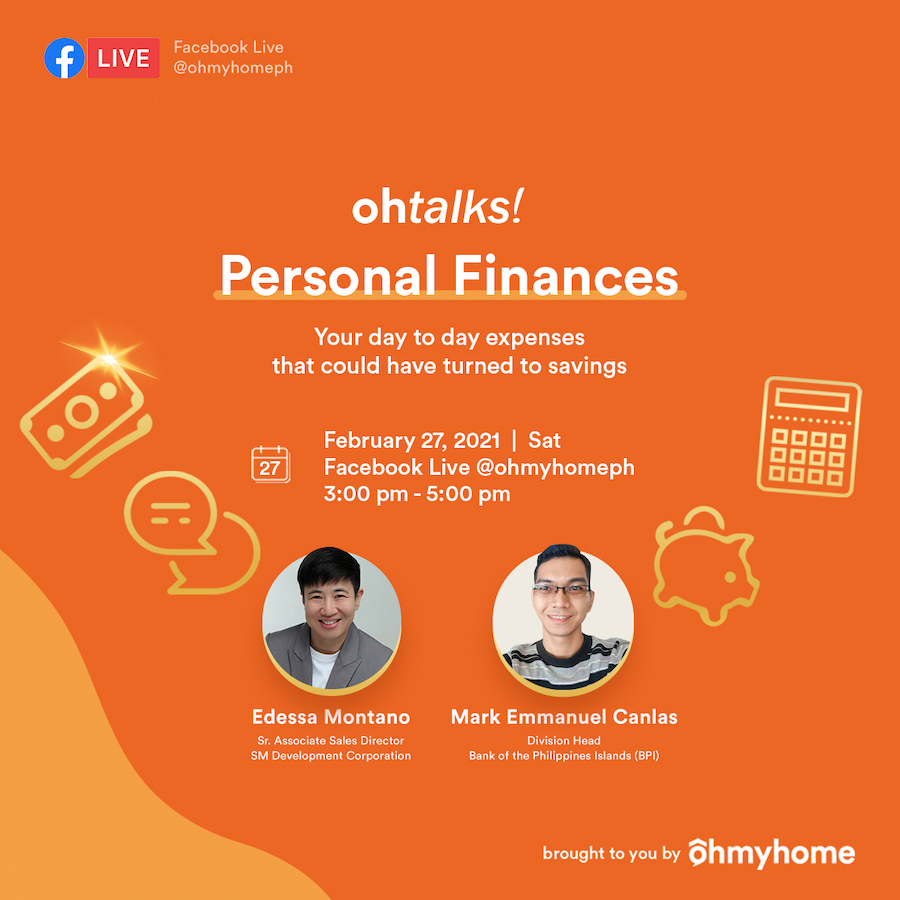 For its upcoming third episode, OhTalks will explain how our daily spending habits can influence how we work toward financial security. Titled "Personal Finances: Your Day-to-Day Expenses That Could Have Turned to Savings," this episode will feature two speakers—Edessa Montano, senior associate sales director of SM Development Corp., and Mark Emmanuel Canlas, department head at the Bank of the Philippine Islands.
An expert on housing investment, Edessa Montano has been in the real estate industry since 2004. A PRC-licensed real estate broker, Montano has worked with top real estate developers for the past six years. She began her career in international property sales in 2006, serving expat Filipinos and OFWs for 15 years and counting.
Montano has been with SM Development Corp. since 2011, consistently making it to the top three associate sales directors for the SMDC Sales Group for the past seven years.
Meanwhile, Mark Emmanuel Canlas is currently the division head of economic research, credit information, special projects, product integration and real estate vetting division, corporate credit products group of the Bank of the Philippine Islands. Canlas was the former team head of industry and sovereign risk of the Bank of BDO, Unibank, Inc. He was also the economic attache of the British Embassy of Manila, as part of the Southeast Asia Regional Economic Team, in-charge of relationship management with the Asian Development Bank (ADB).
Canlas has proven his expertise in policy influencing, research, project management, policy advice, sovereign industry/corporate credit analysis, and financial analysis, both locally and internationally.
In OhTalks' third episode, viewers will greatly benefit from Montano's and Canlas' long experience in the property and finance sectors.
"With the subjects that are up for discussion, consumers will surely learn to manage their expenditures and start saving more for what they actually need in life," Race and Rhonda say. "For instance, they can eventually invest in property or engage in a multitude of business opportunities that can grow their money."
Viewers should also watch for OhTalks' fourth episode, which will dwell on the subject of small investments that could ensure their families' financial security. Aligned with the trusted and reliable platform's vision, OhTalks is part of Ohmyhome's commitment to help customers learn to be smart spenders and investors—prepared for whatever challenges they may encounter down the road.
For more information, visit ohmyhome.com/en-ph or like ohmyhomeph on Facebook. Download the app at https://ohmyhome.com/download-app.
BrandedUp