You can't miss the refined design of Primehomes Capitol Hills' new sales pavilion along Capitol Hills. The property has officially opened its doors to fully showcase its expanding development, highlighting a luxurious and serene community,
The Primehomes community promises utmost convenience. From the moment unit owners, visitors and potential buyers step inside the Zuzuaregui gates, they are welcomed by golf carts that take them around the property's lush green scenery.
Inside the property, visitors will witness the budding community life among Larossa residents, who enjoy a breathable surrounding. Go along the main road until you see a beautiful glass structure that is the new sales pavilion.
Existing members of the community and potential buyers are both welcome to enjoy the pavilion. A presentation area greets visitors with a huge LED screen for project presentation while an impeccably designed showroom features a model unit and actual deliverable unit.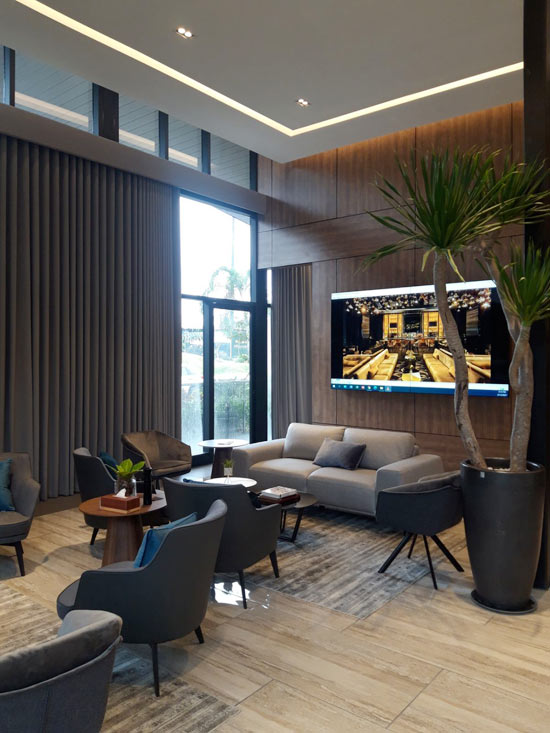 The usual closing area, where buyers finally make the purchase, is also noteworthy. It's the Pavilion Café, which showcases an unobstructed view of the three ready-for-occupancy buildings of Larossa and the greenery by the pavilion.
A treat to both unit owners and potential buyers, the pavilion previews Primehomes' newest phase, Laselva, a two-tower condominium and the second phase after Larossa. It features the Living Breathing Home Series composed of studio premier, one-bedroom and two-bedroom units.
Laselva will bring in its own basement parking and a linear park between the two new towers, and a direct access to the clubhouse. Dahlia, the first of two towers to rise of the Laselva series, will feature spacious units. This complements the green and peaceful lifestyle that Primehomes wants its residents to experience.
The property has indeed redefined community living with its strategic location in Quezon City. It takes pride in giving the right balance of city life and tranquil breathing space, with the ultimate premium experience—a country club feel.
Primehomes Capitol Hills, developed by Primehomes Real Estate Development Inc., is preparing to offer more features inside and across Quezon City as it aims to provide the best services to its growing community members, who will then be the testament of success among potential buyers.
Drive to the Primehomes Capitol Hills sales pavilion and discover the comfort and community life that the project has to offer.
For more information go to www.primehomes.com.ph or call +63 917 111 0007.
#BrandedUp