From 2010 to 2018, the Philippines experienced an exciting boom in the real estate industry. It cooled down a little in 2019 and dropped sharply, as expected, at the onset of COVID-19 in the country. Nevertheless, residential real estate developers report that their sales have been stable since May this year. Clients are perceiving the importance of owning a comfortable home amid the quarantine, while investors are taking advantage of the dip in real estate prices and the bear market.
In the Philippines, homebuying usually begins by visiting the website of one's prospect home and calling an agent for clarifications and finer details. Interestingly, some developers now offer reservation options via e-commerce platforms.
But there are times when the house and lot one is eyeing for has no website nor a proper Facebook page — just a physical "for sale" sign in front, and a non-working contact number. Or one wants to search in a specific village or barangay, but everything just leads to sketchy listings and waste of time.
Especially at this time when social distancing measures are so important, frustrated homebuyers and renters wish that home hunting is as uncomplicated as searching on Shopee or Lazada.
The closest thing to this wish could be Ohmyhome, a Singapore-based property technology platform that launched in the Philippines last week.
The app promises to make property transactions "simple, fast, and affordable through a DIY platform, top-tier agent services, mortgage advisory, conveyancing," among others.
Since its launch in late 2016, Ohmyhome has gained 175,000 monthly active users in Singapore and Malaysia. More than 5,300 homes have transacted through the app, with a combined value of over $1 billion. Since it offers free property listing, with no success fee or other hidden charges, Filipino users can expect a surge in local property listings (sale, home rental, room rental) in the near future.
As in Singapore and Malaysia, the app will provide a free Do-It-Yourself (DIY) option that simplifies the home transaction process — from listing all the way to deal closing. Users can browse genuine listings free of dummy or duplicate accounts, saving them time in searching for the right property.
The app features a unique algorithm that efficiently matches buyers and sellers based on the buyer's search criteria and the seller's property details. 
The premium part is the services of Ohmyhome's full-time in-house property agents. Users may also choose to do DIY and get in-house service at the same time.
"The company's proprietary technology will handle approximately 90 percent of the agents' work, such as sourcing for new leads, matching of suitable buyers to sellers, scheduling and advertising. This frees up the agents to focus on the most crucial element of the job — our customers," says Rhonda Wong, the 35-year-old CEO and co-founder of Ohmyhome.
She explains that this arrangement has been proven effective in Singapore, where Ohmyhome agents perform at the rate of the top 0.1 percent of real estate agents, a level of competence they intend to bring to the Philippine property market.
"Because of our simple transaction process and our competent agents, we have attained a satisfaction rate of over 99 percent in our Singapore and Malaysian markets," shares Rhonda's sister Race Wong, 38, the chief product officer and co-founder.
According to Race, the Ohmyhome team started in the Philippines back in 2017, serving Singapore and Malaysia markets. Since then, the team has carefully studied the Philippine real estate industry to modify the platform based on tech and data team research.
"We designed the Ohmyhome application and website for Filipinos and made modifications to make sure that the technology is suitable and relevant to the Philippine context. We wanted the platform to be truly built by the Filipino, for the Filipinos," she furthers.
The sisters behind Ohmyhome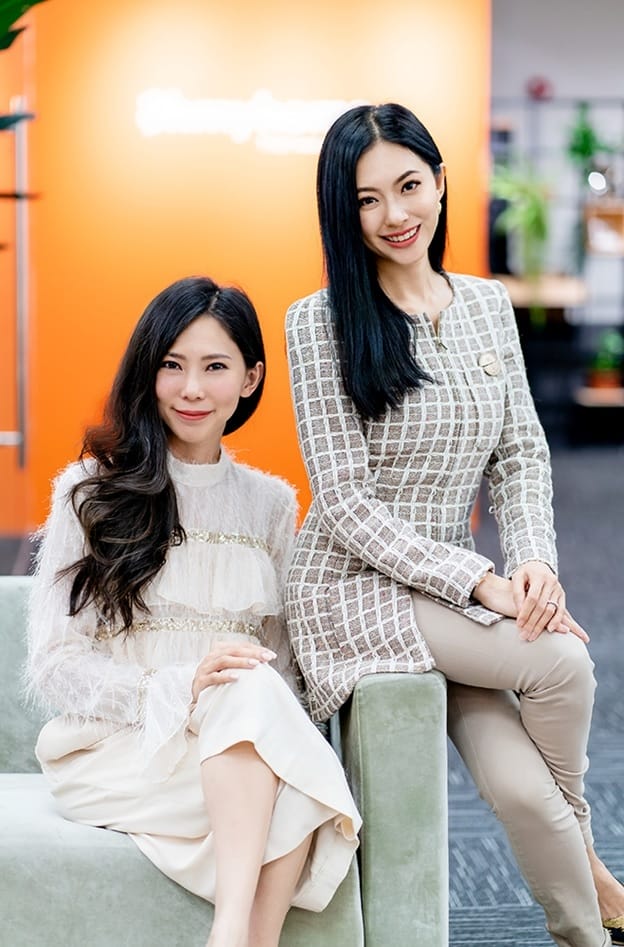 At 29, Rhonda established a real estate agency called Anthill Realtors. The company specialized in sourcing investment grade properties from within Singapore and abroad, with a unique concierge service.
Today, she is a sought-after mentor at entrepreneurial and proptech events and is often invited to speak at schools and business leadership seminars. She also chooses to give back to the community through volunteering across the world — from Detroit and Chicago to the Dominican Republic, Singapore, and Myanmar.
Because of her outstanding work, Rhonda earned prestigious recognition, including Women of the Future in SEA 2020 for Property, Infrastructure and Construction; Founder of the Year at the 2019 Singapore Rice Bowl Startup Awards; and Women Icon at the Inaugural Women Icons Summit and Awards in 2017.
Race, meanwhile, began conceptualizing Ohmyhome in 2015 when she came across some of the challenges that consumers encounter when buying, selling, and renting a home. This prompted her to develop smart solutions that simplify housing services.
For her efforts in conceptualizing Singapore's "first one-stop property solution," Race was bestowed the Glamour Award for Outstanding Woman in the Entrepreneur Category in 2019.
Race is also a multi-awarded artist in Hong Kong, with several music albums, TV dramas, and feature films to her name. She has represented international luxury brands Dior, Biotherm, Pantene, Baleno, and Glashutte. Also a social influencer, she has more than 300,000 followers on Facebook and around 27,000 followers on Instagram.
For more information on Ohmyhome, visit ohmyhome.com/en-ph. Download the app on Google Play and App Store.