There is no question that there is a crisis. Numbers don't lie — increasing COVID-19 infections, higher unemployment rates, more business closures and global GDP contraction. Governments, companies, and individuals are all struggling, with varying degrees of success, to overcome the challenges on a daily basis while working on mounting programs with sustainable results.
Governments' efforts focused on stemming the spread of the disease while mitigating economic impacts through aggressive monetary policies of central banks. In parallel, the private and business sectors quickly came together to support the needy while fiscal measures were being drafted and discussed to prop up the economy.
As private individuals, we were requested to do our part by staying at home. It is not uncommon that at the start of the quarantine, people remained hopeful and thankful for the reduced flurry in our lives, for the back to basics and simple joys, time for family, sleep, relaxation, and moments of prayer and reflection.
However, as the quarantine lengthened, there was growing impatience and unrest with the situation that does not seem to have a solution in the near term. There was heightened uncertainty for the future as actual income has also contracted. In an online survey conducted by OMG Advertising among 200 Filipino respondents belonging to socioeconomic classes ABC and D, 31 percent already felt that their job is less secure and 23 percent said their jobs are at risk. Furthermore, 36 percent are earning less while nine percent have lost their income.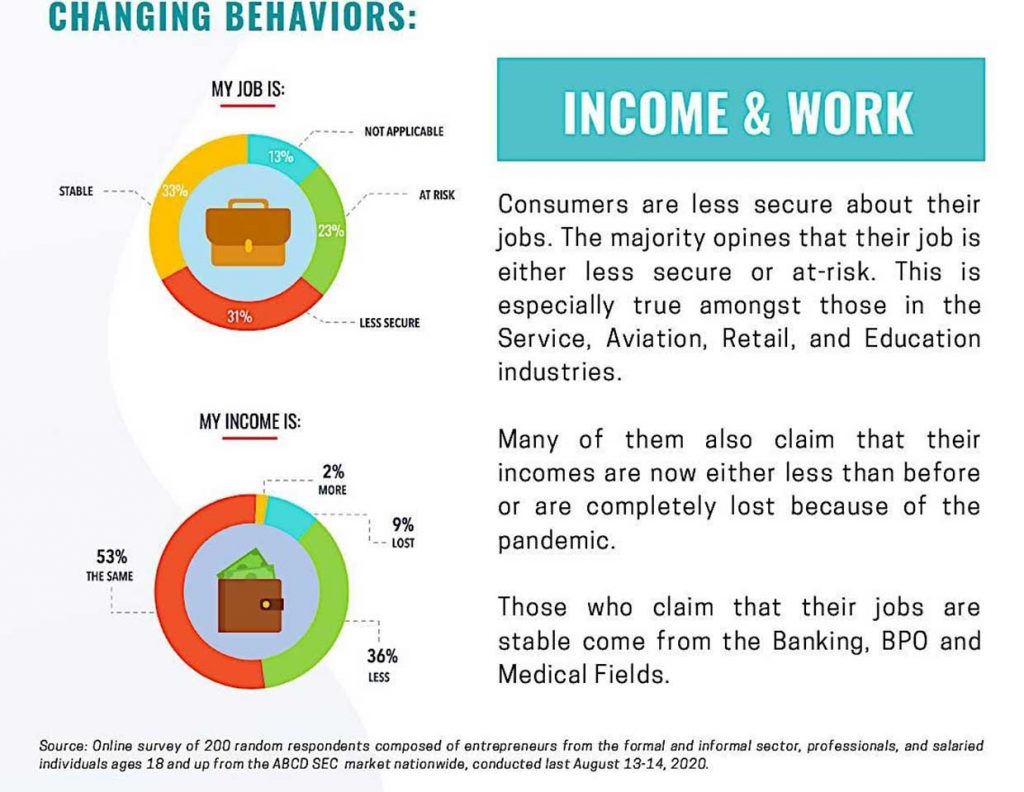 So, how did we cope?
1. We took stock of our talents and built new stocks of products we can sell to neighbors and nearby communities. The Filipinos' resilience gave birth to entrepreneurial ventures supported by socially connected people fueled by a more digital banking environment.
In the Digital 2020 Philippines report by Data Reportal, the Philippines tops the list of countries as the most social, averaging 9.75 hours on the internet versus the global average of 6.75 hours and the most engaged in social media at close to four hours versus the global average of 2.5 hours. The Philippines is the sixth-largest country in Facebook with 76 million users. There are 25 million Filipinos on Viber, 11 million on Instagram, eight million on LinkedIn, seven million on Snapchat, and six million on Twitter.
When you combine this with the ability to transfer funds and pay digitally, new community economies are developed and micro-entrepreneurs are born. BSP Gov. Diokno recently reported that interbank funds transfer volumes surged during the lockdown with Instapay transactions growing by 57 percent and Pesonet transactions by 325 percent.
From my own personal experience, my funds transfer transactions increased five times, reflective of the payments I had made for patronizing my neighbors' products — from fruits and vegetables to sushi bake, paella and buttermilk fried chicken to ice cream and cakes — for sure, one will not go hungry nor have unsatisfied cravings.
I believe one of the best things the BSP has done is to enable free bank-to-bank funds transfers over the quarantine period. And one of BPI's best innovations is the QR code, allowing hassle-free BPI-to-BPI transfers via QR code. This helped eliminate the risk of encoding wrong account numbers when transferring to unenrolled third-party accounts.  This also helped reduce cash handling and stem the spread of the virus.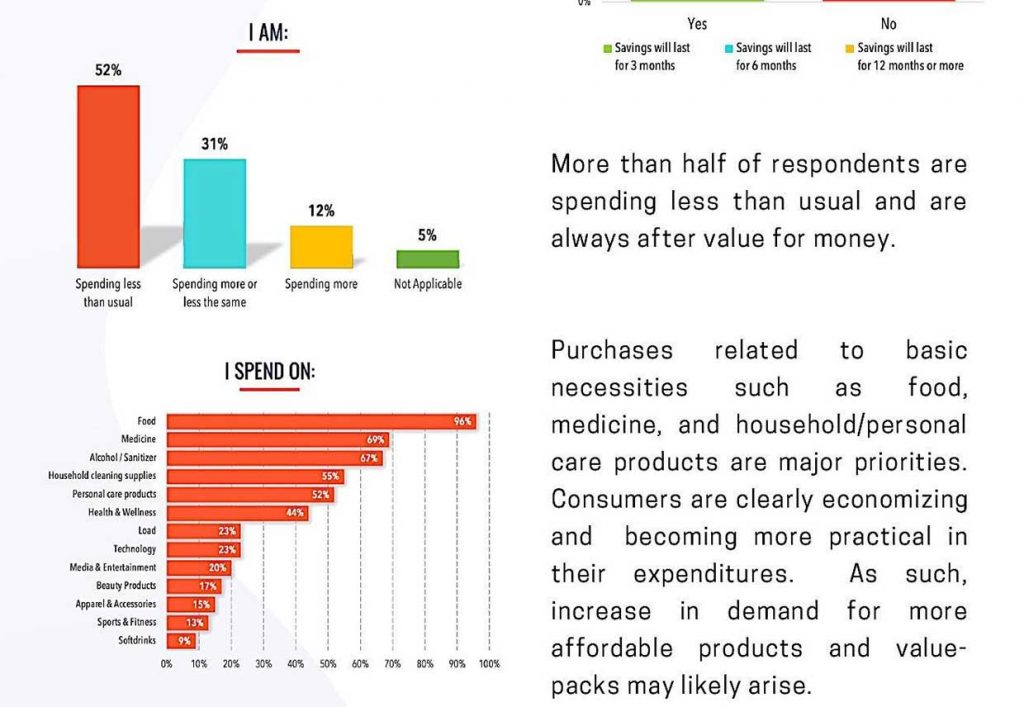 2. Get stocked up by buying low, then selling high later. Unless you need cash and have to liquidate, hold and/or buy more to average down. Shares of stocks had taken a beating as the PSE had fallen to the 6,000-level or a 23-percent drop since the start of the year. Those invested in stocks would most likely hold on and wait for the markets to recover. The PSE is already up by seven percent from three months ago, with the resumption of trading.
For those with extra cash and an appetite for volatility, they take this as an opportunity to average down and buy more stocks that are selling at a bargain, choosing carefully stocks of blue-chip, technology, telecommunications and health-care companies.
However, if you are like most Filipinos whose appetite for volatility and risk is limited, stocks of cash are preferred over shares of stocks. In fact, we have seen an increased preference for short-term savings, low-risk investment funds and government bonds. Make sure to explore your options as you recalibrate total funds.
3. Stocking up on essentials to live simply has made us realize that all of life's gifts can actually fit in those Christmas stockings. Christmas is just around the corner.
4. By the time this article is published, it will be September. Hard to think about Christmas in this current environment. But, Filipinos have maintained their sense of humor with the memes of singer Jose Mari Chan already circulating on social media. Christmas carols will soon be playing in radios and homes, bringing the much-needed holiday spirit.
Gifts will likely be tempered as many have learned to spend less. Knowing the Filipinos' creativity and penchant for get-togethers, celebrations will continue over Zoom or WebEx complete with games and song-and-dance numbers. Austerity has its benefits and the biggest one is the focus on the true meaning of Christmas.
As we open up the economy amid rising COVID-19 cases, we are taking more risks on people's health to reduce the risks on the economy. Are we really convinced that the choice is between health or wealth, lives or livelihood?
I have been blessed with the opportunity and responsibility to lead a team of talented and dedicated bankers at BPI Family Savings Bank. In the past five months, I have never seen a group of people so committed to continue serving Filipinos amid the risks they face going to work, and doing so with such high spirits.
In contrast, we hear reports on the surge of calls received by the National Center for Mental Health (NCMH) from an average of 13 to 15 a day pre-COVID to 30 to 35 a day from March to May 2020, which shows how this pandemic affects not just our physical health but also our emotional and mental well-being.
This reminded me of two different survival mindsets. The first one is called the Stockholm Syndrome, named after a bank robbery in Sweden in 1973, where the hostages developed some affinity with their captors as they became desperate for survival. The hostages saw their only way out of the situation is to give in and ally with their captors. Could this be despair and a form of giving up? There's a saying, "if you can't beat them, join them."
The second one is called the Stockdale Paradox, first featured in the best-selling book Good to Great by Jim Collins and named after Admiral James Stockdale who was a prisoner of war for over seven years during the Vietnam War. When asked how he survived those very long and dark years, he said: "you must never confuse faith that you will prevail in the end — which you can never afford to lose — with the discipline to confront the most brutal facts of your current reality, whatever that may be."
This mindset is certainly opposite of the first. It reminds us that while we need to "hope for the best, we need to acknowledge and prepare for the worst." The former seems to passively accede to the situation and relies on others to survive the crisis. On the other hand, the Stockdale Paradox is taking responsibility for the situation and actively contributing to its resolution.
People have different coping mechanisms. My prayer is for each one of us to take stock of our wealth of talents, resources, and relationships, and appreciate that our Christmas stockings can be filled with faith, hope, and love if we take accountability for our ability to make things better.