You might have plans to redecorate a room in your living space but you just don't know where to start. For some, it might take days, weeks or months even.
These iconic TV living rooms from the sets of your favorite TV series might just be the inspiration you are looking for.
Big fans of these shows can easily recognize these rooms with one glance, starting from the couch to the overall interior design. Transforming your living room into a space reminiscent of pop culture might just be an exciting interior design project you can get busy on.
Unleash the TV super fan in you! Convert your space into the striking resemblance of the living rooms of these four iconic TV series.
The one where 'Friends' mingle
If you are a sociable person and want to host most of your friends' get-togethers, then Monica and Chandler's apartment from Friends might be the perfect interior design for your living room.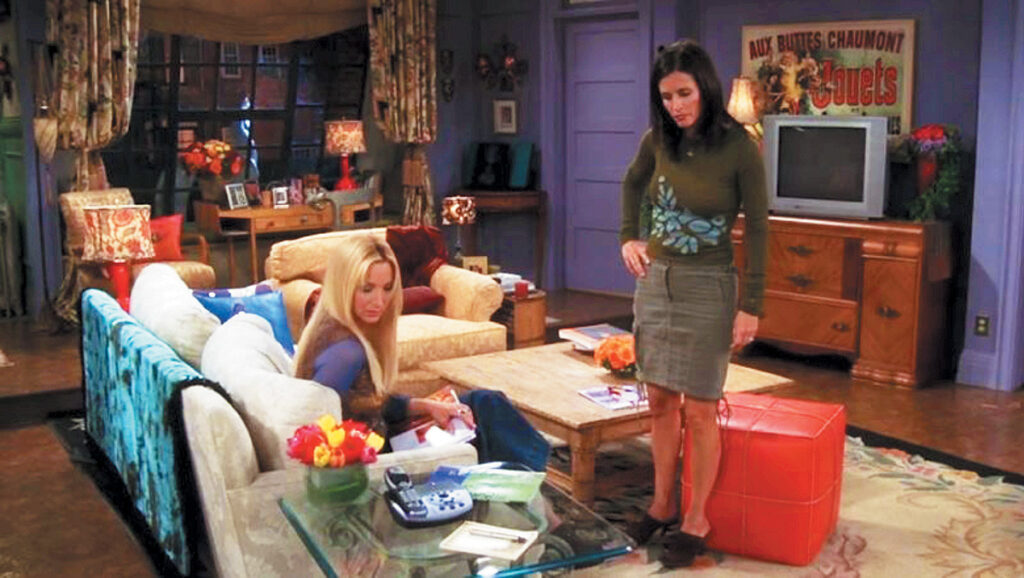 Housed in purple wallpaper paint, you and your five friends can socialize by just chilling on that long white coach and relaxing on the brown solo lounge chair.
Directly facing the couch is the television placed on a wooden table with drawers, where you can easily watch your favorite shows.
More wooden tables surround the apartment where you can place flowers and photos of your loved ones, the former complementing the floral curtains and floral lampshades.
Lastly, a glass table on the side of the couch is perfect for placing your phone and notepads.
Feel that New York City apartment vibes and mix and mingle with your friends just like Ross (David Schwimmer), Rachel (Jennifer Aniston), Monica (Courteney Cox), Chandler (Matthew Perry), Phoebe (Lisa Kudrow), and Joey (Matt LeBlanc) did in the Emmy Award-winning sitcom which ran from 1994 to 2004.
A more geeky approach
If you are more into comic books, physics, sci-fi movies, or all of that, then perhaps you might redecorate your living room just like in Sheldon Cooper (Jim Parsons) and Leonard Hofstadter (Johnny Galecki)'s apartment from The Big Bang Theory.
Sheldon and Leonard's living room has a comfy brown leather couch (with a reserved spot for Sheldon, of course!) and relaxing beige solo lounge chair.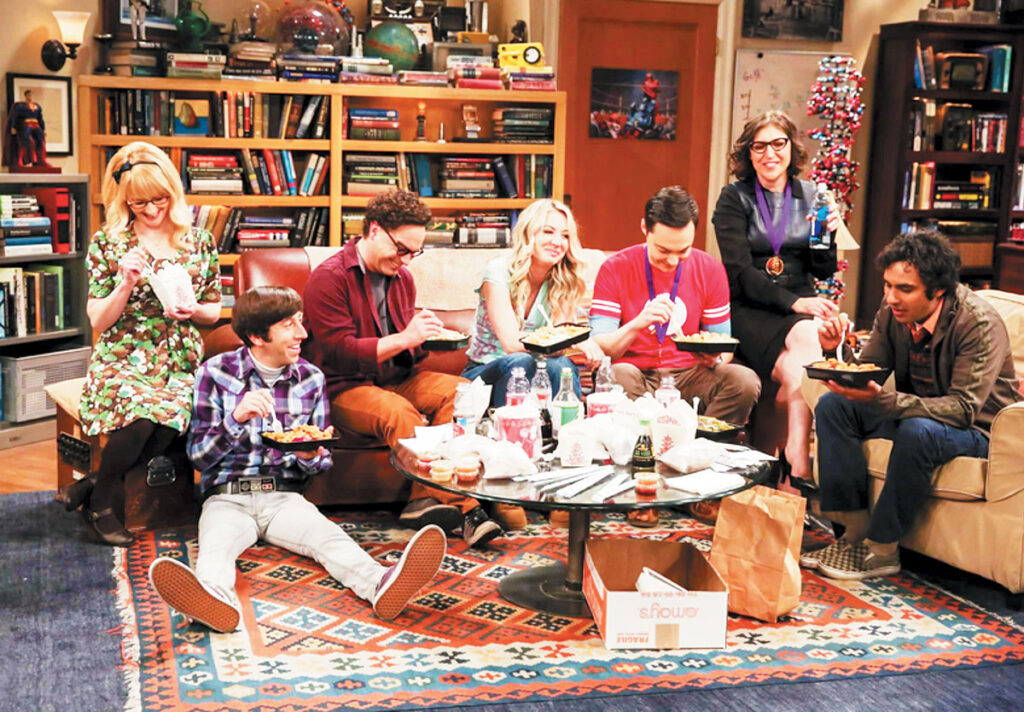 Underneath is a colorful carpet and on the center is a glass table for eating takeaways with your friends and colleagues.
At the back, you can see shelves replete with science books and pop culture figurines that complete the savant, geeky type of look the show embodies.
Just like Sheldon, Leonard, Howard (Simon Helberg), Raj (Kunal Nayyar), Penny (Kaley Cuoco), Amy (Mayim Bialik), and Bernadette (Melissa Rauch) did in this Emmy-nominated sitcom, gather your friends every Friday night for Chinese food night as you talk about each other's lives or watch Star Trek.
Picture it! A place for retiring with your best friends!
Growing older and retiring with your best friends in one abode might sound fun, especially when you all come from different backgrounds and you are a diverse set of colorful characters.
That's what the 80s sitcom The Golden Girls showed American and international viewers alike. To have that vibe, start with rattan couches paired with floral throws and pads.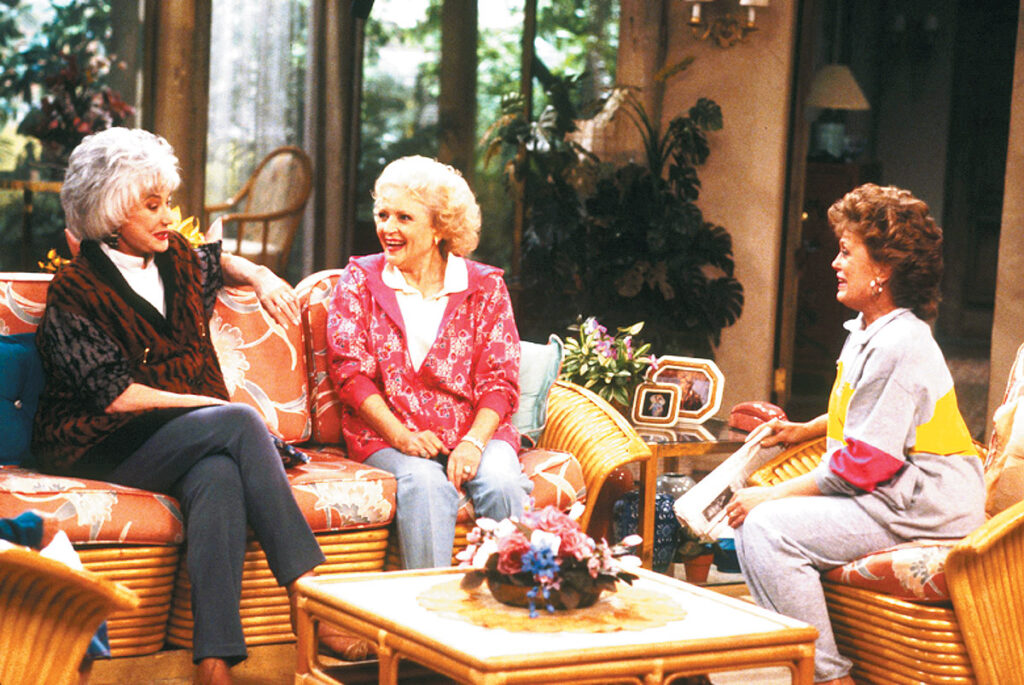 Then, beautify your living room with a wooden center table with a gorgeous floral decoration as its centerpiece. Add house plants and a wooden glass table with photos of yourself and your loved ones, more floral decorations, and porcelain vases and you'll be good to go.
In this living room, make some memories in your golden years with your three best friends. Be inspired by Rose (Betty White), Dorothy (Bea Arthur), Sophia (Estelle Getty), and Blanche (Rue McClanahan) who prove that age is just a number!
A 'Stranger' interior
Clinging to that supernatural and suspenseful vibe for your living room? Try out Joyce Byer's (Winona Ryder) living room from Netflix's Stranger Things.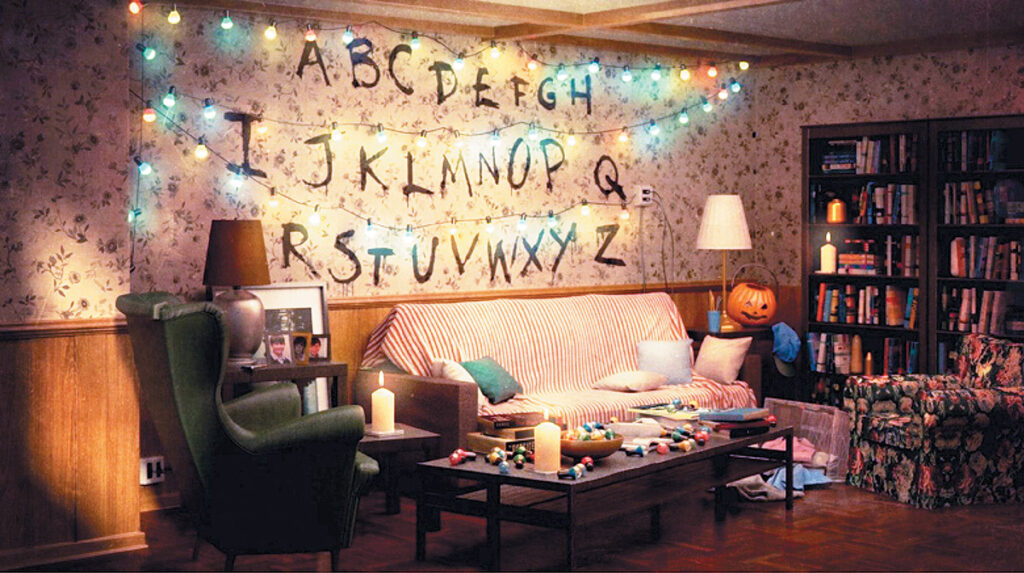 You need a comfortable couch covered in a red-striped blanket, a brown leather solo lounge chair, and a floral solo lounge chair. Don't forget the floral wallpaper, colorful LED string lights, and the black paint for the alphabet on the walls.
Fill this timeless space with books on two shelves plus candles placed on wooden tables to finish that eerie, eclectic atmosphere that matches the show's energy.
* * *
Got some more iconic TV living rooms that can be used as your next interior design inspiration? Let us know by e-mailing the author at [email protected].