Everybody knows at least one tita who loved to host parties and entertain friends, in pre-pandemic times. When COVID happened, where do you suppose they channeled their hosting energies to?
"You wouldn't believe it—there are so many, and now they have to entertain themselves!"
Property Report talked to Nerisa Del Carmen Guevara, a multi-awarded poet and performance artist who recently built a coffee and tea corner in her library. She's calling it the Soul Drink Station, her way of expressing her creative energy while the pandemic keeps her—and many other inspired hosts like her—from cooking for friends and entertaining at home.
"Before the pandemic, I hosted many friends, and all my plates and cutlery, and settings were to provide this hearty community vibe," Nerisa, or Ricci to friends, explains. "Left to ourselves during the lockdown, I turned my priorities to online work and entertaining ourselves at the end of the day," she said, referring to herself and her partner, Joy.
She's been wanting to build a drink station at home for a while, so most of the work happened in her mind for months—planning and choosing the right elements to include from her quirky collection. Putting everything together in the physical space took only an afternoon. She placed an old bookshelf near the window and started arranging the items on the shelves, which are themed per level. 
The topmost shelf is home to Ricci's collection of utensils for traditional Japanese chado, loosely translated as tea ceremony, or way of tea. The exquisite highlights include a traveling chabako (box for tea utensils), seasonal chawan (bowls for winter, spring, summer, autumn), a cinnabar tea caddy, tea whisk, incense holder, a vase for an informal ikebana and chabana (tea flowers), water dipper, cast iron tea warmer, and water receptacle.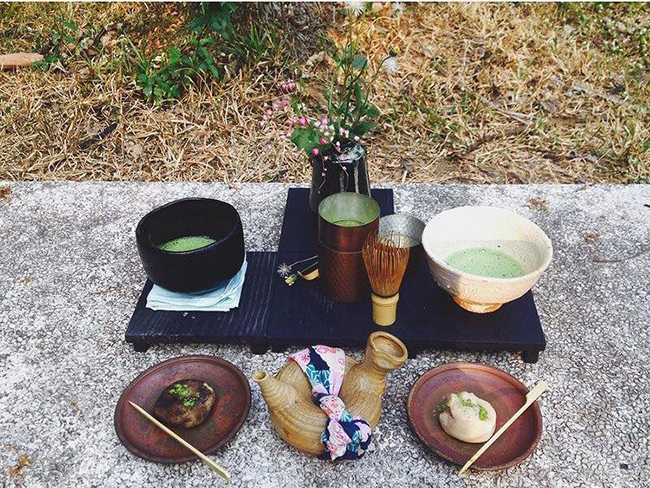 The next level carries the "I don't really rise and shine" sign that inspired Ricci to start creating the soul drink station in the first place. She bought it from an IG seller, along with the vintage teacups from England—they all share the space with Joy's 11-year old DeLonghi espresso machine and equally old spice grinder.
The third level has Ricci's mom's vintage tea set from the 70s, a slop pot, ginger jar, a crystal bohemia glass decanter. "I had always loved my mother's china, those she displayed for someday that never came. I am still eyeing a set of her blue and whites," Ricci shares. But even if her mom likes to save the pretty things for a special day, Ricci says it makes her nevertheless happy to see them being used.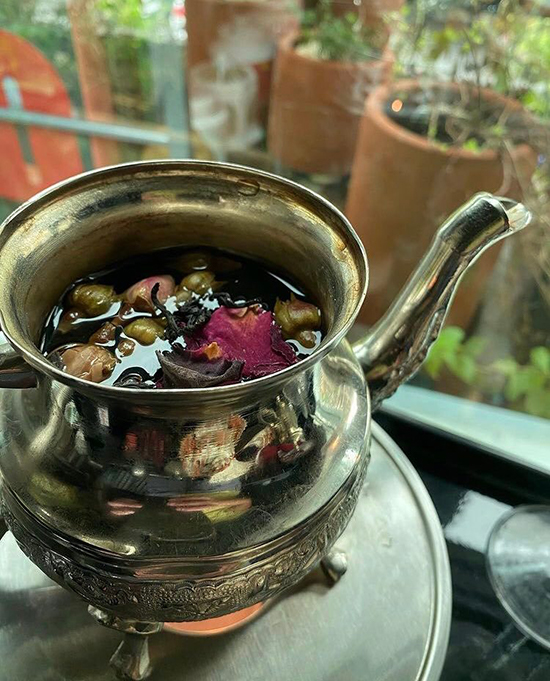 The bottom layer is for the aluminum batirol, electric kettle, extension cords (very important!), instant coffee and chocolate mixes, water, dipper, and glass. "Somewhere in the day, (Joy and I) can agree on having batirol, and (the) glass decanter is on standby for the proper liqueur…"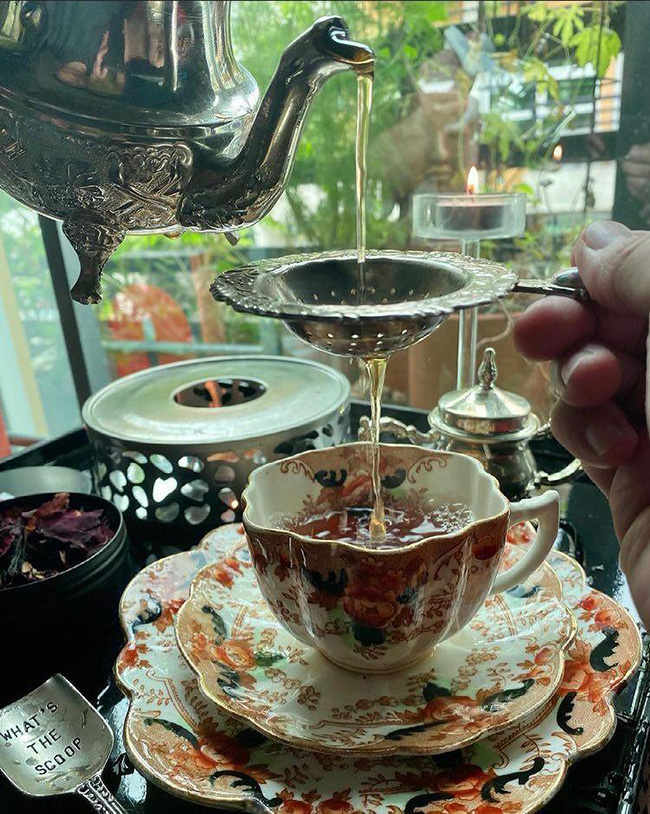 The Soul Drink Station is really a "creative thing" where Ricci likes to sit to meet herself. "It was online work that inspired this joyful corner," she says. "I needed an accessible corner for self-love and care, and motivation to keep on working."
It definitely seems like every home in the midst of this pandemic should have a soul drink station, in whatever size or form, to help relax the body, calm the mind, and soothe frayed nerves.
Ricci is on Instagram (#ricciteatime is filled with photos about tea and other drinks).