Women play an important role in the growth and development of our society. We have seen the advancement of women as they participate in various fields. However, as more women find themselves in the workplace, they face different barriers and challenges like sexual harassment and violence. Their fears come in different forms as they experience harassment and violence in private and public spaces—on the streets, public transportation, workplaces, schools, and even online. Recognizing this reality, WomenBizPH presented the "I Am Woman WOMENar Learning Series" to help in the promotion and creation of safe spaces for women.
The webinar series was supported by WeEmpowerAsia, a UN Women programme funded by and in partnership with the European Union; the Philippine Commission on Women (PCW); and the Department of Trade and Industry (DTI). The previous sessions tackled significant issues, like the following: (1) I am Empowered: Magna Carta of Women & Gender Fundamentals; (2) I am a Leader: Inclusive Leadership; (3) I am a Communicator: Value of Corporate Communication with Gender Lens; (4) I am a Marketer: Gender Responsive and Inclusive Supply Chain and Marketplace; and (5) I am a Strategist: Corporate Policy Review and Gender Mainstreaming.
Concluding the webinar series was the topic "I am Safe: Ensuring Safety—Sexual Harassment- and Discrimination-free Workplace." It was an honor for me to be invited as a case speaker together with other renowned women leaders.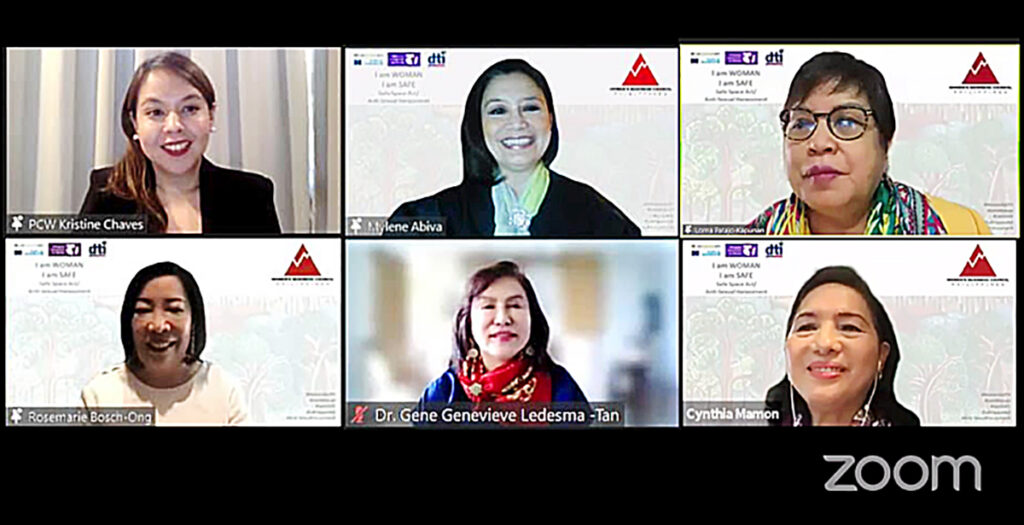 Atty. Lorna Patajo-Kapunan, one of the leading litigation lawyers in the country, provided an in-depth discussion of The Law & Implementing Rules and Regulations of the Safe Spaces Act (SSA) R.A. 11313, which aims to protect all individuals from gender-based sexual harassment (GBSH) in physical or online spaces. She said that the SSA recognizes that both men and women must have equality, security, and safety not only in private places but also on the streets, public spaces, online spaces, workplaces, and educational and training institutions.
Atty. Kristine Yuzon-Chaves, Executive Director of the Philippine Commission on Women, emphasized the need to be aware of the law—especially the obligations of the employers and employees—to ensure that they are doing their part in creating a safe space for all.
Indeed, it was a privilege to speak and present to a large crowd of women leaders. As the first case presenter, I shared some of Wilcon Depot's good practices on GBSH. Being a woman leader in a male-dominated industry, I find myself in a position to influence the creation of a safe workplace for our employees. As the biggest retailer of construction and finishing materials, Wilcon Depot has an Occupational Safety and Health Policy that aims to protect our employees from injuries, accidents, or illnesses. We are actively and effectively implementing a policy on sexual harassment, and have zero-tolerance for bullying and cyberbullying. These policies mirror the company's values and culture, and communicates our value proposition to all our employees and business stakeholders. After more than three decades of working at Wilcon, I can say that our Chairman deserves commendation for looking beyond gender, appreciating our competence, and valuing who we are more than what we can contribute to the company.
Also sharing their case studies were Cynthia Mamon, the Enchanted Kingdom Chief Operating Officer, and Dr. Genevieve Ledesma-Tan, the Founder and President of Southville International School.
Dr. Tan talked about the sexual harassment experiences of teachers, pointing out that every company and organization should feel like home, a place where people can feel safe, protected, and cared for. It should be a safe haven away from the threats and dangers of the outside world. Ms. Mamon, on the other hand, talked about how Enchanted Kingdom treats its employees by promoting its core values, making sure that the employees become authentic channels of magic, and making them feel respected and accepted the way they are.
The WomenBizPH Womenar Learning Series bridges gender gaps, issues that remain a challenge in the Philippines. I think webinars like this one can definitely empower women to defy the status quo and achieve gender equality in the workplace.
As women, we have to keep in mind that we deserve to be in a place where we feel respected and celebrated as individuals and professionals. With persistence and compassion, I believe that we can make our workplaces a safe space for women. As Maya Angelou said, "Each time woman stands up for herself, without knowing it possibly, without claiming it, she stands up for all women." Together let us encourage everyone around us to work with us in creating a safe working environment for all.