On its milestone anniversary celebration, Avida Land continues its tradition of annually partnering with Ayala Foundation and Ayala Museum for the Rush Hour Concerts, which will now be fully online.
Dubbed Get Access, Give Access, this year's concert-cum-fundraising campaign aims to provide year-long internet access to 500 underprivileged students while supporting the local music industry that was also hardly hit by the quarantine.
On October 30 at exactly 6 p.m., the Manila Symphony Orchestra through The Best of OPM — with special guest, Manila Symphony Junior Orchestra — will serenade listeners with homegrown music from 1970s to 1990s, a tribute to Avida's three decades of providing homes to "celebrate life," as its name denotes.
Tickets are priced at regular P1,000 and discounted P700 for seniors, PWD, members, students, teachers and Ayala Group of Companies employees.
The Rush Hour Concerts at the Ayala Museum started back in 2013 at the initiation of the Manila Symphony Orchestra (MSO). It was both a way for the museum and the orchestra to make classical music more accessible to the public and to provide the Makati community a respite from the Makati rush hour traffic.
The 500 students include 400 grade school students of CENTEX and ProFuturo programs (K-6 students from the most disadvantaged families of Tondo, Manila; Bauan, Batangas; and MIMAROPA) and 92 Ayala Foundation Scholars (Junior High School, Senior High School and College Students from Manila and Batangas).
The majority of these students have limited access to internet and digital tools for online schooling. According to Ayala Foundation, 80 percent of the scholars only use prepaid or load internet connection. Thus, the fund-raising campaign this year.
Partner schools include CENTEX Manila, CENTEX Batangas, Adamson University, APEC Schools, Far Eastern University, Lyceum of the Philippines – Manila, National Teachers College, Pamantasan ng Lungsod ng Maynila, Polytechnic University of the Philippines, Sta. Isabel College – Manila, University of the East – Manila, University of Sto. Tomas, and schools from Mindoro, Marinduque, Romblon and Palawan.
"I believe that we have a significant responsibility to execute on (the opportunities brought about by this disruption); and place the Philippines in a path to progress," said Ayala Corp. chairman and CEO Jaime Augusto Zobel de Ayala at the onset of the COVID-19 crisis.
Being an Ayala residential brand, Avida Land is one with the umbrella company in prioritizing its duty for the country and crusading to uplift Filipinos' lives, especially during this pandemic.
Instead of celebrating its 30th anniversary in the grandest way typical in the pre-COVID times, it has turned to a more meaningful and purposeful occasion where it gathers employees, sellers, clients, partners, homeowners, and the general public.
Having a milestone anniversary amid unprecedented times is a challenge, the company also saw an opportunity to enrich more lives through purpose-driven collaborations with social enterprises, Rags2Riches and Messy Bessy, which empower dignified local artisans and at-risk youth, respectively.
Avida has teamed up with Rags2Riches and its community artisans for an exclusive line of merchandise called Safe & Sound Care Set. The carefully curated items include a face mask with filters and a hand sanitizer, packaged in a personalized pouch. Multi-purpose organizers, made of natural materials and indigenous textiles, were also crafted for Avida.
It is also supporting Messy Bessy's mission to assure 30 scholars a college education through the 30 Years, 30 Scholars campaign. Every new Avida homeowner receives a special set of organic and non-toxic home cleaning essentials.
"Celebrating life with gratitude and hope is more meaningful when we extend this hope to more Filipinos," says Tess Tatco, Avida Land marketing head. "For us at Avida, there is no better way to express our immense gratitude for 30 eventful years in the industry than by partnering with local life and livelihood businesses driven by causes that are likewise close to our heart."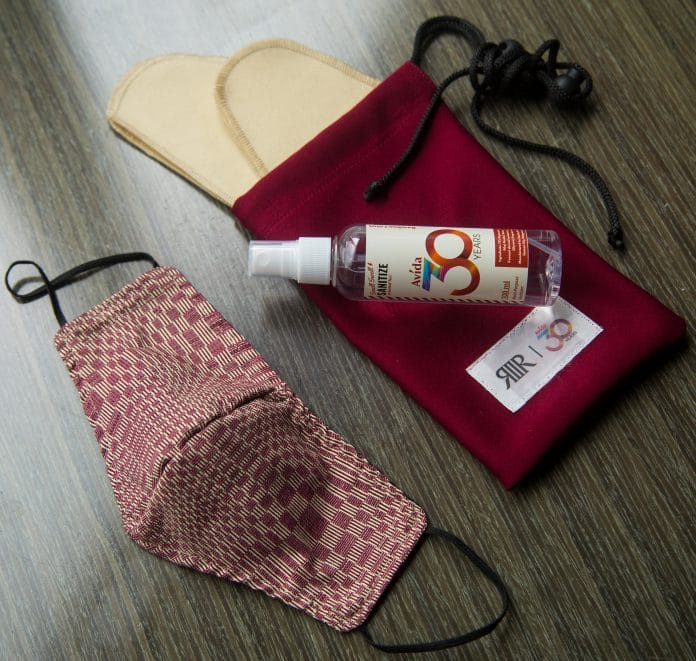 To provide a more convenient living experience to its homeowners, Avida created Community Mobile Markets, which support local sellers at the same time.
For the general public, Avida has geared up for a series of informative webcasts aimed at empowering Filipinos to live their aspirations. Last October 17, industry expert Rex Mendoza of Rampver Financials talked about how one can have one's dream home in these changing times.
The company also unveiled its 360 Designer Showroom last October 24, in collaboration with Gussy Design, which features thoughtfully designed new normal living spaces.
The pandemic may have canceled Avida's planned festivities, yet in the process, it has made the celebration more colorful and purposeful, dawning 30 more years of celebrating and uplifting lives.
To purchase tickets for the Rush Hour Concerts, visit [email protected].