Anyone who frequents Bonifacio Global City (BGC) in Taguig for work or leisure has likely come across one of Daiichi Properties' developments in the prime business and lifestyle district.
With almost 30 years of established property development expertise, the company has uniquely shaped the metro's landscape with its structurally sound and design-forward office and residential spaces.
In the Ayala Land-developed BGC, Daiichi has built the following premium-grade and award-winning office buildings: The Finance Centre, World Plaza, One World Place, and One Global Place. It also produced Regent Parkway, one of BGC's premier residential towers.
With its mission of bringing forward world-class projects firmly in place, the company continues to expand its portfolio with the construction of Fifty Six Central, a new creative office building in Ayala Land Inc.'s (ALI) Arca South estate.
Investing for the long term
Despite the economic downturn expected from COVID-19's halting of businesses and industries, Daiichi maintains a positive outlook.
"We always take a long-term view of the market and we believe that the economic effects of COVID-19, while felt at the moment, are temporary. The economy will bounce back. That's why we continue to build to reap the benefits of long-term investment and thinking," says Charmaine Uy, SVP of Daiichi Properties.
The resilient trajectory of the economy is reflected in the market's behavior in the first six months, following the outbreak of COVID-19. According to Leechiu Property Consultants (LPC), there is a 50-percent increase in lease levels of office spaces in the first half of 2020, despite the move of the majority of businesses to work-at-home setup.
Metro Manila also saw over 26,000 residential units sold, assisted by developers' recalibration efforts in the form of stretched down payments, lower amortization, and tactical discounts to home buyers.
Roy Golez Jr., LPC's head of research, provides further insight. "The observed slowdown is expected because we all faced an unprecedented situation that reshaped our society. However, the property will remain a sound investment, given its long-term sustainability and proven returns even during and after widespread financial slumps."
ALI, Daiichi's partner for Fifty Six Central, proves how property remains viable even after many years laden with momentous and decisive economic, political, and social events. ALI's projects — all located in central business districts and strategic growth centers — continue to be well-received and highly marketable due to their integrated concept. This allows ALI to bring together business, residential, retail, and lifestyle offerings that generate a positive symbiotic relationship for everyone involved.
This strength is proven by the consistent increase in land value of ALI developments. Based on the land values reported by Colliers in September 2018 and December 2019, both Alabang and Makati grew about 12 percent annually in the past 10 years.
When visions align
Daiichi's decision to proceed with Fifty Six Central's construction is rooted in its trust in ALI as a partner.
According to Uy, ALI has demonstrated professional excellence in their past projects together, giving Daiichi the confidence to maintain and focus on their company's mission.
"We've developed several properties in BGC and have seen how ALI works. Over the years, we've witnessed and benefited from their business ethos: their estates are well-planned, well-constructed, and well-maintained post-development. We apply the same standards and practice in our projects, thus making our companies truly aligned."
Arca South is being primed by ALI to be the next BGC, given Arca South's proximity to the current financial and lifestyle powerhouse. This locale is well-suited to Daiichi's vision for Fifty Six Central, set to house global companies and startups who wish to be at the forefront of innovation and the future.
ALI's Arca South is a 74-hectare master-planned, mixed-use estate that headlines accessibility. Situated in Taguig, Arca South is only minutes away from NAIA, BGC, and Makati, with enhanced connectivity to more areas when government infrastructure projects, including Skyway, C6, and the Taguig Integrated Terminal Exchange (ITX), are completed.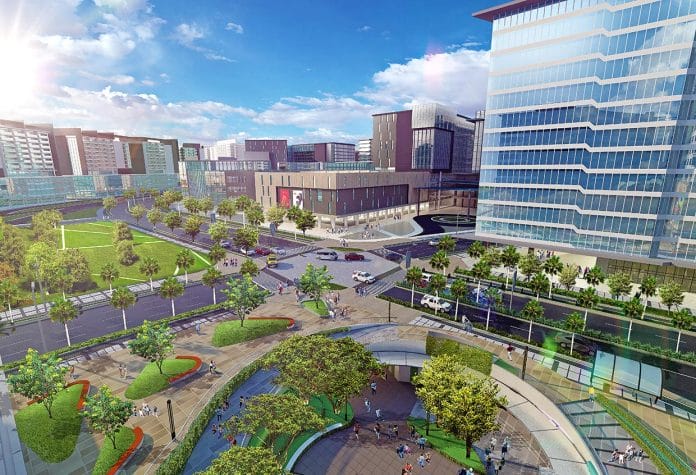 This makes it a choice spot for office locators who wish to tap into the rich talent pool of south Manila. With ALI anchors such as Seda Hotel, Ayala Malls, and high-end residential project Arbor Lane, those investing in Arca South can expect a dynamic and bustling community conducive to economic opportunities.
"We've partnered with ALI in the past and are now working with them as we excitingly build our new pride, Fifty Six Central, for the market. We've enjoyed successes together and the inherent value and resilience of ALI estates make them a top choice for our upcoming projects. We remain confident in ALI and look forward to how Fifty Six Central will usher a productive experience for our office tenants and contribute to the integrated live-work-play experience in Arca South," Uy concludes.
To learn more about commercial investment opportunities in Ayala Land estates, visit www.ayalalandestates.com.