Food, who can live without it? Certainly not us, urbanites, who are busy with full-time jobs, side hustle, and home chores.
However, we faced the nightmare of hoarding during the first wave of the Luzon-wide community quarantine. Aside from aisles of rubbing alcohol and disinfectants, rows and rows of grocery shelves got emptied, too. Vegetable farmers also weren't able to transport their products, turning wet markets into barren spaces.
We then relied on easy-to-cook meals, which are sometimes bland and unhealthy. Many rose to the challenge and did what had to be done years ago — convert abandoned lots, neglected parks, or balconies into vegetable gardens or urban farms.
One neighborhood in Novaliches, Quezon City, recently transformed an idle, garbage-filled lot into a green spot on the map.
JC Tejano, co-founder of the neighborhood project, told One News that the initiative was initially aimed at discouraging their neighbors from irresponsibly throwing trash in the area.
Come COVID-19 lockdown, they were even more encouraged and motivated to push through with their project to keep their community from getting the virus while buying vegetables in the market.
"That was really our purpose. Aside from that, we thought of it as a way to avoid going to the market when the quarantine started," Tejano said.
Through cooperation, the community's urban farm came to life, thanks to recyclable materials donated by the residents such as old cabinets, beds, metal racks, tires and garters. The only expenditure they made was for a wire, which only costs P300.
The farm now produces string beans, ampalaya (bitter gourd), upo (bottle gourd), patola (ribbed loofah), okra, siling labuyo (bird's eye chili), bell pepper, eggplants, tomatoes, radish, mustard greens, pechay (local bok choi), peanuts, lettuce, sweet potato, taro, bananas, papaya, squash, watermelon, melon, avocado, parsley, basil, rosemary, oregano, sunflowers, roses and zinnia.
But even without a vast empty lot like theirs, you can still pick up a few lessons from this community. Here's a starter tip to kickstart your journey to naturally growing food in bustling urban areas.
Go vertical, maximize space
Vertical gardens are the way to go if you have a few square meters to work with. Walls near gates, windows, balcony, verandas, or any sun-lit vertical areas in your home are your best locations.
If you're living in a condominium, maybe you can ask the homeowners association or the building manager if your community can start a small urban farm.
Get creative! Materials aren't an issue
Those who have extra money may check out businesses offering aeroponics and hydroponics systems installation in homes. With this, all you have to do is follow instructions on how to maintain it.
For a more budget-friendly beginning, repurpose discarded 1.5-liter soda bottles or any plastic materials into pots. Punch a few holes where you can place hooks and where water can drain. You may also explore your carpentry skills and create vertical shelves from old cabinets, dining tables, chairs or whatever suitable materials you have in your home.
Used coffee grounds, dried leaves and vegetable scraps, and rice water are excellent fertilizers. Thanks to the rise of online shopping, you can now shop for soil and even ask for the sellers for their soil type recommendations.
Choose the right vegetables
It's best to start your vegetable garden escapade with vegetables that jive well with the Philippine climate. Next, choose vegetables that you like to eat so you'll have the motivation to pursue your project.
Do your research, too! A lot of farmers are now sharing their wealth of knowledge on YouTube.
As a self-proclaimed plantita who loves her vegetables, after picking out edible parts of talbos ng kamote, saluyot, and spinach, I replanted their young shoots and watered them when necessary. Onion and garlic that have been resting on our shelves and developed roots are also my best buddies as I simply planted them on repurposed Starbucks cups.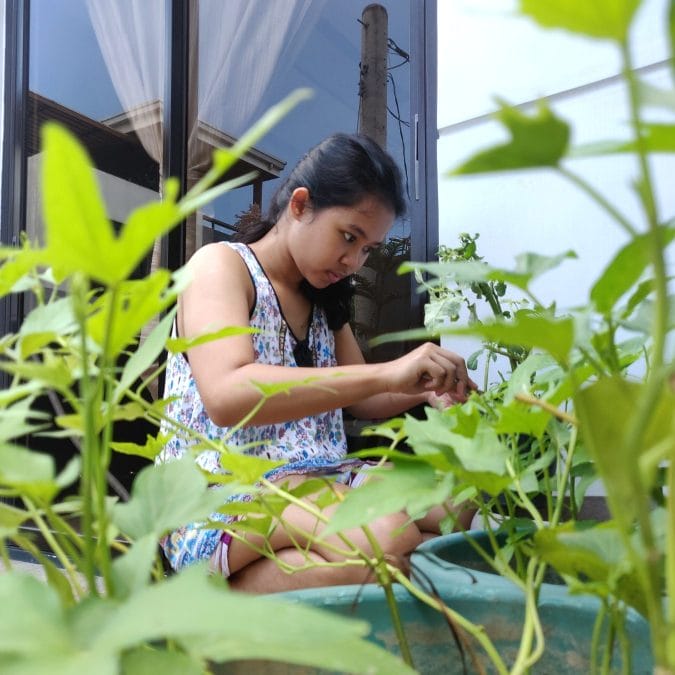 Now, I've had plates of steamed, organic vegetables, straight from the little balcony outside my bedroom.