Time was when folks from Iloilo would go all the way to Manila just to shop. "I spoke with someone at a high-end department store in Manila and she said that many Ilonggos did that," Jennifer Palmares-Fong, VP for sales and marketing of Iloilo Business Park, relates.
A native of Iloilo, Palmares-Fong studied college in Manila. She worked in Manila for a while, but when she saw an opportunity to work in Iloilo, she decided to return to her home city. "I came back because of the opportunities and development that I saw happening here," she says. "Many of my friends did the same. There was a lot of reverse migration happening."
Leading in the development is Megaworld's Iloilo Business Park (IBP), a 72-hectare mixed-use integrated township in what used to be the site of the former airport in Mandurriao. Envisioned to become the biggest business and tourism hub in Western Visayas, the township has a lifestyle mall complex with the Festive Walk Mall, the Festive Walk Annex and the 1.1-km. Festive Walk Parade. Also located here are the Marriott Hotel and Richmonde Hotel, the new Iloilo Convention Center, as well as BPO office buildings and luxury residential condominiums.
"These activities helped jumpstart the local economy. The people could see the progress. Every year since we opened, we deliver something new and exciting in the township," Palmares-Fong shares. "This year we are excited to launch the Belmont Hotel. We are offering Ilonggos and businessmen an opportunity to invest in a Megaworld hotel right at the center of Iloilo Business Park."
Ilonggos are known to be quite prudent in their spending. It is said that most banks have branches in Iloilo to cater to the locals' saving habit. "But with our offerings, they now have a reason and are more willing to spend," Palmares-Fong shares. "When we launched our first condominium tower, all the units were sold out in less than a month. Many of the buyers were locals. We have a strong middle class. We have a high number of seafarers as well as nurses. We are hard-working and we spend our money wisely.
"Ilonggos have simple taste, but they are also getting exposed to new shopping and dining experiences. The retail stores and restaurants at our malls are a mix of the homegrown such as Café Panay and Pauline Banusing's Farm to Table restaurant as well as nationwide chains such as Savemore and Marketplace by Rustan's," Palmares-Fong says. "With the opening of the Iloilo Museum of Contemporary Art, we are gaining a better appreciation for the arts."
Devoted mostly to Filipino and Ilonggo artists, the Iloilo Museum of Contemporary Art (ILOMOCA) is the first contemporary art museum in the Visayas-Mindanao region.
The 3,000-sqm. museum is located at the heart of the Iloilo Business Park, in the Casa Emperador Building at the Festive Walk Parade. The museum's three floors of exhibition space feature an impressive collection of works by renowned artists such as Antipas Delotavo, Rock Drilon, Ferdinand Cacnio, Manuel Baldemor, Arturo Luz, Juvenal Sanso, Ramon Orlina and Abdulmari Imao, among others. Many of the works on exhibit are from the collection of Ilonggo art patron Edwin Valencia and they include works by Joan Miro, Salvador Dali, and Marc Chagall.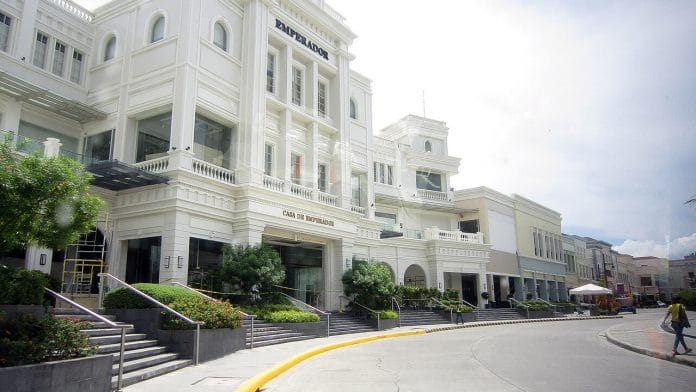 The ILOMOCA embodies the vision that Megaworld's top executive, Kevin Tan, expressed at the museum's opening, giving importance to the role that culture and history play in adding value to the development and transformation of a place, even beyond attracting business and creating jobs for the people.
In the rotunda, right in front of the museum's entrance, is an 8.8-meter bronze sculpture created by Spanish sculptor Gines Serran-Pagan. It's of Gen. Martin Delgado, an Ilonggo revolutionary leader and the first governor of Iloilo.
During the annual Dinagyang festival, which was held in January, over 10,000 spectators flocked to Iloilo Business Park to watch the Parade of Lights, which featured 20 colorful floats from participating schools, local government units, civic organizations, and festival sponsors.
Other major activities held at the IBP during the festival — which is a religious and cultural celebration in honor of the Sto. Nino, as well as a commemoration of the arrival of the Malay settlers in Panay Island — included a strEAT Party Food Festival featuring Ilonggo delicacies, a fashion show and the Miss Dinagyang coronation, a rave party and music festival, and a grand fireworks display that captivated the thousands of revelers gathered at the township.
"Megaworld is very happy to be part of this annual tradition," Palmares-Fong says. "In partnership with the Dinagyang Foundation, we were able to showcase not only the festival but also Iloilo to the world, as well as IBP as a world-class destination.
There has been a spike in hotel occupancy, Palmares-Fong confirms. "We are attracting more tourists, both foreigners and those from Manila. The locals are also coming for staycations, those from the next town, or even those who live five or 10 minutes away. They stay over the weekend. It is a great boost to our morale, when people notice and talk about our developments. I am so excited when I see how the Ilonggos show pride in their city. And a great part is because of Megaworld coming in," says Palmares-Fong. "Megaworld is a game changer."