'Support your neighborhood shops and businesses, patronize artists, seek out the produce of our farmers and fisherfolk,' says DOT Secretary Berna Romulo-Puyat.
Huwag maging dayuhan sa sariling bayan." Who would've thought that this Filipino maxim would become a battle cry of sorts in the middle of a global pandemic and that, if taken to heart, would help us jumpstart the economy ravaged by COVID-19?
On June 12, Independence Day, the public and private sector came together to launch the #PinasMunaTayo online campaign. The movement calls on Filipinos to awaken their bayanihan spirit by encouraging us to patronize local services in leisure and travel, food and restaurants, retail and shopping, among others.
The campaign banners three main objectives: TriPinas, to revive the tourism sector by promoting domestic tourism and destinations; ShoPinas, to push for buying locally in support of the retail sector, and LasaPinas, to reinforce the love for country by experiencing local food and hospitality.
By making these conscious choices, we can stimulate the growth of domestic consumption and boost the economy.
"Today, instead of fighting for our freedom, we face an adversary of a different sort — the COVID-19 pandemic. I am certain that we will bounce back from this and Pinas Muna Tayo is a step in the right direction," Tourism Secretary Bernadette Romulo-Puyat said.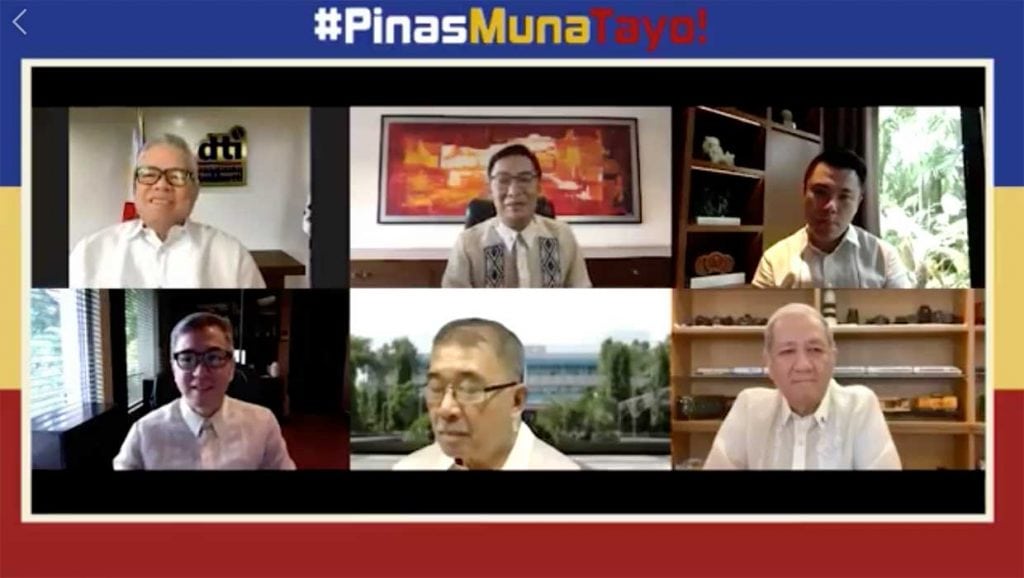 "By choosing to travel, shop, and dine around our beautiful country, we can help the tourism and airline industries, retail sector, food, and beverage industry and many other businesses to get firmly back on their feet. The important thing is to choose local; support your neighborhood shops and businesses; patronize the local artists, craft's men, and makers of artisanal goods, and seek out the local produce of our farmers and fisherfolk," she emphasized.
Why choose the philippines?
Due to the restricted movement during the community quarantine, businesses were forced to close down, leaving many unemployed. Now that we are easing restrictions, #PinasMunaTayo will serve as a stepping stone toward recovery.
Resorts World Manila president Kingson Sian said that every Filipino could easily be part of this campaign. According to Sian, promoting the country can be as simple as posting on social media photos of our dining, shopping and traveling in our favorite local destinations.
"We all want to help. So, together with our partners in the government and private sector, we thought of a campaign to make people aware that, yes, we all can help. All we need to do is simplyspend our money here in the Philippines," Sian shared.
Meanwhile, Trade and Industry Secretary Ramon Lopez noted that the Philippines was the second-fastest growing economy in Asia before the pandemic unfolded. He remained optimistic that the country can rise above the pandemic, especially with the push of movements like #PinasMunaTayo.
Alliance Global Inc. CEO Kevin Tan also said that it is high time for us to unite. He shared that his group is currently working with businesses to get into online delivery services to cater to people who still prefer the safety of staying indoors.
"This is a great opportunity to really look into local products or support local retailers, and also support importers. Of course, let us support local travel because it's safer to travel around the Philippines than abroad, anyway," he said.
Philippine Chamber of Commerce and Industry (PCCI) president Benedicto Yujuico also noted that since the Philippines has a consumer-driven economy, showcasing and circulating in the market more Filipino goods would help revive our waning economy.
"If we can do that, people will have the confidence again, whether they are consumers or business owners, and then we can start the ball rolling towards reopening the economy," he said.
"I think we should make this a continuous effort. This should not just be done during the COVID-19 pandemic, but also even after. Our mindset has to change. We have to remember that this is for the good of the country and it is also good for us to patronize the Philippines," he concluded.