"That's all you've got?" I asked a European traveller when he showed his backpack with four t-shirts. I was then manning the check-in counter of Philippine Air Lines at the old Manila International Airport (MIA).
He told me that he gives away his t-shirts then buys new ones in his next destination. Somehow that sparse packing I saw did not rub off on me immediately. I once sent home a box of worn clothes to Manila from Davao when I was exploring Mindanao. When I became a mountaineer, packing became very crucial. Items were compartmentalized even waterproofed. When I became a diver and rescuer, my bag turned into a survival kit.
The main strategy was to bring in fewer, smaller, and lighter items. They also had to be multi-purpose. For example, swimming trunks can be used as underwear. Biking shorts can be used for sleeping, running, swimming, diving and, of course, biking. For first aid, a big handkerchief can be used as a bandage and a towelette as dressing. In other words, pack like a soldier.
The most important part is the bag. Traveling with just a carry-on bag offers a lot of convenience. You don't have to worry about your bag being stolen or misplaced. However, bring an extra bag in case some of your items are restricted inside your hand-carry. That  extra bag will have to be checked-in. During my last trip, they did not allow umbrellas in carry-ons. Know the size and weight allowable for your hand luggage depending on the airline and your destination. Keep updated with the latest restrictions. Hand sanitizers are limited to 10 pieces of 100 ml.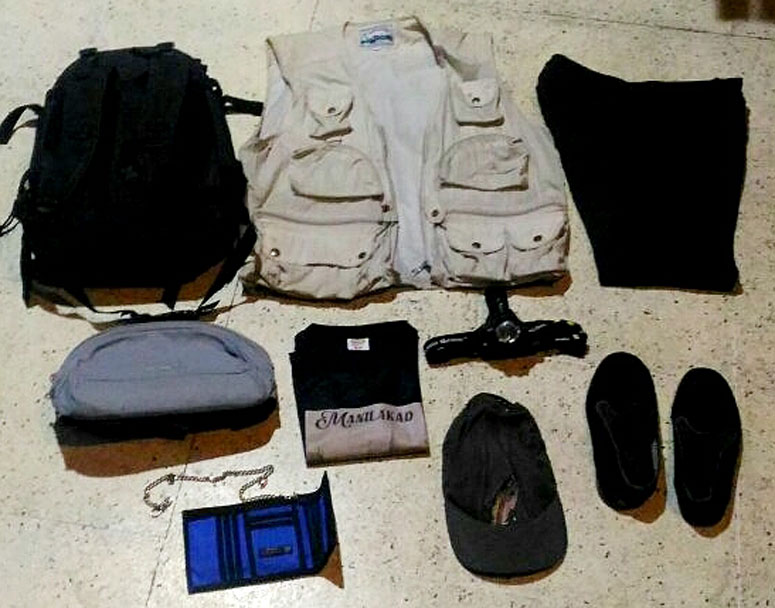 Bags and shoes
The best bag is one which is convertible to a backpack, shoulder bag, and field bag, better if it is wheeled and with compression straps. It must be front loading not top loading. Preferably black so it could pass off as a formal bag. Put an orange ribbon on the handle for easy identification.
Next most important are the shoes. My preferences are an all-black Onitsuka, brown boat shoes or Hush Puppies. They are light slip-ons which are appropriate for smart casual wear. My back-up footwear are black kung fu shoes or black booties if I'm diving. For women, bring ballet flats.
Wear and secure
If you're hiking, wear your hiking boots during check-in so it will not be weighed. This is the "wear your luggage" strategy which includes jackets, vests, hats, and scarves. However, this scheme does not work with small planes because the passengers are also weighed! If all things fail, try pooling which means sharing the baggage weight allowance with another person. I also have an RFID-safe belt bag and a water-resistant neck pouch where I put my passport and some money. This is the most important item which almost never leaves my body. Other security measures include sewing velcro on pockets and buying wallets with strings. For visibility in case of emergency, I have a handkerchief, hat, mini umbrella and windbreaker, all colored orange. Bring a small headlamp, sewing kit, water container, and padlocks to prevent "laglag bala."
For pants, it's a choice between stretch jeans and tactical pants. I also bring tactical shorts, bike shorts, and a combination of boxers, briefs, and swimming trunks. Quick dry socks are essential. For t-shirts, the best are the quick dry dri-fit which are also ultra light and don't need ironing. I also bring at least one no-iron plaid polo shirt. Comfort may be foremost but you don't have to be a fashion disaster because black pants can easily be matched with many colors.
For cold weather, I usually add one long-sleeved shirt and a hooded one. Just like in the outdoors, the key to keeping warm is layering rather than wearing a thick jacket. Layering means adding or reducing clothes according to the temperature. If I'm diving, I bring a neoprene jacket which can be used as a wet suit, otherwise, a jacket with hood will do. A hooded photographer's vest with several pockets can also double as jacket or rainwear. According to experts, the best way to pack clothes is to roll, not to fold. Some even use compression bags which reduce the occupied space. If you don't have compression bags, use freezer ziplock bags. Make sure you squeeze out all the air inside. Double the zip lock for electronic equipment such as cellphone, charger, tablet, power bank, adaptor, and camera.
In the case of toiletries, some travelers buy them in their destination. However, it's also a good idea to buy in Philippine groceries since we have sachets and small containers for shampoo, conditioner, deodorant, toothpaste and cologne. A bar of soap is lighter than liquid soap.
Medicine should be bought at home to avoid complications. Don't forget your prescriptions. It's better to add a little on your medicine requirements in case of flight delays. Betadine, cotton swab and non-prescriptive drugs for ordinary ailments are a must, too.
I have always had the dilemma of balancing a minimalist versus a survivalist mindset. Minimalists bring the minimum, survivalists bring double. Striking a balance is a difficult task but it can be done. On a voyage to Borneo, I did a road trip covering Malaysia, Brunei, and Indonesia. I brought only a daypack but was still able to bring home "pasalubong." I simply donated my clothes before boarding my return flight.
It took several years before that sparse packing practice rubbed off on me. I carry more than four t-shirts. I bring medicine and other items that can be used in emergencies. I don't only travel light. I also travel tight.
Don't forget your mask and faceshield. Keep on walking. Manilakad tayo !
JP Ordona (Manilakad) leads Manilakad Walks in Intramuros, Binondo, Quiapo and more. In between, he writes, climbs, dives and more. Let him guide you to several walking destinations in Manila. Manilakad (JP Ordona) can be reached on Facebook Messenger or through text at 0916-3597888.