"Guwapings, guwapings!" shrieked the children. We were four young men hiking the whole stretch of Talim Island. We had boarded a boat from Binangonan and landed at the farthest end of the island to spend the night in the outdoors. At the crack of dawn, we started hiking, rambling past small villages, bamboo groves, bald hillocks, and rocky coastlines. There were no tricycles and everybody travelled by banca. That was thirty years ago and the most popular movie then was "Guwapings" which starred Mark Anthony Fernandez, Jomari Yllana and Eric Fructuoso. The three heartthrobs carried backpacks in the movie so when the children in Talim saw us with our backpacks, they couldn't help but shout, "Guwapings!"
30 Years After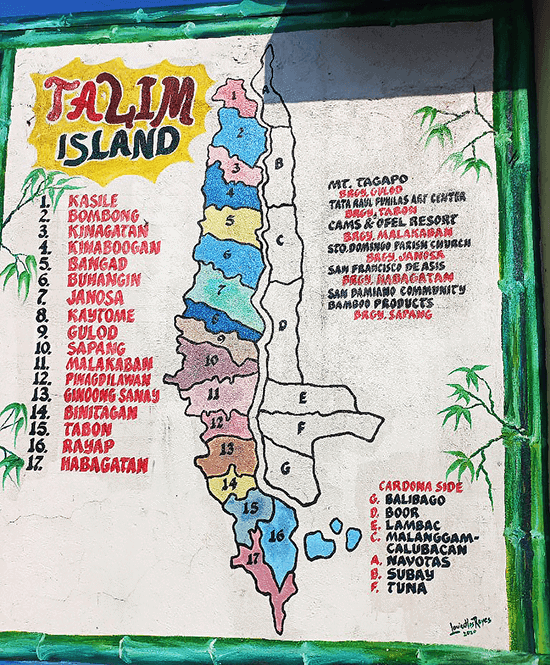 Fast forward to 2020, last month, after visiting the Rizal Calamba shrine, we chanced upon a tricycle that brought us to the "pantalan" in Calamba. After walking under the early morning sun admiring Calamba's old houses, the cold strong wind was a welcome relief. The dark clouds and the green horizon of the lake and the mountains mesmerized us. Talim beckoned. We were ready to cross the murky lake waters of Laguna de Bay to Talim but, alas, we were late by an hour.
Back To Talim
A few weeks after, our itchy feet brought us back to Talim via the most common route, the Binangonan Fish Port. The port was grander and the boats were bigger. Upon arrival, I saw motorcycles and tricycles but still no four-wheeled vehicles for their narrow roads. We landed and registered at Barangay Janosa to get a guide for climbing Mt. Tagapo. Mt. Tagapo or "Susung Dalaga" to locals is the highest peak in the island. It may be a short minor climb but hikers should be wary of dehydration. There are trees, shrubs, and bamboo groves but there is no rainforest to cool the climb. The climb took two to three hours. The climb was so hot that some of the hikers took a nap near the summit out of exhaustion. After descending from the hot summit of Mt. Tagapo, the hikers guzzled liters of water and gobbled up a sisig lunch in a few minutes to avoid being left behind by the last boat trip back to the mainland.
Laguna De Bay
Talim is the biggest island in Laguna de Bay which is the biggest lake in the Philippines. I believe it is the biggest lake island in the country. The western side of the island, which is part of Binangonan, has 17 barangays while the eastern side, Cardona, has seven barangays. It can be reached by boat via Binangonan and Cardona. Aside from fishing, the main livelihood in the island is furniture making out of bamboo that are turned into beds, sofas, tables, rooster cages, fish cages, baskets even bamboo sticks. Talim is volcanic in origin as evidenced by cold and hot springs and volcanic rocks along the lake shore.
Covid-Free
On board the boat, we saw bamboo baskets being loaded. Some things don't change after 30 years but at Barangay Janosa, the jump off point to Mt. Tagapo, modernization has set in. There is a covered basketball court where all folks seem to converge. I also noticed the name of a shameless politician emblazoned on several infrastructures in the island. There is one decent restaurant and a place of worship, Sto. Domingo Parish Church. There is no hospital in the island so serious medical needs have to be brought to the mainland. This isolation was actually a blessing at the height of the pandemic when they enforced a "no entry, no exit rule" which resulted in a covid-free island. When we were there, hardly anyone wore masks.
Hikers, Bikers
Talim used to be a place for those doing outreach programs and practicing orienteering. Now, I see hikers and bikers. This is my second time in Talim in 30 years yet I long to come back. Hopefully, my friends and I can hire a boat to go around Talim. We haven't been to the Cardona side which seems promising. Facebook friend Ricky tipped me that nearby Malahi Island used to be a U.S. Army Prison for convicted military personnel. It was a labor camp where prisoners were made to crush gravel. Ricky also mentioned that it was the last post of American General Marshall. In another smaller island, a spooky abandoned mansion owned by a business magnate lies undisturbed.
Nunal Sa Tubig
Jose Rizal mentioned Talim in El Filibusterismo but we don't know if he ever explored it. National Artist for Film Ishmael Bernal explored it and used it as location for his award-winning movie, "Nunal sa Tubig." On my second visit after 30 years, the children of Talim didn't call us "Guwaping" anymore but we remain restless in our exploration. As the wise old man, Joseph, in the movie said, "Ang ating pulo ay isang nunal sa tubig na talampakan ng isang mahiwagang nilalang." Talim may be a speck in the water but its dagger shape will remind us to be sharp and relentless.
* * *
JP Ordoña (Manilakad) leads Manilakad Walks in Intramuros, Binondo, Quiapo and more. In between, he writes, climbs, dives and more. Let him guide you to several walking destinations in Manila. Manilakad (JP Ordoña) can be reached on Facebook Messenger or through text at 0916-3597888.