BLACK ROCK CITY, NEVADA – The thermometer must have read 40 degrees Celsius or higher; the alkali desert was unforgiving with sandstorms raging every now and then; and the strangeness of this whole cacophony of art, music, and gyrating bodies in bizarre clothes was relentless — all this in the middle of nowhere in a yearly gathering known as "Burning Man."
But Filipino artists here slayed like the wind — their passion was as scorching as the desert heat; their determination to create art was as incessant as the fierce sandstorms and their respective opus, as strangely beautiful as this wild counterculture event held in this ephemeral town known as Black Rock City.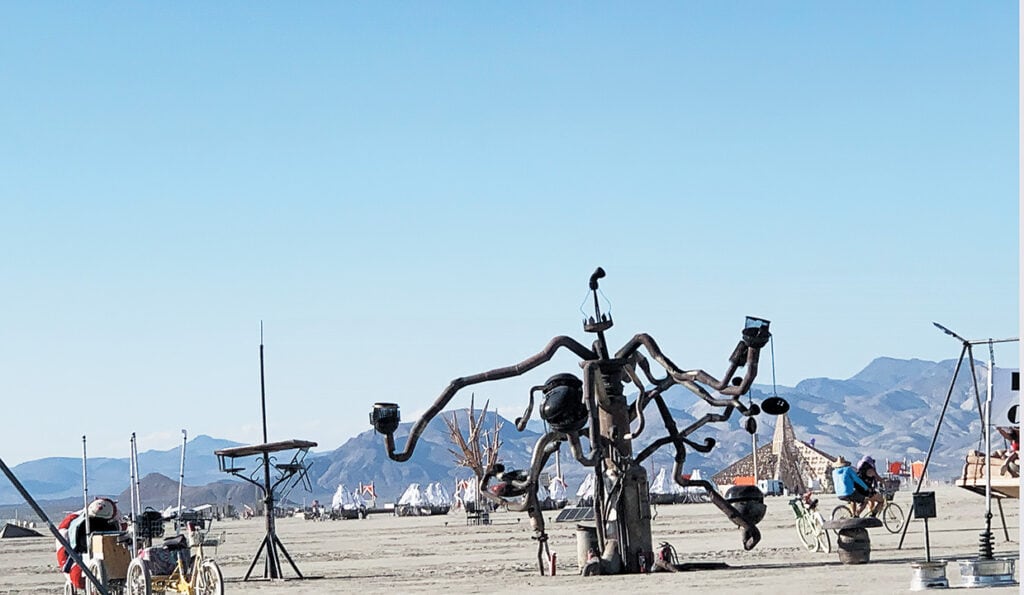 It was all about celebrating and sharing to the bigger world the Filipino talent, culture and history.
Ian Taipan Lucero's 'Calligra Filipino'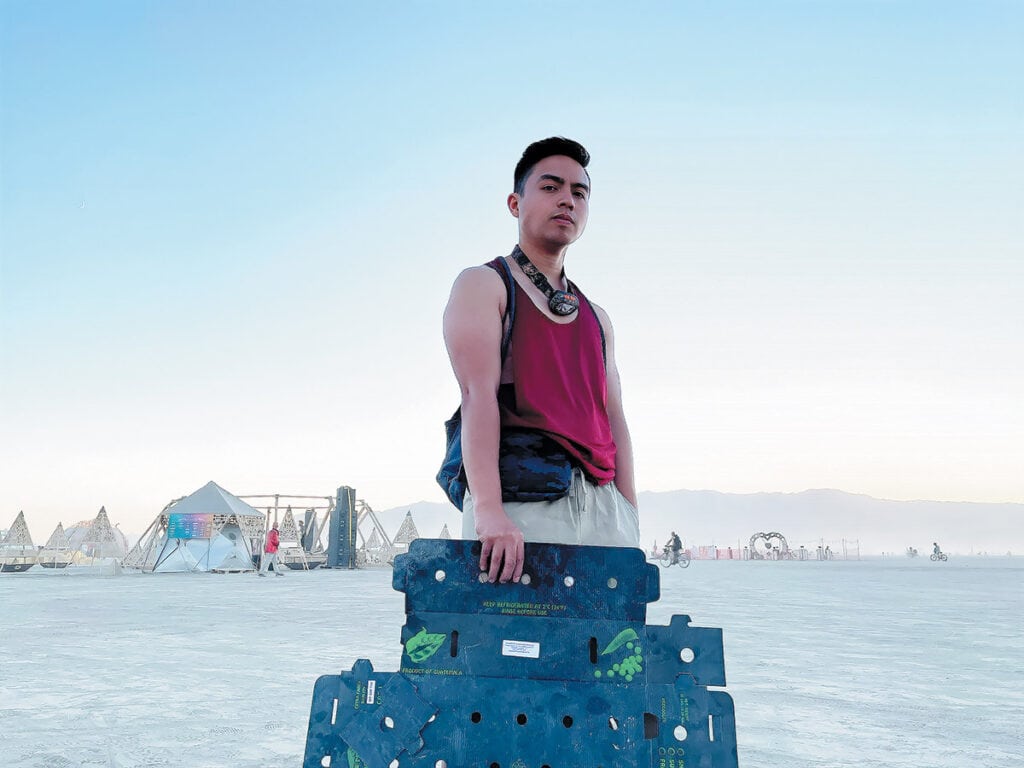 A Baguio-based calligraphy artist specializing in Baybayin or the country's pre-colonial writing, Ian Taipan Lucero brought his signature art, CalligraFilipino, here using materials we would otherwise consider as trash. "Matter Out of Place" or MOOP is how it's called here as it reflects one of Burning Man's ethos, which is to "Leave no Trace."
Pagmamahal; ganap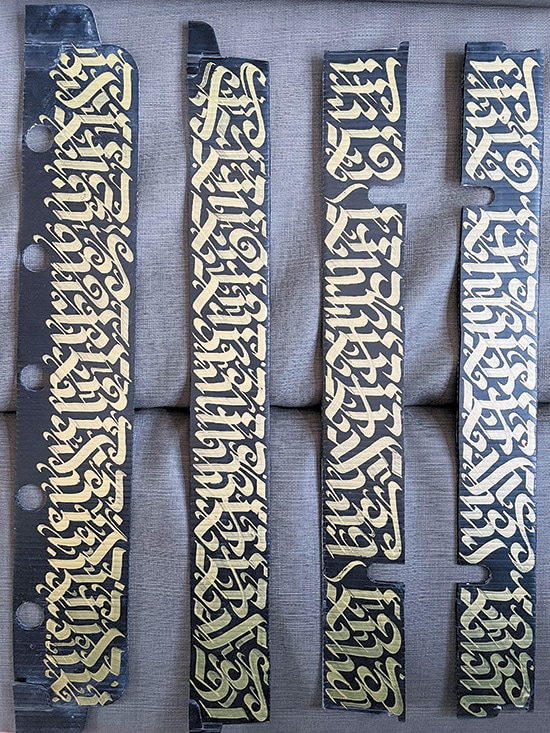 Taipan used pea packaging for his art. He scribbled "Kapuwa" and "Sarili" to represent the role of one's self among others; "Kapayapaan" and "Pagmamahal," or peace and love; tenets which make life in Black Rock City harmonious; "Ganap" or moments of self actualization after experiencing events here on The Playa, as this place is called.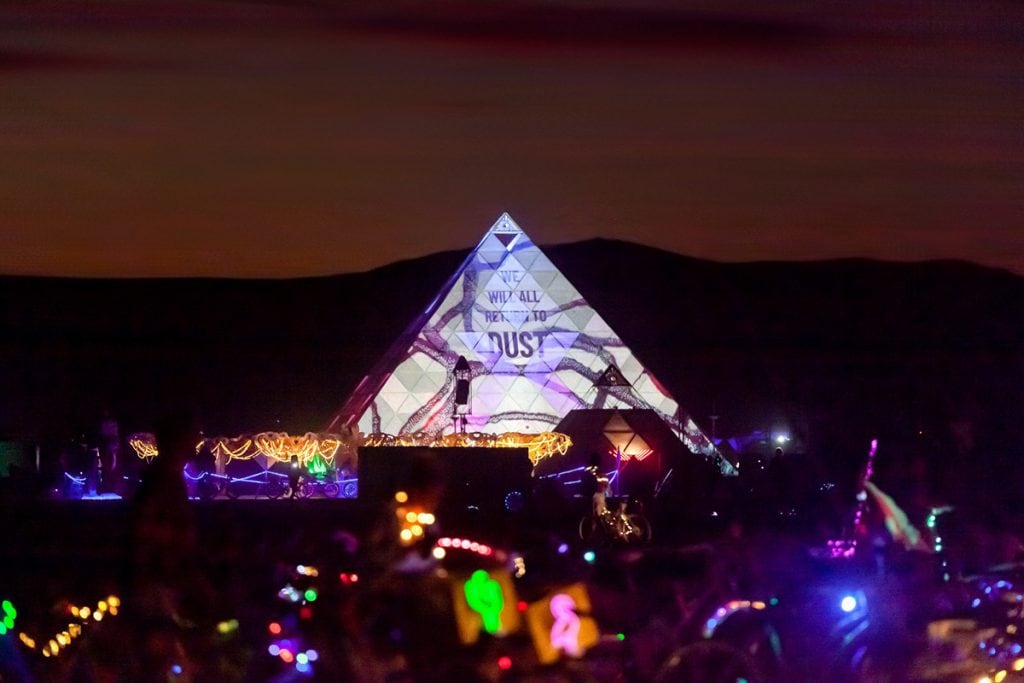 Showcasing Filipino culture
Taipan believes the artworks he created served as a good introduction to the beauty of our culture.
Being part of Burning Man inspired him all the more as an artist.
"As a person, I try my best to practice ecological self-awareness by being more conscious about my carbon footprint. As an artist, my area of industry, Baybayin, was part of our ancient culture which practiced anti-consumerism and self-expression, from bartering, to body modifications such as teeth ornamentation and tattoos, and numerous other ways," he shared.
Kiki Crunch: 'Queen of the North'
And then there's Kiki Crunch, the first of her name, the Queen of the North and perhaps the first Filipino drag queen to make it to Burning Man.
"I got to express myself and show Black Rock City my drag persona and aesthetic – Mx Kiki Krunch. It is very difficult to do drag in the desert, but I am glad that I pulled it off," said Francis Lopez, a queer-drag artist who is also based in Baguio.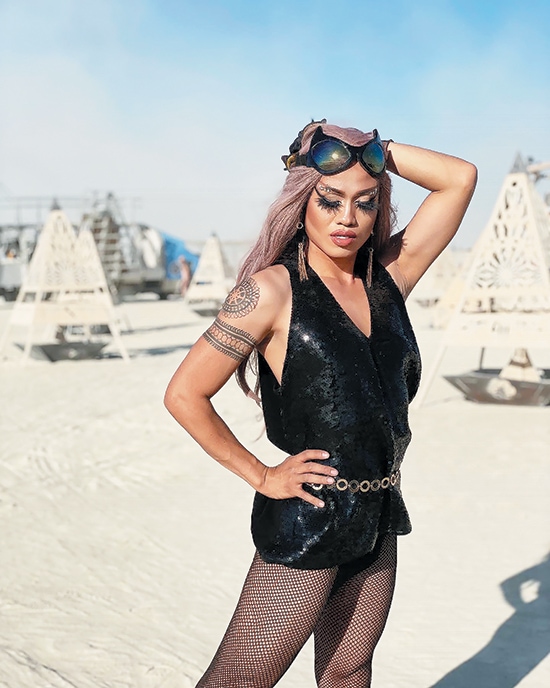 And indeed, he pulled it off. In a stunning black sequined dress, to the tune of Fetish, Kiki Krunch danced in the desert — scorching heat, sand, dust and all. 
Weeks before that, he also performed at 28th Annual Pistahan Parade & Festival in San Francisco, California, to the tune of Bongga Ka Day, that quintessential Filipino song by the Hotdog, which is really all about celebrating the Filipino.
For him, it was about bringing the beauty of the Filipina — inside and out — to Burning Man.
Bayanihan
Francis' experience at Burning Man inspired him to continue practicing the 10 Principles he learned during this counterculture gathering.
"As a Filipino queer-drag queen living with HIV, I realized that the principles of Burning Man that I practice are radical self-reliance, communal effort, civic responsibility, and participation. Our bayanihan culture is very similar to that of communal effort, civic responsibility, and participation. As for radical self-reliance, I have been embracing it since I started living independently. I learned about self-inclusion and self-expression when I came out as a queer individual. But leveling it up into a radical one is what I learned from Burning Man."
Leave no trace
"The leave no trace principle is the most urgent that we need to practice since we are experiencing a climate crisis," Francis added.
Venazir Martinez: A street muralist
Another artist I met at Burning Man is Venazir Martinez, a street muralist. Like Taipan, she made art out of MOOP.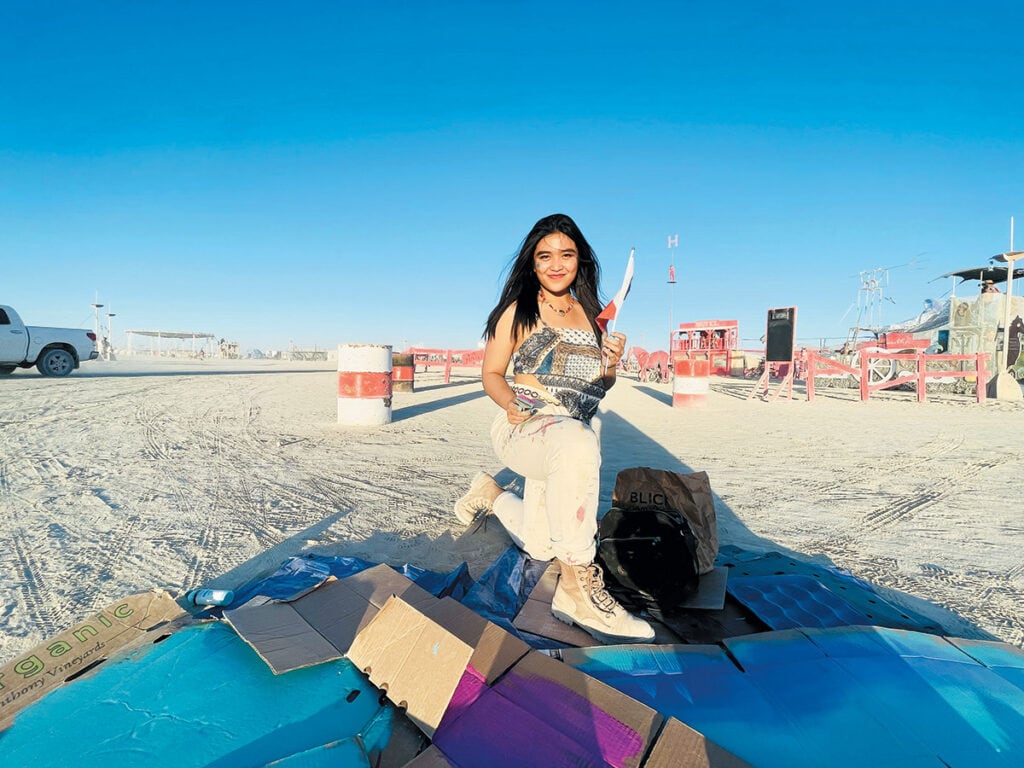 She also painted a skateboard for our "Playa Mom," Paula Rosales of Rainbow Lightning Camp in collaboration with Taipan.
"The skateboard was used by a group of Ocean Defenders featuring Paula Rosales, a multi-awarded kite surfer who represented the Philippines worldwide," Vena said.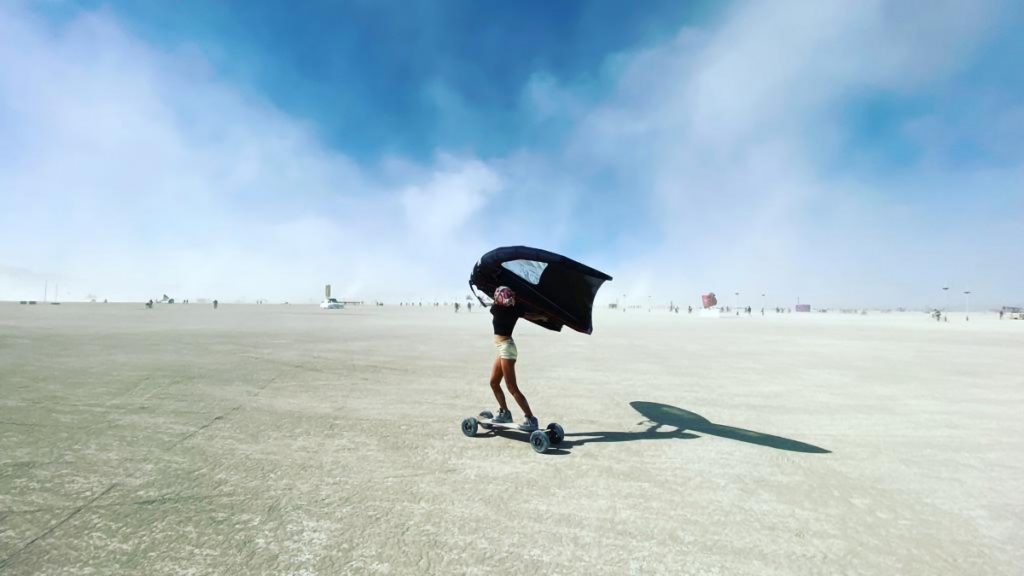 It wasn't easy for Vena as she normally painted her vision on walls as tall as 50 feet and it was difficult to create art at The Playa due to extreme weather conditions.
"As a street artist, I naturally see value in untapped walls and activate them using paint, and brush. In the Playa, there are no walls, but we have MOOP that matter," she said.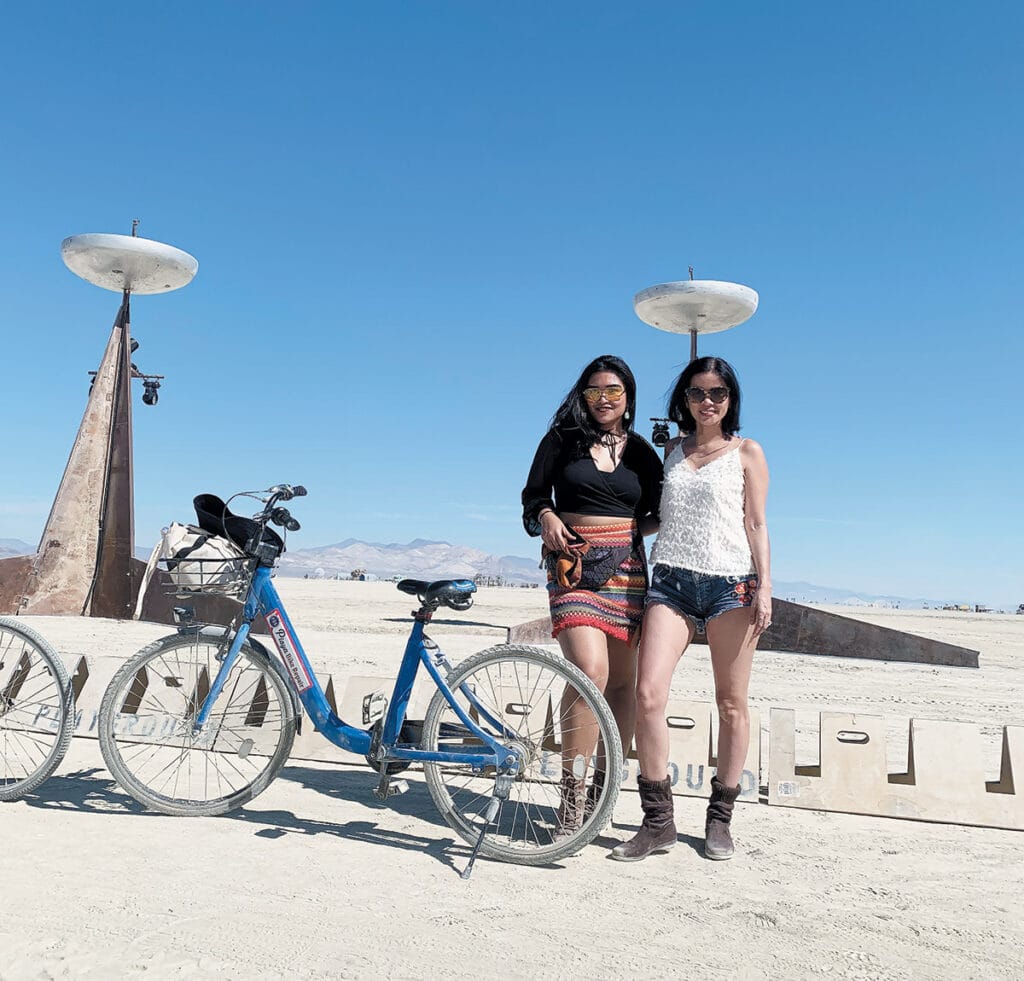 Beauty in ephemerality
Vena also saw the beauty in ephemerality, in stark contrast to her usual platform as a street muralist.
"Burning Man is one massive temporary art installation and I fell in love with the experience. As a street artist, I learned to appreciate the beauty of short-lived forms of art. We create not only to express but to build an experience for all human senses," Vena said.
The work of the three artists showed the world the country's past as in the case of Taipan's art; showed what we can offer at present, as in Vena's works and gave the world a glimpse of our future, as seen in Kiki Krunch's drag art.
Sampaguita artists collective
They are among the founders of the Baguio-based Sampaguita Artists Collective. Kiki Krunch is also a founder of the Northern Luzon Pride Inc., the organizer of Baguio Pride 2022 and a founding member organization of Pride PH.
Paula Rosales: Kite surfer & artist
Paula Rosales paints with wind and water. Her canvas is the ocean; the wind is her brush stroke. She is after all a professional kite surfer and wakeboarder who uses her art and passion to raise awareness on the plight of oceans and bodies of water across the globe.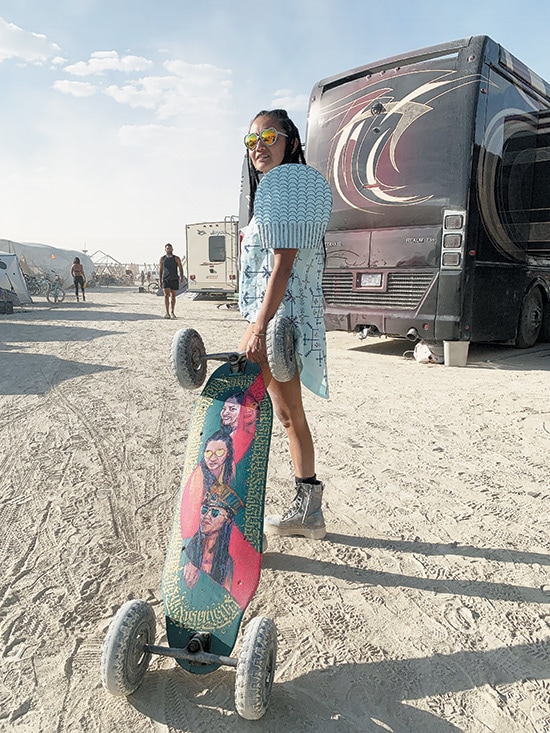 With her work as a kitesurfing and wakeboard instructor she also helps individuals achieve a state of flow and understand mind & heart coherence through her sports which becomes a meditative experience that is both spiritual and adventurous.
Ocean defenders
Her lifelong devotion to water sports, ocean advocacy, wellness and art flourished into a collaboration with Filipino artist Sigmund Torre.
The Ocean Defenders is a news platform, packaged in a fun digestible animated series for kids as young as eight years old. Proponents of this project like Paula are real life ocean conservationists, water sports athletes and icons tackling real time ecological issues with the use of real life solutions.
Although known to most as an athlete and co-creator of the Amanpulo Kite & Surf Centre, Paula also has an array of serious corporate projects that revolve around organizational communication, tech, event production, construction and real estate.
"Experiencing events like Burning Man helps me think outside the box on what is possible to build," said Paula, a regular burner.
This year, she got more involved with working with the Principles of Burning Man to be able to execute the values of ocean conservancy at The Playa, where she showcased some of her personal digital sacred geometry artworks aside from her Ocean Literacy platform, The Ocean Defenders Comic Series.
Adobo night
At Burning Man, Paula also cooked adobo, the favorite traditional Filipino gastronomic delight, to showcase the Filipino identity through food.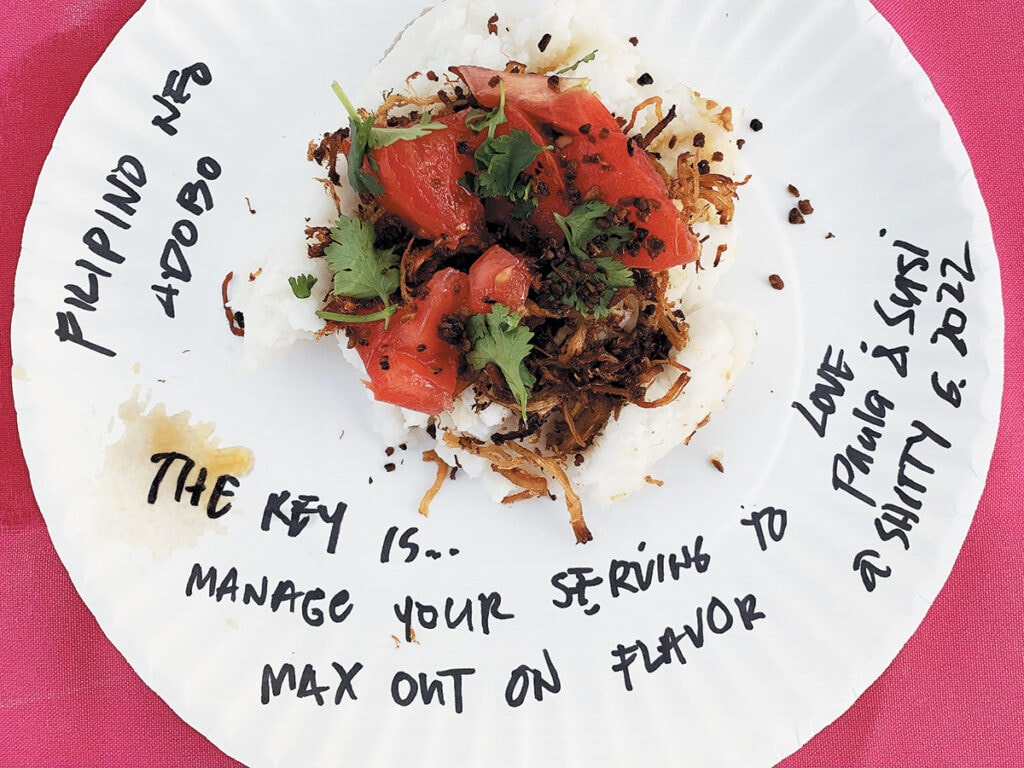 The guests —Filipinos and foreigners alike —loved it especially with the addition of coriander and tomatoes to the usually plain pork dish.
Conquering the world
It was an honor for me to get to know these artists. Their passion and art are inspiring and they have shown that now, more than ever, the Filipino is conquering the world stage, moving every step toward self-actualization through decolonization, shedding that inferior mentality "that we cannot be in the global scene."
Indeed, the Filipino can, and can certainly do more given the right opportunities.
The artists who represented the Philippines at Burning Man are grateful for the support of an art patron and other supporters who made their journey to the Playa possible.
Paula, hopes that more and more Filipino artists will be able to join Burning Man to share their talent, wave the Philippine flag and hopefully, come out of it with an even stronger fervent to share their gifts of creativity to the greater community when they go home to the Philippines or wherever home may be.
After all, Burning Man poses that kind of challenge to each and every burner. While it may not be our imagined utopia, it may be the closest thing to utopia — a paradise of art, culture, radical inclusion and self-actualization.
In many ways, we want the world to be more like this.
Indeed, I could take the blistering heat all year round, if only to see more of this mind-bending art, amazing kindness in people, the beautiful strangeness of the nights and days and the bizarre spiritual experience — not just in the desert, but elsewhere between my heart and the rest of this great, big universe.