Welcomes back leisure guests
Although protected by masks, face shields and barriers, every hotel staff gives full-attention and extends boundless and warm Filipino hospitality to visitors — only now, from a safe distance.
Filipinos are known for being one of the most hospitable and generous hosts in the world — if not the most. The warm culture is complemented by vibrant year-round festivals, natural hidden gems, and historic sites.
Be it business or leisure, the country has what it takes to stand out. Foreign and local tourists alike would backpack and unveil the beauty that the Philippines has in store. Many would also come to Metro Manila, the country's very heart, to discover brilliant talents and experience the adrenaline only it could offer.
So, it comes as no surprise if the country is hailed as one of the top tourist destinations around the globe. According to the Department of Tourism (DOT), the country registered an all-time high of 8.2 million foreign visitors in 2019, one million higher compared to the previous year.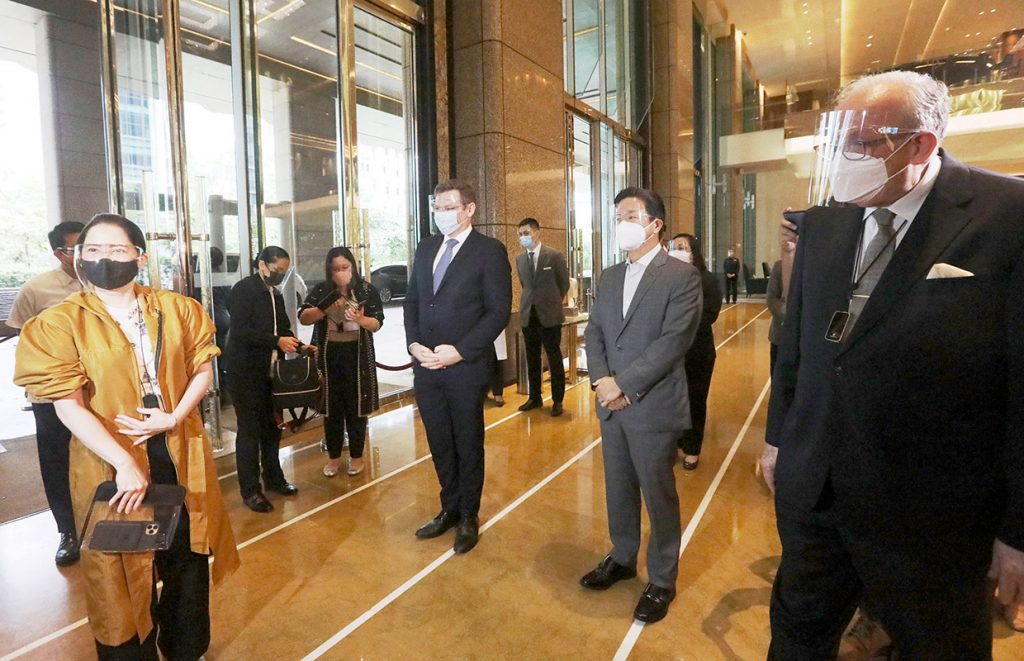 Just when hopes are high, COVID-19 delivered an unprecedented blow. For months, tourism was forced to be at a standstill, especially in the hotel industry, as DOT reports a 73-percent drop in foreign visitor arrivals.
However, Filipinos aren't only known for being hospitable and generous — above all, we are resilient.
Lighting up BGC's skyline once more
To safely revive and reopen the industry and bring back jobs, DOT has allowed "staycations" in areas under General Community Quarantine (GCQ).
Grand Hyatt's five-star hotel — prominently standing at the financial, commercial, and entertainment district of Bonifacio Global City (BGC), Taguig — is one of the few hotels granted with the Certificates of Authority to Operate for Staycations (CAOS) in the Metro. This means that the hotel "has fulfilled all requirements for operation for staycation purposes" and has stringently placed protocols to ensure the safety and well-being of its guests.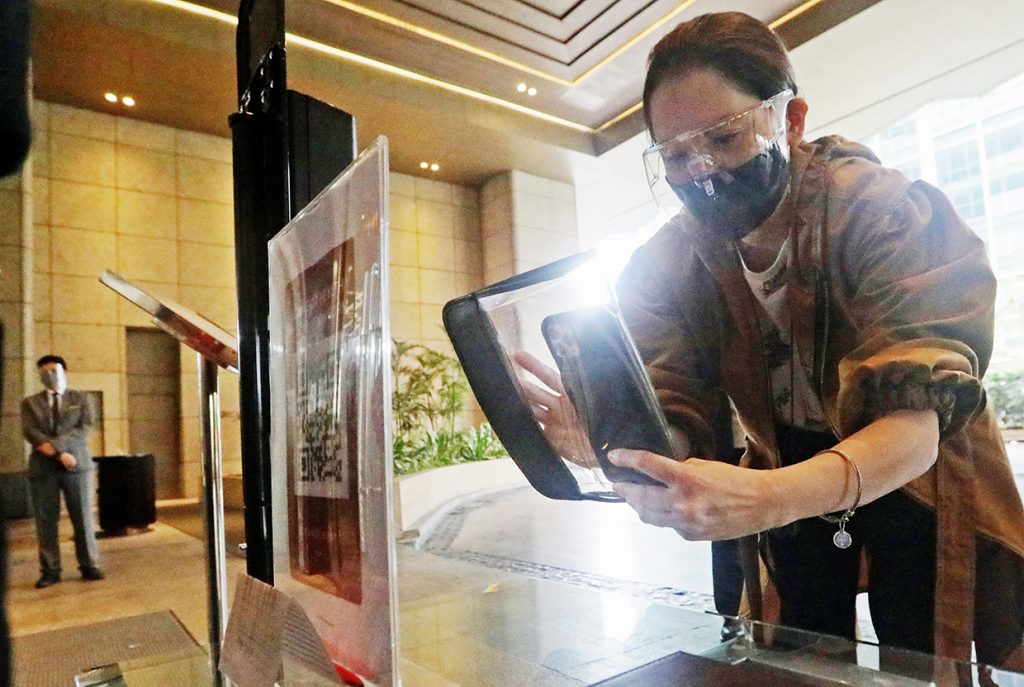 With the CAOS, leisure guests may unwind in ancillary facilities such as gyms, swimming pools, restaurants and other food and beverage outlets, except for bars, which remain prohibited in GCQ areas.
Those who have been working hard from home for quite some time now deserve a break, change of scenery, and five-star luxury service. This is where Grand Hyatt Manila comes in.
While many things have changed, some remain the same. After undergoing health and safety checks, one will still be greeted with sophisticated interiors, drawn from art, theatre, fashion, and timeless architecture and design elements inspired by the Philippines' local culture. Although protected by masks, face shields and barriers, every hotel staff gives full-attention and extends boundless and warm Filipino hospitality to visitors — only now, from a safe distance.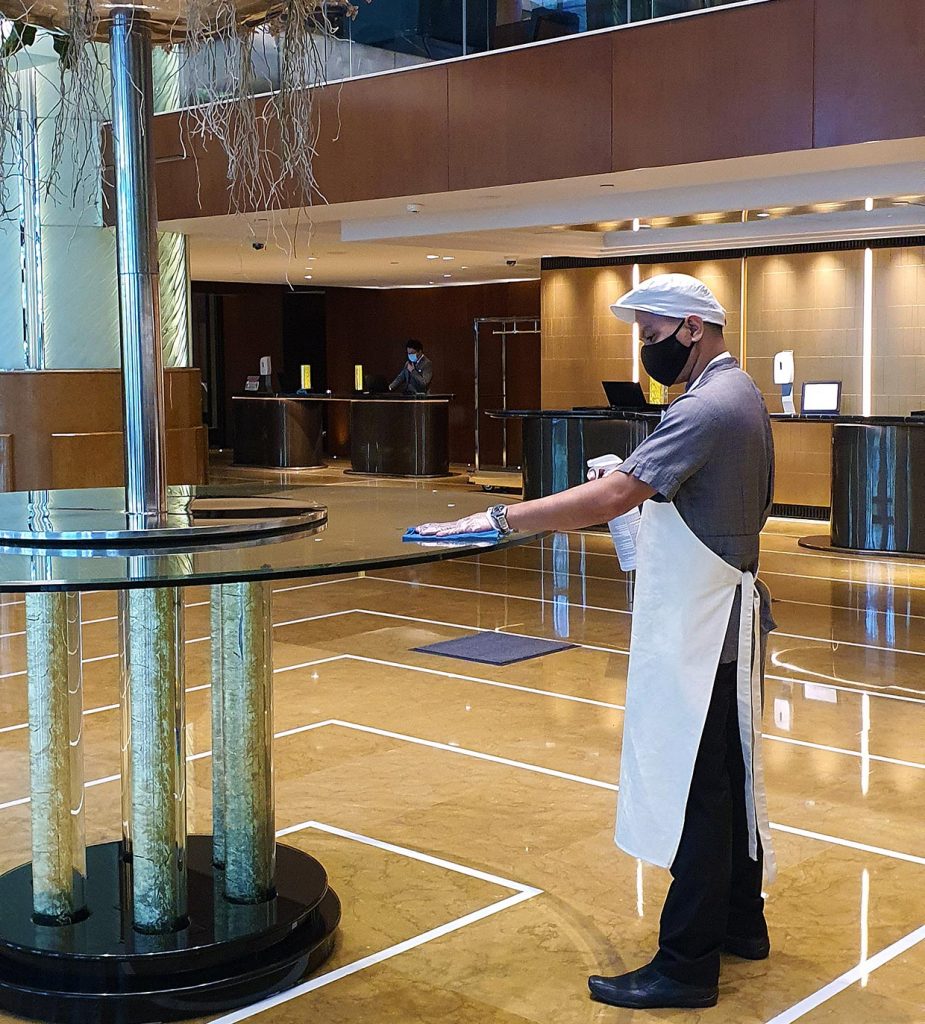 Safety meets elevated grand experience
The room, meticulously decorated in earth tones, brings a feeling of retreat to momentarily take away life's worries during your stay. On to the bathroom, more tranquility and winding down awaits with its richly veined gray-white marble finish, a spacious glass-enclosed shower stall, and a deep soaking tub.
Perhaps, one can also be delighted by what's beyond the room's window drapes — a breathtaking and unobstructed panoramic view of the metro, encompassing the Makati skyline all the way to Manila Bay.
For all this, the hotel offers its guests an irresistible staycation package, starting at P12,000 net for a Grand King Room. The package includes Abbott rapid antigen tests for two, breakfast for two adults
and two kids below 12 years old, breakfast for two adults and two kids below 12 years old, welcome refreshments at The Lounge, flexible check-in and check-out, 20-percent discount on dine-in restaurants, and 50 percent off on laundry service. Guests may enjoy a 24-hour stay (subject to availability). Should guests wish to have additional antigen tests done, the rate is P2,000 per person and the tests will be done on-site, prior to check-in. Another package option, one without the antigen test, at P9,888 net for a Grand King Room, with the other inclusions stated above. Guests may book these packages from Oct. 15 to Dec. 15, 2020.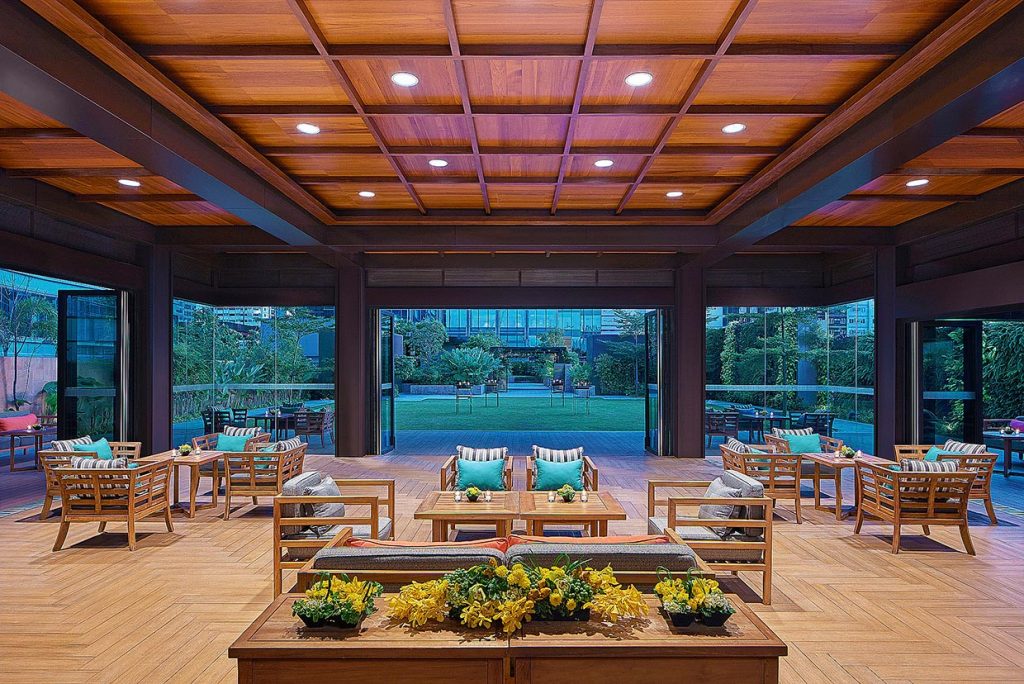 For a delectable gastronomic journey not too far from home, Grand Hyatt now offers culinary treats from two of its food and beverage outlets at The Grand Kitchen. From the kitchen to the dining area, the multi-cuisine all-day-dining restaurant guarantees that health and safety protocols are observed as they serve freshly-prepared, mouthwatering dishes.
Meanwhile, The Cellar's delectable paella is also available to satisfy the cravings of patrons who have been cooped up in quarantine. The Lounge, enveloped with sophistication, has the best seats in the house for light snacks and afternoon tea. It includes a premium grab-and-go shop, Florentine, which offers an indulgent selection of cakes, pastries, and specialty coffee for 24 hours.
For those who missed the food during the Chinese Mid-autumn celebrations, No. 8 China House is known for its authentic Chinese dining experience. Their selections include Peking Duck, Chinese BBQ, Homemade Dim Sum, and Cantonese seafood, all prepared in live cooking stations.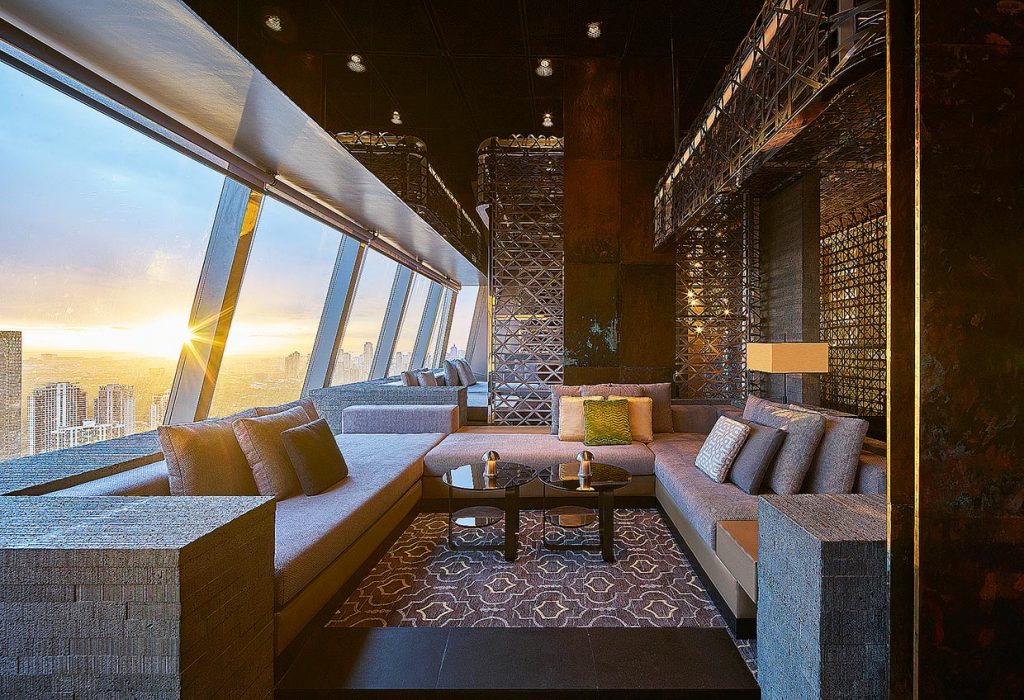 The Peak's restaurant and grill, resting on the 60th to the 62nd floor, gives guests the much-needed moment to relish the great outdoors without actually going out, thanks to its al fresco dining options. Dining here is, indeed, a delight to the senses, as its exceptional menu satisfies the palate while sophisticated interiors and sweeping views of the metropolis delight the eyes.
Grand Hyatt Manila's 24-hour Fitness Center, fully-fitted with strengthening equipment, has also opened for its active and athletic guests.
On the sixth floor, the resort-like outdoor space invites guests to lie back, relax and unwind amid the turquoise swimming pools and lush landscape of greenery.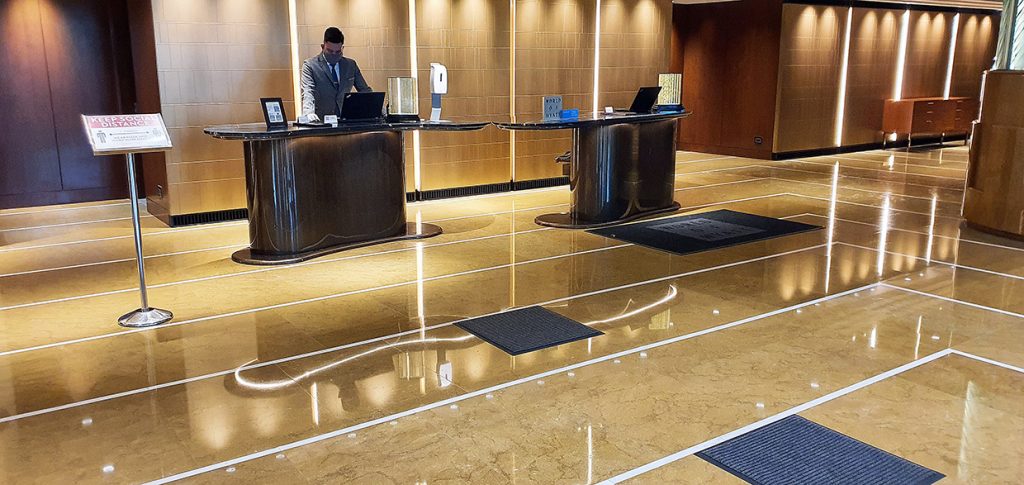 Rising next to the iconic hotel is Grand Hyatt Manila Residences South Tower, one of the most sought-after luxury real estate properties in BGC. Grand Hyatt Manila Residences is the first and only branded Residences in Southeast Asia with the Grand Hyatt distinction. Similar to Grand Hyatt Manila, the Residences lets you experience true luxury with its impressive features, array of amenities and impeccable service — a gold standard in premium living.These developments are part of Federal Land's master-planned community, Grand Central Park in Bonifacio Global City.
For more updates on Grand Hyatt Manila, follow @grandhyattmanilaph on Instagram or visit www.facebook.com/GrandHyattManilaPh. For bookings and inquiries, you may call (+632) 8838-1234 or email [email protected]