Land. Property. Real estate. We usually think of it as space to live in or to develop as a business asset. But a piece of land can also be seen as a work of art, especially if the land owner worked on it using her skill and imagination to create a thing of beauty. This is what Riza Matibag Muyot did to her 2-hectare property in Silang, Cavite.
With the help of other artists and workers, she carved her land to create a landscape that mimics the panorama of the Cordilleras. She painstakingly selected the flowers, plants and trees to grow and created beautiful gardens and nature nooks: Kakawate, Tagpo, Narra, Araro, etc.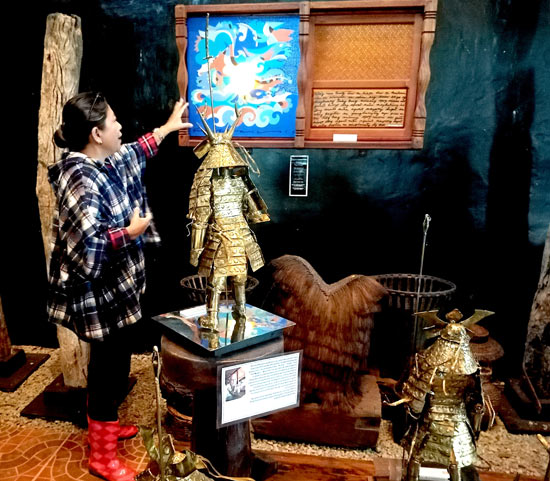 And like the fine artist that she is, Riza conceptualized the experience of the visitors with great attention to detail — from the first thing they will see and feel (the fortress-inspired entrance made of solid stone with faces carved by Ifugao artists on the rocks overhead) and the 150-meter pathway paved by bamboos, stone sculptures, gardens, rare blooms, and so much more, to the diverse adventures waiting just beyond the path.
The cool weather of Silang complements the visual atmosphere of Shambala Silang, the name that Riza chose for her masterpiece. A guest can close her eyes and imagine she is in Sagada or Banawe, then open them to realize she may very well be in the north rather than a quiet nature space in Cavite.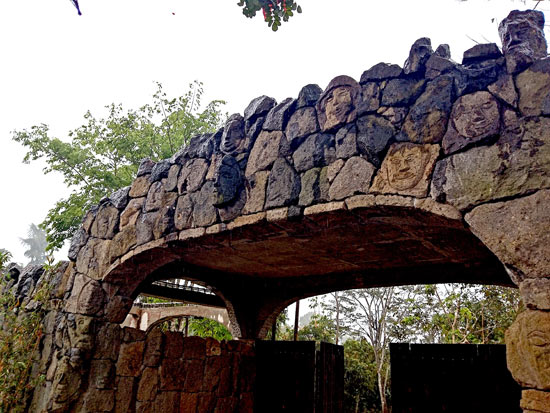 Riza placed six authentic Ifugao huts along the rolling hill towards the far end of the property. The stone steps lead to a dap-ay, a circular open space bordered by stone slabs. The dap-ay is an important part of the culture and tradition of the people of the Cordilleras. Further down is an amphitheater where guests can revel in all of Shambala's visual magic.
Pagtawid: From the physical world to the realm of the divine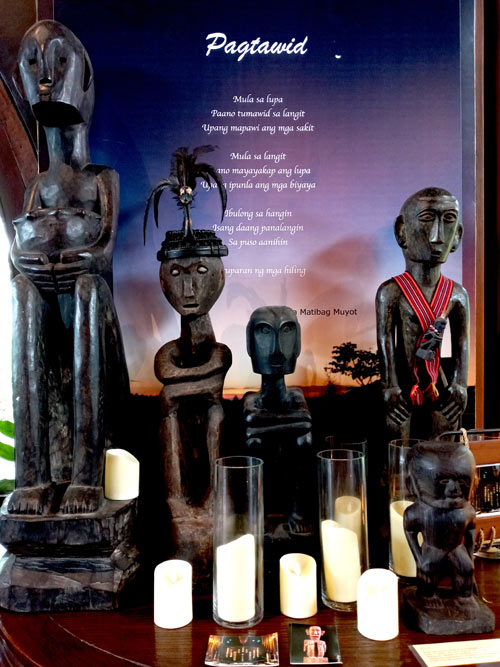 The centerpiece of Shambala Silang is Tawid Gallery, the first museum and art gallery in Silang, Cavite. The previous greenhouse space was converted into a gallery of art treasures and crafts that are displayed as a rightful tribute to Philippine indigenous arts and traditions. Some of the pieces come from Riza's personal collection, others are part of the ongoing exhibition, Dungaw. As a passionate supporter of indigenous arts and culture, Riza has been collecting local art and crafts for more than twenty years.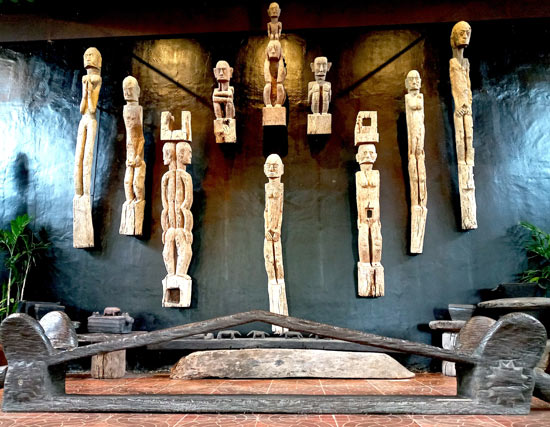 There is a beautiful story in the way the pieces are presented or displayed in Tawid Gallery. Riza and her artist friends made sure there is reason for every placement. The entryway, the altar-like centerpiece, as well as the journey of the museum visitor are all part of the narrative, which has to do with man's journey from life to death, from the physical world to the realm of the divine. In Tawid Gallery, art can be that boat that helps us to cross over, our culture and traditions the bridge that connects us to the world of the spirit and makes us whole.
Transporting authentic Ifugao huts and an ancestral home from Kawit to Silang
The six Ifugao huts in Shambala came from Banga-an, Mayoyao, Sagada and Bontoc in Mountain Province. These were transported to Cavite and equipped with features to make guests more comfortable. Shambala visitors staying for the night are given an Ifugao hut accommodation to lend an authentic northern province touch to the whole experience.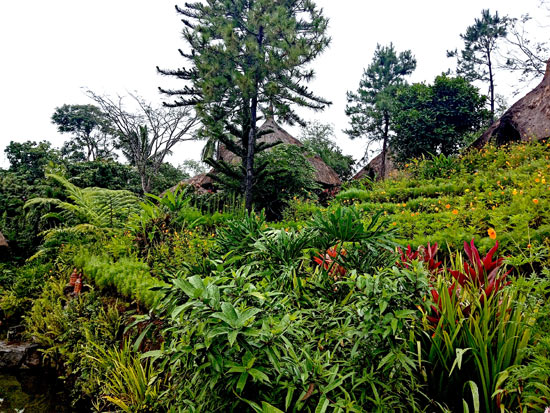 Riza also brought in countless stoneworks from Sta. Maria Bulacan, which the artists are turning into works of art. In the near future, an ancestral house — yes, the whole thing — will be brought to Shambala from Kawit, Cavite to be restored and made part of the local art and culture display.
Manna's heirloom recipes and the sunset at Singkaban bar
Shambala Silang won't be complete without a dining place. So Riza opens not just one but two venues within the property: Manna Kitchen, a restaurant that serves local heirloom dishes, and Singakaban Bar, inspired by the old bamboo art of the Bulakenyos. The singkaban in Shambala was crafted by skilled artisans from Bulacan.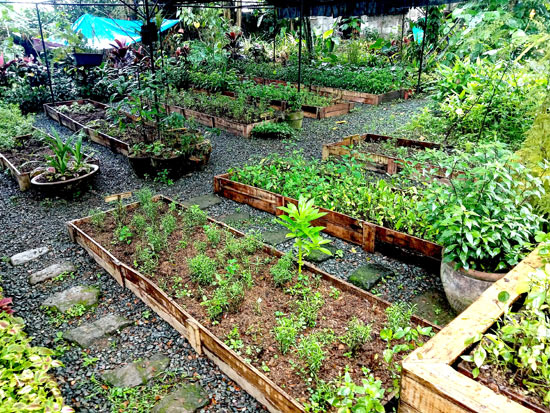 Manna Kitchen opens in March 2021, while Singkaban Bar has already started serving everyone's favorite drinks. Here's an insider tip: Order a glass of refreshing maluca (malunggay-luya-calamansi), a Shambala favorite, and be at the bar by 4:00 or 5:00 p.m. because the place offers a breathtaking view of the sunset.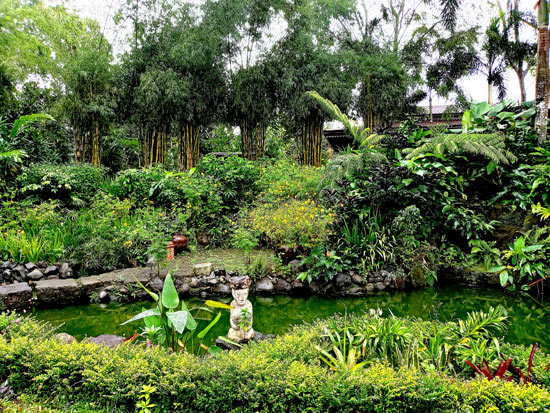 Write your poem in the garden of your choice
Choose one from the many tranquil gardens in Shambala and stay there for as long as you like — reading, writing, working, having coffee alone or with a friend, etc. Or you can opt to spend some time in the Farmacy where herbs and edible plants are grown.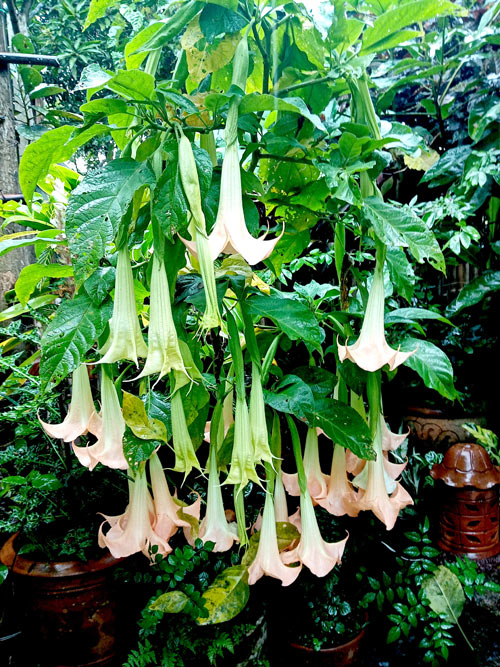 Riza also plans to open a Plant Center right outside the front gates to showcase her collection of flora — Shambala is in Silang, after all, where plants are the main attraction. Plus, she also plans to put up a carinderia/bike stop where bikers can have their fill of warm lugaw, tokwa't baboy, and other energy giving dishes for more hours of intense biking. Silang's rolling hills are part of some bikers' favorite route because of the cool climate, nice view, and challenging uphill and downhill terrain.
Shambala is a place of healing and inspiration
Riza says, "Shambala gave me strength to rise from the ashes, literally and figuratively, and live again. It became my playground, a place where I could de-stress and re energize. More than a place, Shambala is an experience, a fulfillment of a dream, an answered prayer."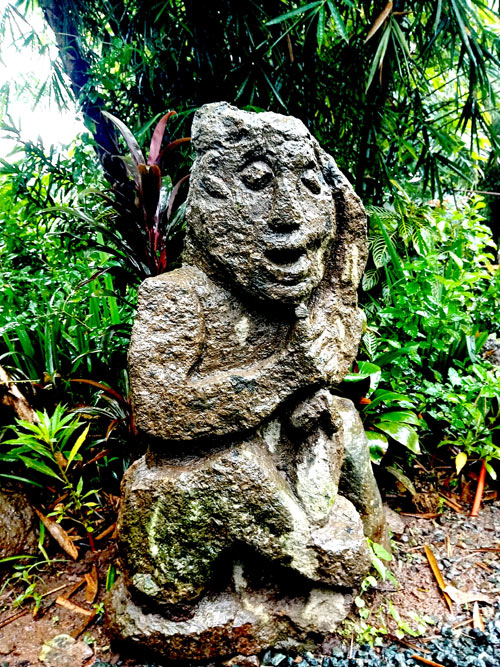 Shambala Silang opened its doors to the public on January 5, 2021. From 2008 until 2020, it has always been a private space. "We opened because of the pandemic," Riza shares. "Mental and emotional wellbeing is important to help us through this crisis; people need open spaces and a natural environment" — something that is abundantly available in Shambala. She adds, "We need to connect and reconnect with ourselves, with others, our environment, and our roots — the arts, culture, spirituality, and nature are key."
Shambala Silang can be a wedding venue, a natural stage for events and exhibits, a bed and breakfast, dining space, or your own peaceful personal space. It is now open for guests on an appointment or reservation basis. Find them on Facebook: Shambala Silang.