For a change, imagine yourself inside a Christmas snow globe — with a giant Christmas tree, Santa Claus and reindeers flying above it, and a spectacle of fireworks coloring the night sky from outside the glass. This mesmerizing experience lingered within the Evia Lifestyle Atrium as it kicked off its annual holiday traditions recently.
Past 6 p.m., the 40-foot tree in classic red and gold accents was lit up to the delight of guests and mall-goers, setting the perfect background for a mini concert by Cris Villonco and the UP Singing Ambassadors. The artists turned different song genres into melodic sounds of Christmas that wafted through the favorite Vista Land mall South of Metro Manila. The company's founder and chairman, Manny Villar, and managing director Camille Villar led the much-awaited ceremony.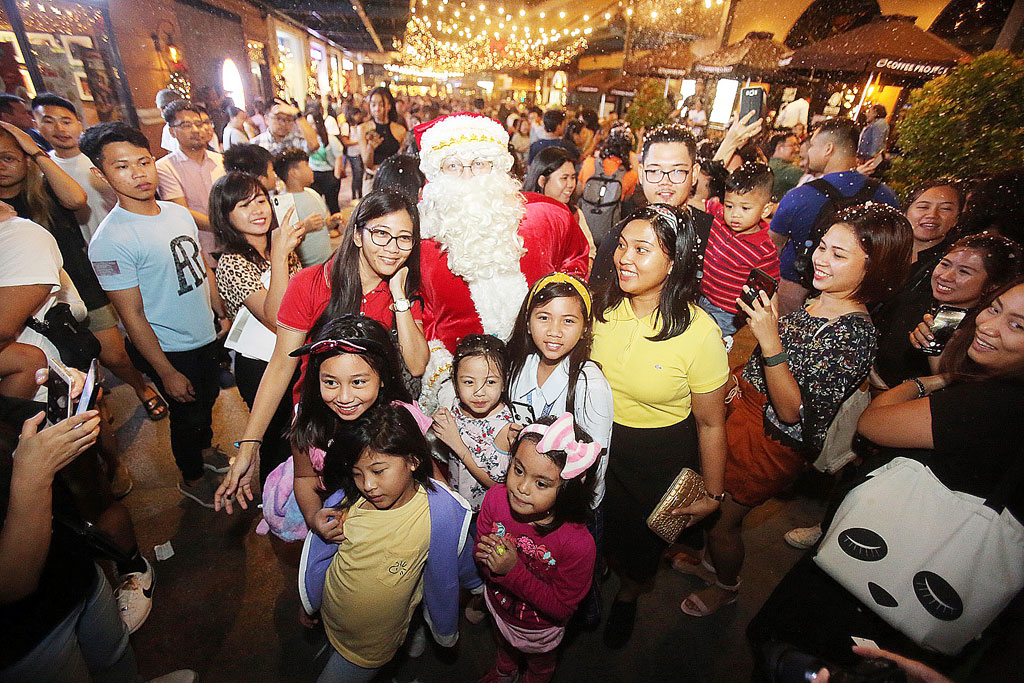 Except that this snow globe can't contain the wild but beautiful snowfall, and mall-goers had to go out to the Promenade to enjoy a more Instagrammable snow experience, matched with the seemingly endless grand firework display. Once again, fire blended nicely with snow, which has made the mall's holiday event a favorite sight among Southerners come Christmas season.
Wake up to a weekend of holiday cheer
To extend the merriment especially among children, Evia will treat everyone to the same Christmas traditions — the signature Snow Blast at 6:15 p.m. and Santa Meet & Greet from 5 p.m. to 8 p.m. — every weekend until December.
While waiting for the evening events, treat your friends and families, even just yourself, to an early Christmas surprise at Evia's various shops, which now appear like pretty houses in a Christmas village. No wonder why loyal patrons tag Evia as the most beautiful mall in the country.
Homegrown brands — AllDay Supermarket, AllHome, Bake My Day, Market Liberty, Coffee Project and KinderCity — deck the halls of the lifestyle center, ready to freshen up the mood of everyone.
Perk up your spirits at Coffee Project with its hearty, mouthwatering dishes to match its delicately brewed coffee. To further sweeten up your day, there's Bake My Day at the North Wing, offering a lineup of breads and pastries. Make sure to try the sweet potato cake or okonomiyaki bread!
While doing grocery, treat all your senses at the pretty AllDay Supermarket with spacious aisles and bright interiors, and a Paluto section to top it all. For your home furnishing needs and more amazing backdrop for your photos, like the foothills of color-clustered flowers, AllHome is the place to go. It's a one-stop shop for builders, interior decorators and DIY followers.
A place for unique finds — basically because they're usually handcrafted with love by local entrepreneurs — Market Liberty offers carefully curated items, ranging from organic soaps to high-end bags and accessories.
Not to leave the kids behind, who are all the more reason for Christmas, Evia's new wing has the biggest KinderCity branch to date. Filled with rides, slides, trampolines, toys galore, obstacle courses, and ball pits, even an Ever After salon for young ladies and KinderCity Cafe for the little ones with big appetites.
Still have hours to spare before 6 p.m.? Step up your movie experience at Evia's IMAX with Laser that's first in Southeast Asia. Another pride is the MX4D Motion EXF Theater.
If you're a Southerner, make your holiday weekends extra special at Evia Lifestyle Center!
Evia Lifestyle Center is located along Daang Hari and is the crown jewel of the Vista Alabang. For more information, visit vistamalls.com.ph. Follow Evia Lifestyle Center on Facebook.