ANGELES CITY, Pampanga — Rockwell Land and Juan D. Nepomuceno (JDN) Realty marked a milestone with the Groundbreaking Ceremony of Power Plant Mall Angeles, held on October 12, 2023. The event was graced by Rockwell Land Chairman and CEO Nestor J. Padilla, President and Chief Operating Officer Valerie Soliven, JDN Realty Chairman Emeritus Mr. Peter Nepomuceno, Chairman Arni Valdes, along with esteemed consultants, and contractors.
Located within Rockwell at Nepo Center, Power Plant Mall Angeles, is set to become the first Rockwell mall outside of Metro Manila, opening its doors in 2027. It will feature a curated mix of international brands and a range of homegrown products, including favorites from the flagship mall in Makati City. Discerning shoppers can anticipate a wide array of premium fashion and specialty stores, anchors & supermarkets, health & beauty boutiques, home & leisure concepts, essential services, and a delightful selection of dining options, including a food hall, cafes, and all-day dining establishments.
"We're looking forward to bringing this much-awaited addition to the thriving Kapampangan landscape in Angeles City, joining in the excitement of both residents and visitors who are anticipating the opportunity to experience the Rockwell signature lifestyle closer to home," says Rockwell Land Vice President for Retail Development, Tin Coqueiro.
This retail space comprises a total of almost 200 leasable retail spaces, encompassing a net leasable area of over 32,000 square meters. It provides a diverse retail environment, making it an ideal destination for shoppers and residents alike.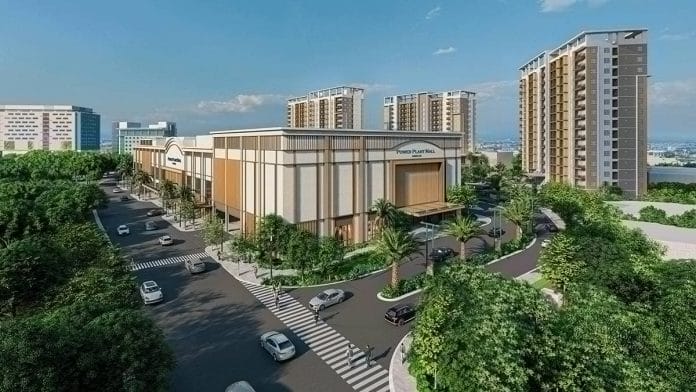 Beyond being a vibrant shopping destination, Rockwell at Nepo Center provides residents the conveniences of city life within its 4.5-hectare development, through its first two residential towers, The Manansala and The BenCab. These properties will offer Kapampangans a taste of refined comfort and exclusivity. With thoughtfully-designed amenities, such as swimming pools, a function room, fitness gym, a multi-purpose court, and spacious open areas, this community is set to become a cornerstone of Central Luzon.
In partnership with the Nepomuceno Group of Companies, whose significant contributions have helped shape Angeles City across various sectors, this development reflects a harmonious fusion of Rockwell's elevated living and the enduring legacy of the Nepomuceno family. Welcoming the well-heeled community of Pampanga to a life well-lived at Rockwell at Nepo Center.
For more information, please visit rockwellcenternepoangeles.com
#BrandedUp