Since I moved to Cavite from the heavily polluted part of Quezon City, I've been sleeping earlier and spending more time in the sun. Cavite is admittedly urban for the most part, but I noticed that time moves a little slower where I am. The malls are small and there isn't much to do there anyway except go to the supermarket or the hardware. This is a blessing, really, because then one would be encouraged to explore farther and discover more fascinating things.
Artklatan and Alitaptap Recreational Hub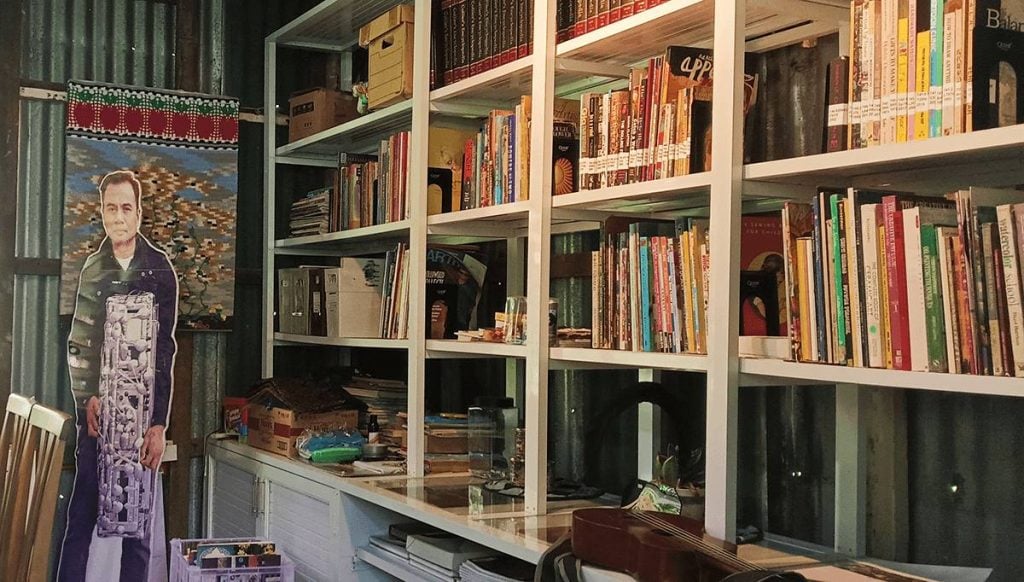 One fine Saturday morning, my companions and I decided to drive to Amadeo, Cavite to drop off some art books at Artklatan in Espasyo Siningdikato located inside Alitaptap Artists' Village. Did you know that there is an art library in Alitaptap? DLSU-D's Mary Ann Jimenez-Salvador started the small community-based art library as "a place to read, create/make, and share knowledge and creative skills". When we got there, young students who camped for the night were just getting ready to leave their tent. We turned over the bag of art books to Deo Jimenez, Mary Ann's brother and library keeper, and then we promptly looked around to admire Mary Ann's framed art quilts and Deo's impressive needlework—you can commission him to make embroidered, crocheted and knitted items!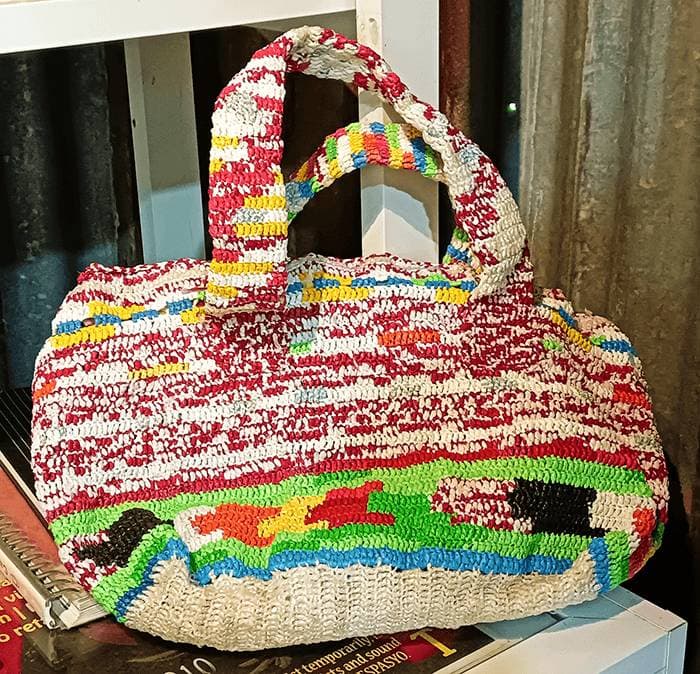 I suppose living outside a big and busy metropolis also predisposes one to have a greater curiosity about plant and animal life, nature in general, and the various things related to it like farming, beekeeping, the slow food movement, agri practices, and so on. Before we left we marveled at the herbs, plants, flowers, insects, and trees within Espasyo's space. The wind, always refreshing up there, blew cold and strong that morning.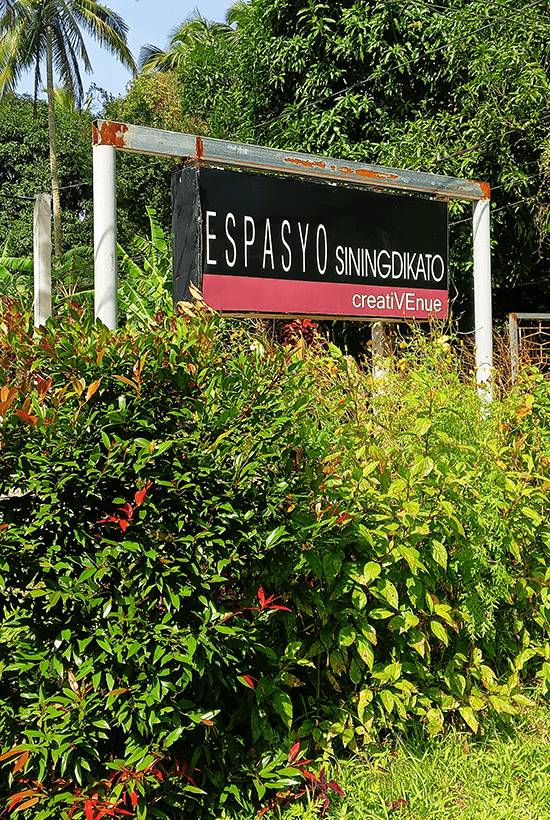 There is much to see in Alitaptap but on this particular day, we decided to explore Alitaptap Recreational Hub, a huge space perfect for nature tripping with friends and family. They do have huts (bahay kubo) that groups, individuals, and couples can rent for overnight stays or longer staycations. These huts, named after artists like Felix Hidalgo, Fabian dela Rosa, and Juan Luna, are scattered around the property amidst thick trees and greenery. The biggest accommodation can house as many as 15 people. Every single one has its own comfort room and kitchen, a dipping pool, sleeping quarters, and a dining area. For more details, find them on Facebook: Alitaptap Recreational Hub.
The secret is out: Cocinado con el Corazon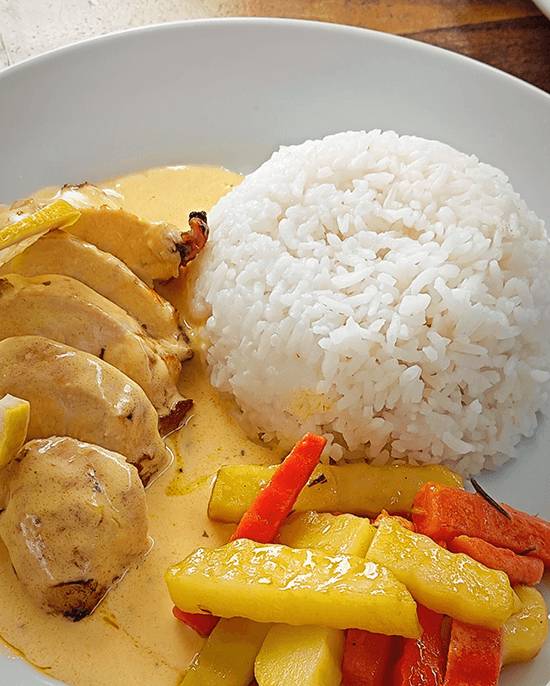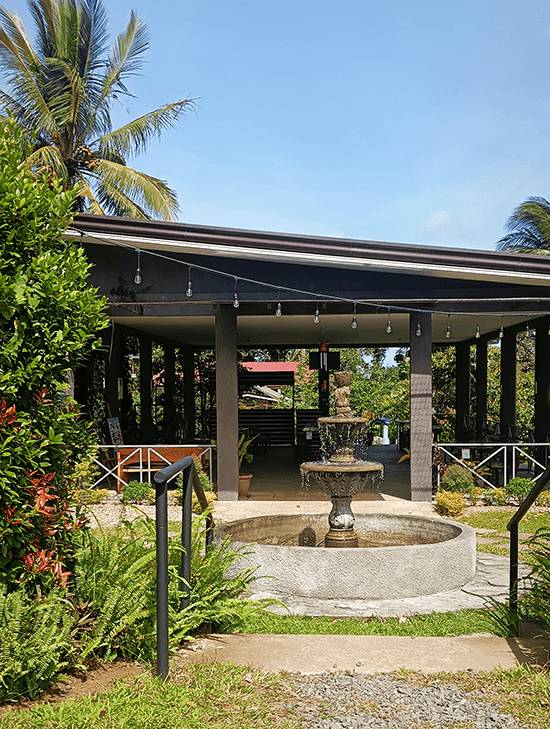 The next stop was Cocinado con el Corazon in JBT Agri-Farm (Taniman ni Jesus) also in Amadeo, Cavite. The open-air restaurant serves Italian and Spanish dishes using fresh ingredients from their farm. Long-haired guests must not forget their hair tie because the wind can get a bit wild up here. It is, however, the cleanest and coolest air ever, in my POV as a long-time Manileña. The highlight of our visit, of course, was the food. We ordered the Sopa de Vegetable Española Ahumadas con Kale (P140), Ensalada de Papa Verde (P190), Pollo con Matequilla de Limon (P270), Hamburger con Pancetta Affumicata e Formaggio (P375), and a pitcher of their Cucumber Lemon Juice (P105). Their serving sizes were huge, the prices extremely affordable, and the meals themselves were excellent. In my opinion, all of these things put this farm-to-table dining establishment up there as one of Amadeo's best-kept secrets. My companion, a certified burger aficionado, tagged his order as "the best burger in town". I was very happy with the lemon chicken, the smokey bean soup, and the potato salad. As you savor the crunch and juiciness, the tenderness and the rich flavors, there'd be no doubt on your mind that here in Cocinado, the fresh fruits of the land are being served green and crisp on your plate—an honest-to-goodness farm-to-table experience.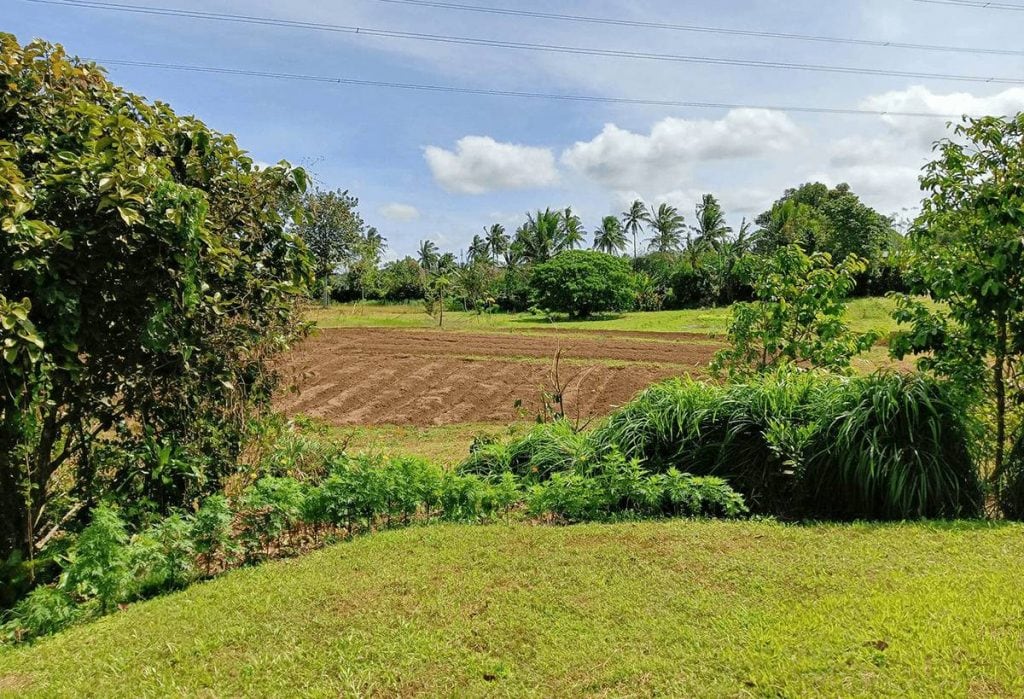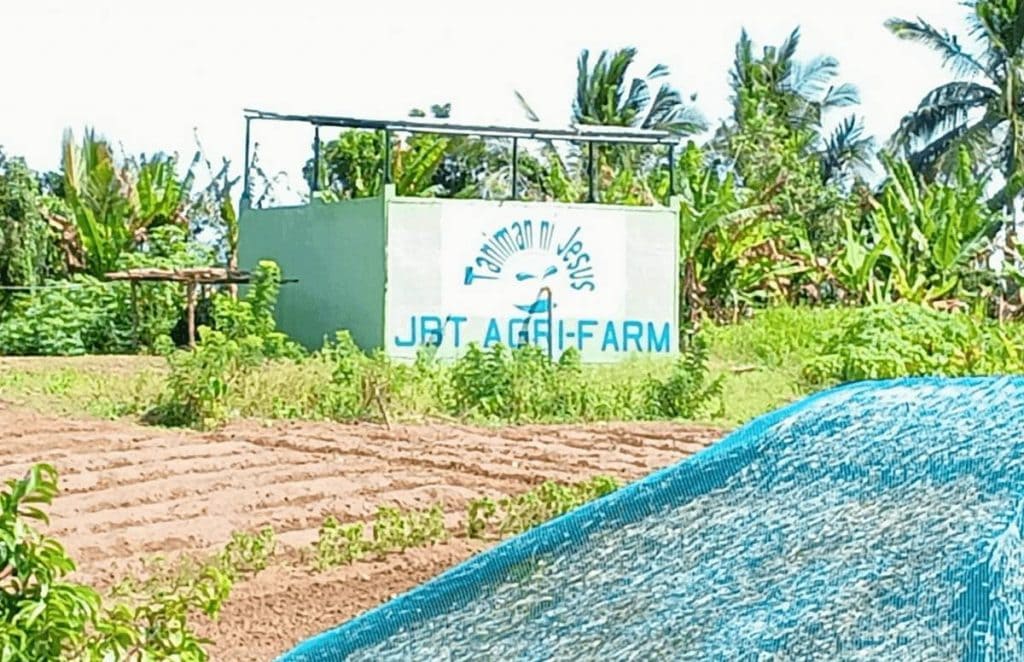 Our JBT Agr-Farm host was Julius Tibayan from DLSU-D, whose family owns the restaurant and the 2-hectare farm. They opened the restaurant during the pandemic but the farm itself was started by their father, Jesus B. Tibayan, who sadly passed on in 2021. The farm cultivates high-value crops that, aside from being used in the restaurant's kitchen, are being sold in markets and vegetable kiosks. In the near future, JBT Agri-Farm will be offering short programs to farmers and would-be farmers to equip them with the knowledge that can help them succeed. Presently, JBT Agri-Farm opens the doors of their modern bahay-kubo with airconditioned rooms to overnight and staycation guests and makes the property available to those looking for an event venue. There are spaces for campers, as well as a grilling and bonfire area, a biking path, and a refreshing pool. For inquiries, interested parties may get in touch with JBT Agri-Farm at 0968-345-2403. They are also on Facebook as Cocinado con el Corazon by J.B.T. Agri-Farm.
TIKME, Pick 'n Pay, and the slow food revo
Our final stop for the day was Magallanes. It's one of the lesser-known areas in Cavite and as such, the place is the opposite of busy—no traffic, fewer people, quiet roads, and long stretches of farmland with crops like sugarcane, vegetables and herbs, coffee, and so on. We met first with Marinell George of Manell's, a producer of natural food products. She is also part of TIKME Food Association and the Municipal Cooperative Development Council. Her charming home has a kitchen in the back where she turns "discarded" tomatoes into tomato pickles, tomato powder, and sun-dried tomatoes. "Discarded" here does not mean rotten or bad, rather, these are tomatoes that the farmers can't sell to their contacts only because they are a little smaller than the required size, for example. Marinell sat us down and served us fresh tarragon tea with sprigs of Italian oregano that she picked from her garden; it was so good and refreshing. And then she made us try her tomato powder and her spicy tomato pickles over newly cooked pasta. I must say it is the crowning glory of her food biz, Manell's.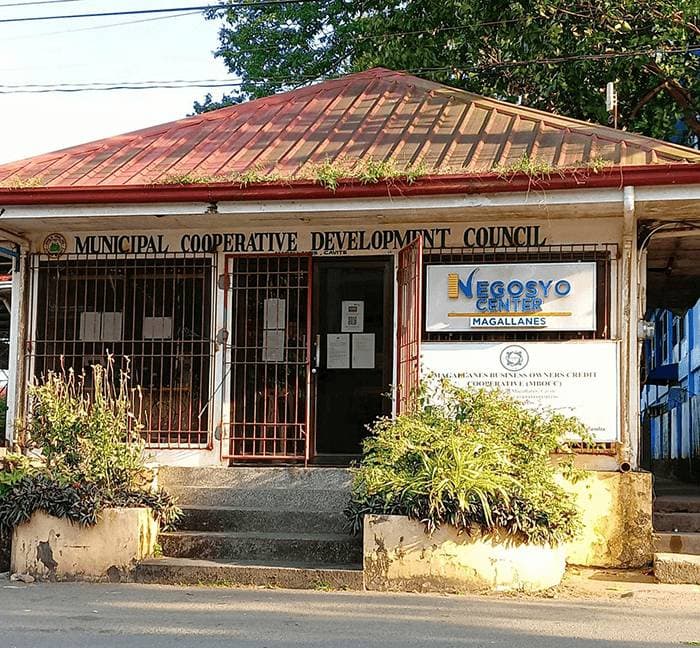 From her home, we drove to the Magallanes Business Owners Credit Cooperative, right in front of the municipal hall, where we met the manager, Loreliza S. Frias. We talked about TIKME, the food processing arm of the cooperative, and went through the farmers' products on the shelves: muscovado sugar, Kapeng Barako Tea, tomato pickles, bignay tea, spiced vinegar, Salabat ni Ama (7-in-1 ginger tea), black peppercorn, Siqwate (chocolate for cooking/drinking, like tableya), banana chips, roasted coconut chutney, gourmet tuyo, sweetened calamansi with malunggay, moringa tea con muscovado, kakanin, and so much more. The Magallanes Farmers are definitely a busy, resourceful, and innovative lot. And it's a good thing the local government supports them fully, buying their products, for example, to give as tokens to visitors and guests of the mayor's office. Needless to say, the TIKME food producers are open for partnerships and collaborations with restaurants, cafés, hotels, resorts, and other establishments that may want to carry their high-quality products or use these in their kitchens. Interested parties may get in touch with Marinell George via her Facebook page.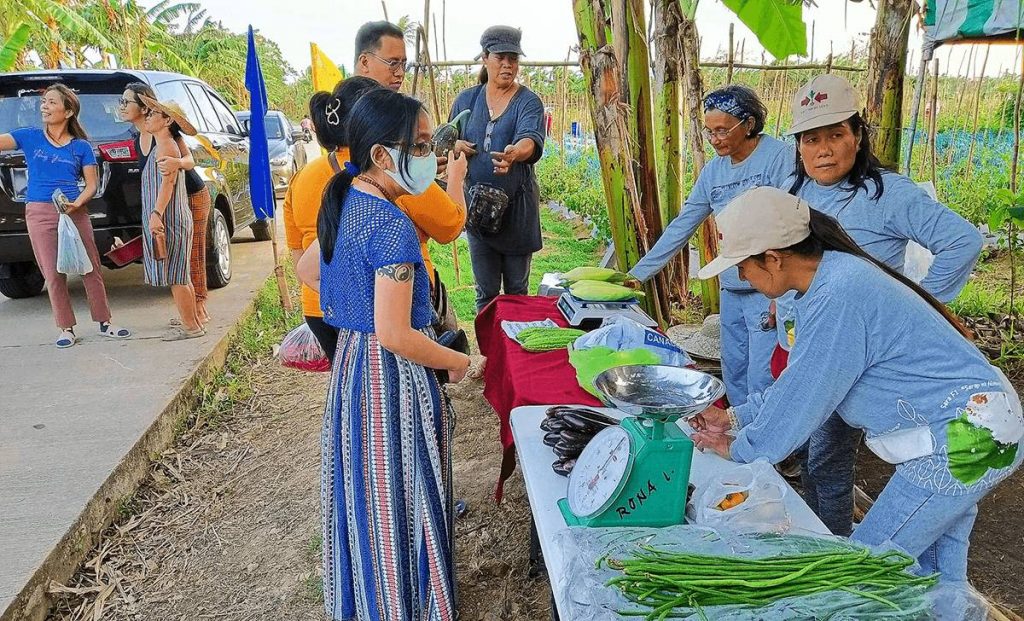 We were rushing to catch the sun at Pick 'n Pay where, armed with a pruner and a basket, one could pick fresh farm produce from the vegetable plots and then pay for the goods directly upon "checkout". You would be handing your money straight to the farmers, most of them women, and enjoying a little exchange with these admirable women who grow good food for their families and the community. The whole pick-and-pay system reminded me of strawberry picking in La Trinidad, a huge crowd drawer. Would visitors be as eager to pick vegetables like patola, ampalaya, squash, eggplants, and the like, instead of the plump and photogenic strawberries? Before going home, we met a lady who sold us fat bundles of freshly picked unsoy and small tubs of homemade spicy adobo peanuts. She would usually go around selling food items to augment her income and fund her education—she's a grandma who is determined to get her senior high school diploma very soon!
We stopped by the family farm of Marinell George to pick more curry leaves for cooking before heading back home to Imus way past sundown. On the long drive home, I was thinking about how the slow food movement is very much alive in Cavite, with many of the farmers choosing to adopt good agricultural practices—from JBT in Amadeo to the TIKME farmers in Magallanes, these food heroes work hard to ensure food safety and produce high-quality agricultural products while protecting the environment and promoting the health and wellbeing of the workers and farmers. And mind you, it's not an easy thing to do because there are always faster and more convenient options and, most of the time, choosing to go natural and clean will take up more time, more capital, and more effort. It's a wholehearted commitment to producing natural food that is clean, nourishing, delicious, and good for the health, to source ingredients locally, use processes that are not harmful to Mother Earth, to farm without using synthetic chemicals, and to offer all these—from herbs and veggies to plated food and bottled/packed products—at fair prices. To me, that's pure love—love for family, community, self, country, and planet.