Bonifacio Global City (BGC) is one of the country's premier central business districts (CBDs), despite being three-decades old only.
Guided by its plan to "make gray landscapes a thing of the past," it presently caters to a vibrant multi-residential, business, commercial, recreational and institutional community within a world-class green environment.
Its contemporary transformation began in 1992 after portions of Fort Bonifacio's military land were turned over to the Bases Conversion and Development Authority (BCDA) and was subsequently privatized through the Fort Bonifacio Development Corp. (FBDC).
While working for BCDA and eventually FBDC for over a decade and half, I was fortunate to have teamed up with government policy- and decision-makers, private sector colleagues and consultants in formulating, detailing and implementing the Fort Bonifacio framework plan, Bonifacio Global City master plan, Taguig City approved-planned unit development and subdivision plans, and its neighborhood, sectoral and specific plans.
Transformation
From the start, the private-public partnership envisioned a 21st century BGC dotted with residential developments amidst parks, and supported by regional malls, vibrant shops and restaurants, commercial and office buildings, schools and universities, and numerous gateways linked by flyovers and slip roads to and from other CBDs.
The original BGC master plan aimed to create an estate that works, composed of six neighborhoods located north of the Manila American Cemetery and Memorial, designed with an open space system connected by walkable and active street life, and provided with a soul through an area-wide public arts program.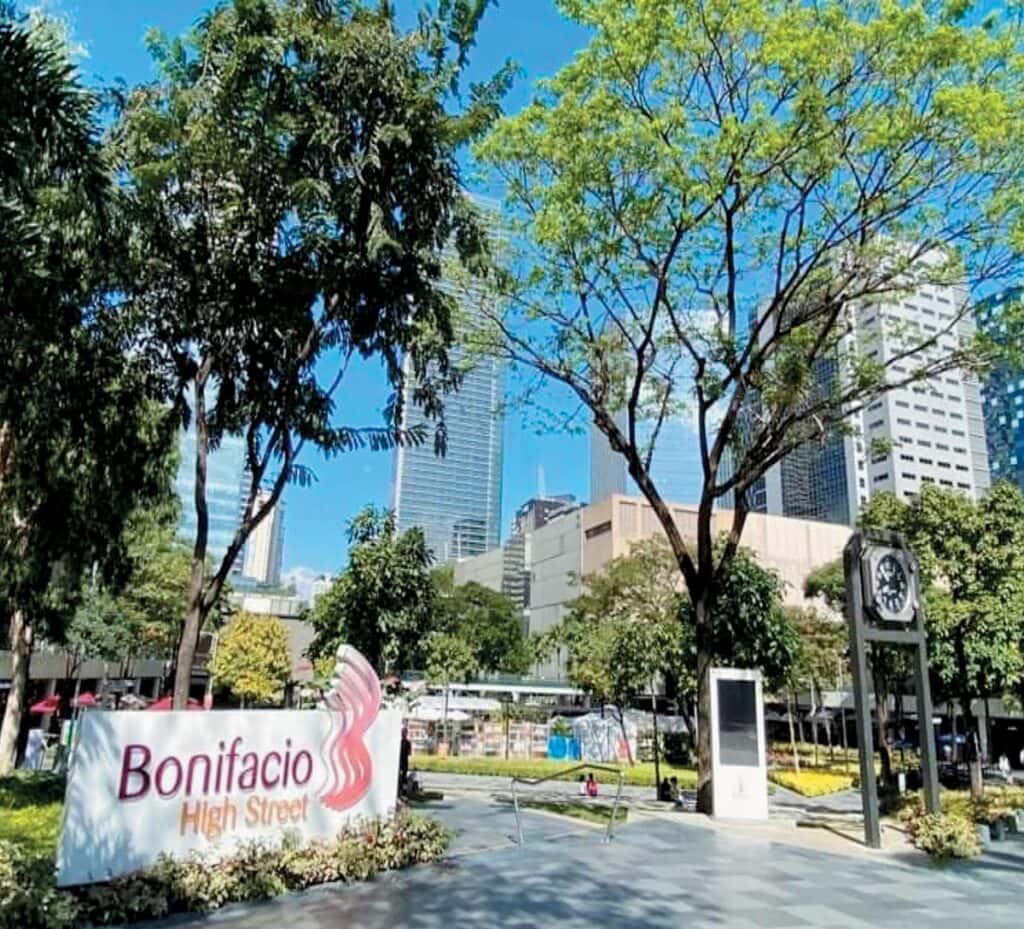 The early years' tasks were difficult, in part due to the Asian Financial Crisis, plus skeptics who did not believe that Fort Bonifacio could be converted from a military camp into a brand new and bustling community. However, a 2003 change in FBDC's shareholders brought new energy to BGC and hastened its transformation.
A City Center Specific Plan was adopted around the nine hectares Bonifacio Center, drastically changing the original Master Plan's lot configuration and land uses. In addition to modifying the street layout, commercial blocks were likewise reconfigured to allow for incremental developments around an east-west promenade, with strong anchors and activity centers inter-woven by networks of pedestrian walkways that link to transit routes, parking areas, parks and playgrounds, pocket gardens, and where fresh sub-neighborhoods would emerge.
Greening the Global City
Beyond Bonifacio High Street (BHS), newly conceived parks that would spread out of Bonifacio Center into sites where expanded residential-commercial areas could be patronized by residents, office workers and guests alike.
East-West Connectivity. Strategically located along the 29th Street alignment, a continuous 1.2-kilometer leisurely walk is now possible from Market! Market! on C-5's edge, moving westward through the Serenda Piazza in the midst of a luxury residential community, meandering along BHS' parks, restaurants, shops and Central Square. Crossing over Fifth Avenue, the green spine passes through One Bonifacio High Street Park, into the Mind Museum and JY Campos Park toward Burgos Circle where The Tree sculpture stands, before ending in the residential zone along the boundary.
BGC Greenway Park. A 10-meter wide, 1.6 km park where the decommissioned transmission line once stood, provides a strolling, jogging, playing, and biking park sprinkled with trees and shrubs across grass lawns and paved trails. Intertwined are Kasalikasan Park, De Jesus Oval Park, and gardens that display art installations like Pasasalamat, depicting fishermen holding up their net with a bountiful harvest, and Balanghai, a modern vinta representation.
North-South Connectivity Clusters. Previously the Eight Avenue axis and north of McKinley Parkway, is a triangular-shaped Sundial Park that hosts an art installation Kasaysayan Bawat Oras, and Central Bark, an exclusive dogs' playground. A short distance away is BGC Arts Center, the cultural district's centerpiece and home to Maybank Performing Arts Theater, the Sunlife Amphitheater and Alveo Central Plaza. Between 26th Street and BHS are Terra 28th, and High Street South Park that feature playgrounds, more art installations within a green, lush community garden and sanctuary. Northward beyond BHS, active patrons can use the two-hectare rectangular shaped Track 30th, filled with jogging paths, fitness and exercise lawns, yoga and meditation gardens, and art pieces. Further up is an artificial football turf play area, aptly named Turf BGC.
Northwestern Gateway. Not to be skipped are Ang Supremo, Andres Bonifacio's Monument within a garden, that welcomes motorists as they enter from the northwest along the Buendia-Kalayaan flyover; Transformation, a three-glass towers art work sitting on top of a stainless steel and granite surfaces, flanked by the wall-size mural The God's Country; and an Urban Farm that allows green thumbs to grow their own vegetables, buy their produce and or sponsor their green initiatives.
A dream come true
The dream of "going back to nature means just stepping out of the door" was made possible by the comprehensive open space system developed by BGC's framers. It has come into fruition with the cooperation of the Estate Association and its members, BGC's development partners as well as various locators.
Special thanks to Lou Reyes, Seya Belmonte and Myra Ocampo for their invaluable help.
Other references included Bonifacio Arts Foundation, Inc. (bgcartscenter.org); Bonifacio Global City's City Center Specific Plan; and FBDC's "A Visionary City Rising in the Heart of Metro Manila".
* * *
Henry L. Yap previously served as vice president of FBDC's Planning and Design Department and Head of BCDA's Metro Manila Camps Division. He is an architect, environmental planner, former real estate practitioner and senior Lecturer, and was recently named one of the Undersecretaries of the Department of Human Settlements and Urban Development.