Being at one's maximum fitness level and wellness is a goal we all want to achieve. Having a home in an environment where this is encouraged and designed around it is a dream for many.
The 15.2-hectare residential project Arden Westpark Village, developed by property giant Megaworld, is one such place.
Located at Trece Martires City in Cavite, Arden Westpark is the third village inside the 251-hectare, botanical-themed township Arden Botanical Estate, which is jointly developed by Megaworld and its subsidiary Global-Estate Resorts, Inc. (GERI).
At Arden Westpark Village, families and professionals can look forward to building their dream homes on high-end lots in a well-thought-out community. It offers 221 premium lots ranging in size from 280 to 526 square meters. Arden Westpark Village comes on the heels of Arden Botanical Village's successful offering of premium lots to discerning buyers.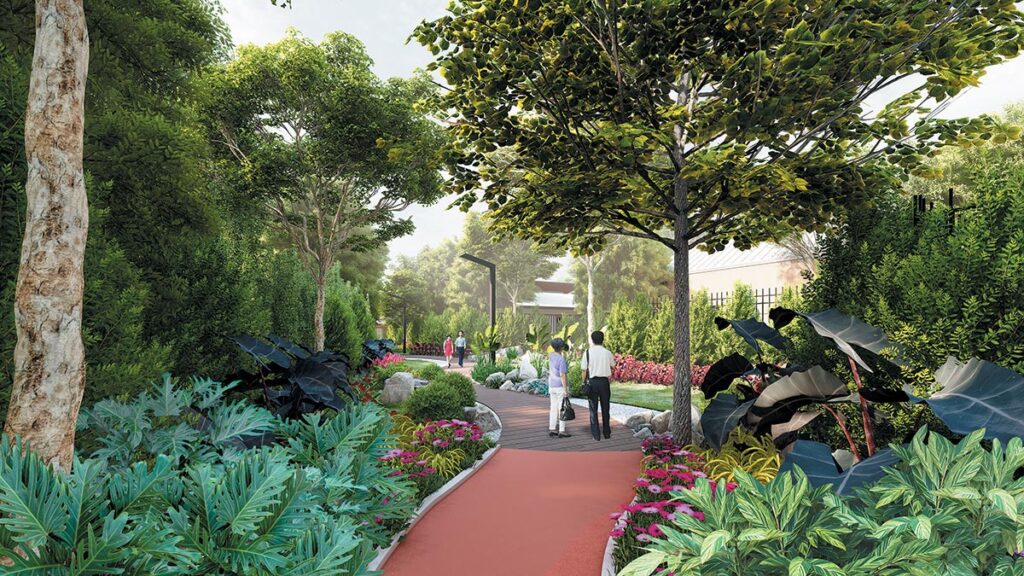 Forty percent of Arden Westpark Village is allocated for green, open spaces, while pocket parks with colorful shrubbery complement the four linear parks all over the property.
Active lifestyle
Designed to be a wellness-centered village, Arden Westpark features a central amenity core with sports-oriented facilities. These include the village clubhouse with a function hall, a fitness gym, a 25-meter lap pool, covered basketball and volleyball courts, and two tennis courts, and jogging paths with benches for rest.
All around are fitness nodes, a cross-circuit station, and dance and aerobic stations. Want to do yoga amid nature? You can perfect your yoga poses in the gardens that feature aromatic plants and flowers. Want to stay healthy by walking? You can do that on paths designed to keep you moving, like the reflexology path.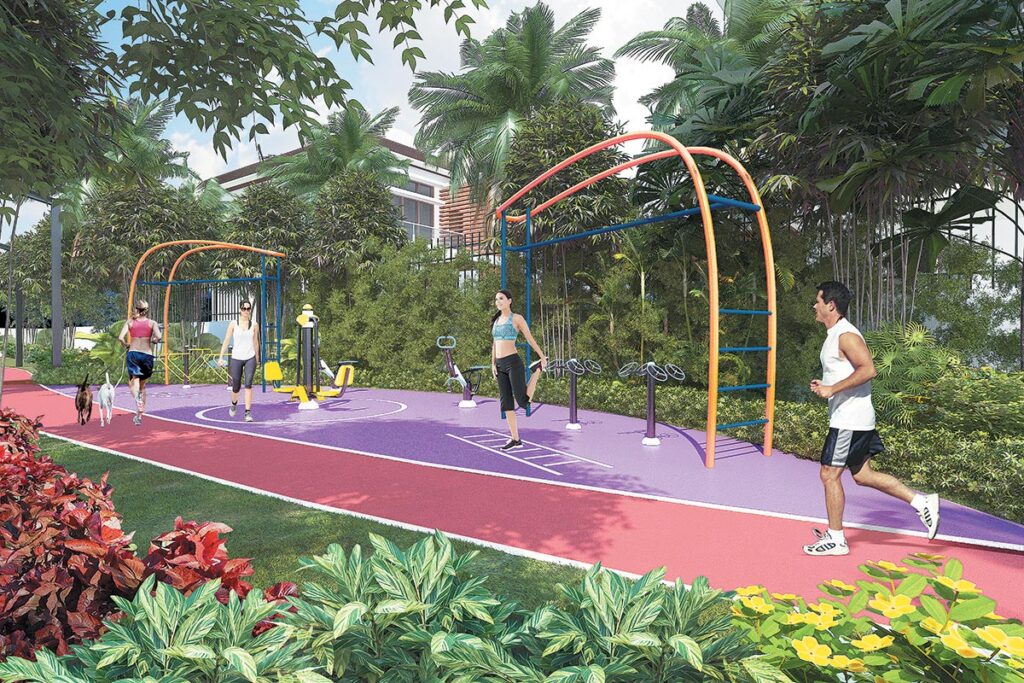 Children are encouraged to live an active, healthy lifestyle too. The village has glow swings, children's swimming pool and water play area, playground with play mounds, trampoline park, interactive spun chairs, toddler mounds, an open lawn activity area, and a playroom.
Growing up at Arden Westpark Village and in the township that is Arden Botanical Estate is a learning experience for young minds.
Both the village and the estate give them plenty of opportunities to play outdoors and learn about nature. According to studies, these help children improve their self-esteem, problem-solving skills and their relationships with their peers. Most importantly "nature buffers"— such as tree-lined avenues, organic gardens and lotus ponds which will all be in the estate—can help them cope with the stress they experience in school and at home.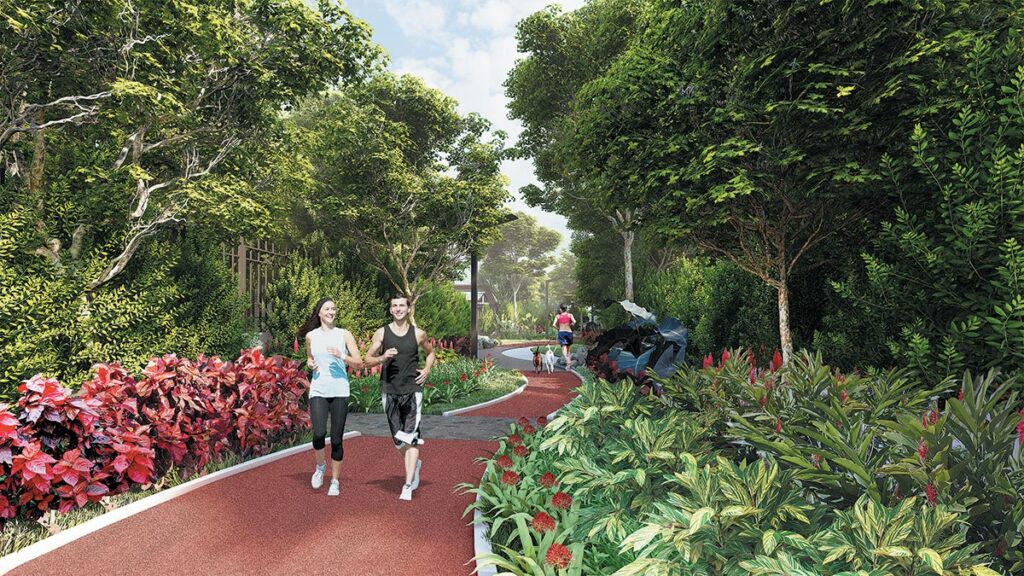 Dog parents will also love Arden Westpark Village because it has a dedicated dog park where their furry babies can play with other dogs, while their humans get the opportunity to socialize with their neighbors.
Arden Westpark Village will have four-lane main roads (up to 18-meters wide) and two-lane secondary roads (up to 12-meters wide), and tree-lined avenues. It will also feature four linear parks that are the perfect places to relax, read a book, get together with friends or exercise. These parks have sitting nooks, a bamboo tunnel, arbor walks, and wooden decks.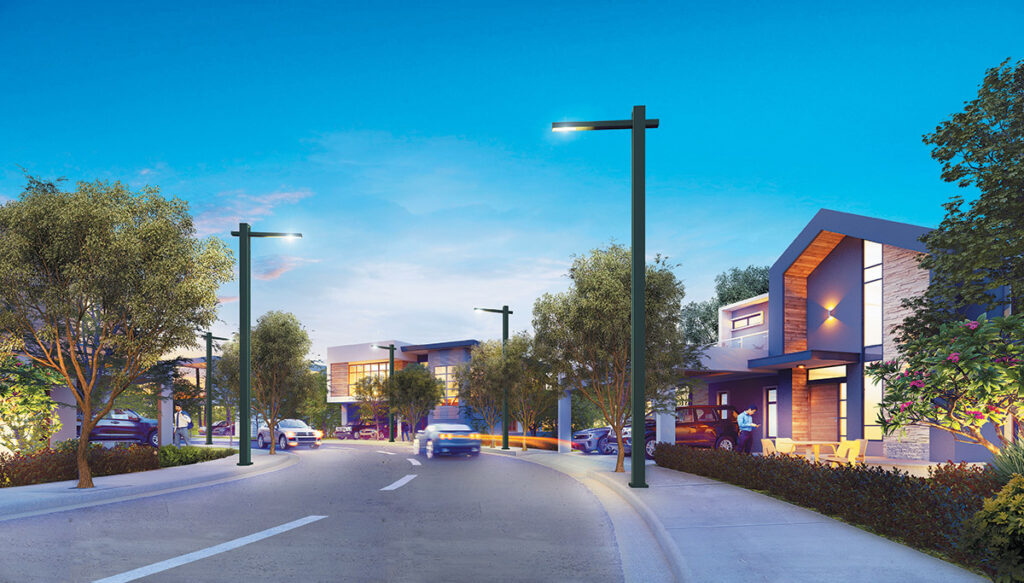 Arden Botanical Estate
Arden Botanical Estate, where Arden Westpark Village is located, bears Megaworld's signature township living where residents can integrate their life, work and play.
According to Megaworld chief strategy officer Kevin L. Tan, the estate "is a one-of-a-kind township development that will be curated to engage and stimulate the senses. We will put design and aesthetics at the forefront, and function and purpose at the backbone of its planning."
The entire estate will have its own Flower Farm, Flower Tunnel, and Children's Garden, allowing residents and visitors to commune with nature and enjoy the bounty and beauty of Philippine flora.
From the township's entrance along Governor's Drive in Tanza, Cavite, a six-lane avenue leads to the Welcome Pavilion and the Town Center. This will be surrounded by arcaded and al fresco commercial areas.