Santa Ana, Manila has flourished over the years from being a center of rich culture and heritage to becoming a district of convenience and modernity. Over the district of Santa Ana, some earliest evidence of advanced social and cultural developments have been unearthed which dates back to around 900 to 1000 years. During the Spanish period, the affluent families of the society chose the place to build their homes near the idyllic Pasig River. The place is known for its architecturally significant heritage, led by its famous Santa Ana Church, joined by Plaza Hugo, an array of historic ancestral houses, and the three-century old image of the "Nuestra Señora de los Desamparados de Manila". Santa Ana is also replete with archeological possessions and has notably been classified as a "histo-cultural heritage/overlay zone" by a Manila City Council ordinance. Needless to say, Santa Ana is the place in the Metro where timeless beauty, elegant heritage, and modern innovation all seamlessly meet.
Located strategically in the boundary of three major cities in Metro Manila –Makati, Mandaluyong, and San Juan, the area is a wise location for many businesses, and most importantly, for residential communities. Every corner and avenue of the district has easy access to various modes of land transportation 24/7, going to different parts of the Metro, making it one of the most convenient places to live in.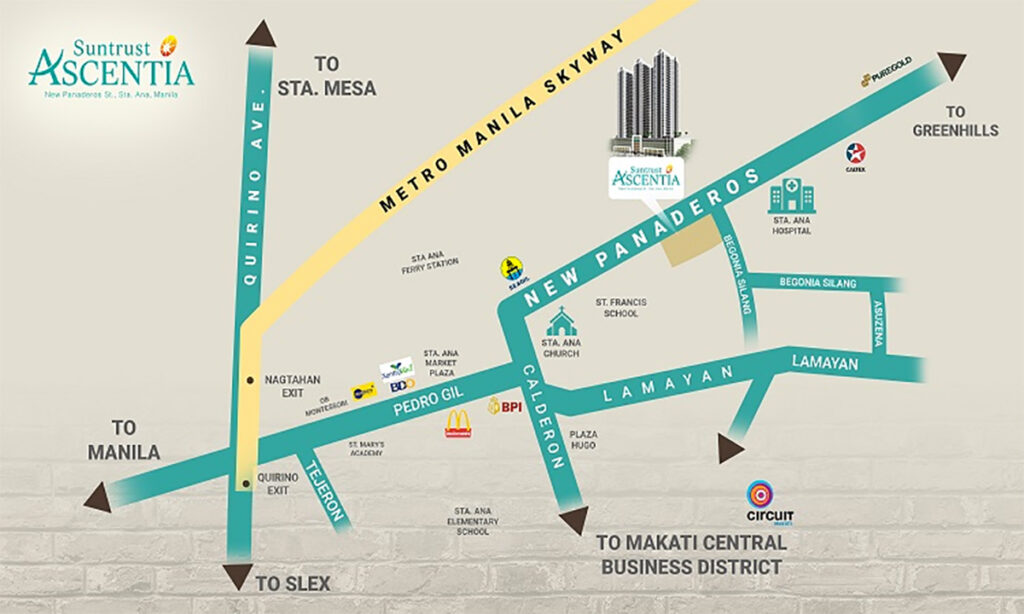 Suntrust Ascentia
With Santa Ana's precious history of growth, now is the most suitable time for the district to ascend to an even higher state of development and progress. Renowned real estate developer Suntrust Properties, Inc. has put elaborate effort to execute and come up with an idea of a future landmark that will represent the district's harmonious culture and modern lifestyle. The developer takes the bustling city life in Manila into new heights, as it introduces Suntrust Ascentia, its latest condominium offering that will bring heritage and modern convenience fuse in one glorious architecture.
Boasting one single 36-floor tower that is inspired by the timeless buildings of the 1970s Manila, Suntrust Ascentia is envisioned to become a landmark that represents Santa Ana's well heeled heritage in the middle of a modern cityscape. It showcases a list of interesting and state-of-the-art amenities and well-crafted studio, 2-bedroom, and 3-bedroom units all designed specifically for residents' comfort and convenience. Historical arts and pieces shall be stylishly on display in a dedicated area to commemorate the essence of the district in terms of its glorious past. Security is of utmost importance at Suntrust Ascentia as well, as access to residential floors is limited only to the unit owners through keycard enabled elevators.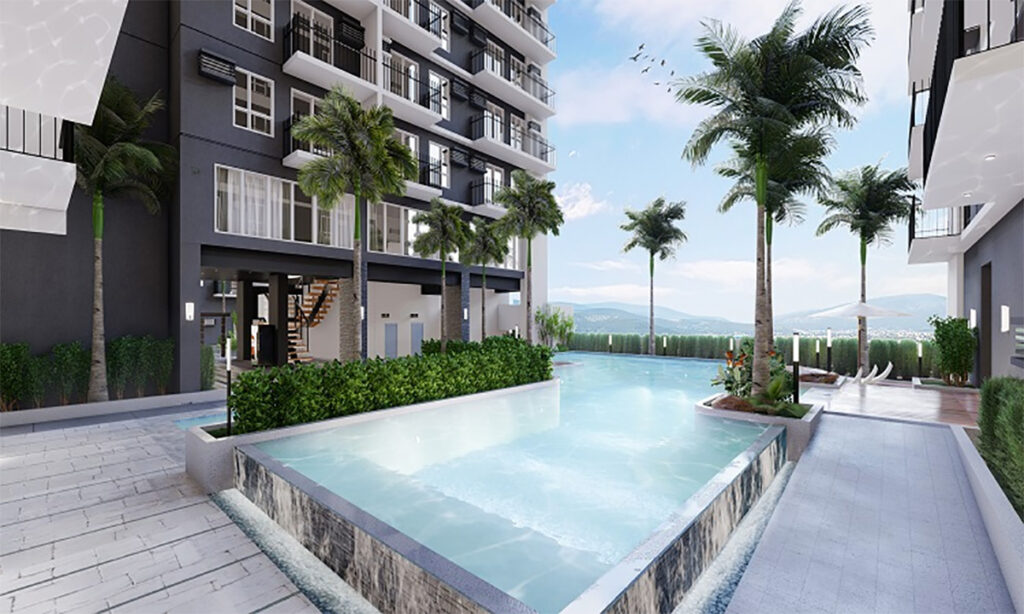 "Its architectural design is a seamless fusion of heritage and modernity. Inspired by the original headquarters of the GSIS in Arroceros Street, Manila which was designed by Federico Ilustre who has worked on numerous postwar architectural structures in the country such as the Quezon Memorial Shrine, Suntrust Ascentia will be a showcase of the city's rich history and vibrant future," says Atty. Harry Paltongan, the company's president.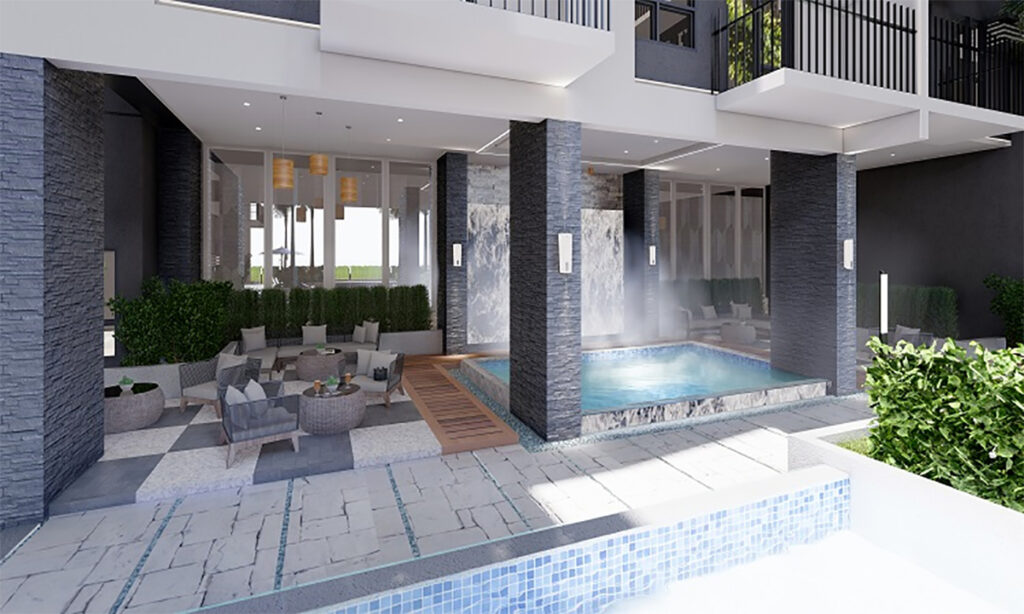 The 5,120 sqm condominium community is situated along New Panaderos St., neighbored by the historic Santa Ana Church and Santa Ana Hospital. It's just a few steps Northeast from the Santa Ana Bridge connecting it to the busy city of Mandaluyong, Makati to the East, Paco and Pandacan district to the West, its North connects to San Juan, and Southeast goes to Pasig River. Living in Suntrust Ascentia puts residents at the heart of everything. All of life's conveniences are just a stone's throw away, as the neighborhood is close to numerous business districts, schools, universities, and leisure hubs.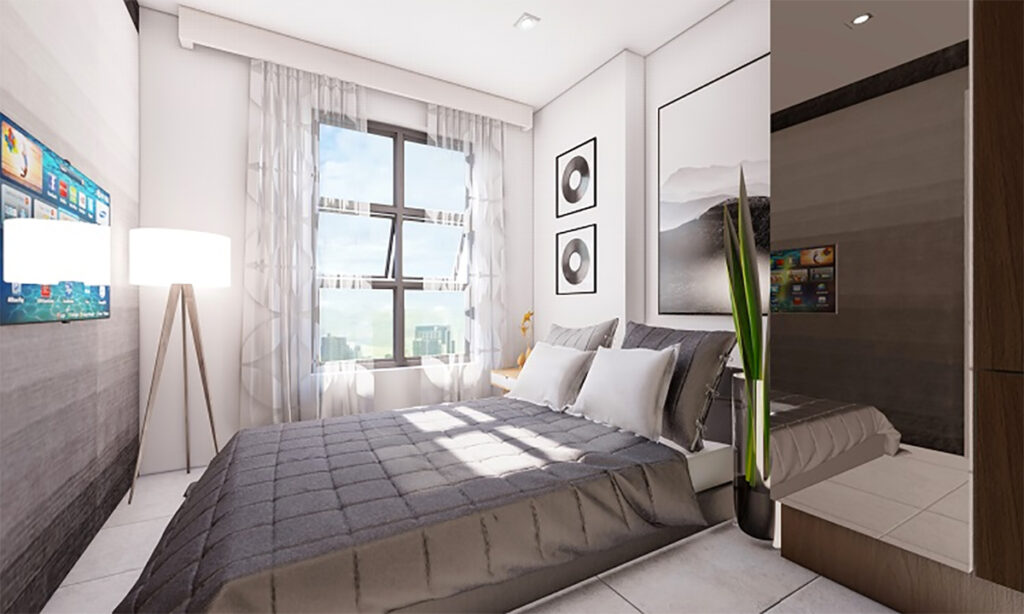 "Apart from convenience, Suntrust Ascentia also values life's best moments within the comfort of one's community. Proving this is a series of indoor and outdoor facilities for recreation, such as a swimming pool and a kiddie pool, landscaped garden, outdoor lounge, multi-purpose area, pool lounge, children's playground, jacuzzi, fitness gym, and a jogging path with benches," Atty. Paltongan stated. "The tower also features eight elevators, providing greater comfort for those living in the higher floors. A commercial area welcomes residents at the ground floor, ushering easier access to life's essentials," he added.
Suntrust Ascentia lets you settle in a bustling district while indulging in the preserved beauty and heritage of the timeless city. Here, you can seek for progress, start a family, or bond with your loved ones, without worrying about convenience. 
#BrandedUp