The office market has been significantly hit by the onslaught of the COVID-19 pandemic.
With some companies operating with work-from-home setups and offshore gaming firms vacating their spaces, vacancy levels in the Metro Manila office market have been increasing.
In a recent property briefing, Colliers Philippines said it is revising its Metro Manila office vacancy forecast for 2021 to 15.6 percent from its initial projection of 12.5 percent due to the completion of more office space for the remainder of the year as well as weak pre-leasing.
"We continue to see occupiers vacating office spaces in Metro Manila. As of the first half, vacated spaces in Metro Manila reached 370,000 square meters," Colliers said.
This has resulted in office vacancy of 12.7 percent in the second quarter from 11 percent in the previous quarter.
While it may be hard to predict when the office market will recover and return to pre-pandemic levels, Colliers managing director Richard Raymundo said the improving vaccination rollout in the country is creating confidence in the market.
"I think if you look at our vaccination rate, that gives you confidence. I think our issue before is on the supplies," Raymundo said, pointing out that more vaccines have been arriving in the country.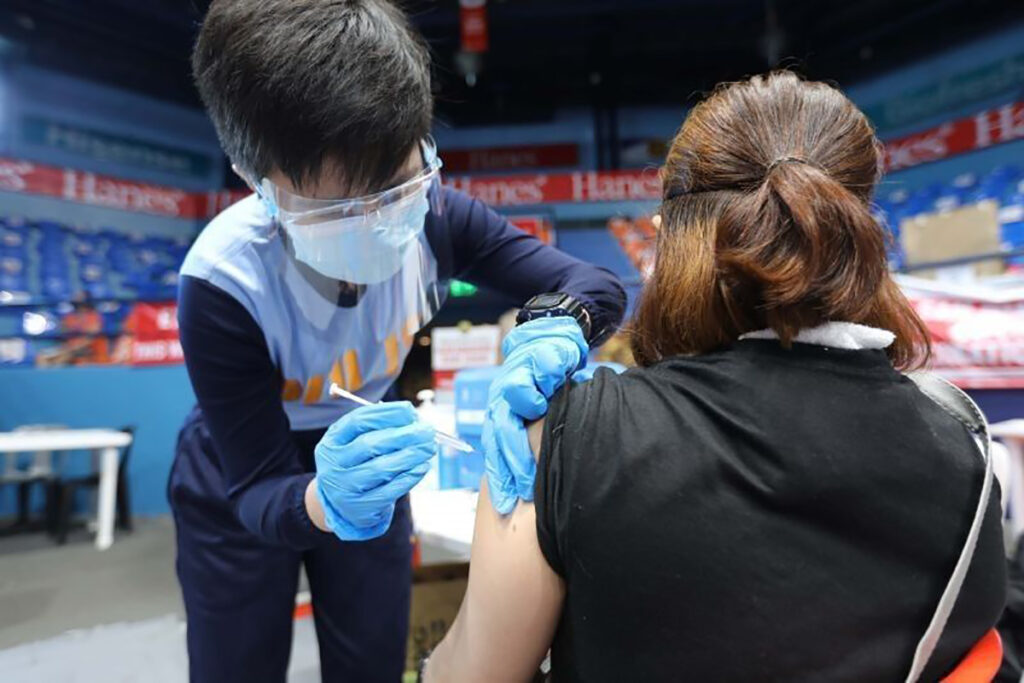 Latest government data shows that 20.86 million vaccine doses have been administered in the country as of August 1.
Improvements in the vaccination rate have been recorded, with 11 million people already fully vaccinated.
This is an improvement from the 37,280 vaccinations in the first week of the vaccination program in March.
"We just see the confidence. We need the numbers [COVID cases] to stabilize, to go down," Raymundo said.
"And if you look at the other countries with the high vaccination rate, even if their COVID numbers are going up with the Delta variant, the death rate is low, the hospitalization is low. That's an interesting lesson to learn on how we can get out of this rut in real estate,"he added.
Occupier confidence
Jones Lang LaSalle (JLL) Philippines head of research and consultancy Janlo de los Reyes said the continued vaccination rollout is creating confidence among office occupiers.
"With the vaccines already being rolled out in the country, more corporate occupiers are gaining confidence to push through with their real estate deals, and this has caused the progress of lease movements in the office sector," de los Reyes said.
JLL data shows that average quarterly lease volume in the office sector improved to 175,000 square meters (sqm) in the first half of the year from 112,000 sqm seen last year.
Around 87 percent of Metro Manila's transactions were attributed to expansions and new lettings. Cebu also saw a surge in leases due to expansions, while all of Davao's lease transactions were new lettings.
"The vaccine rollout and government policies to support the recovery of the industry are key elements that will drive the narrative of the office sector moving forward," said de los Reyes.
In June, de los Reyes said, there has been an improvement in inquiries from occupiers due to the vaccine rollout.
Return to the office
While vaccination may be a vital step toward the return to the office, Santos Knight Frank senior director for occupier services Morgan McGilvray emphasized that this is not the only step that companies need to consider as they plan ahead.
"Companies must also decide on what percentage of their workforce will be brought back to the office, and how much office space will be necessary to accommodate that percentage of the workforce," McGilvray said.
McGilvray said it is unlikely for companies to bring in 100 percent of their workforce back into the office.
For his part, de los Reyes pointed out that there may be more re-entries to the office as more people get vaccinated.
"This may be supported by individuals who prefer an office setting due to the work environment, infrastructure, as well as the ability to interact with other colleagues," he added.
Nothing beats face-to-face interactions
In an earlier webinar Lobien Realty Group chief executive officer Sheila Lobien said that as the rate of vaccinated individuals goes up, many companies will want to have their employees report to the office again.
"Companies will want people to go back to the office and even the heads of big companies such as Apple and JP Morgan are saying that nothing beats face-to-face interaction," Lobien said.
"Creating relationships really happens when you have this face-to-face interaction and many companies have realized that," she added, but noted that offices need to have bigger spaces and if possible, touch-free facilities and more ventilation.
Asked to comment on the ongoing enhanced community quarantine which will run until Aug. 20, Colliers director for office services Dom Fredrick Andaya said the market is better adjusted now compared to when the lockdowns were first implemented.
"We have two cycles that we can look back to, the surge that happened in August 2020 and the one that happened in March and April this year and their impact on the succeeding quarters. But I think we have adjusted more and more into this pandemic," Andaya said.
Colliers' Raymundo said he hopes that the current vaccination rate will be sustained.
"Hopefully the vaccinations continue at that rate and then our numbers go down. This is what we need, the confidence of getting the economy back. That's what we need for real estate," he said.