Concepcion Industrial Corp. is offering to the market an easy to transport refrigerator-like vaccine storage product, CIC chairman Raul Joseph Concepcion Jr. said in an interview last week.
CIC through its wholly owned subsidiary Concepcion Durables Inc. (Condura) is offering Condura VaxSafe, a medical freezer that can store and preserve a range of COVID-19 vaccines at their required temperature and in optimal conditions.
"Responding to the government's call in the private sector, Condura developed a storage solution to support the vaccine rollout. We are introducing an innovation to help address the challenge that we are experiencing. We are introducing Condura VaxSafe," Concepcion said.
VaxSafe is affordable and accessible to all and will help in the efficient distribution of vaccines across the country.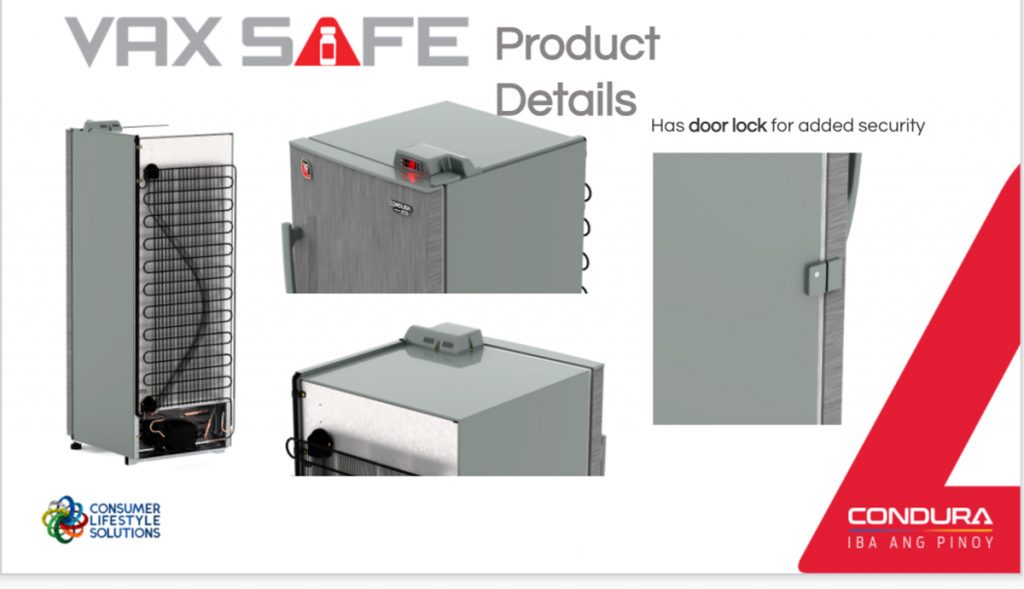 "VaxSafe is proudly Philippine-made, manufactured in the Condura plant in located in Cabuyao, Laguna," he said.
Harold Pernikar Jr. director & Consumer Solutions Group head said the cost per unit is about P50,000, which is half of what other brands are offering.
VaxSafe is the solution to the needs of different LGUs and companies because the different brands of vaccines in the market now have varied temperature requirements, which CIC's product can provide.
It was designed specifically for vaccines and has features that normal refrigerators don't, like a fixed temperature lock, alert indicators and an externally readable temperature data logger – to ensure stable temperature for vaccines.
"In the VaxSafe production process, the Department of Health – National Center for Disease Prevention and Control was consulted, ensuring compliance with stringent vaccine storage requirements," CIC also said.
VaxSafe has -20° C setting for Moderna and a +2° to +8° C for AstraZeneca Sinovac and other vaccines.
"It can't store vaccines that require -60° C like BioNTech. Condura created a refrigerator with technology that can accommodate most types of vaccines in the fastest possible time. A -60° C refrigerator would take longer to develop," it said.
VaxSafe is likewise easier to transport and saves space. VaxSafe has a gross volume of eight cubic feet and an estimated loading capacity of more than 1,200 vaccine vials based on single stacking.