Property Report talked to four individuals who have been living on their own for a while for some helpful advice for readers who may be thinking of going solo or those who are having a hard time adjusting. Here's Cris, Paula (alias), Jordan (alias), and Cindy (alias) sharing their experiences and learnings about solo living.
How long have you been living on your own? Why did you choose this setup?
Paula: I've been living on my own since 2017 so that's four and a half years. Before that, I shared a condo in Makati with two other friends from 2010 to 2017. I chose this setup because as the years went by, I wanted to have my own space.
Jordan: I've been living on my own for a decade, prompted by a change in marital setup.
Cindy: I have rented apartments with other people and I am currently renting a place for myself with some intermittent company for more than a year. None of these situations was exactly a choice but life events just evolved into the current state of things.
Cris: I decided to live alone in 2007, right after graduation. It was a mix of personal and practical reasons, but mainly it was because I wanted to be more independent. Looking back, I don't regret making that decision, even if I hopped from one apartment to another. I'm still disorganized most of the time, but I'm learning to "Marie Kondo" my home.
What is the best and worst thing about living alone?
Paula: The best thing about living alone is I get to do whatever I want. When I used to live with my parents, I had to abide by their rules but now I love the freedom of being able to go out for a late evening run or follow in a nearby bar where my friends are. The worst part of living alone is the cockroaches. I'm deathly afraid of them, like I freeze whenever I see them but since there's no one but me who can deal with one, then I just have to force myself to deal with this problem. The second worst thing is getting sick and still having to rely on myself for everything. Good thing Grab Express, Grab Pabili, and all these other services are available already.
Jordan: Best: My rules. Especially since I am very OC. With the pandemic, it is also a plus that I do not have to worry about where others have been, their safety protocols, etc. Worst: Loneliness.
Cindy: "Best" or "worst" are violent words that push people to define certain limits in their minds. Nothing that has occurred when I decided to live alone has been the "best" or the "worst." Things just happened or I let them happen on their own.
Cris: The best thing about living alone is I don't have to play by anyone's rules but mine. I have no curfew, I could eat whatever I want, and I could sleep anytime. In shared households, you can't do that. My studio is my little oasis. The worst thing would be keeping up with the chores.
What should a single person's home contain?
Paula: A single person's home should have a decent bed, a good-sized refrigerator, a comfy sofa, and a microwave oven or toaster. There is no need for a cooking range since I feel it's more of a hassle to cook and wash dishes for one person, compared to ordering food for delivery or subscribing to those weekly meal plans.
Jordan: Things that make life easier, multi-purpose gadgets, etc.
Cindy: Bed, windows, fridge, and a kitchen set. Table/chair should one need it for work.
Cris: A single person's home should typically contain kitchen and laundry appliances. Unfortunately, I don't have a stove, so I just cook rice at home and buy the rest of my meals in nearby eateries. My home also acts as my office, so it's important that I have a desk, a few shelves, and outlets for charging.
What is your favorite part of the house? What is your favorite activity that you can do because you're on your own?
Paula: My favorite part of the house is my bedroom, and my favorite activity that I can do, because I live on my own, is to drink a glass or two of wine or gin and tonic at the end of a long and stressful workday.
Jordan: My balcony and my living room are both fave parts of my condo unit. I enjoy tending to my plants, reading, watching Netflix, playing with my cats.
Cindy: None, renting an apartment resembles life in prison, especially at the current rates. Sadly, I am on my own regardless of the spot where I sit or lay down.
Cris: This might surprise people who know me, but I really like tinkering in the kitchen. I experiment with my meals. My pantry is always refilled, as I like to plan my meals for the day.
Do you have strategies to address unforeseen events like medical emergencies or security threats, etc.?
Paula: I got a personal HMO to augment the HMO that my employer provides. I live in a serviced residence and there are numerous security and maintenance personnel working in the building at any time of the day or night. So the most that I do to secure my place is to make sure that the entrance door and windows are locked at night or when I'm going out.
Jordan: Condo living is a definite plus since there is in-house security, concierge, and good neighbors — they all help you stay safe. Make friends with them. Do not let just anyone know you live alone. Have a few trusted contacts who will check in on you if they do not hear from you in x-number of hours or days.
Cindy: I have to admit I have no particular plan to back up myself for such emergencies but I have had some discussions with certain friends for the turnaround on such situations and I do have resources to mobilize that, too.
Cris: Security used to be a problem where I live; there were thefts and break-ins. But we have a system now and in my unit, I keep my mobile phones and landline unit within reach, plus I have double locks. I also keep my gate and screen door closed. Another tip is to not let anyone get past your gate.
What are the must-haves for a comfortable life alone?
Paula: If you're planning to live alone, invest in basic but good furniture that you'll use often, i.e., bed, couch, refrigerator, electric fan, etc. I don't have a dining table now, just a folding tray because I know I won't be doing any entertaining anytime soon. If you're hesitant to take a leap, take baby steps like what I did. Live with friends until you're ready to find your own place. Get to know the neighborhood you'd like to move in, take note of services that you'll need like laundry service, nearby restaurants and food delivery services, etc.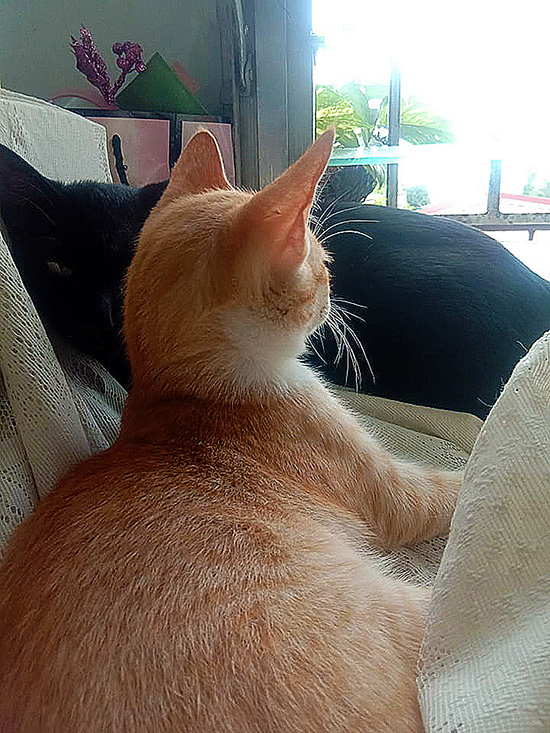 Jordan: Living alone is definitely not for everyone. I would not advise it unless you are mentally ready and have the capacity to enjoy your own company. It helps to have pets or plants if you are so inclined to care for them. Having another living thing with you helps to ease the loneliness.
Cindy: You should be comfortable with the basic and simple things, that is the only way one can enjoy living anywhere and under any condition.
Cris: My comfort comes from seeing all my favorite things in one place. While I try to downsize my collection, I make it a point to have my mini-altars. I have a spirituality corner, a French corner, and a workout area. I don't feel lonely being alone, because I also have cats. Ready cash is another must-have. I also have a list of the few people I would contact just in case I need help.