An all-stainless steel kitchen is not the first thing a typical Pinoy homeowner would want to have because it is intimidating and it pretty much lacks the warmth and coziness that we immediately fall for. Another reason is that its utopian minimalistic feel does not suit our kenophobic or horror vacui-esque sensibilities. We'd rather display knickknacks, even if it's difficult to clean them on a regular basis, and accumulate stuff than free up space to make the area more efficient.
To familiarize ourselves with the world of steel kitchens, I talked to the owner of JA Steel Works, Joar Alontaga. Mr. Alontaga started out as a draftsman in 2003, until he became a branch manager at a commercial kitchen equipment manufacturing company before going to Qatar as a site supervisor for five years. And then COVID happened. He lost his job and went back home not knowing what to do next.
Driven by stress and sleepless nights, Joar decided to go back where he started—drafting and rendering. Alontaga posted some of his 3D works on Facebook and Fiverr and got clients to do more 3D visualization projects from the UK and Saudi Arabia. A previous client who is based in the Philippines contacted him and hired him to design a stainless steel kitchen. The design got approved and the client also required him to come up with a team to execute the project themselves. Alontaga formed a Pampanga-based team composed of experienced steel fabricators. All this eventually gave birth to a one-stop steel fabricating company that can handle design, MEP planning, supply, and installation.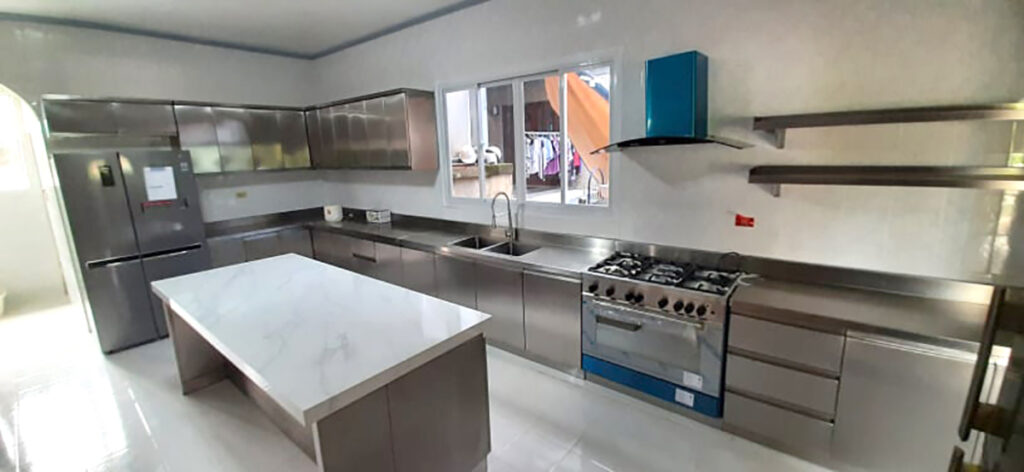 Convinced of Alontaga's steel expertise, we then proceeded to discuss the different types. There are four: austenitic (highly resistant to rust at 16-26 percent chromium), martensitic (used for table and trade knives), ferritic (used for automotive parts and industrial machinery), and duplex (combination of austenitic and ferritic—widely used in telecom products and communication networks). A mobile phone is a full duplex product. Austenitic is the type of metal used for both residential and commercial kitchens.
Type 316 is an austenitic stainless steel with a high chromium and nickel content. It is highly resistant to acids, alkalis, and chlorides such as salt. Grade 316 stainless steel is a food grade stainless steel used in making laboratory equipment. Another food grade stainless steel is the SUS-304, which is what we are using in our products. It also has high chromium and nickel content and is very resistant to corrosion and rust, so yes, it is highly hygienic.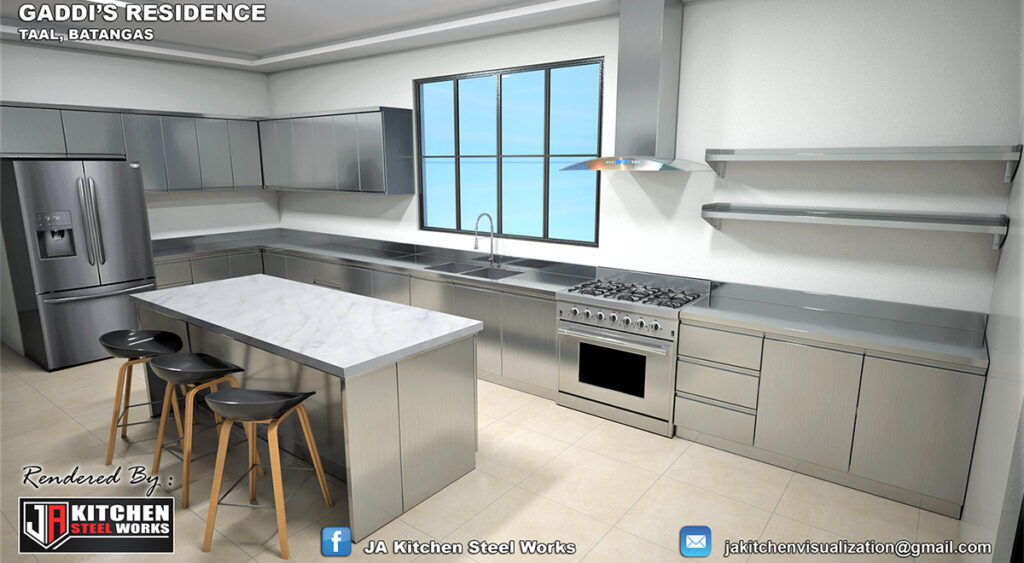 I also learned that stainless steel is extremely durable, hygienic, and resistant to corrosion. It is considered environment friendly as it is 100% recyclable, very easy to clean because it has properties that make it immune to bacteria, and weather- and termite-resistant, which means it can be placed outdoors.
Wouldn't you agree that stainless steel kitchen is actually perfect for a tropical country like ours? With a climate that ranges from extreme heat one minute and humidity or rain the next minute, it can definitely stress and dilapidate surfaces and interior finishes in no time. Not to mention the fact that termites love this weather because it makes their colonies thrive and infest every corner of unsuspecting homeowners.
Getting the lowdown from an experienced steel fabricator gives me a clearer understanding how this material should be considered especially now that there is an ongoing health concern which may not disappear for another X number of years. It should not only apply to residential or professional kitchens, laboratories, or hospitals. This material should also be considered by salons or grooming centers for both humans and pets. I have yet to see a barber shop, nail salon, or an aesthetic studio that has integrated stainless steel in most of their interiors. This is not a bad idea at all since these businesses rely on multiple tools being used directly on people. These spaces should be as hygienic as possible and easy to maintain to avoid contamination.
For the longest time, stainless steel has been identified as a specialized material to be used for certain spaces. Knowing what we know now regarding its properties, it is quite easy to assume that we will be seeing more of this material soon, which may trigger further creativity in engineering and design.