The coffee and cycling culture has really boomed in the metro because of the pandemic. Exploring urban spots and hunting down trendy new cafes have become a hobby among many recreational cyclists during weekends.
BahayCo., short for "bahay community" is a newly opened café, bookstore, and soon-to-open co-working space all rolled into one in the Maginhawa neighborhood.
The cozy spot in Quezon City, which opened just last month, is ideal for residents looking for a quiet space to work and get a cup of coffee during weekdays, as well as a destination for solo or couple riders on weekend leisure rides.
Warm and homey vibe
Marco Angelo, the cafe's owner and 'General Mayordomo' shared in an interview with Property Report PH that their vision for BahayCo was "to create a loving and welcoming home" for visitors after more than a year of limited human interactions due to the pandemic.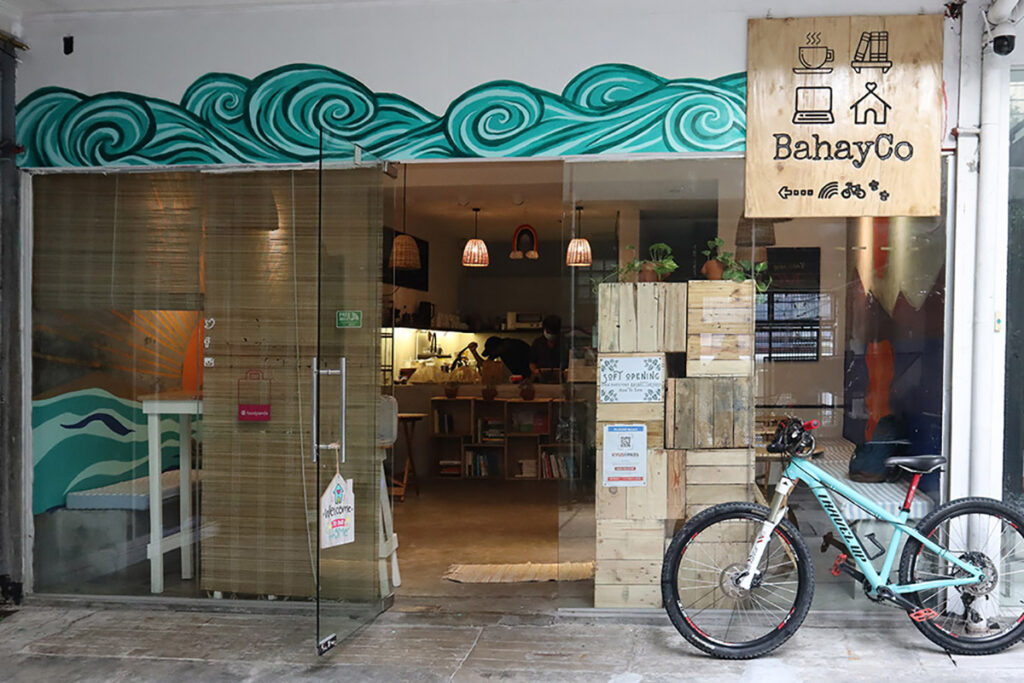 "We want our Kabahays to remember not only how good our coffee and food are but also that warm and homey feeling they felt while staying briefly at BahayCo," said the café owner.
The entrance to the space is hidden behind a commercial bank and the cafe does not get as much foot traffic as typical roadside cafes, adding to the hidden charm of the place.
"Our space is designed such that it is homey and allows people to safely interact with the staff and other Kabahays," the owner added.
The cafe's interiors are bright and cheerful, with one mural showing a sunrise, another a sunset, while the facade features waves, giving the place a distinct beach vibe.
"The sunrise symbolizes new beginnings and hope, the sunset for beautiful endings, and the waves for life – sometimes you're up, sometimes you're down, life goes on," explained Marco.
The sunrise wall was inspired by a mural by Society6 and was done by mural artists Joren Lansang and Dan Rosario of Shadow Studio, who happen to be the cafe's next door neighbors.
Bike-friendly touches
Aside from the IG-worthy murals, an added appeal for cyclists are the little details that only bikers notice.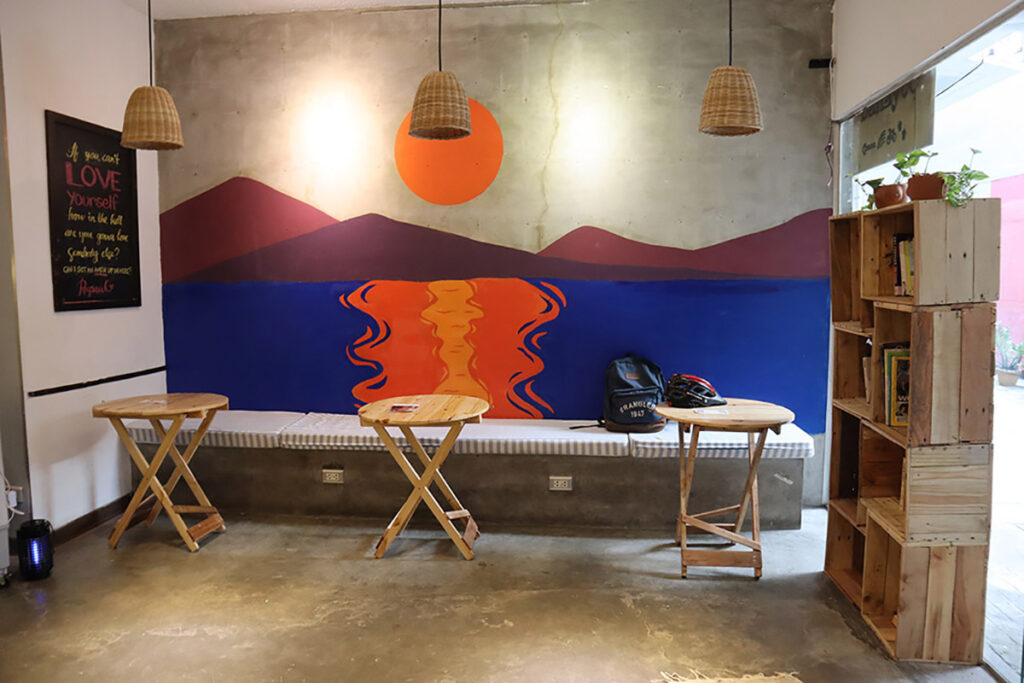 The cafe has a bike rack near the entrance for visitors to park their rides safely. Wooden tables come with helmet hooks so you can have more space while you eat. The cafe even has a water jug so bikers can refill their tumblers with drinking water for free and lessen plastic waste from buying bottled mineral water.
The café owner described bikers as the "lifeline of the restaurant business" amid the pandemic.
"The biking community has been one of our biggest supporters from day one. They not only visit us but they also consciously spread the word about us through their long posts on Instagram and interactions with their fellow bikers. They do this to other small coffee shops too which makes me believe that bikers are really some of the most generous and empathic people you'll ever meet," he said.
According to the cafe owner, bikers are helping bring more foot traffic to Maginhawa from different parts of the metro, which is why they are striving to come up with bike-friendly initiatives to give back to the community.
Pangasinan specialties 
In terms of food, BahayCo Cafe prides itself in supporting local business.
"All our coffee beans, ingredients, and products are sourced from nearby provinces and the Maginhawa area. This is in line with our 'support hyperlocal' and sustainability values," he added.
Marco, who was born and raised in Pangasinan, is also bringing a taste of his home province to the metro.
For their soft opening breakfast menu, BahayCo serves a few Pangasinan specialites like Binalonan Longganisa, Dagupan Bangus, Bolina Danggit, and Tapang Kalabaw (P195 each), which offers a different twist to the usual silog meals served in other cafes.
"For me it's just fitting for BahayCo to serve specialties from back home. It's my little way of giving back to my roots."
Coffee options include the usual brewed coffee, espresso, Americano, Spanish Latte, Cafe Tablea, Cafe Mocha, and BahayCoco, priced at P100 to P130 per cup.
Those who just want a snack can pair their coffee with maja blanca, vegan cookies, croissants, Danish sausages, or creamy spinach.
Inclusive space
The cafe also doubles as a mini-library of the owner's personal collection and an inclusive bookstore.
"We envision our bookstore to carry books written by Filipino authors mainly on Philippine, feminist, and queer literature. We believe there's so much space for these kinds of books to expand their reach," he said.
The cafe has several titles on consignment from Gantala Press and Good Intentions Publishing and has plans to bring in more titles from independent authors and publishing companies.
Tiny details in the interiors, such as custom pride rainbow coasters, crocheted cup holders, a quote on the blackboard, and how they interact with customers on social media, show that the place is inclusive and LGBTQIA+ friendly.
"BahayCo was envisioned at a time when several queer-friendly spaces closed doors. So it's my hope that our space becomes a space where people from across the spectrum can just be themselves. We're very encouraged because the LGBTQIA+ community showed up and continues to show support for BahayCo.," he added.
The second floor is currently being fixed to serve as a co-working space and private events space once events are allowed again.
* * *
BahayCo Cafe is located at 63 Maginhawa St., Teacher's Village East, Diliman, Quezon City (behind BPI Family Bank). The cafe is open every day, except Tuesdays, from 8am to 5pm.